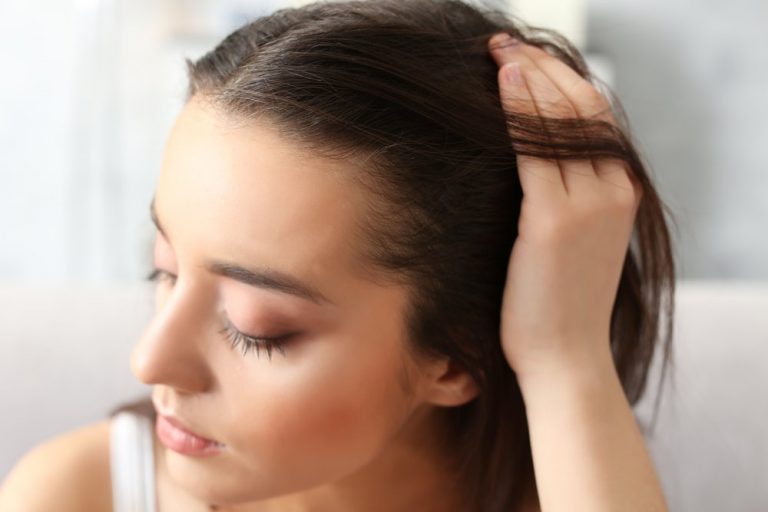 There are many different supplements to choose from, all claiming to help your hair grow thicker and healthier. While most of them don't do what they advertise, there's a new product on the market that has everyone buzzing. "This is Nutrafol. This product has everyone from beauty bloggers to dermatologist singing its praises. People are obsessed. But with such a high price tag, it begs the question – is it worth the price?
What is Nutrafol?
To start, it's important to determine what Nutrafol is and how it is different than other supplements that have been on the market for ages. Nutrafol is a supplement that is a proprietary blend of different botanicals, vitamins, and minerals. Each ingredient in it is tested for efficacy against hair thinning and has been selected based on its results. While the full ingredients aren't available, the main ones are:
This product help restore natural hair growth by helping rebalance androgen and stress hormones, combatting inflammatory molecules, and neutralizing free radicles. Basically, it targets the major factors of hair thinning and loss (like stress and inflammation), while providing your hair with a more optimal environment to grow.
Some people have seen impressive results within the first 30 to 60 days; however, most will see some measurable results within 90 days.
How is it Different?
With an easy search online or at your local drug store, it's easy to see the vast array of hair supplements on the market. They are all filled with vitamins and minerals that claims to help hair grow faster. However, with Nutrafol's special blend of ingredients, they really are set apart. Instead of just starting hair health, Nutrafol fights hair loss and keeping hair healthy. The products like biotin and keratin help keep hair healthy, but the other ingredients like ashwagandha, palm oil extract, and biocercumin help address hair loss.
Last update on 2021-09-14 / Affiliate links / Images from Amazon Product Advertising API
It Comes with a Price
While all of this is great news, the cost for a one-month supply can seem excessive. In comparison, other products on the market cost much less:
Dr Pen A6 – A one time expense that goes a long way when it comes to hair loss
Is it Worth It?
The ingredients in Nutrafol are not intended for everyone. They are not targeted to help those who have hair loss due to cancer treatment, illness, active diseases, or pregnant women. They also should be used with caution if you are taking blood-thinning drugs or anticoagulants.
For everyone else, Nutrafol is a fantastic option. With just a quick search on Amazon, you can see how many people have seen improvement with their hair growth.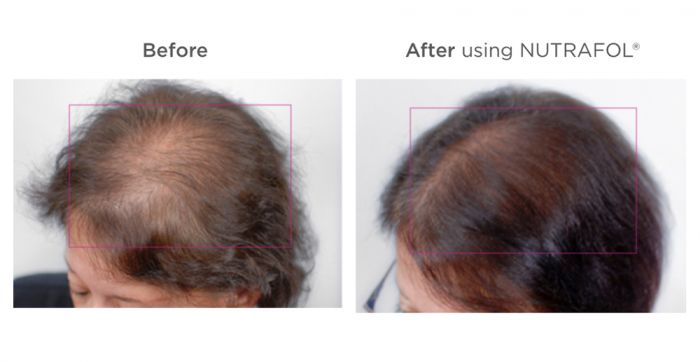 Cheaper Alternatives to Nutrafol
With the price being as steep as it is, there surely must be cheaper alternatives out there – right? Well, you'd be correct! For a fraction of the price, Folexin offers a lot of the same primary ingredients you'll find in Nutrafol. Another more affordable option is Viviscal, you can check out which is better between Nutrafol and Viviscal here.
Consider the pricing on Nutrafol to put this into perspective quickly. Nutrafol costs $80/mo, which comes out to over $960/year, and has a similar rating to Folexin. With Folexin, you can purchase 5 months at just $18/mo. It's a no brainer that Folexin makes for a much better investment for your hair.
And if you're wondering what the biggest difference is between the two products? The marketing dollars they spend. Nutrafol is spending millions a year on platforms like Facebook, Snapchat, Google, YouTube, Instagram, etc, etc. Where do you think those marketing dollars come from? Inflating the price of their products.
In fact, you can purchase 4 bottles plus one for free of Folexin for the exact same price as one month of Nutrafol. If you are hesitant about the steep price, this is an amazing alternative option to see if it may work for you. Read Folexin Reviews, or the direct comparison of Nutrafol vs Folexin.
Price
$17/Bottle (When you buy 5)
Our Opinion
Similar Results - Way Cheaper
Price
$17/Bottle (When you buy 5)
Our Opinion
Similar Results - Way Cheaper
Last update on 2021-09-13 / Affiliate links / Images from Amazon Product Advertising API
How to Take Nutrafol
With your 30-day supply, you will receive 120 capsules. That equals four pills a day. You can take these pills with any meal at any time of day.
As mentioned above, there are certain people who should not use Nutrafol including pregnant and nursing women, those on cancer treatments, etc. You should also use caution if you are using any type of hormone replacement therapy.
Nutrafol should also not be used by vegans or vegetarians, or others with fish allergies.
Final Thoughts
Nutrafol has been through ten years of research and development and comes highly recommended by physicians. If you have the extra money in your budget, Nutrafol is worth a shot! But said above, for the vast majority of people, you're getting a similar product and saving a lot of money by using Folexin instead.