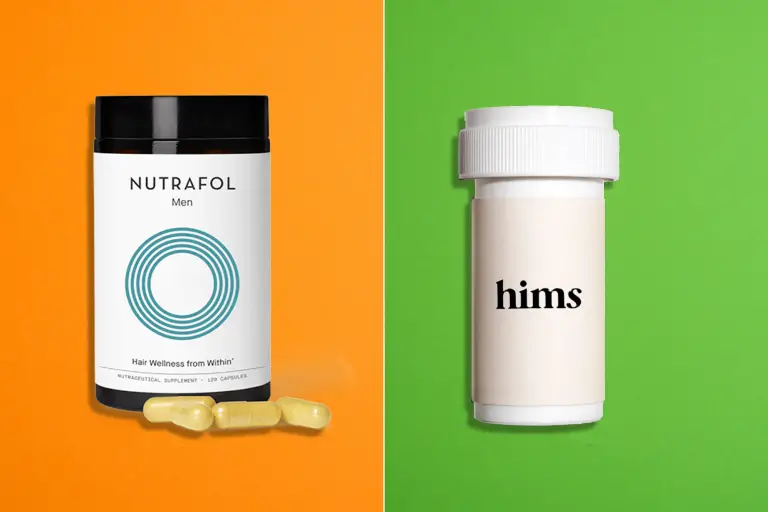 If you are looking at hair loss companies, Nutrafol and Hims are two that you may well have heard about. Both of these companies sell hair loss products in order to help you get back that full head of hair. However, that is where the similarities between these two end.
Nutrafol and Hims take two almost completely different strategies for how they deal with hair loss. Knowing what these two strategies are can help you decide which company might better suit your hair growth needs.
About Nutrafol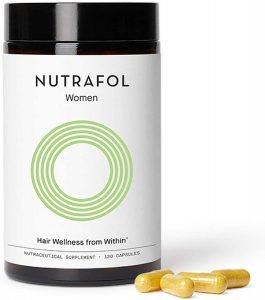 Nutrafol is a brand that specializes in hair loss treatments, with their statement being for your hair, your health, and humanity. This company believes that taking charge of your hair growth will help you grow in other ways and will help you feel more empowered.
This hair loss brand has a team of scientists and doctors who take a scientific approach to hair loss. Instead of using the same products as other hair loss companies, Nutrafol makes its own unique products.
Nutrafol feels that most people go through hair loss at some point. This was how Nutrafol got founded. The founders were normal people who experienced hair loss and who tried all sorts of conventional treatments for it.
There are three main co-founders of Nutrafol. Giorgos Tsetis is both a co-founder and CEO of the company. He worked as a model and started seeing his hair thin while he was still in his early 20s. While the prescription hair drug did help, it left him with side effects that were not worth it.
Roland Peralta is another of the co-founders, and he also serves as Nutrafol's Chief Innovation and Product Officer. He started struggling with hair loss as a result of thyroid cancer and other health problems.
Finally, the third co-founder is Dr. Sophia Kogan, who is also the Nutrafol Chief Medical Advisor. Her hair started thinning in medical school due to the stress, lack of sleep, and poor nutrition that she was dealing with at the time.
These three people banded together to deal with the same problem that they faced, forming the Nutrafol company. They have since added more people to their group, including medical advisors such as Dr. Sebastian Lighvani, Dr. Patricia K. Farris, Dr. Neil Sadick, Dr. Roy Stoller, and others. See our thoughts on Viviscal or Nutrafol here.
The Products
Nutrafol has several amazing products that they have developed themselves. All of these are directly or indirectly for your hair. However, Nutrafol has three main hair loss products, which it refers to as its core formulas.
Specifically, there is a Nutrafol Women, a Nutrafol Women's Balance, and a Nutrafol Men. Each of these is formulated to suit the hormones and needs of the group of people it is meant for. For example, men tend to have more trouble with DHT due to the fact men make more testosterone.
Therefore, Nutrafol Men has more Saw Palmetto to help block this. Meanwhile, women are more prone to suffer from hair loss due to stress. Because of this, Nutrafol Women has added stress adaptogens as well as some of the essential protein collagen stress depletes.
As for the difference between Nutrafol Women and the Nutrafol Women's Balance, the first is for younger women, while the second is for women going through menopause. The Balance option has extra ingredients to balance hormones such as Maca, Astaxanthin, and Saw Palmetto.
After these three core Nutrafol products, there are seven other Nutrafol products that can also help with your hair loss. Each of these seven products focuses specifically on one problem that might be contributing to your hair problems.
Since stress is such a contributor, there are two Nutrafol products that help with this. The first is a Vitamin B booster that has seven different B vitamins. The second is Stress Adaptogen, which helps with stress by using adaptogenic phytoactives.
Hairbiotic has seven strains of probiotics for gut health and nutrient absorption. Digestive Enzyme has 17 different beneficial enzymes and Sugar Balance to help your metabolism. Liver Support does exactly as its name implies. Finally, DHT Inhibitor is for those who need extra help here. See also: Nutrafol vs Keeps, Nutrafol vs Folexin, and Nutrafol vs Viviscal.
Nutrafol – The Advantages
Nutrafol is a great company that you can truly stand behind. As for the advantages of Nutrafol, we will just take a look at the main ones. First of all, all of the Nutrafol products are natural. They make a point of including the ingredients you want, and excluding the ingredients you don't want.
In fact, Nutrafol is gluten-free, dairy-free, hormone-free, shellfish-free, and free of all of those chemical binders that even some health companies use in their products. Nutrafol products are also free of artificial additives and are made from wholesome ingredients.
These wholesome Nutrafol ingredients are gotten from only sustainable growers and are third-party tested for heavy metals, pesticides, and chemicals as well as for microbiological safety. These ingredients are put together in the USA in facilities that are FDA registered, Good Manufacturing Practices Certified, USDA Inspected, and IFANCA HALAL Certified.
Finally, Nutrafol products are also drug-free. All of these things combined make Nutrafol products some of the healthiest out there. In fact, there is next to no chance that you will have any type of allergic reaction to any of the Nutrafol products.
In addition, there are practically no side effects of using Nutrafol products. Though you should still stick with no more than the recommended amount, if you do take two days' worth of Nutrafol in one day, it is unlikely to hurt you.
Taking the Nutrafol hair products is extremely easy too. Most of the Nutrafol products are in capsules that you simply swallow. Besides helping your hair growth, these products will help you sleep better, improve your mood, and have healthier skin and nails.
Finally, Nutrafol offers some special features if you are interested in them. One of these is the naturopathic doctors that they keep on call who you can talk with.
Nutrafol – The Disadvantages
While Nutrafol might seem to be almost perfect by now, it is not without its disadvantages too. First, Nutrafol products are expensive. Simply buying the core product for one month can cost around 3x as much as some of the other less expensive hair loss treatments.
If your budget is tight, Nutrafol products may be out of your price range. Also, the core Nutrafol products require you to take four capsules with food. Though these are easy to swallow, taking four capsules at once can seem a little excessive.
Though there aren't really any side effects of Nutrafol, there are a few things that you should watch out for. When taking the core products, you should know that some of the plants in them are natural blood thinners. If you are on medication or already have thin blood, this may be a bit of a concern.
Also, Nutrafol products do affect your hormones to some degree. So, if you have a hormone-sensitive condition or take something for your hormones, you should be aware of this. In the case of a hormone-responsive cancer, you should talk to your doctor first.
While the Nutrafol boosters don't have as much of an effect on your hormones, some of them do have some blood-thinning properties. In addition, probiotics of any kind should never be taken with antibiotics if you get sick. Finally, the Sugar Balance can interfere with blood sugar medications.
In order to get any of these boosters, you have to first take the Nutrafol hair wellness quiz. If you already know what you want, this is completely unnecessary to have to take. You also have to subscribe to Nutrafol in order to purchase any of their boosters. Finally, the return policy of Nutrafol is pretty strict.
About Hims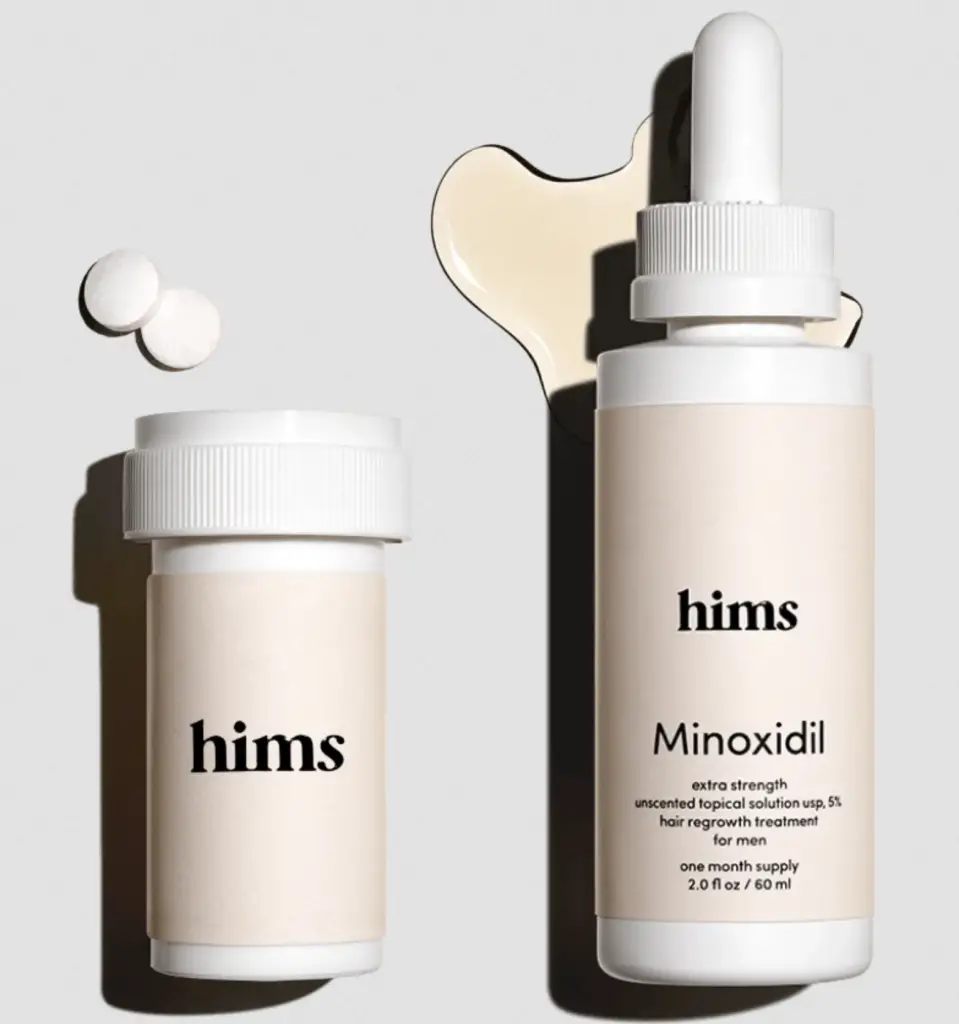 Hims is a lot more than just a single hair loss product. In fact, Hims is even more than a group of hair loss products. The Hims brand sells a wide variety of products for a wide variety of problems. More specifically, Hims sells products that deal with many different areas of men's health.
But Hims doesn't stop there. There are a host of different medical advisors that specialize in different areas of men's health and which help develop the Hims products. These products are mostly found in areas like hair loss, skin care, sexual health, and providing nutritional supplements.
More than products, Hims lets you get directly in contact with their doctors and set up appointments online. These online appointments are ones that you can attend without having to leave the safety of your home.
All of these Hims features are there to make things as easy as possible for you. This goal goes back to the founding of the Hims brand. Hims was built by a group of men who knew a lot on a variety of men's health topics.
They all agreed that going out, spending gas, and having to talk to a doctor in person was an annoyance. So, they determined that men shouldn't have to go through all that trouble to get the help that they needed.
The group who put Hims together has it as one of their goals to help men realize that having an issue of some kind isn't weird. It is not dealing with the issue that should be weird. Everything that Hims does and stands for is designed to help support this philosophy. This is why Hims offers medical advice and products to help men deal with whatever health issue they are facing.
The Products
As mentioned, Hims offers products in a variety of health areas. However, since we are looking at hair loss, we will just be looking at the Hims hair loss products. Hims offers five different hair loss products, each of which comes in a different form and is meant to tackle a different cause of hair loss.
Finasteride is a hair loss product that you have likely at least heard about. Hims offers this as a pill, and its purpose is to combat the DHT that gives men pattern baldness. Unlike other hair loss pills, Finasteride is taken only once per day instead of twice.
Also unique to Finasteride is the fact that you require a prescription in order to get it. This is due in part to the potential side effects as well, as the fact that taking Finasteride has to go on your medical record because it makes you ineligible to donate blood.
Similar to the Finasteride, Hims also has Biotin Gummies. These gummies are to be taken once daily as well. However, this Hims product focuses on giving your hair the Biotin and other things that it needs. These Biotin Gummies can be taken with the Finasteride without affecting the other.
Thirdly, Hims offers Minoxidil in a liquid form for you to apply directly on the areas of your scalp that you are struggling with hair loss at. This Hims treatment must be applied twice daily. Though Minoxidil doesn't require a prescription, it does have a list of side effects that you should know about.
Finally, Hims offers what it calls a Thickening Shampoo and a Thickening Conditioner. These two can be used individually, but it is better to combine the shampoo and conditioner. The shampoo, in particular, has some great ingredients such as Saw Palmetto.
Related Reading
Hims – The Advantages
Hims has many different advantages and a few nice features that you can take advantage of. First, the variety of products that Hims offers is definitely an advantage. No matter what the cause is, these Hims products will be sure to help your hair start growing again.
In fact, in cases of severe hair loss, you can use literally all of the Hims hair loss products at the same time. Or, you can choose the single Hims product that you think will best fit your hair's needs. However, going with multiple treatments at once is made even easier by Hims.
This is because Hims offers package deals in the form of bundles that offer you a discount when you buy certain Hims products altogether. While there are only a few bundle deals to choose from, these save you money while helping your hair.
Each of the Hims products may not be the most original, but they are hair loss products that work. The Finasteride and the Minoxidil, in particular, are products that you have likely heard about. These two popular hair loss products have a lot of great reviews about them.
If you are a man, Hims is something that is specifically for you. Practically all of the Hims products are ones that are catered to men's needs. Hims has two Dermatologists on staff to help give advice for making their men's hair products.
Since you are not likely to talk to either of these doctors, Hims also has doctors that you can get set up to talk to. Talking to a professional in the field of Dermatology is much better for obvious reasons than talking to a customer service agent who may have never even used the products they are trying to help you with.
Hims – The Disadvantages
First and foremost, Hims is devoted pretty much exclusively to men's health and men's hair loss. True, if you are a man, this is good. However, if you are a woman, then Hims is not going to be able to help you a lot. Some of the Hims products, such as the Finasteride, shouldn't even be handled by women at all.
Second, Hims is very slim with the information that it offers on practically anything and everything. Studies have been done on the Hims products, such as Finasteride and Minoxidil. However, none of these studies are shown on the Hims website so, for more information, you will have to do the research yourself.
Then, Hims also doesn't list the ingredients that are in its products. The Finasteride and Minoxidil probably contain only that one ingredient each, but the shampoo, condition, and gummies could have almost anything in them.
This lack of information can pose quite a bit of a problem if you have allergies of any kind. Getting the ingredient list for the Hims products requires you to get in touch with them, which is bothersome. This can also make you question if there are any filler ingredients in the Hims products.
Hims doesn't even give a whole lot of information on what their warranty entails. Though they do have a 90-day money-back guarantee, Hims fails to tell you if this includes products that have already been opened. You also have to contact them in order to even learn what you are supposed to do about returns.
Finally, the products themselves, even what little is known about some of them, don't seem to be particularly natural. In fact, the main two Hims products, the Finasteride and Minoxidil, are far from being healthy.
Comparing Nutrafol And Hims
As you can probably tell, Nutrafol and Hims are quite a bit different in how they approach things. Nutrafol tries new and innovative hair loss treatments, creating its own formulas. These new products are fresh, natural, and are extremely healthy for you.
Hims, on the other hand, seems to prefer the classic 'tried and true' hair loss treatments. While there is nothing innovative about most of the Hims products, they have taken some initiative to make their Biotin Gummies. However, even here they have stuck with ingredients that have already had the research done on them.
As for price, the Hims products are definitely the cheaper of the two. Then again, natural products are almost expected to be more expensive. However, Nutrafol products also have much fewer side effects. Therefore, you can save money and risk more side effects or spend more money on something that will be more likely to increase your overall health.
Hims is not only cheaper, but it also has those bundle deals to make the price even less. On a side note, neither one has a good guarantee. Nutrafol has a pretty strict one, whereas Hims doesn't offer really any information on what their warranty even entails.
The Nutrafol and Hims companies both have programs and require you to subscribe to them for certain things. In Nutrafol's case, you can get the core products without having to subscribe. Hims offers all of their products except for the Finasteride without a subscription, but that is because it requires a prescription.
All in all, either of these hair loss companies may be the one that suits you. So, if one of them sounds like it fits your needs better, you can always check out their website to get more information.
Conclusion
Programs can be really nice sometimes, especially the ones that let you talk to professionals and have helpful tools. However, it is fairly obvious that each company is going to tell only the best about their products.
Therefore, it is often wise to do some research on your own. This is not always possible to do if you don't know all of the ingredients that are in a product. More than that, it can be quite time consuming for those products that have multiple ingredients.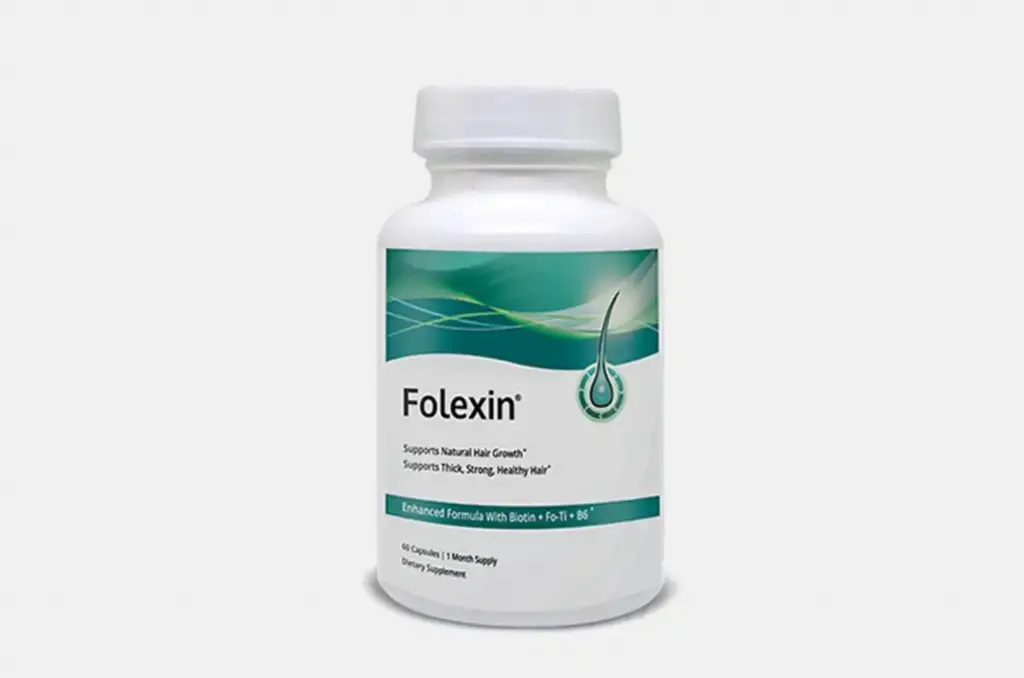 Sometimes, it is best to go with one simple product instead of subscribing to a hair loss company. One great option, if this sounds better to you, is Folexin. This single hair product has some awesome reviews, works for both men and women, and is a healthy option. There is no need to complete any questionnaire, sign up for anything, or give out any information other than your payment method.
What we love about Folexin is that it has the same primary ingredients as Nutrafol but at a fraction of the price. Nutrafol spends millions of dollars a year on advertising, you may have seen them on Facebook, Instragram, Snapchat, Tiktok, you name it. That runs the price up for people buying it to over $960.00 every year. Compare that to Folexin, which does practically no advertising, and costs you $18/mo.
Read: Folexin Reviews
Last update on 2023-09-22 / Affiliate links / Images from Amazon Product Advertising API
Tired of chasing down hair growth solutions without the results you're after? Make sure you're using the 3 hair loss products known to work before experimenting with alternative solutions – you may be surprised with how effective those 3 alone can be.