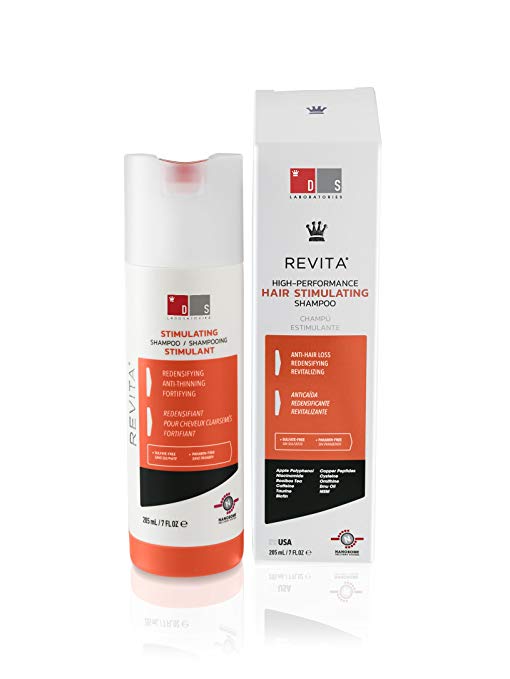 Hair loss is a huge issue for millions of people around the world. It's no surprise natural hair thickening shampoos have become an increasingly popular in demand. But how can you choose the best hair–stimulating shampoo? We ranked the top 7 hair loss shampoos based on ingredients, price, transparency, and effectiveness.
On the list, Revita's High-Performance Hair–Stimulating Shampoo ranked number one. Created by DS Laboratories, Revita Stimulating Shampoo is proven to promote healthy hair stimulation and volume, all while helping you achieve the best results fast.
What makes Revita standout? Let's look at its unique features and benefits for treating hair loss, thinning hair, and androgenic alopecia (male pattern baldness or female pattern baldness).
Pros
Quickly treats bald spots and thinning. 

Studies show 92% saw a decrease in hair loss.

Contains the best regrowth ingredients such as caffeine and ketoconazole.
Cons
You have to use this product consistently. 
Revita Shampoo Review Summary:
4.6 out of 5 stars (based on 161 reviews)
Let's start with ingredients
There are ingredients in Revita shampoo that cover a lot of possible problems. There are antioxidants, hydrating ingredients, hair-growth stimulants, amino acids, and ingredients with anti-androgen properties in them.
First, Revita shampoo has apple extract in it. A fairly new appearance in the hair care area, the compound found in apple's skin is actually a potent antioxidant. It can also help increase your hair's diameter, making your hair naturally thicker.
Taurine is an amino acid, and one of the ones that promotes your keratin production. More than that, taurine also helps correct growth problems that your follicles might experience. Emu oil is uncommon, but it is rich in essential fatty acids that help your hair.
This has caffeine in it for encouraging your blood to go to your scalp. Caffeine can also help extend the anagen phase, which is the one where your hair grows. Ketoconazole is another great DHT blocker. Primarily, it is included in the shampoo in order to fight fungal infections.
Niacinamide is a B vitamin, and one that helps with preventing inflammation. Biotin is also in Revita shampoo, which is a vital ingredient in many hair loss products. Cysteine is another amino acid that is a part of keratin.
TriCopper Peptides is anti-inflammatory, and it works to limit oxidative damage to your cells. Some studies on these peptides show that they improve hair transplant success and increased hair follicle size. L-arginine is another amino acid, and it supports your protein synthesis, which is necessary for your hair growth.
All in all, Revita shampoo is made to be hypoallergenic.
Revita Hair Thickening Shampoo is full of scalp-stimulation compounds, which are associated with faster hair growth and new hair regrowth, including:
Procyanidin B2 (Apple Extract)
Niacinamide
Copper Peptides
L-arginine
Rooibos Tea
Cysteine
Spin Traps
Ornithine
Emu oil
Methylsulfonylmethane (MSM)
DS Laboratories uses procyanidins (or flavanols) to improve cell health and jumpstart anagen-phase hair growth. In fact, studies show that procyanidin B-2 treatment is highly effective in treating thinning hair. There were no harmful side effects. Even better news? It also protects against free radicals. This hair loss treatment shampoo works to strengthen hair and boost density!
Ketoconazole is an ingredient that contains anti-fungal properties. It has a proven track record in stimulating hair growth. And, it helps stop male pattern baldness and female pattern baldness (androgenic alopecia) in its tracks. It does this by managing the over-production of testosterone.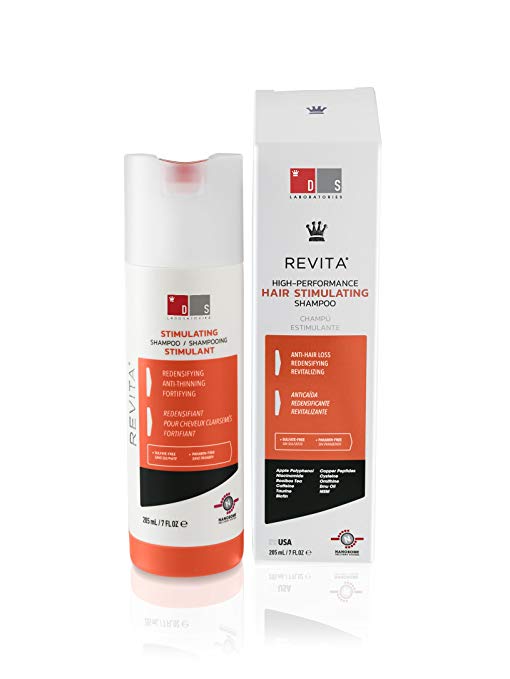 Revita High-Performance Hair Stimulating Shampoo
Supports both healthy and compromised hair follicles
Fights Follicular Dysfunction from First Application
Improves hair density, thickness, and appearance
Promotes scalp stimulation
Cuts down on stress-induced loss
Other powerful ingredients found in Revita are taurine, caffeine, biotin, and MSM. These ingredients work together, creating a healthy scalp and reviving hair follicle.
Taurine improves keratin production. Caffeine hair loss treatments were proven successful in many studies; it stimulates hair follicle growth. Biotin is well-known for supporting healthy skin and nails. It also helps thicken hair by improving the metabolism of scalp oils.
Biotin is also a key player in the Krebs cycle; this shampoo is a wonderful way to regain hair thickness. Biotin shampoo increases fatty acid production to avoid late-stage hair loss thinning treatment.
Finally, MSM is one of the best hair loss shampoo ingredient for the skin while Emu oil helps hydrate and condition; it is a terrific hair-growth formula.
DS Laboratories' details about these active ingredients can be found on the product's homepage. You'll also find links to various clinical studies proving their effectiveness. It is clear that Revita values optimal conditions for the scalp, so you can get fuller hair fast.
Revita Shampoo Reviews
Works!
I've tried a couple of different shampoos, biotin, etc but non of them made any noticeable change or something that i could call a win but this one has actually made a difference. I'll recommend it
Product honesty
This stuff really helps thinking hair! Got it for my son and we love the product. Worth the price
No returns
The product arrived damaged. The seller DOES NOT offer returns. Even if the product does work, I will not purchase again. Doesn't lather well so you have to use a lot of product. Very expensive for what you get, would not recommend.
works well
Have been using this product for about 6 months and have seen a significant hair growth. This seller is good and prompt to assist.
A Chemical-Free Romance
Revita Hair Stimulating Hair Loss Shampoo is made using a chemical-free extraction process. It preserves the molecular integrity of the ingredients. The benefits of this process include:
Free of Parabens, harsh chemicals, and phthalates

Can be used on all

types

Suitable for both men and women

Offers a deep moisturizing benefit

Sensitive on your
Contains several active ingredients to treat
Combats dysfunction

No animal testing
According to DS Laboratories, Revita is the only thickening shampoo that uses an anti-DHT property to stimulate hair growth and for hair loss prevention. DS Labs also recently introduced Oxo-biodegradable packaging. This uses 90% less waste compared to its previous packaging. Stimulate faster hair growth while protecting the environment? That's what we call a win-win.
Revita Shampoo Advantages
First and foremost, the DS Laboratories company is a grant brand that you can rely on. They have been around for long enough to have proven quality and a lot of good reviews, both about their shampoo and their other products.
In the clinical studies that the shampoo has had done on it, the compounds in it showed faster hair growth. There was even some new hair growth in areas where hair had been lost. Some of these DS Laboratories studies are published for you to freely read if you want to, proving that they have nothing to hide.
Even if your hair loss is completely cured by Revita shampoo, using it will still help your scalp and assist the growth of your hair. Best of all, it can be used along with whatever other hair loss treatments that you have in mind.
While the quality of the shampoo makes them a bit pricey, it is not as expensive as it could be. In addition, there are ways to save on the shampoo. These include subscribing to save, purchasing the larger containers of shampoo, and in waiting for there to be a seasonal discount.
Revita Shampoo Disadvantages
As for a disadvantage, apart from the price, Revita shampoo is also more time-consuming to use than other shampoos. Not only does DS tell you that you have to use it at least five times a week, but you are also told to apply it twice each time you shower and let it stay lathered on your hair for a couple of minutes each time.
This requires you to go through the bottle of shampoo much faster, making it even more expensive. In addition, they tell you that it may take 2 to 3 months of using it before you start seeing results.
Since one bottle is only meant to last you about a month, this means you will have to buy about three bottles of it to tell if it will work for you, and that is only if your hair isn't long enough to require you to use more shampoo.
There are very few reviews that say that Revita shampoo did not work for them. Many of these customers did not use it for the full recommended 2 to 3 months to get results. A few people have claimed that Revita shampoo tends to make their hair greasy, but that is a minor complaint.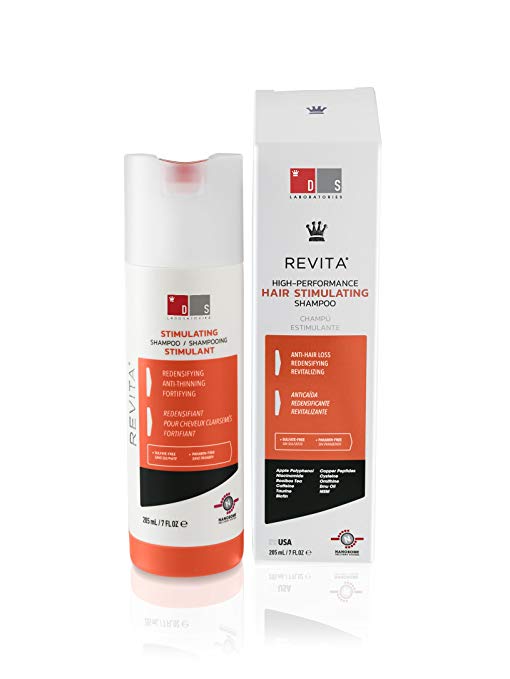 Revita High-Performance Hair Stimulating Shampoo
Supports both healthy and compromised hair follicles
Fights Follicular Dysfunction from First Application
Improves hair density, thickness, and appearance
Promotes scalp stimulation
Cuts down on stress-induced loss
What do dermatologists have to say?
DS Laboratories rigorously tests and verifies product claims through double-blind clinical studies. These studies use active pharmaceutical ingredients. Revita shampoo ensures "the best quality and provide high added value in the care of hair problems", according to their website. In other words, they prove that their ingredients won't harm your hair or skin.
Dr. Antonella Tosti, a world-renowned physician, dermatologist, and scientist, said, "This is the best shampoo to prevent and treat hair loss. It delivers caffeine that stimulates hair growth and also counteracts the negative effects of testosterone in hair follicles." Tosti's claim is backed by thousands of dermatologists worldwide.
About DS Laboratories
DS Laboratories is a company that has been around for over 15 years. It operates in 46 different countries in order to reach millions of customers around the world. Their guiding philosophy is, first and foremost, innovation and technology.
Their goal is to radically change the personal-care landscape by developing new and improved technologies. In their product development, they try to stick with solid scientific research to give you products that truly work.
The DS Laboratories has a research and development team who are allowed to work on a cost-is-no-object basis. Every product has to meet certain criteria before it is put on the shelves for the DS customers to buy.
Dr. Antonella Tosti is DS Healthcare's resident Medical Advisor, in addition to being a Physician, a Dermatologist, and a Scientist. She has helped provide some groundbreaking contributions in the field of dermatology and has an important role in DS Laboratories.
Besides having doctors and other people like Dr. Tosti on their team, DS Laboratories also has a few people working on something else too. This company takes the environment seriously and is committed to protecting it.
To that end, they use biodegradable packaging for all of their products. They have even helped develop an oxo-biodegradable plastic that has a pro-degradant additive added to it. This additive allows the plastic to break down over time, especially when exposed to sunlight.
All of the ingredients are high quality and are chosen for their beneficial properties for both your hair and skin. Like you might guess with the word 'Laboratories, in their name, DS Laboratories does a lot of studies, including clinical studies on their products. Finally, DS Laboratories have some great customer service agents, as well as a way that you can save money on their products.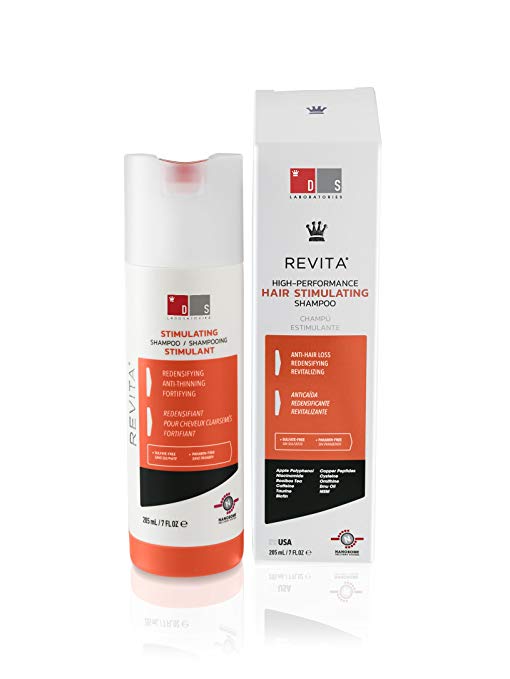 Revita High-Performance Hair Stimulating Shampoo
Supports both healthy and compromised hair follicles
Fights Follicular Dysfunction from First Application
Improves hair density, thickness, and appearance
Promotes scalp stimulation
Cuts down on stress-induced loss
What's the Final Verdict?
Overall, users give Revita shampoo a positive rating, especially when it comes to making fuller hair and reducing hair loss. Revita shampoo is a cost-effective and manageable solution, especially for those who don't want to undergo expensive and lengthy surgical procedures.
As you have seen, the Revita Hair Loss Shampoo is a great option, and it works for most people who try it. It can help your scalp, starting with the very first time you use it. However, it will take several more uses before the results are enough for you to see them.
The fact that is DS products are recommended by hundreds of dermatologists means that you can rest assured that these are all great products. As for finding Revita shampoo, there are many places you can buy it from online.
DS Laboratories has its own website where you can buy their Revita shampoo. However, the price of it there is surprisingly higher than you can find it elsewhere. Other retailers like Amazon and eBay are the cheapest places to buy your Revita shampoo, depending on the sellers.
Revita is a popular, high-demand hair growth shampoo. You can find it in most stores today or buy it directly from the websites listed above.
When it comes to hair regrowth, frequency and timeliness are two key factors. A daily hair loss shampoo is both a consistent and easy solution. Trying out a cost-effective product like Revita puts you in the company of more than 2 million customers worldwide.
While there may be individual exceptions, it's a safe, effective, and easy-to-use product. It delivers on its mission of hair regeneration and care.
Have you tried Revita's Hair Growth Shampoo from DS Laboratories before? Do you plan on trying it? Leave us a comment about your experiences and we'll get back to you!
Add Your Own Revita Shampoo Review