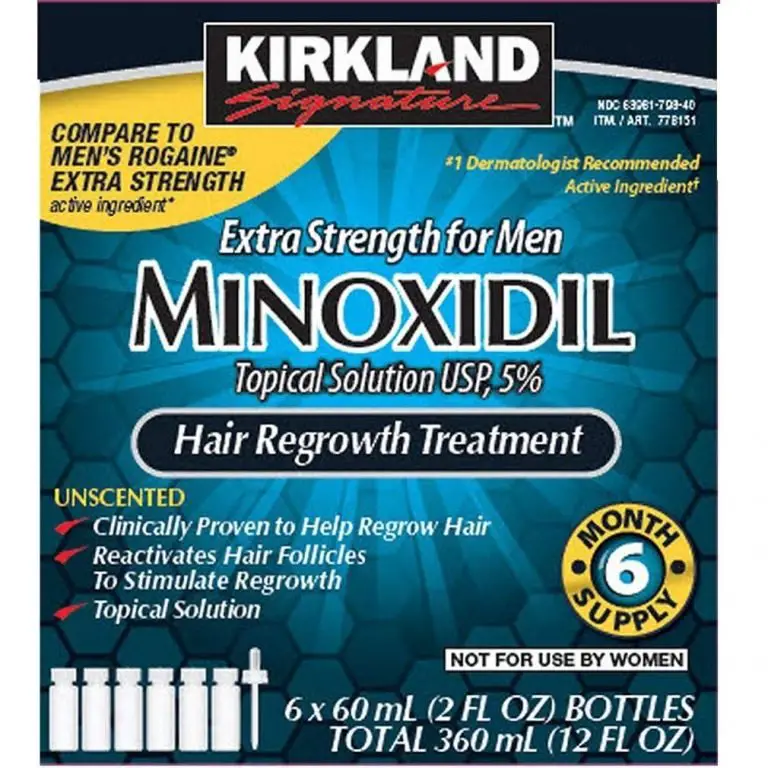 As we grow older, our hair tends to lose its original shine, becoming muter in color.
Our hair also tends to become more brittle and weak, causing it to fall off and cause hair loss, often resulting in a receding hairline.
This is, unfortunately, something that happens with age and has no real "cure."
That doesn't stop many tonics and snake oils that promise thick, luxurious hair regrowth or beard growth from being pushed on us.
Being cautious when shopping for a hair growth supplement is essential, especially when it's hard to tell what's legit and what isn't.
Yet, one product that has been proven to be promising in terms of reviews has been Kirkland Minoxidil.
Kirkland Minoxidil Review Summary:
4.4 out of 5 stars (based on 87 reviews)
What is Kirkland Minoxidil?
Kirkland Signature Minoxidil is a hair regrowth treatment that has been clinically proven to help regrow hair and prevent gradual hair loss and male pattern baldness.
Studies done by the International Society of Hair Restoration Surgery have also shown that, out of 669, about 14% of the men experienced results within the first two months of using it. Around 52% reported effects during the second month, and 34% during the third month.
The types of baldness it treats usually include thinning hair that is on the top of the head and contains, as the name suggests, Minoxidil, which is a crucial ingredient in most mainstream hair regrowth or hair loss prevention treatments, such as Rogaine.
The formulas between the two don't differ too much; with the active ingredient being the same in both products, it's hard to tell them apart!
Kirkland Minoxidil also comes in a foam version, a topical solution, and also as shampoo or conditioner, making it easy to incorporate into your daily routine!
Read also: Adderall – Can It Cause Hair Loss?
Advantages of Kirkland Minoxidil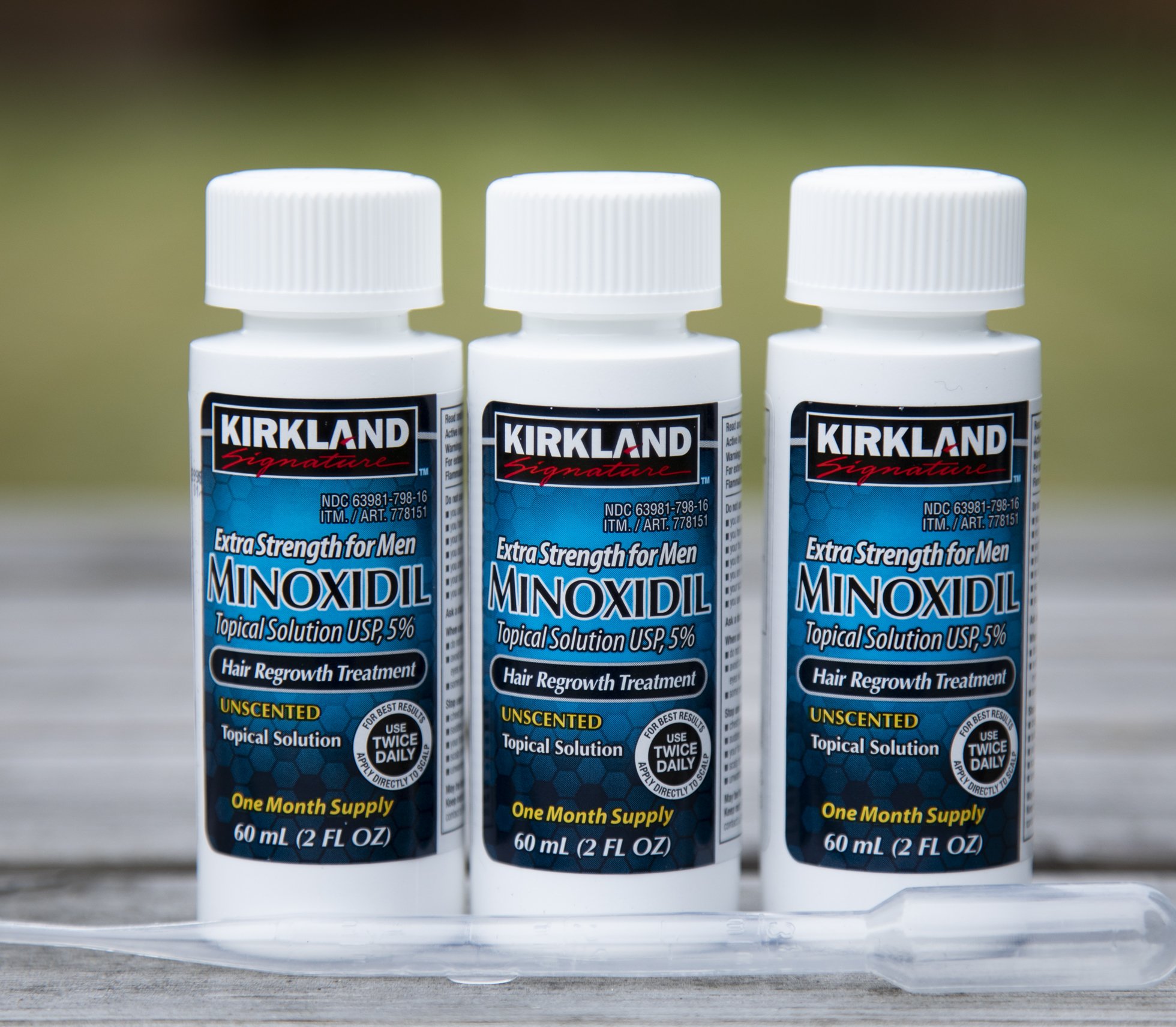 Kirkland's main appeal isn't in its different formula but its cost.
Rogaine is almost double the price of Kirkland Minoxidil, which makes it an excellent product for either those who know that the active ingredient. That ingredient is Minoxidil, which is the only thing that their hair needs or people that have a hair or facial hair care routine that includes the nutrients and DHT Blockers that Kirland's product lacks.
In all, it's a fantastic product from the Kirkland brand that is the better of the two when it comes to price and value.
Related Reading
Disadvantages of Kirkland Minoxidil
Unfortunately, there are some areas where Kirkland Minoxidil falls short compared to Rogaine as a hair loss treatment.
In Rogaine, certain ingredients are missing from Minoxidil that, while in small doses, can make a big difference depending on the person's hair needs.
These ingredients include nutrients that can help regrow otherwise brittle and malnourished hair and DHT Blockers, which help block the DHT hormone, which is one of the leading causes of hair loss.
Without these, Kirkland's products don't fall short, but it does miss out on some significant components to establishing healthy and strong hair, which Rogaine includes, however, more expensive.
Pros
nourishes the

and facilitates

.

Baby hairs regrow within 1 week.

Inexpensive product with very few (if any) side effects.
Cons
You must use this product monthly for the best results. 
Kirkland Minoxidil 5% Reviews
Start at the FIRST sign of hair thinning
I am 65. Typical male pattern baldness. My side hair is thick and vigorous. On the top…not so much. I started Minoxidil too late. I tried so many other alternatives that never worked very well. I started Minoxidil at age 54, approximately. By that time the follicles on the crown of my head were dead and no amount of this product will bring it back. The rest of my head is very thin, but this product keeps me from being totally bald.I had some re growth. But mostly, at my age, I have retention of what little hair I still have left. I will likely get hair transplants some day. Not a fan of all bald look.Even then, I have heard, you must continue treatment. I keep my hair quite short now, so treatment is quick, easy, and not messy at all.If you are on Test HRT, you MUST use this product. HRT can play havoc with anyone's hairline.I believe this product is as good as any more expensive version.
It works, I can see my hair, beard grow everyday even I have Asian genetic.
Great product even I have no beard hair before
The Best Deal on Minoxidil Anywhere
You can pay $50+ for a 90-day supply of 5% Rogaine-brand minoxidil, or…you can pay $40+ for a 90-day supply of 5% store-brand minoxidil, or…you can pay less than $30 for a 180-day supply of 5% Kirkland minoxidil (Kirkland is a CostCo house brand).It's all 5% minoxidil solution (probably manufactured in the same facility), so there's no difference in quality. Meaning that the key differentiator is going to be price. Some may want to pay through the nose for the Rogaine name, and that's great. But I think I'll save a few bucks with the Kirkland.
Excited to see the results
I just felt it like another previous brand I used before, but I loved that I receipt 6 to have a longer treatment. I hope it will work, I have used it only once and feels good on my head and hair
Conclusion
The overall conclusion for our Kirkland minoxidil review is that, for its price, Kirkland's product is a great deal, especially when considering the price difference!
With more and more studies showing the hair benefits of using Minoxidil, it's easy to see that Kirkland Minoxidil is a product that will deliver results! For additional performance with Minoxidil, check out the best dermapen for hair loss on the market.
My biggest regret is not getting started on Minixodil sooner than I did. The longer you wait, the fewer results you'll see. Read genuine reviews – including before and after photos.
Before you start solely using a Minoxidil product, you need to check out our top 3 hair loss recommendations of all time.
Add Your Own Kirkland Minoxidil Review