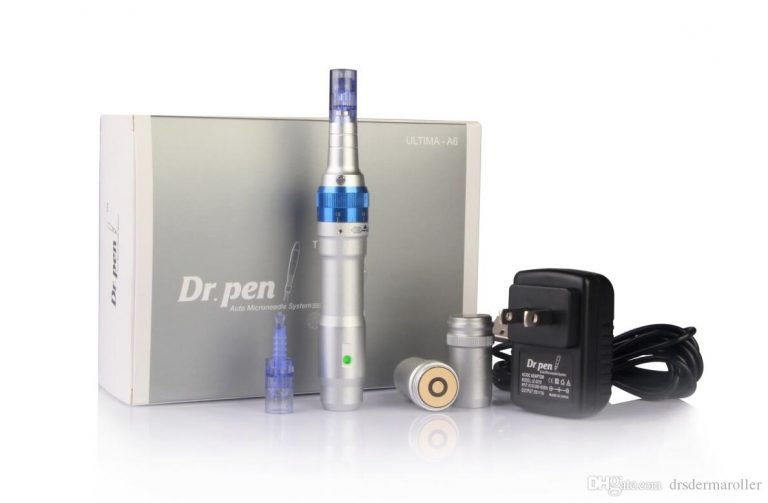 If you are looking for the best dermapen for hair loss on the market, look no further. After using the Dr. Pen Ultima A6 for the last few weeks, it is easy to recommend this derma roller highly, and is safe to say it is one of the absolute best on the market!
If you have been trying all the latest hair loss products and have yet to see results, this derma roller microneedling pen is the perfect fit for you to start seeing severe hair regrowth. Unlike a derma roll, which can leave small scars and tears on the skin, dermapens puncture the skin with tiny holes meaning they're far less invasive.
Features that We Can't Stop Raving About
What makes the Dr. Pen Ultima A6 the best dermapen for hair loss? The derma pen by Dr. Pen is the newest technology on the market that can help hair loss. With the adjustable needle length, this technology allows you to penetrate different layers of the skin to get the appropriate results. The features include:
Automatic high-speed roll

Five different high-speed options (from 8,000 RPM to 18,000 RPM)

Easy to operate

Adjustable micro- length

One-time disposable needles so no cross-contamination

Wireless
If you previously used other micro-needling devices, you were likely frustrated by the hassle of having to plug it in each time you tried to use it. With the Dr. Pen Ultima A6, this wireless device can last up to 8 hours on a full charge! And, on top of all these fantastic features, when you use the dr pen ultima a6 device, you'll have a pain-free experience. This is because the needles are moving at such a rapid rate. Pain-free means you're more likely to get to the hair follicle.
We found that this micro-needling is the most accurate on the market. The adjusting needle design creates a beautiful user experience, including multiple other treatments like wrinkles, acne scars, hyperpigmentation, and more! Although if you want to use it for your hair restoration, that's fine too!
How to Use the Dr. Pen Ultima A6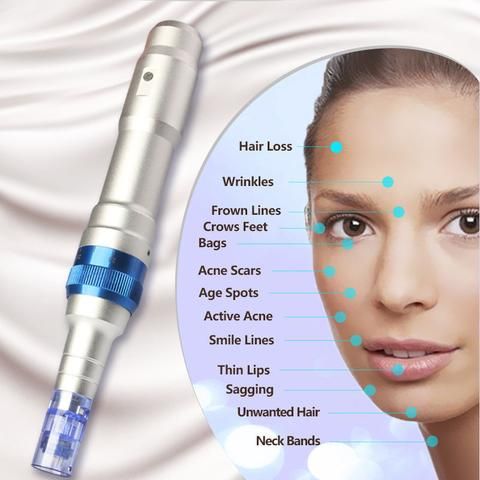 If you're ready to see the results for yourself, we suggest following these steps:
Wet your
Adjust to 2.0 mm to get to the correct layer of the (basal layer)

Start by going side to side across the left side of your head, working your way from the front to the back.

Once the left side is completed, begin the middle section and work your way from front to back.

Once both of those are completed, move to the right side of your head, working your way from front to back.

You might see a slight redness, but that's ok.

After completing the side-to-side movement, repeat the process but go vertically and diagonally in each section instead of side to side.
We suggest that you repeat this process every 7-10 days. Be sure to change the needles after each process.
The micro-needling device works by creating micro-tears to your scalp to regenerate collagen production, and you should slowly begin to see measurable results! Not only is it excellent for hair growth, microneedling has incredible results when it comes to using it on your skin as well. After 2-3 months of use, you'll see additional hair thickness and overall hair count.
Another critical thing to mention is this product is not recommended for those who have any of the following: hemophilia, diabetes, any conditions that inhibit healing, on medications such as blood thinners, etc.
If you have any questions, consult your doctor before usage. You should also not use this product if you have any open wounds or irritated skin.
Pros
Easy to use, safe, and highly recommended for hair loss treatment.

Promotes new hair growth within the first use.
Cons
This is an uncomfortable process. 
Results of Microneedling for
There are way too many before/after photos for me to share them all here. Instead, I suggest you check out this page to see hundreds of photos from users worldwide.
If you're serious about regaining control over your hair loss, the Dr. Pen Ultima A6 is a must-have addition to your arsenal.
Check out honest reviews on what people have to say about it! Start your journey to healthy hair today.