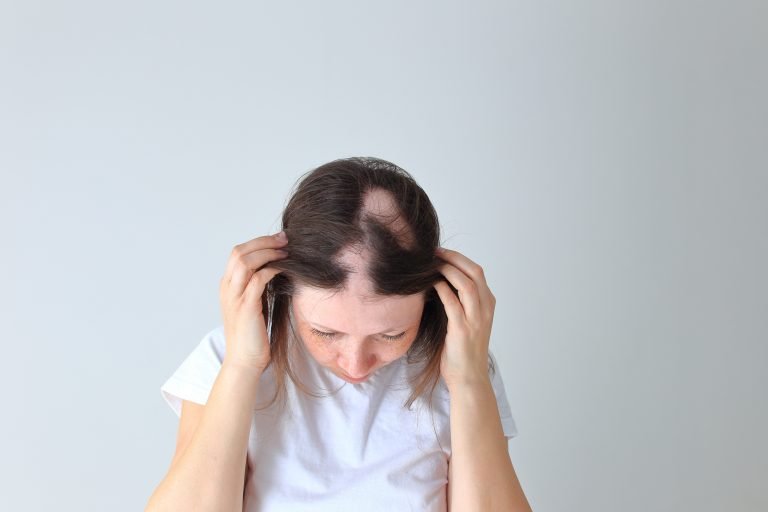 As someone who has suffered from baldness in the past, I perfectly understand what it feels like to have those bald spots.
Apart from it affecting one's self-esteem, hair loss and baldness can also result in depression and less enjoyable socializing, which is why we're about to teach you how to cover bald spots with makeup.
According to Dr. Shari Francis, director of the Hair Disorders Center of Excellence at The Northshore University Health System in Illinois:
"Hair loss in women can be associated with lower self-esteem and an altered self-image."
Similarly, a recent survey by the National Center for Biotechnology Information showed that:
62% of men who suffer from hair loss agreed that it could affect self-esteem, while 43% reported that losing hair caused great concern about losing a vital part of personal attractiveness.
Interestingly, for men and women who are experiencing baldness, there are lots of treatments available on the market that promise to deliver a good result, but relatively few of them actually live up to their promise.
From costly hair transplants to hair sprays and concealers, some hair care products that promise to work most often turn out to be a waste of time and money.
However, there are some that have proven to be effective, safe and affordable remedies that actually go beyond expectations – one of them is using scalp makeup for thinning hair.
In today's article, you'll learn how to use makeup to cover bald spots in 5 different ways. But before we proceed, we need to understand the meaning of scalp makeup.
What is Scalp Makeup?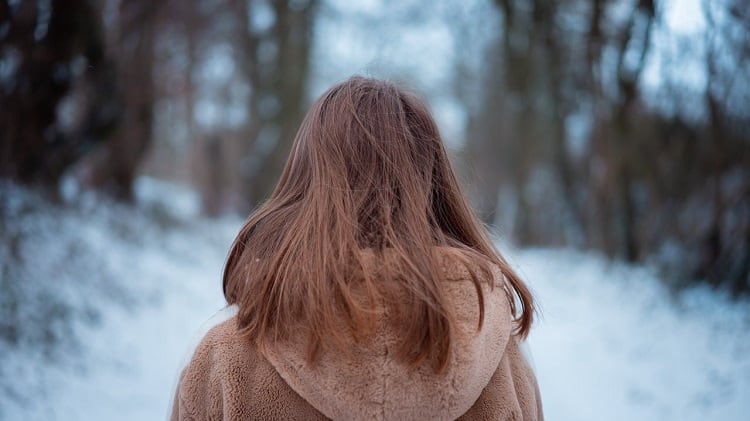 Scalp makeup is basically a product that is applied to the thinning spots of the scalp to create a fuller and thicker appearance. The term "scalp makeup" may be somewhat deceiving as the best products usually adhere to the thinning hair.
This means that it becomes virtually impossible to tell that it is not your real hair once the makeup is properly used on the scalp.
Meanwhile, while using scalp makeup for thinning hair, the right color must be selected. But the good thing is that the application is seamless, takes a few seconds, and when done properly, it'll completely disguise bald spots to the point where it appears that the individual has a full, natural head of hair.
How to Cover Bald Spots with Makeup
Below are the 5 effective scalp makeup for bald spots you should try today:
1. Mineral Makeup
This might be the best and easy option if you have a specific bald patch on your hair that's somewhat mild. Mineral make up is especially fantastic for thinning hair where the hair part is becoming wider and you can clearly see the scalp.
In this case, you will need a mineral face powder, which is basically helpful because the inorganic nature makes it to easily adhere to the skin, and stay even while sweating.
Aside from that, you'll equally need a powder that will match your hair color, for example, a dark brown powder can perfectly go with dark brown hair. However, if you're not able to find the correct shade of your hair, go a little darker.
How to Apply Mineral Makeup to Cover Bald Spots
Apply using a puff or makeup sponge
Apply the powder directly onto the bald area with the sponge or puff
Ensure to spread the makeup properly into the surrounding hair itself to blend
While applying this solution, you'll notice that the powder sticks to the scalp. It will darken the bald spot so it looks less noticeable.
2. Hair Fibers and Concealers
One of the most widely used types of makeup for covering bald spots is hair fibers and hair loss concealers. Some popular hair fiber brands are:
Typically, these hair products are colored keratin proteins that are electrostatically charged.
Here's a short video that shows how effectively it works:
In some cases, you spray the product onto the thinning area on the scalp and it intertwines with your existing hair, making the hair appear thicker and fuller.
Excitingly, most of these hair loss concealing products are equally made to resist sweat, wind, and rain. But they easily and seamlessly wash out with shampoo.
Because the hair fibers easily intertwine with hair, it's the perfect option for hair that is slightly thinned.
Here's our review of the best hairsprays and concealers for bald spots:
3. Hair Dye Sprays
If you're not comfortable having makeup on your head, another simple but popular cosmetic approach to cover bald spots is by using spray paint – on your scalp.
These are essentially products that temporarily cover gray spots on the head.
You can purchase these products in shades that match the color of your hair, which makes it a more customizable approach than the mineral powder mentioned earlier. These are equally made to last throughout the day, and then you wash them off at night.
You'll just have to spray it on the thinning spot on your scalp.
It's advisable to hit the scalp as directly as possible. That will add color to the scalp thereby camouflaging the bald spot.
Finally, since this option adds color around existing hair, it'll work best if you have a mildly thinning hair, especially in situations where the hair part appears too wide.
4. Eye Shadow to Cover Bald Spots
This is somewhat similar to the mineral makeup discussed earlier, and it's yet another widely used strategy to hide bald spots.
This works best for smaller bald patches near the front of the hair that just needs a little filling in as eye shadow comes in small containers.
This is equally a good trick to easily get a color that matches your hair as eye shadow comes in almost every color.
How to Use Eye Shadow to Hide Bald Spots
Using a stiff, short bristle makeup brush
Lightly apply the eye shadow on in streaks to start with
Then use your finger to blend out the color
Eye shadow is one of the simplest options for disguising bald spots with makeup.
Below is a short video to show you exactly how it works:
5. Scalp Micropigmentation
These tips on covering bald spots with makeup have been proven to work on mild-to-moderate thinning hair. But what about someone that has more severe hair loss?
That's where the scalp micro-pigmentation tactic comes in. It's not entirely about covering bald spots via a traditional makeup approach, but it equally fits in the cosmetic category.
So what is scalp micropigmentation?
Scalp Micropigmentation (SMP) is another name given to hair tattoo. It's an advanced method of cosmetic pigmentation. While similar to conventional tattooing, SMP is equally unique in some ways. Scalp Micropigmentation consists of using highly specialized equipment and strategies to inject pigment into the scalp.
According to the Journal of Clinical and Aesthetic Dermatology:
Scalp micropigmentation provides a great nonsurgical alternative treatment for scalp and hair deformities.
Scalp micro-pigmentation offers a non-medical, tattoo-based cover that efficiently disguises unsightly conditions on the scalp, creating the illusion of thicker and fuller hair.
The study furthered mentioned that it's an amazing option for the most stubborn of balding cases such as alopecia that is not responding to treatment.
Here's a short video that talks more about scalp micropigmentation:
Scalp Makeup: Before and After
Here are some scalp makeup before and after photos as an example of where people have used makeup to cover bald spots and thinning areas on their scalp: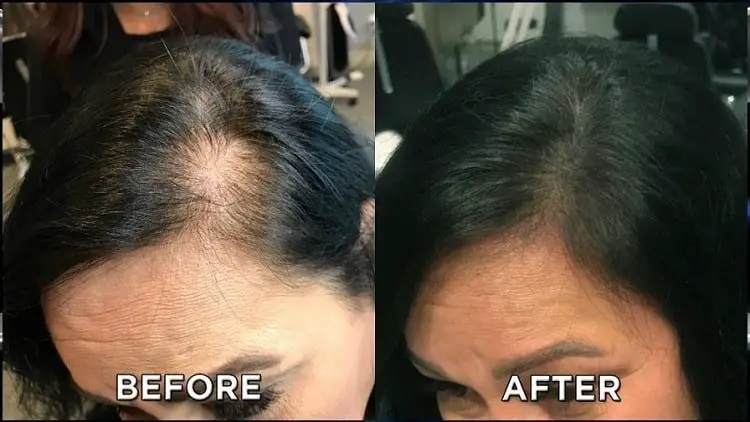 And: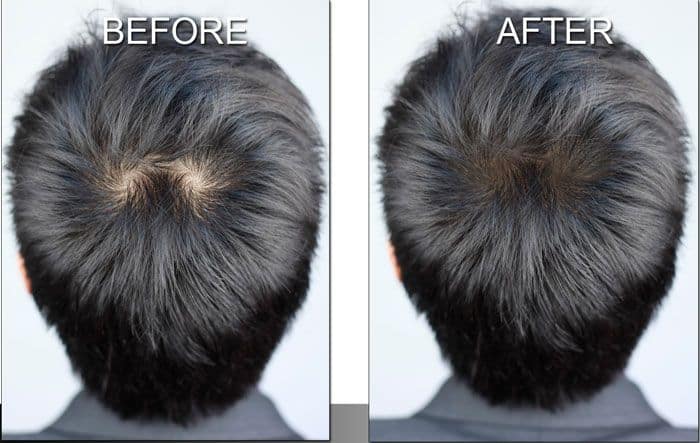 The Disadvantage of Using Makeup to Cover Bald Spots
The temporary hair loss approaches listed here may be a viable option in the shortest term, but covering bald spots can present some issues in the long-run.
Ideally, this is not the best option for a lot of people. It takes time and can disappear throughout the day.
Aside from that, when a bald spot is covered with makeup, it can result in clogging of the hair follicles and pores, which may consequently agitate the follicles and lead to a variety of issues, including folliculitis.
Furthermore, the use of these makeup scalp covering products may equally irritate the scalp and cause itching, drying, discomfort, and flaking.
It is, therefore, very important to always consult with your dermatologist before using some of these hair care products.
Scalp Makeup for Thinning Hair | Conclusion
There you have it all. We've been able to discuss how to cover bald spots with makeup in 5 simple ways. Now, if you don't want to use makeup regularly to cover up those bald areas on your scalp, then traditional treatment should be your best option.
However, your best hair loss treatment option will vary depending on the cause and sternness of your condition.
There are obviously a bunch of hair loss treatment options on the market, including FDA-approved medicines such as minoxidil and finasteride, and even hair care products such as shampoo and conditioners, vitamins, essential oils. Natural home remedies could also be your best option.
Whichever treatment you go for will help you tackle the fundamental cause of your condition, which can result in less hair loss and healthier hair growth.
That's not all, you might equally have to make a few lifestyle changes such as quitting drinking and smoking, avoiding stress and depression, and also eating an improved diet – if you want to see long-lasting results.
Be sure to check out the top rated of all time best products for thinning hair.