Having a bald spot on the head is a concern for everyone who cares about their appearance. Bald spots remain a source of worry for those who suffer it, and in some ways, it may even reduce one's self-esteem.
That is why we've researched the topic and come up with the best hair spray to cover bald spots.
The way society looks at balding is another reason why sufferers want to do everything humanly possible to get rid of the problem.
Now, if you have bald spots and you are searching for solutions to the problem, you don't need to concern yourself anymore.
That is because we have researched the subject and have finally come up with the best bald spot spray concealers, which can help hide the spots, and give you the attractive look you so desire.
That said, below is a list of the best hair fibers for thinning hair; they have been tested and proven to work wonders.
Best Hair Spray To Cover Bald Spots
Do Hair Loss Concealers Really Work?
Yes, it works!
In case you are uncertain, hair loss concealer sprays can work really well if you pick the right ones. The good thing is that only the best of the best made it to our list. So you can be sure you're spending your money on a proven and trusted product.
We highly suggest you check the bald spot spray concealers here and see the results.
In the end, we'll also list some hair fiber side effects as well as some of the frequently asked questions these products.
Now, let's get started:
What Are Hair Building Fibers?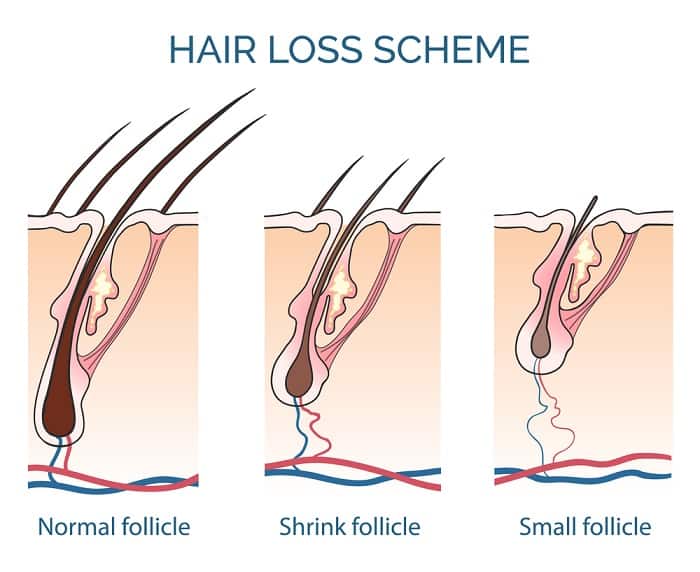 Hair building fibers consist of naturally formulated keratin protein. These fibers, when applied to the scalp, are nearly a dead ringer for human hair.
According to Francesca Dubsky, (director of marketing for HairMax):
Available in a bunch of colors (shades can be mixed to create the ideal color), the fibers create an optical illusion on thinning spots and patches by immediately camouflaging them.
Furthermore, according to Emily Erwin, brand manager of Thinning Hair Solutions for the company that owns Toppik (Church & Dwight):
Once sprayed, hair building fibers shouldn't shift, deplete or wear out. Dubsky also stated that:
Finally, these products work best for people with minimal to moderate balding, where the hair is still present on the head. This is because the fibers need something to hold onto.
Why Do You Need Hair Thickening Fibers?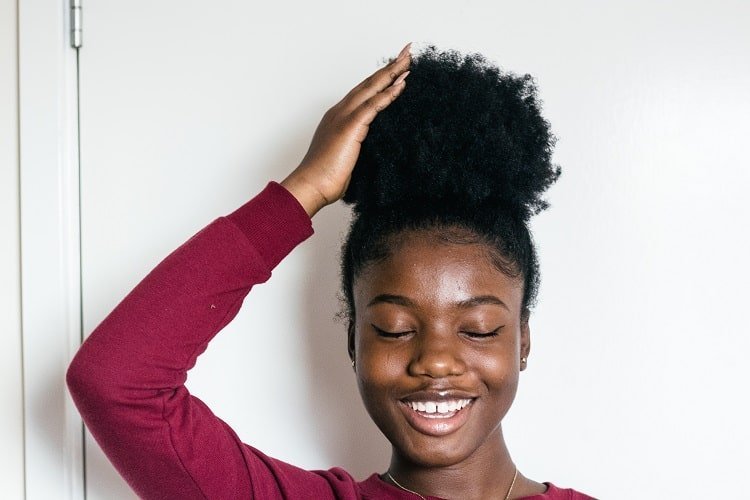 Hair fibers are incredibly effective when it comes to camouflaging hair loss. They're typically made of keratin, the same protein in real human hair. These hair fibers stick to your existing hair, creating a thicker appearance but also helping to hide bald spots.
Additionally, these hair products are often referred to as hair concealer or bald spot camouflage.
As for why you need them: using fibers will instantly improve the look of your thinning hair. However, it takes some practice to properly style the hair in order to make the thinner spots appear full.
The best hair thickening fibers below will give you everything you need to prevent the appearance of bald spots!
Reviews of the Best Spray For Bald Spots
Below is a complete review of the best sprays to cover balding. Take your time and check them out and then pick the one that best suits your bald spot needs.
Last update on 2023-11-16 / Affiliate links / Images from Amazon Product Advertising API
TOPPIK Hair Building Fibers is made from colored keratin protein that is natural in origin. To afford you a normal look, the fibers simply intertwine with the hairs left in the balding spot.
This makes it look like you have thicker, fuller tresses. Once it is applied to the spot, it is able to defy rain, wind, and perspiration but is easily removed with shampoo.
Does TOPPIK Hair Building Fibers really work?
The consensus depends on what the users have got to say concerning the product. According to a user perception study carried out in 2016: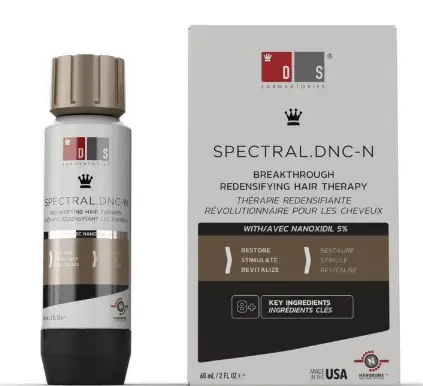 A topical hair loss and hair growth solution that is the modern alternative to minoxidil. Spectral.DNC-N covers the vertex as well as the hairline (unlike Minoxidil) for maximum coverage to combat hair loss and stimulate hair growth.
DS Laboratories formulated Spectral.DNC-N with its proprietary ingredient Nanoxidil 5%, which is a compound with high efficacy, low molecular weight, and no side effects.
Unlike Minoxidil (the likes of Rogaine), Spectral.DNC-N uses a non-greasy, water-based formula that customers love.
That's not all; Spectral.DNC-N is also formulated with DS Laboratories Advanced Nanosome Technology, a proprietary technology that encapsulates the key ingredients for better absorption and penetration to the hair follicles.

Last update on 2023-11-16 / Affiliate links / Images from Amazon Product Advertising API
This is a very effective hair spray to cover bald spots. Infinity Hair Building Fibers are made from protein with an electrostatic charge and the ability to intertwine and bond with your hair.
With Infinity Hair Building Fibers, choosing the right color shouldn't be an issue as the fiber comes with varying colors. All you have to do is to choose the best match for your root color.
It's pretty simple to apply as it takes just 30 seconds to put in place. Wash with shampoo the moment you are done with applying the product. Simply sprinkle the fibers to the thinning spot and they instantly conceal the bald areas.
To make it easier to control the fibers, you can make use of the Patented Infinity Hair Fair Pump Applicator. With the Infinity Fiber Locking Spray, it is easy to lock the hair loss concealing fibers in place.
If you are battling with thinning hair or balding spots, Infinity remains a great hair spray to cover bald spots as it ensures the hair still look as real as possible. It is highly suitable for men and women.
Last update on 2023-11-16 / Affiliate links / Images from Amazon Product Advertising API
The quality of LUXE Hair Thickening Fibers is not in doubt; it is 100% natural and made of high-quality materials thereby giving it an edge over its competitors. You can even apply after Rogaine, so long as you keep the hair dry.
LUXE employs the latest technology in designing the kind of fibers that easily replaces thinning hair. It is 100% undetectable and gives a voluminous appearance.
Do you want to give your self-esteem a boost? Then you need to give LUXE a try. Since the fibers are resistant to perspiration and wind, you can easily go to the gym without losing your newly applied tresses.
When LUXE is applied, it integrates with your natural locks to create an appearance of full, rich curls in a matter of seconds.
Should I buy LUXE Hair Thickening Fibers?
Last update on 2023-11-16 / Affiliate links / Images from Amazon Product Advertising API
There are several products out there that claim to be the best hairspray for bald spots but end up being a rip-off. The fortunate thing about BOLDIFY is that it is 100% natural and does not contain ingredients that would irritate your scalp or further damage your tresses.
If you have been battling low self-esteem as a result of your bald spots, BOLDIFY provides you with the right solution and a way to regain your confidence without getting your balding noticeable.
It simply provides you with thicker, full-looking curls that appear real to everyone. Even if you are under extreme lighting, it is difficult for people to spot the artificial hair.
One thing that differentiates BOLDIFY from other products is that it's lightweight and does not impact your hair negatively. As it is lightweight, it is also easy to style your hair.
Do you need hair that is not affected by wind, rain, and perspiration? BOLDIFY is one of such. It can hold its own until you are set for the next shampoo.
Is the quality of BOLDIFY Hair Fibers good enough?
Best Hairspray to Cover Bald Spots
Last update on 2023-11-16 / Affiliate links / Images from Amazon Product Advertising API
CUVVA Fiber hair loss concealer for thinning hair is a premium hair loss concealer formulated from high-quality natural keratin protein – the same protein your body naturally produces to grow hair, it's basically one of the best black hair sprays for bald spots available.
It's insanely effective hair fibers cover bald spots and fill out thinning hair in a matter of seconds!
Great for both men and women, this instant hair thickener will help you regain lost confidence by giving you that luscious hair that you have always craved.
Cuvva keratin hair fibers are formulated with the best organic protein, which interlaces with natural curls perfectly.
Cuvva Hair Building Fibers hide areas of thinning hair and hair loss; delivering stunning, undetectable and buoyant results. A sprinkle of Cuvva Fiber into your hair will make it appear thicker and instantly conceals exposed scalp.
This product offers the fastest and most flawless solutions to balding and thinning hair. Enabling men and women to live energetically, instead of focusing on the emotional distresses caused by hair loss.
All it takes is just a sprinkle and you'll get a fuller, more luxurious head of hair in less than 5 minutes.
Fight back today, take full control of your tresses with the CUVVA Hair Building Fibers.
7.
Last update on 2023-11-16 / Affiliate links / Images from Amazon Product Advertising API
Last update on 2023-11-16 / Affiliate links / Images from Amazon Product Advertising API
FEBRON Hair Building Fibers is one of the best hair thickening fibers for both women and men in the market, it's designed to blend with your locks, giving you the look of fuller and thicker hair. FEBRON is 100% natural and very safe to use.
FEBRON Fibers interweave with your existing hair for a natural look. The product resists rain, wind, and perspiration but can be removed with shampoo.
Just shake the fibers directly onto the thinning areas and watch the second generation fibers seamlessly bond to your existing hair, creating a totally full and thick appearance.
Interestingly, FEBRON is recommended by doctors as one of the best hair powders for thinning hair. Unlike other brands, FEBRON's ultra-lightweight fibers will never weigh your locks down. This enables it to be styled more easily and in ways that were never before possible.
This product does not contain any harmful chemicals as it's made from a 100% natural fibers source. It's also paraben, alcohol, and gluten free, and is never tested on animals.
Last update on 2023-11-16 / Affiliate links / Images from Amazon Product Advertising API
This hair product will give you instant flawless coverage with no clumps. It's shiny, lightweight, and gives a realistic feeling to the hair.
Celebrity stylists admire how these electrostatically charged hair thickening fibers cover every gap instantly; adding texture, shine and lift that lasts the whole day.
This is one of the best hair fibers for thinning hair specifically formulated for women.
While some of the competitors' hair powder for thinning hair often clump and weighs hair down, Get Back Gorgeous hair product is crafted from the highest grade keratin hair fibers – so it feels real, looks real, and easily sticks to your hair.
Simply open and shake the hair fibers for thinning hair over the thin areas, and watch as the tiny hair thickening fibers intertwine with your existing hair follicles. It provides instant thickening and filling as well as full coverage over bald spots, patchiness and thinning.
This women's only specific hair filler will save you thousands of dollars over expensive hair pieces, wigs and costly hair clinics while still delivering real looking locks in seconds. Our friends like to say:
Last update on 2023-11-16 / Affiliate links / Images from Amazon Product Advertising API
Are you suffering from hair loss? Then here's the solution you've been looking for. This is a good black hair spray to cover baldness.
Crown Hair Building Fibers are made to instantly hide areas of thinning hair and hair loss, delivering a luscious and beautiful result.
A quick sprinkle of Crown hair fibers into your scalp will make it appear thicker and instantly conceals exposed scalp.
This product's manufacturing process intensifies the natural static charge of keratin, allowing the fibers to cling and blend with your natural hair seamlessly. Crown hair thinning fibers is extensively tested and work excellently with every hair type – for both men and women.
Therefore, if you're still looking for a fuller, more luxurious head of hair, get CROWN Hair Building Fibers right now and say goodbye to thinning hair and hair loss. It's one of the best bald spot spray concealers out there.
Last update on 2023-11-16 / Affiliate links / Images from Amazon Product Advertising API
If you're struggling with thinning and fine hair, Boldify is the perfect solution. It works great for fine and thin hair, and is one of the best products to cover bald spots.
It amplifies baby fine hair, making it appear fuller and thicker, and gives extra body and volume. It provides all of this while also leaving it flexible and natural-looking.
Additionally, Boldify is made to lift up limp hair, keeping it from losing its form.
Aside from that, Boldify is equally ideal for men and women with slightly thinning hair as it lets you achieve more creative and ambitious styles. It makes fine hair look thicker, providing a better foundation for your hair styling product to finish on.
Finally, this hairspray for bald spots will prevent your tresses from immediately falling flat or losing its shape over the course of the day.
Hair Fibers Side Effects
Most people worry about the side effects of hair care products, which usually make them hesitate to use such products.
All hair building fibers should be used according to the instructions given by the manufacturers and if you notice any problems, it's advisable to stop using it at once.
Although, side effects are pretty much unlikely. Below a few concerns stated by users:
1. Irritation and Redness
Although, you're not likely to experience irritation and redness because the ingredients used are somewhat harmless. But it can happen to those that have a very sensitive scalp or to users that are allergic to certain ingredients.
Therefore, you should carefully check the ingredients list for any ingredients that might be harmful to you in order to avoid the chances of irritation.
2. Bumps and Pimples
You may experience irritation on your scalp if you don't remove traces of the fibers and regularly clear the product from your hair. The best practice is to give your hair and scalp some time to breathe.
Excitingly, a good clarifying shampoo will remove every trace, making sure that there's nothing blocking the follicles and pores on your scalp.
Additionally, constant care and adequate cleaning can also help your curls remain healthy while making sure you don't experience painful pimples or bumps.
3. Additional Thinning and Hair Loss
Lots of people believe that using hair building fibers can result in more thinning and hair loss. They believe the hair fiber and other ingredients used in the solution can suffocate the hair follicle, thereby causing hair loss.
However, various researches and real-life reviews from unbiased users have shown that good products like the ones listed here do not cause any hair loss.
How to Prevent Any Hair Fiber Side Effect
Side effects are somewhat unusual, especially if you use the product carefully. It's always advisable to carry out a patch test on any hair care product to ensure you don't have any allergic reactions to it.
Furthermore, while these products undergo a series of extensive testing, everyone's body and differ, which is why you should always be careful.
It's very easy to perform a patch test as you only need to apply a little amount of the hair fiber on your skin and leave it in place for some hours. And if you develop any kind of problem or allergic reaction, do not use the product.
Frequently Asked Questions about Hair Fibers (FAQs)
1. Are hair building fiber products good for hair?
Yes! They're very good for thinning hairs, but you must be careful while using them, you want to, first of all, perform a patch test to ensure you won't react to it.
2. How long does hair fibers last?
This is totally dependent on how much of the fiber you use. But as a rule of thumb: if you're using it on a daily basis, then the 55 g bottle of Toppik, for example, will last approximately 3 to 4 months, the 12 g will last for about one month, and the 27.5 g bottle about 2 months.
3. Do hair building fibers have side effects?
While side effects are relatively unlikely, you also need to examine the ingredients used to formulate the product to ensure that none of them will have a harmful effect on your scalp.
It's also advisable to consult with your dermatologist before using certain hair care products. We've also discussed some of the possible hair fiber side effects above, kindly check them out.
4. Does hairspray cause hair loss?
No! hairspray does not cause hair loss. Shampoos, most hairstyles, and frequent washing won't cause hair loss as well.
The only styling factor that might lead to hair loss is pulling your hair back tightly with continued traction – this can result in permanent hair loss.
5. Do hair fibers washout?
Hair Building Fibers stays until after you wash your hair. Although the fibers may shift, they can be easily touched up.
6. Can you use hair fibers after hair transplant?
It's advisable to not use hair fibers for at least 2 weeks after a hair transplant procedure. I also suggest you seek professional advice for this.
7. Are hair fibers noticeable?
No!
Hair building fibers are microfibers that adhere to the hair via static electricity, making the hair appear fuller and more abundant.
8. Does hair fibers grow hair?
Hair fibers are not meant to regrow hair. However, it also contributes to growing stronger, fuller, and healthier hair. Hair fiber products can consist of all-natural, organic ingredients that stimulate a healthy scalp.
9. Which hair building fiber is best?
We basically reviewed 9 different hair sprays/hair fibers here, and all of them works very well. Just pick any of them and give it a try.
Bald Spot Spray Concealer | Conclusion