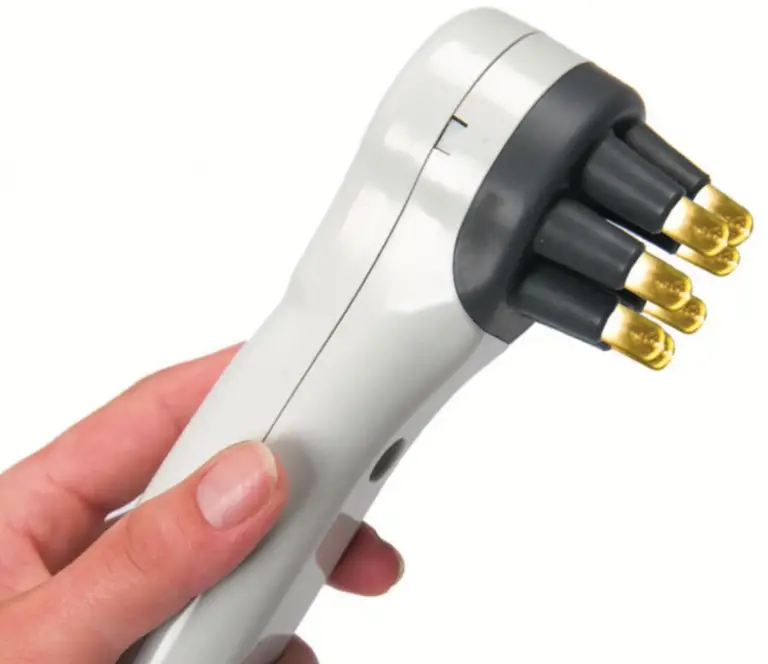 In this article, we'll review the Growcomb, what it is, and the pros and cons behind its regular implementation. As a relatively new device, the Growcomb has increased its popularity in recent months among laser combs for its ability to improve hair health. Continue reading below to decide for yourself:
What is the Growcomb?
Think combs are a thing of the past, Johnny Bravo? Think again. Hairguard's Growcomb is here and maybe even here to stay. What is it, you wonder? It's a hand-held laser device that utilizes lasers to revive and restore hair follicles. With a four-power setting correlated to different electrostatic levels, the lasers provide energy to the follicles which in turn allows them to have a greater ability to form new hair. In practice, the laser acts as a stimulant to the hair's roots, creating overall stronger follicles.
Exclusive Promo Code
Get 10% Off Your Entire Order With Promo Code: hairlossgeeks
How do lasers help the scalp?
Quick answer: Stimulation. Through this process, Hairguard uses ETG or "electrotrichogenesis." In other words, the Growcomb discharges pulses of electrostatic energy through its glass electrodes that then come into contact with the hair root's follicles. According to the website, this helps kickstart the hair follicle back into the growth phase. After just 10 minutes of use, you are done for the day. This patent-pending technology was developed by Bernhard Rudhert, Hairguard's senior product developer. The company also recommends using the comb before bedtime and alongside the Scalp Elixir for maximized results.

Growcomb by Hairguard
No side effects
Doesn't harm your hormonal system
Improves hair density, thickness, and appearance
Affordable, rechargable and lasts a lifetime
Easy, quick and enjoyable to use
Okay, I get it. What about the research?
In every corner of the internet, it is possible to find stories of people who have both successfully unsuccessfully used laser combs. There are forums, websites, and black holes leading you to destinations where you'll find reviews and testimonials for various products and brands.
There are, however, just a few research studies you can read to determine whether they work or not. In 2009, one study was conducted on participants who were using the HairMax LaserComb. This 26-week study showed an increase of approximately 17 hairs per square inch. This study showed that when used regularly and properly, the laser combs did work but not necessarily all that well. Although there was a difference, it was not a noticeable change for most participants.
Related Reading
What do the users have to say?
Reviews of this product outside of Hairguard's website are most difficult to find. This points to its higher-price point and its relatively new placement on the market. Based on 16 current reviews, Growcomb holds a positive 4.5 out of 5 stars rating. Among these reviews, critics are hesitant about Hairguard's lack of comprehensive before and after photographs on its website, and the abundance of easily-creatable testimonials displayed on the website that seems to lack "trustworthiness."
One critic pointed out seeing "no change" during his two months in beta-testing. Other similar skeptics have highlighted how the price point for this particular product is steep, even for its positive and potential side effects of altering one's scalp growth.
Skeptics will be skeptical.
At the same time, Growcomb claims to offer a viable long-term solution with no apparent ill side effects. These claims state how there is no harm to one's hormonal system, safe for both men and women, and completes all of the aforementioned without the use of any harmful side effects (Minoxidil and Finasteride). There is also a 100% money-back guarantee within the first year, according to its website.
Pros
Approved by the FDA to treat Androgenetic Alopecia.

Relaxing and easy to use.

Safe and effective for anyone facing hair loss. 
Cons
This product has a high price tag. 
The Growcomb vs. Other Hair Loss Combs
So, how does the Growcomb stack up against other hair loss combs and medications, like topical minoxidil and oral finasteride?
Similar to Growcomb, minoxidil is believed to increase blood flow, while finasteride treats DHT (Dihydrotestosterone). Somewhat incomparable, Finasteride is an oral drug that inhibits the activities of the enzyme 5-alpha-reductase, decreasing DHT levels. This is a short-term fix that does not address the long-term effects like the Growcomb.
According to the developers of the Growcomb, "For someone with perfectly healthy hair, the majority of the hairs are in a growing phase, with a much lower percentage in the resting phase. If too many hairs are in the resting phase, your hair appearance itself will be thin, lifeless, slow-growing and fall out easily. The Growcomb uses a patent-pending technology, known as ETG to optimize the hair follicle growth phase."
The problem behind this claim is how it differs from its previously reviewed product, the Growband, in addition to the lingering question of whether scalp tension or stimulation will help one's hair return back to the healthy anagen, or growth, phase.
The proof is yet again in the pudding, but the pudding is just as pricey. This time, there are two flavors to choose from and it's up to you to decide.
Is the Growcomb right for you?
When it comes to treating your scalp properly, it's of supreme importance to reach the source.
The Food and Drug Administration, or FDA, is an organization dedicated to protecting customers and keeping checks on companies. They oversee everything involving food and dietary supplements. There are only three products, one of which is a laser comb, that have been approved by the FDA.
Even without the FDA's approval, the Growcomb requires a steeper investment of money, time, and patience. Prices on comparable products can vary anywhere from as low as $30 to just below $500. In the end, it comes down to how quickly you are losing hair, what reasons you think this can be attributed to, and what lengths you will go to undo it.

Growcomb by Hairguard
No side effects
Doesn't harm your hormonal system
Improves hair density, thickness, and appearance
Affordable, rechargable and lasts a lifetime
Easy, quick and enjoyable to use
Exclusive Promo Code
Get 10% Off Your Entire Order With Promo Code: hairlossgeeks
Is it Worth the Price?
Your future is the one in which you place trust. There have been studies done that show how laser combs work with others that prove just the opposite.
If nothing else, using a laser comb may be able to provide you with the peace of mind needed to lower your stress and anxiety during hair loss, and in turn reducing it. When shopping around, make sure to read more reviews about this patent-pending technology and do not always believe what a company claims.
Although marketing has advanced, the ability to sell water to a well has not. Keep your eyes peeled and remember that if it sounds too good to be true, it might be so.
What are some of your questions regarding the stimulation theory of hair growth and the Growcomb in general? Do you have experiences of your own that you'd like to share?
Please feel free to leave a comment below and we'll respond to it promptly.
And be sure to check out the 3 hair loss products known to work!