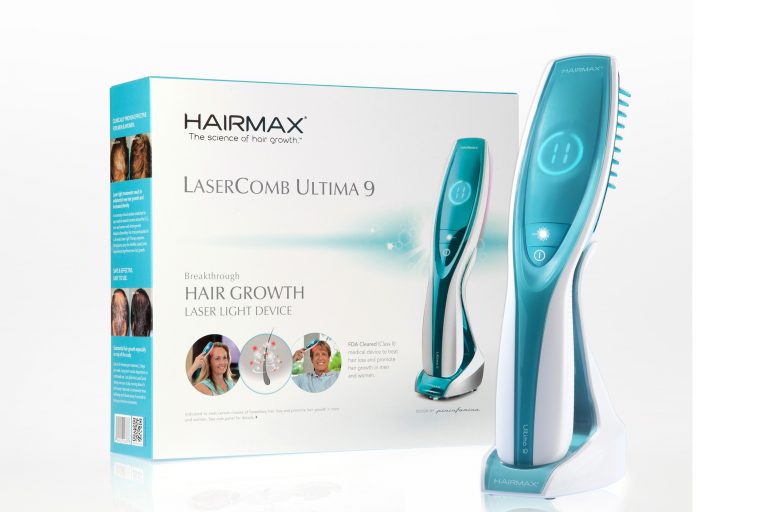 If you've been researching hair growth solutions, then chances are, you probably came across laser technology. While the treatment can be carried out by a surgeon or dermatologist, modern laser tech devices make it possible to do on your own.
The basic principles remain the same. Use a laser to stimulate the scalp and promote hair growth.
As the marketing for these products grow, manufacturers have created several devices that use laser light therapy in the form of combs and caps.
HairMax is one of the foremost brands in this industry. They've been around for several years and have several FDA approved hair growth laser devices. In fact, HairMax has become a top brand in the hair growth products space.
A significant advantage of using hair growth laser devices is that irrespective of the hair loss type, laser therapy is almost a sure bet in treating it.
Ultima 9 Comb Review
The Ultima 9 from HairMax is a laser comb device that stimulates hair with phototherapy technology. While this might sound like a colossal task for a small comb, most people who use the Ultima 9 drop positive reviews about it.
It's become widely adopted, and has been sold in over 150 countries. There's growing interest in the use of low laser light therapy for hair loss. These laser therapy devices offer an affordable option when compared to hair regrowth surgical procedures.
Overview and Features
A "laser comb" might not sound like a device that has a lot to offer. But when it comes to promotion hair growth, it offers more than you may realize. The comb uses low-level laser light to stimulate the scalp. The Ultima 9 also improves circulation in the scalp area and encourages new growth.
Based on user reviews, the comb is said to be safe and doesn't cause scalp irritation or any other side effects.
The infrared light stimulates hair follicles. This causes them to get back into the regular hair growth cycle. This phase is also called the anagen phase.
This process naturally increases keratin and ATP production. It also increases blood circulation to the scalp allowing for the rapid delivery of nutrients. Nutrients help you grow new and healthy hair.
Another bonus, is with baldness, there's rapid hair loss. The comb stops this by stimulating growth of new hair.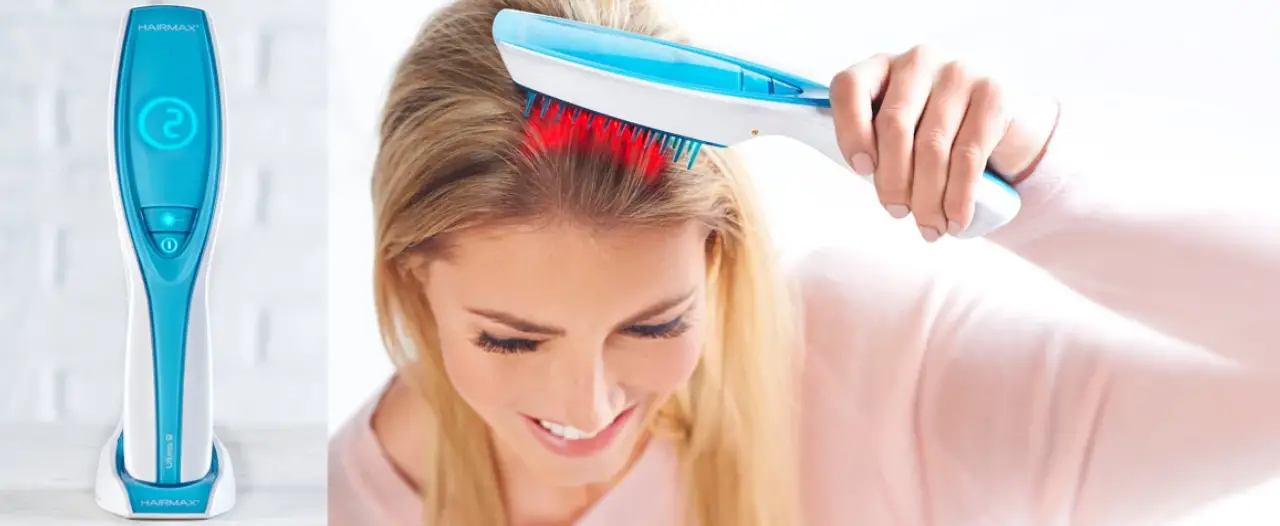 Clinical Studies
The comb has been tested and approved by the FDA, like several other HairMax products.
From trials and studies, the comb showed a ninety-three percent success rate within six months. This result is why Ultima 9 is highly recommended for hair loss.
It's essential to note that the effects of the comb requires that it be used consistently.
The comb is easy to use. You pass the comb over the entire scalp like a regular comb. When doing this, however, pay special attention to areas where you're experiencing hair loss.
Also, it's recommended that the comb be used on a clean scalp that's free from creams, gels, or any other hair product. This ensures the infrared light gets to the hair follicles directly.
And remember, consistency is essential when using the product.
Does HairMax Ultima 9 Comb Work?
There are several opinions on the efficacy of laser light therapy in the treatment of hair loss. However, studies have shown that while laser therapy by itself is effective, a lot of people often do not get results due to their inconsistency in using the products. For Ultima 9, it is recommended that the comb is used about 3-4 times weekly for 10-15 minutes for a minimum of 3 months.
Most users that have been consistent with the use of Ultima 9 have claimed not to improve in the hair growth process. Although, HairMax does state that in some instances, there might be increased shedding in the first few weeks of use before the hair grows back and healthier.
Pros
Delivers hair-regrowth laser light energy directly to your hair follicles.

FDA approved to promote hair growth in both men and women.

Extremely lightweight.
Cons
Hair regrowth can come slowly. 
Warranty
HairMax offers a two-year warranty, and five-month money-back guarantees on the Ultima 9 (depending on where you make the purchase).
Tired of chasing down hair growth solutions without the results you're after? Make sure you're using the 3 hair loss products known to work before experimenting with alternative solutions – you may be surprised with how effective those 3 alone can be.