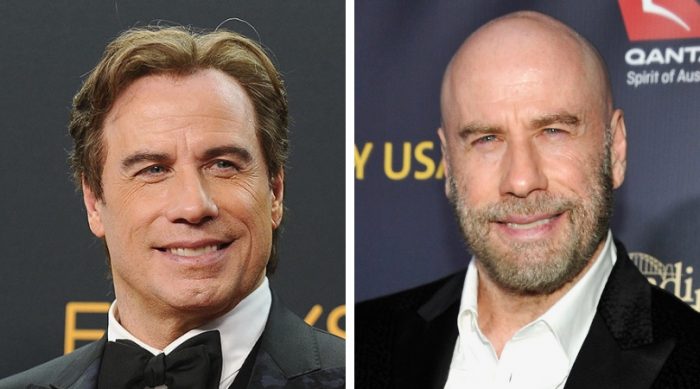 Going bald or starting to lose some hair on the heads may not be a matter of serious concern to some folks.
But that's not when you're a celebrity.
Celebrities are continually being put under pressure to be at their best and to look good at all times, often resulting in many celebrity hair transplants these days.
This is because, as a celebrity, so much of your fame may rely heavily on your image and appearance. You definitely need to be at your best looks to land that next modeling job or that next acting job or to be in that next TV Show.
You need to sparkle both in your outlooks and style to continue to enjoy your fans' love.
Again, many celebrities opt for hair transplants as this directly relates and correlates with their self-image or self-esteem or self-confidence if you like.
In today's post, we'll be looking at some of the celebrity hair transplant cases you probably never heard about.
What Is A Hair Transplant?
Before I go into defining the term 'hair transplant' or describing how it's being carried out, it's important to note that hair loss can affect all men as from age 18.
It's not just the celebrities' stuff.
Age, lifestyle, money, fame, or status has nothing to do with you losing some hair. It comes when it will come. So, this post is not meant to 'shame' anyone or any celebrity who has chosen to deal with their own situation by opting for a hair transplant.
So now, what is a hair transplant?
According to the National Health Service (NHS) U.K:
"A hair transplant is a procedure to move hair to an area that's thin or bald."
It is a cosmetic surgical process where hair is moved from an area you already have hair to an area where there's scanty or no hair at all.
During the process, a patient is placed under local anesthetic and sedation. With this, you'll be awake but will not feel any pain.
Types of Hair Transplants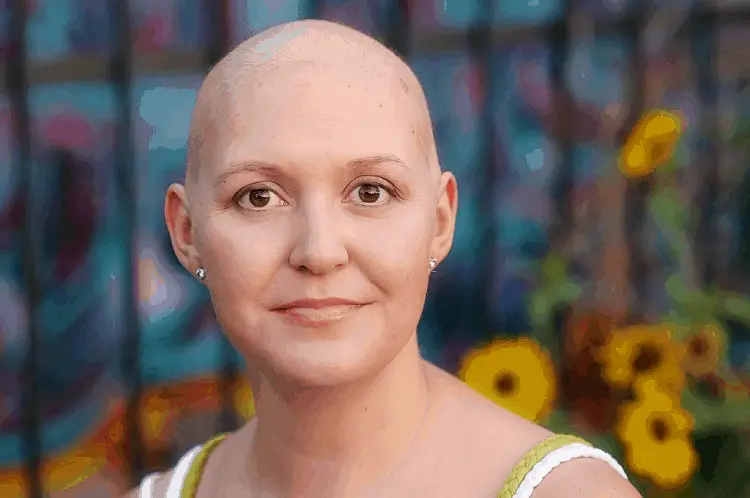 There are basically two types of hair transplant:
We have the follicular unit transplantation (FUT, or strip method) and the follicular unit extraction (FUE).
1. Follicular unit transplantation (FUT, or strip method): In this method, a portion of the head usually the back is shaved, and a strip of skin with hair is removed and placed into incisions made in the area with scanty or no hair.
And afterward, the wound that was created by removing the strip of hair-bearing skin is closed up with stitches.
2. Follicular unit extraction (FUE): This method involves shaving the head completely before a surgical device is used to individually remove some follicles containing hair.
And then these hairs are placed in areas where hair growth is thinning by making incisions in the scalp.
The Recovery Process…
How long does it take for a hair transplant to be healed?
The NHS provides some insights into the recovery process…
Firstly, cosmetic procedures are usually completed in a day, and patients are given pain relief to help them recover fast.
And so, most people are able to return to work after about three days.
The first two weeks are very sensitive. They advise that one needs to be very careful with their transplanted hair for the first two weeks after the operation as their skin grafts are usually not secure yet.
Secondly and more specifically…
Between 2 to 5 days after the process: any bandages can usually be removed, but you should not touch the grafts.
By day 6: you should be able to wash your hair gently by hand.
And after 10 to 14 days: any non-dissolvable stitches can usually be removed.
A few weeks later: the transplanted hair will often fall out and then start to grow back.
Within six months: new hair will usually start to appear.
Then after 12 to 18 months: the full results should be seen.
However, note that after a hair transplant, you should also expect to see some side effects such as a tight, achy and swollen scalp for a few days, some temporary scabbing where the hair was transplanted and a single scar or a number of very tiny scars.
Or some bleeding, infection, or allergic reactions during or after the process, all of which can be taken care of by your surgeon.
How much is Hair Transplant?
The cost of a hair transplant is not fixed. In the U.S., this may range anywhere from $4,000 to $15,000, whereas, in the U.K., it can cost anywhere between £1,000 and £30,000.
And the difference in price tag depends on a number of factors which may include:
The quality of the clinic or the expertise of the surgeon
The type of procedure you choose attracts a different cost
The extent of hair you are moving. Just a few patches will cost less, vice versa
Travel cost
Recovery costs such as pain relief medications, anti-inflammatory medications to reduce swelling at the surgical site, antibiotics to reduce the risk of infection, etc.
It is essential to factor in these potential expenses in the cost and budget for a successful hair transplant.
Despite the huge cost involved in the procedure, every day, more and more celebrities are turning to surgeons to help them get back their hair to its full glory.
Let's take a look at a list of some:
Celebrities With Hair Transplants
Here's an overview of some of the celebrities with hair transplant surgery you might not know about.
Wayne Rooney
Sylvester Stallone
Mel Gibson
Matthew McConaughey
Louis Walsh
Jude Law
John Travolta
Joe Swash
Jeremy Piven
Jason Gardiner
James Nesbitt
Gordon Ramsay
Elton John
Calum Best
Billy Bob Thornton
Bono
Sean Penn
David Beckham
Brendan Fraser
Dennis Miller
Robbie Williams
As you can see, apart from Elon Musk's hair transplant news that broke the internet, there are many other celebrities that have also undergone hair transplant surgery. Did you recognize any name from this list? Hopefully, you are a fan of a couple of them. Maybe you've not heard of some of them.
In any case, continue reading to get to know more about them.
21 Celebrity Hair Transplants
Many of the celebrities that made this list have come out publicly to admit it and are happy with the result.
1. Wayne Rooney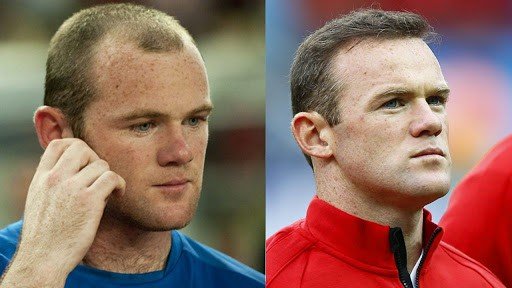 Topmost in this list is Wayne Mark Rooney, the English professional Footballer. Rooney was born on October 24, 1985, in Croxteth, Liverpool, United Kingdom.
He underwent a hair transplant in 2011. And took to his twitter hand to post a picture of his scalp in a caption:
"Just to confirm to all my followers I have had a hair transplant. I was going bald at 25 why not. I'm delighted with the result. "It's still a bit bruised and swollen when it dies down you will be first to see it. Anyone recommend any good hair gel. Haha."
2. Sylvester Stallone
Sylvester Enzio Stallone is best known as an American actor. But he is also a director, screenwriter, and producer. Sly, as he's fondly called, has been a longtime bodybuilder and fitness junkie. His sexy physique has been a huge selling point.
He was born on July 6, 1946, in Hell's Kitchen, New York, United States. Sly is known for his movies like Rocky, the Expandable, Creed, and a host of others.
There seems to be a consensus that he's got hair implants. Many people suspect his hairline has very much improved after seeing some of his more recent pictures.
3. Mel Gibson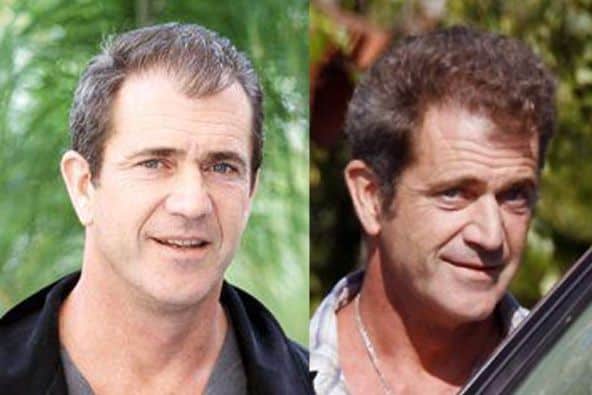 Mel Colmcille Gerard Gibson AO is an American actor, director, and filmmaker with an Australian origin. He was born on January 3, 1956, in Peekskill, New York, United States.
He is best known for his action hero roles in such movies as Lethal Weapon, Braveheart, the Passion, What Women Want, Apolcalyto, etc.
Mel Gibson is one of the celebrities who have had hair loss problems. Hair Palace believes he is one of the thousands of men whose Hair transplant has helped to regain a youthful head of hair.
4. Matthew McConaughey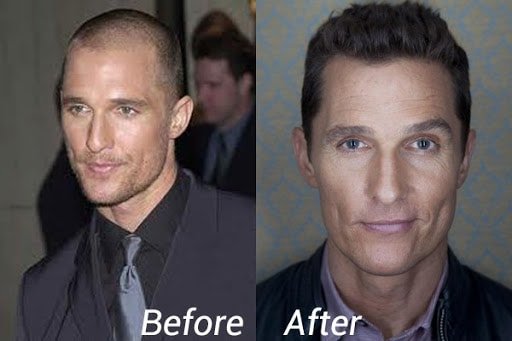 Matthew David McConaughey is an American actor and producer. He was born on November 4, 1969, in Uvalde, Texas, United States. Some of his top movies include Dallas Buyers Club, Dazed and Confused, the Gentleman, and How to Lose a Guy in 10 Days.
Matt had flowing locks in his youth until around 1999; they started to fall out. Then in 2005, just when he was to be crowned the People's Sexiest Man Alive, he suddenly seems to have regained those flowing hair, which he still wears to date.
Thanks to the expert work by his surgeons.
5. Louis Walsh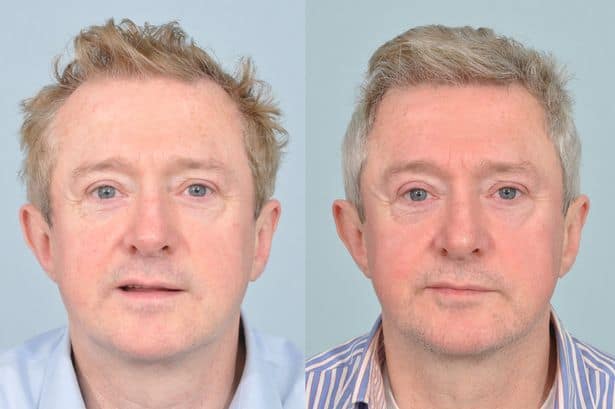 Michael Louis Vincent Walsh is an Irish entertainment manager as well as a talent agent, television personality, live promoter, and former judge on British television talent show called The X Factor. Loius was born on August 5, 1952, in Kiltimagh, Ireland.
Louis Walsh is said to have spent about a hefty sum of £30,000 on a hair transplant to correct his thinning hair. The process is Ultra Refined Follicular Unit Transplantation (URFUT) and was done by Dr. Collins and the HRBR clinic in Dublin.
Louis seems happy about the work done and has jokingly said:
"I keep telling Gary he needs it next. I always clock him glancing at my hair on the show. I'm giving Gary the number, so hopefully, he can get that bald patch at the back of his head sorted out."
6. Jude Law
Born on December 29, 1972, in Lewisham, London, United Kingdom. David Jude Heyworth Law is an English actor who has received multiple awards, including a BAFTA Film Award as well as nominations for two Academy Awards, four Golden Globe Awards, three Laurence Olivier Awards and two Tony Awards.
Jude Law appeared in movies like: "The Holiday," "Sherlock Holmes," "Captain Marvel."
Law is said to have struggled with a receding hairline. And so, he found the remedy for his hair loss in hair transplantation.
7. John Travolta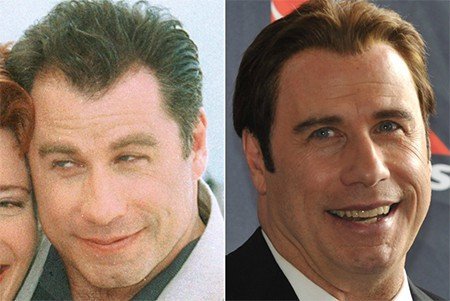 John Joseph Travolta is an American actor, singer and dancer who rose to fame in the 1970s, appearing in many T.V. series such as Welcome Back, Kotter and Saturday Night Fever. He was born on February 18, 1954, in Englewood, New Jersey, United States.
Travolta is one of the thousands of men who've had his own share of hair loss problems.  His was a case of rarefaction from the forehead to the back. Obviously, he couldn't tolerate it. And so, opted for hair transplantation.
There have been mixed reactions following this event. So persons insist he takes off the wig and continues to rock his bald head while others think he looks good and urges him to do whatever makes him feel good.
8. Joe Swash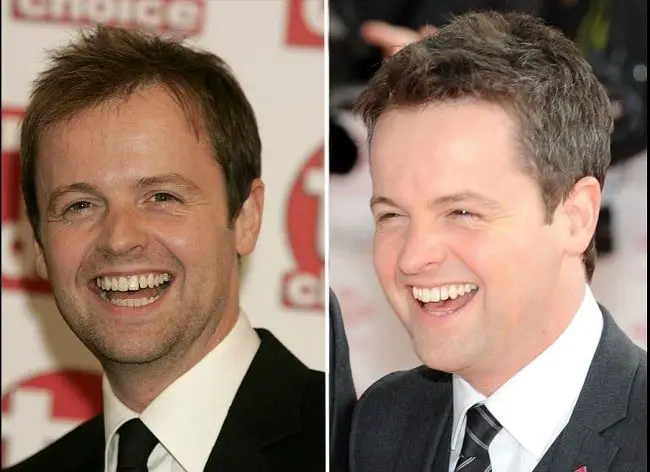 Joseph Aidan Swash was born on January 20, 1982, in Islington, London, United Kingdom. He is an English actor and presenter. Joe is one of the few people who have come out openly to admit undergoing a hair transplant, and he said it was due to pressure to look good on screen.
"It was for myself and something that I wanted to do, to make me feel better. I was on T.V. so that might have had something to do with it…With the job I am doing, being on T.V., I wanted to look my best, which is probably not the best way of thinking about it. It's how you feel personally."
9. Jeremy Piven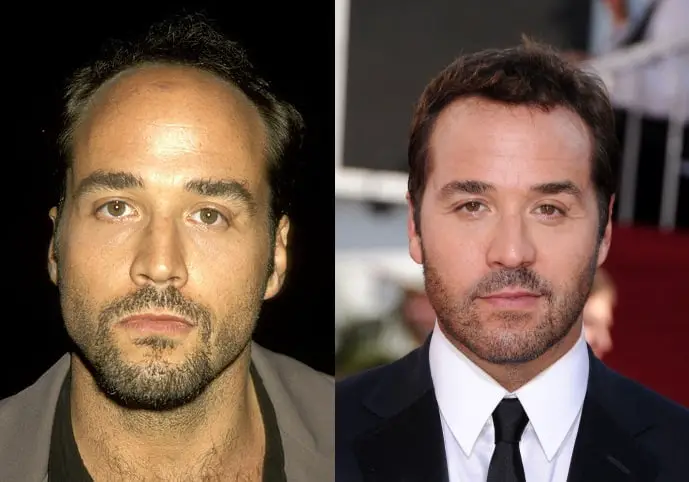 Jeremy Samuel Piven is an American actor, comedian, and producer. Born on July 26, 1965, in Manhattan, New York, United States. He is famous for his role in the comedy series called Entourage.
Although Jeremy Piven has denied undergoing a hair transplant, judging from his earlier pictures and now, one can see very clearly that his bald head has been filled with new hair. And on a closer look at his pictures, one can notice some scar on the back part of his head.
10. Jason Gardiner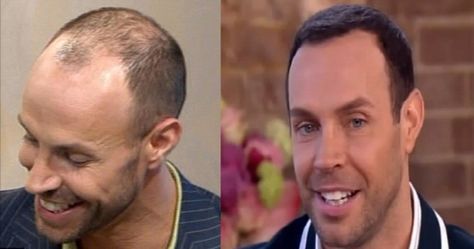 Jason Gardiner is an Australian choreographer, singer, and theatre producer. He is famous for his appearances on ITV shows such as Dancing on Ice, Born to Shine, and Stepping Out. He was born on November 6, 1971, in Melbourne, Australia.
Jason is also one of the celebrities who has admitted carrying out a hair transplant. He excitedly revealed his new hair looks on a Dancing on Ice finals. He revealed that his "baldness sparked a spiral of self-hatred and depression and says the transplant is 'not something to be ashamed of.'"
Jason's hair transplant cost him $35,000 and was performed in Los Angeles by a surgeon named Dr. Craig Ziering.
11. James Nesbitt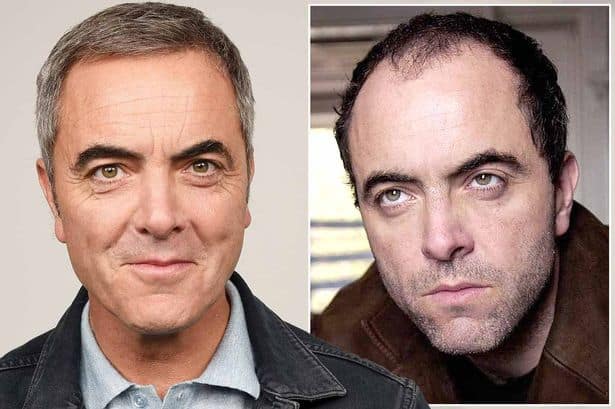 William James Nesbitt is from Northern Ireland, an actor and television presenter born on January 15, 1965, in Ballymena, United Kingdom.
Nesbitt started his career performing in plays from the musical Up on the Roof (1987, 1989) to the political drama Paddywack (1994). But he made his feature film debut Hear My Song (1991).
He is said to have undergone two hair transplants at Dublin's HRBR clinic. He was so happy with the results that he granted a video testimonial.
In his words:
"Several years ago, I began losing my hair, and like a lot of men, it was a major concern to me; in fact, it was practically an obsession…since then, I have had two hair transplants, and I am very pleased with the results. I'd go as far as to say they've changed my life."
Related Reading
12. Gordon Ramsay
Gordon James Ramsay is a British chef, writer, television personality, and food critic. He was born on November 8, 1966, in Johnstone, Scotland. However, he grew up in Stratford-upon-Avon, England.
He is a Multi-Michelin starred chef and star of the small screen and has opened a line of successful restaurants across the globe.
Independent Uk reported he was spotted leaving a leading hair treatment clinic in Los Angeles with a surgical cap on which appears to confirm that Ramsay has received a further cosmetic intervention to enhance his on-screen appearance.
13. Elton John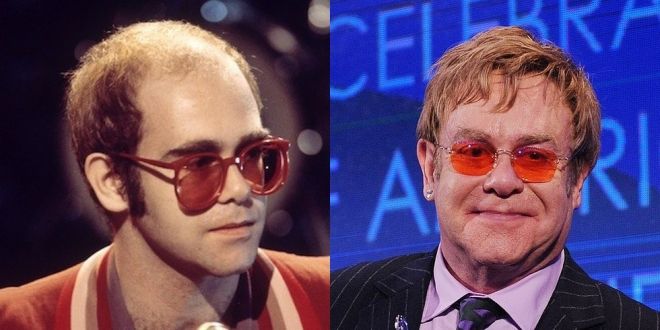 Elton John, born Reginald Kenneth Dwight, on March 25, 1947, is an English singer, songwriter, composer, and famed piano-playing superstar.
He is said to have John sold more than 300 million records, and as such, making him one of the best-selling music artists.
Sir Elton John is one of the first celebrities to receive a hair transplant. In his interaction with dailymail U.K., he said:
14. Calum Best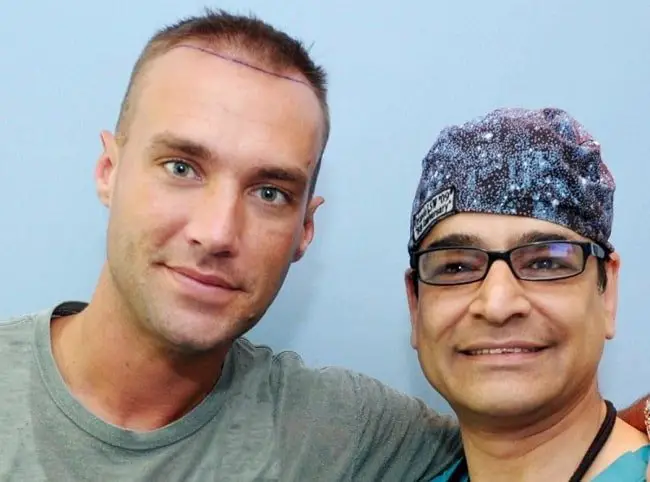 Born February 6, 1981, Calum Milan Best is a British-American television personality. He is the son of footballer George Best.
The reality T.V. star revealed that he had three hair transplants appearing in Celebrity Big Brother in 2015.
"There is no doubt the three procedures have changed my life. No man wants to be bald when he is older…I have been losing my hair since my early 20s. Nature's plan was for me to have thin and patchy hair across the top of my scalp," he said.
15. Billy Bob Thornton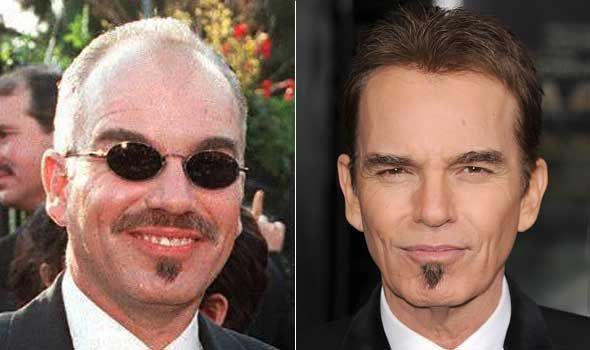 Billy Bob Thornton is an American actor, writer, director, and musician who was born on August 4, 1955, in Hot Springs, Arkansas, United States. Thornton is famous for his appearance in the 1992 thriller, One False Move.
Billy Bob Thornton's surgical process is said to be one of the most successful celebrity hair transplants of recent years as the difference in his appearance became very remarkable after the operation.
16. Bono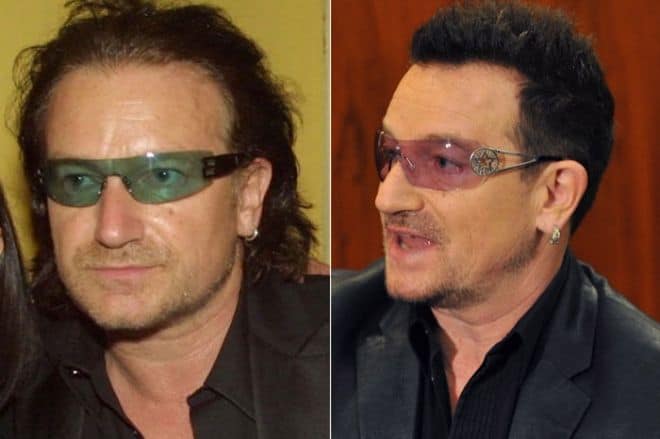 Bono was born Paul David Hewson on May 10, 1960, in Rotunda Hospital, Dublin, Ireland. He is a singer-songwriter, musician, venture capitalist, businessman, and philanthropist. He is a U2 frontman.
Bono is alleged to have got a hair transplant as he now has a perfect head of hair.
17. Sean Penn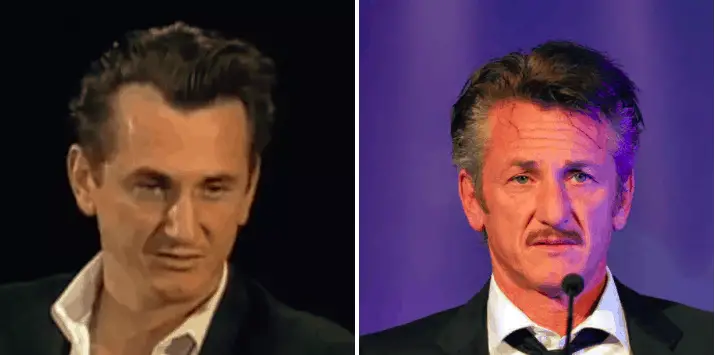 Sean Justin Penn is an American actor, filmmaker, and director who has won two Academy Awards for his performances in the mystery drama Mystic River and the biopic Milk. Penn was born on August 17, 1960, in Santa Monica, California, United States.
Penn was having a problem of hair rarefaction on the right and left forehead areas; like his acting, his sudden hair improvement is magical. There's no doubt that he chose hair transplantation as a remedy.
18. David Beckham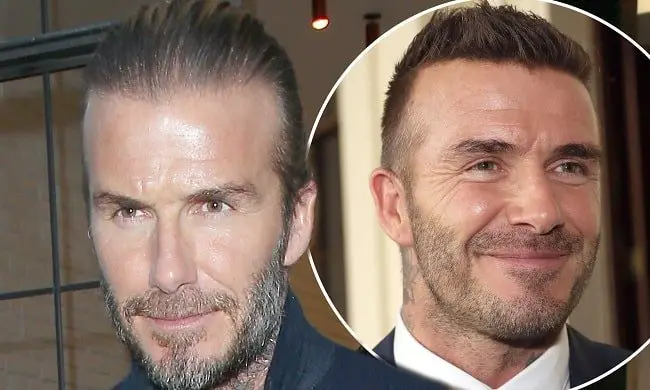 David Robert Joseph Beckham is a former English professional footballer born on May 2, 1975, at Whipps Cross University Hospital, London, United Kingdom. Obviously, this soccer superstar needs no introduction looking at the great feat he has achieved for himself.
However, what you may not know about him is that he's had a hair transplant. Even though David Beckham hasn't come clean about undergoing a hair transplant.
But there are pointers he's had one. Thesun Uk reports that:
"Weeks after appearing with a bald head in a Miami pool, Beckham debuted a dramatically thicker and straight hairline in Hong Kong."
19. Brendan Fraser
Brendan James Fraser is an American-Canadian actor. He was born on December 3 in Indianapolis, Indiana, United States. Some of his popular movies include Encino Man, George of the Jungle, Bedazzled, and a host of others.
Brendan Fraser's hair loss came as a shock to his fans as the actor has always maintained a full head of hair. However, he further shocked everyone by apparently addressing the problem head-on with a transplant.
20. Dennis Miller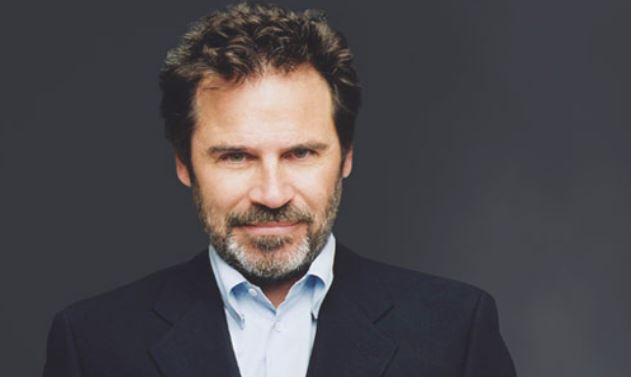 Dennis Michael Miller is an American actor and comedian, talk show host, political and sports commentator. He was born on November 3, 1953, in Pittsburgh, Pennsylvania, United States
Dennis Miller is among the few celebrities who has spoken about his hair transplant procedure in the open. His hair loss was that bad though, but he chose to act fast before it starts to become noticeable and to avoid going bald eventually.
21. Robbie Williams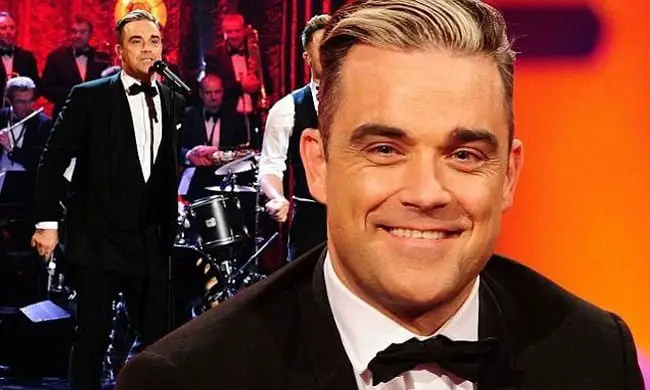 Born on February 13, 1974, in Stoke-on-Trent, United Kingdom, Robert Peter Williams is an English singer, songwriter, and entertainer. Robbie belonged to the Take that pop group before he ventured out on his own, and achieved commercial success with his solo career in 1997.
Robbie Williams revealed that he had a hair transplant despite not needing it. He said he did after succumbing to the L.A. lifestyle.
Conclusion
There you have it: 21 celebrity hair transplants cases.
Notice that all cases are male. But hair loss is common in both men and women. There are also female celebrity hair transplant cases.
Here's a list of some female celebrities that have also had hair transplants that might interest you:
Oprah Winfrey, Fergie Duhamel, Tyra Banks, Jennifer Aniston, Keira Knightley, Naomi Campbell, and Kristin Davis, some of who have open up about their experiences to show others they're not alone.
Before getting an expensive hair transplant yourself, be sure to check out our top 3 rated best treatment for thinning hair.