Hair loss and thinning hair can be unpleasant, even distressing, experience for both men and women – no wonder why people that suffer from it are always looking for a way out.
The good news, however, is that there are some excellent and proven home remedies for thin hair and hair loss, and that is what this article is all about.
A 2009 report by the Cleveland Clinic Journal of Medicine shows that:
Losing 100 to 150 hairs a day is considered normal – and anything more than that is considered very unusual.
It might also interest you to know that about 80,000,000 men and women in the United States alone have some degree of hair loss according to the American Academy of Dermatology.
What Are The Main Causes of Hair Loss?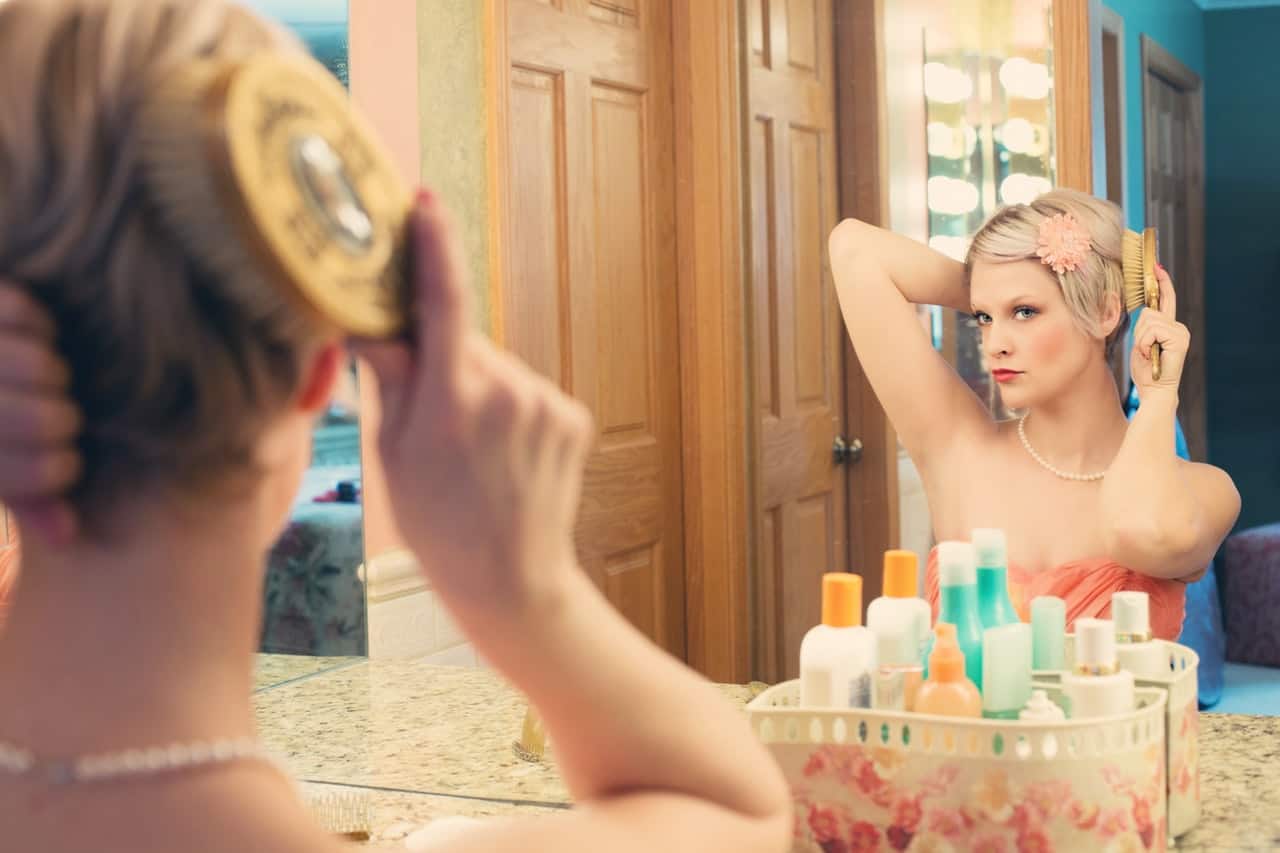 Watching your hair thin out can be extremely traumatic. And once you start losing significant portions of your hair, brushing and running your hands through it become terrifying.
Not to mention the enormous stress that accompanies hair fall. But, you don't have to give in yet! There are still some proven home remedies you can use to stop and reverse hair fall.
But what really causes hair loss? Countless factors can cause hair loss such as:
Nutritional deficiencies
Hormonal imbalances
Unhealthy lifestyles
Allergies
Rapid weight loss
Certain medications
Poor hair care
Genetics
Etc
Apart from all these popular causes, there are also other factors that contribute to hair loss that a lot of people don't know about. For example, some minerals deficiencies are also known to cause hair loss and thinning hair in women.
According to the American College of Dermatology:
Zinc or
iron deficiency
can also cause hair loss. Women between the ages of 19 to 50 require about 18 milligrams of iron daily, while pregnant women need about 27 milligrams, and women above 50 years need 8 milligrams of iron per day.
Similarly, 8 milligrams of zinc is required for women per day, with about 11 milligrams during pregnancy. Some of the known iron and zinc-rich foods you can be eating to prevent this mineral deficiency include poultry, meat, legumes, seafood, and fortified breakfast cereals.
Also, a 4-ounce portion of lean ground beef supplies about 3 milligrams of iron and 6 milligrams of zinc.
That being said, there is equally a surplus of modern treatments and strategies available that promise to help reverse it. But are you aware that using ingredients from your kitchen could also solve the problem?
Oh yea, there are actually a plethora of home remedies for thin hair and hair loss that will cost you less to nothing. The good thing is that these techniques are actually very effective.
Below is a list of 10 natural home remedies for thin hair and hair loss that have proven to work for many.
Also worth checking out: Top Indian Hair Growth Secrets (Indian Hair Growth Remedies)
Natural Home Remedies For Thin Hair And Hair Loss
1. Apply Onion Juice
Onions, generally seen as a humble kitchen essential, may have many uses other than just adding flavor to our meal.
It might sound astounding to some people, but onion juice is equally part of the numerous home remedies for thin hair and hair loss.
Onion juice is one of the best treatments for hair loss because of its high sulfur content, which helps to enhance blood circulation to the hair follicles, reduces inflammation, and regenerate hair follicles.
The antibacterial content in onion juice also helps kill parasites and germs, and treat various scalp infections that can result in thin hair.
Facts On Onion Juice For Hair Loss
Onions have certain minerals, which are considered suitable for the hair
Do not use onion juice on your hair if you're allergic to onions
If you can't stand the smell, adding a little rose water or lemon juice helps
Although it's a popular home remedy, more research is required to confirm if onion juice really works as a hair loss treatment
Does Onion Juice Really Work For Hair Loss?
The use of onion juice for hair loss has not been expansively researched.
Although, a study by the Journal of Dermatology shows that applying onion juice to the scalp might help to regrow hair in some people.
The study involved people with alopecia areata, which is a non-alarming form of hair loss.
Participants discovered that hair growth started after two weeks of using onion juice, which was applied twice daily on the scalp.
Nearly 74% of the participants experienced some level of hair regrowth after week 4, and at week 6, about 87% had hair regrowth. Both males and females took part in the study, and the hair regrowth was higher in men.
Even though the study did show positive results, it was small with just 38 participants.
How To Use Onion Juice For Hair Loss
Follow the steps below to make onion juice:
Peel off about 4 onions and cut them into small pieces
Squeeze out the juice from the onion (you can do this by or using a juicer)
Apply the extracted juice to the hair roots or the scalp
Some drops of essential oil may equally help reduce the potent odor of the juice (rosemary essential oils, lavender, and peppermint can be good options to dilute the smell
Currently, I doubt if there are any commercial products, such as shampoos, that have onion juice.
However, commercially prepared onion liquid extract and onion juice are available for those who don't want to make their own.
2. Aloe Vera Juice/Gel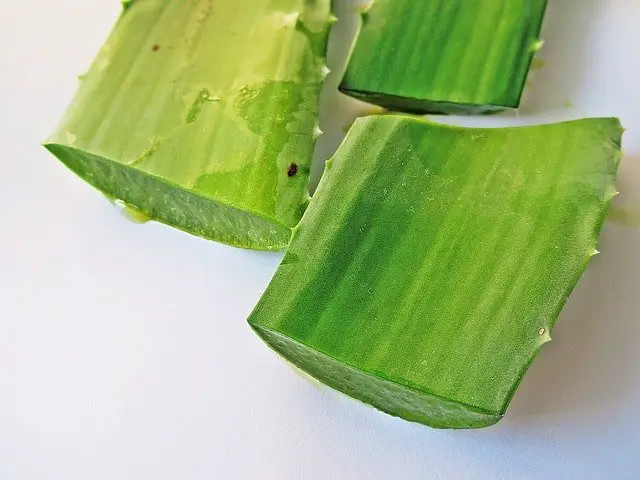 Do you often envy famous models for their gleaming and beautiful curls? Are you frustrated with not having strong and healthy hair? Well, you needn't worry about your locks anymore. Aloe Vera has come to your rescue.
Aloe Vera contains enzymes that efficiently promote strong and healthy hair growth. Its alkalizing properties can also help bring the scalp and hair's pH to a more suitable level, which can significantly improve hair growth.
That's not all, regular use of Aloe Vera can equally add strength and luster to hair, relieve scalp itching, alleviate dandruff, and reduce scalp redness and inflammation. Both Aloe Vera juice and gel will work in fighting and treating hair loss and thinning hair.
Various Benefits of Aloe Vera to The Hair
Aloe vera has anti-inflammatory properties which help soothe your scalp of aggravation and irritation
It contains proteolytic enzymes that help heal and restore the damaged cells in your scalp. This improves the health of follicle and indirectly promotes faster and healthy hair growth
Proteolytic enzyme not only help repair the scalp, but it equally helps to stimulate sleeping hair follicles, promoting hair regrowth
Aloe Vera's high minerals, vitamins, and protein content help it nourish your follicles and hair efficiently
It also helps control hair fall and curbs hair shedding, maintaining thick and voluminous hair
Its antiviral and antifungal properties help treat flaking and dandruff
Aloe Vera's moisture content helps condition your hair, locking in hydration and nutrients
How To Use Aloe Vera Juice or Gel
Apply aloe vera juice or gel onto the scalp
Leave it for a few hours, and then use lukewarm water to wash it off
Repeat the process 3 to 4 times per week
You can equally take one tablespoon of aloe vera juice every day on an empty stomach to experience better hair growth
3. Amla (Indian Gooseberry)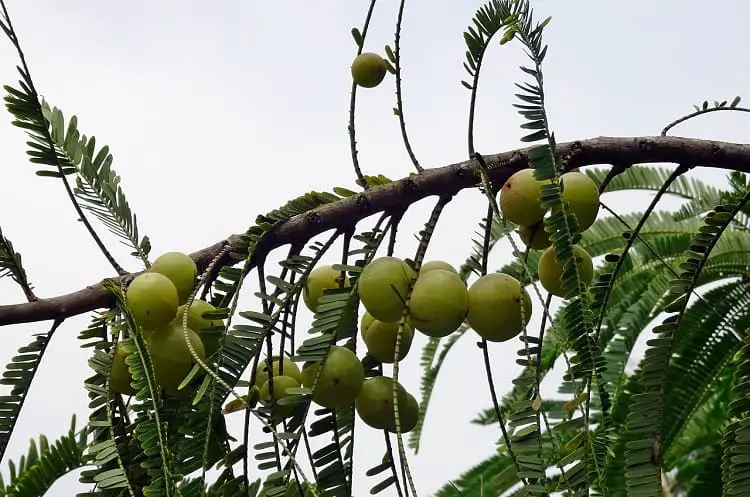 Indian gooseberry, also known as Amla, can be used for natural and fast hair growth. For the record, a deficiency of Vitamin C in the body is a common reason for hair problems, which is found abundantly in Amla.
Here's the thing: Indian Gooseberry (Amla), has a plethora of medicinal content and has been used in Ayurvedic medicine for so many years.
Now, if you are wondering if amla, amla juice, and amla oil are good for skin or hair, I think you need to know that this ingredient has been part of grandma's beauty treasure trove for hundreds of years!
The remarkable beauty and medicinal benefits of this wonderful drug were explored long back, and everybody swears by this ingredient.
This analogy by Beautystylr says it all:
What if we say, "People use Amla for hair's good health, seeing its green color"? No, we have NOT lost it, read why. You feel ecstatic and confident when the traffic light's signal turns green, isn't it? That's because psychologists say that color green is symbolic of safety, growth, reliability and of course, healthiness. If you want the same impact of color green on your hair too, then you should use Indian Gooseberry on it. BECAUSE Green color fruits and vegetables have a wide variety of nutrients. Don't believe us? Then tell us why you are being asked to eat 'green leafy vegetables' huh?
The anti-inflammatory, antibacterial, antioxidant, and the exfoliating properties in Amla can help maintain a healthy scalp, thereby promoting hair growth.
Indian Gooseberry belongs to Malacca Tree and is considered a "superfood" because of its numerous benefits for hair, beauty, and general health.
According to Hair Buddha, "an amla a day keeps your hair think, beautiful and shiny."
7 Reasons Why You Should Use Amla For Your Hair
Amla contains loads of essential fatty acids, which helps to strengthen hair follicles, giving your hair luster and strength
Not only is it a tremendous hair conditioner, but also an effective treatment for dandruff
Amla oil is one of the best solutions for dry, itchy, and flaky scalp; it can deeply penetrate the scalp and nourish it from within
If you want to improve the natural color of your hair, all you have to do is mix henna powder with amla powder
It also stimulates hair growth due to its high iron and carotene content
The surplus of vitamin C in amla can help stop premature graying
One of the best things you can do to eliminate hair loss is to massage your hair with amla oil
How To Use Amla (Indian Gooseberry) For Thin Hair and Hair Loss
This is actually a natural and straightforward process. I'll soon write a more detailed guide on how to use Amla for active hair growth and hair loss prevention.
Keep an eye out for it. But for now, follow these simple 4 steps:
You Will Need
1 tablespoon amla powder
1 tablespoon lime juice
Procedure
Mix equal parts of lime juice and amla until you get a very smooth mixture
Apply the mixture to your hair and scalp, massaging it from the roots to the tips
Once you've covered your scalp with the mixture, leave it on until it dries up
Wash your hair with cold water and shampoo
4. Fenugreek Seeds (Methi)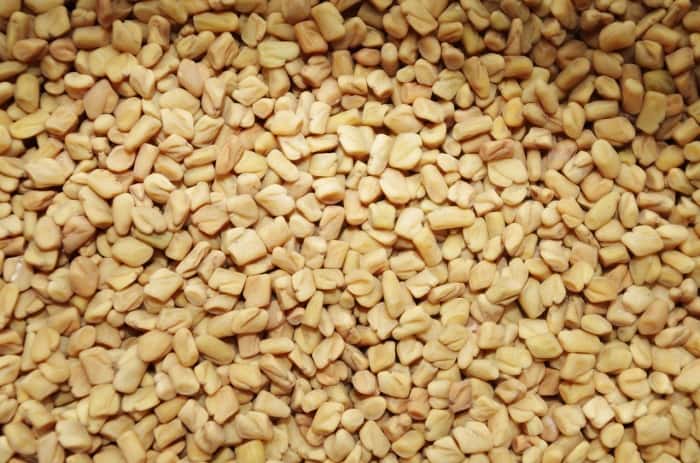 Fenugreek is an herb from the pea family. Its seeds and leaves have been used for millennia. Fenugreek comes in small, flat yellow-brown seeds.
They are also known as methi seeds in Hindi and are beneficial in maintaining healthy and beautiful hair.
It is an easy to get ingredient, especially in most Indian households. Traditionally, fenugreek seeds have been used as a potent hair potion, and condiment to promote better health. It helps fix damaged locks, eliminate dandruff, encourage healthy hair, etc.
Health Benefits of Methi
Fenugreek seeds are included among these home remedies for thin hair and hair loss due to its countless benefits.
Though they taste bitter, they are usually used as a medicine. Few of the health benefits of fenugreek seeds include:
Lowering cholesterol levels
Improving the digestive system
Reducing inflammation in the body
Helps in weight loss
Controls diabetes
And for the hair, methi also helps to:
Prevent Hair Loss
Fight Dandruff
Add Shine
Prevent Premature Graying
How To Use Fenugreek Seeds for Hair Loss
Requirements
2 tablespoon fenugreek seeds
Half cup of water
Procedure
Soak the fenugreek seeds in a half cup of water and leave it until morning
In the morning, blend the seeds with a small amount of the water that it was soaked in until you get a smooth, thick paste
Massage the mixture into your scalp and hair, from the roots to the tips
Once you've thoroughly covered your scalp and hair in the mixture, leave it on for about 30-minutes.
Wash your hair with cold water and shampoo
5. Egg Yolk (Hair Mask)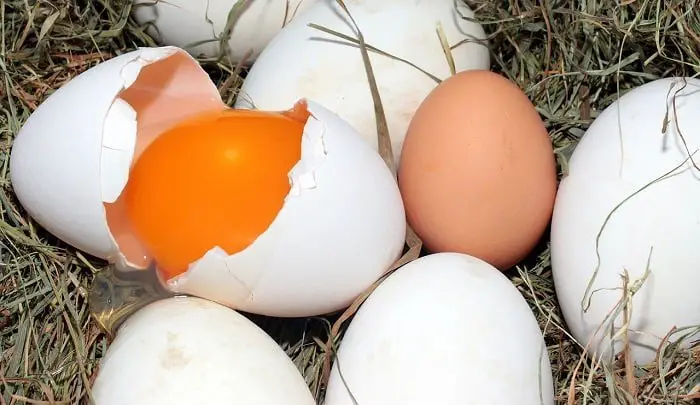 Egg yolk is the ball-like yellow substance usually suspended in the white of an egg when you break it. It is solidly packed with nutrition and proteins, such as vitamin A, vitamin D, biotin, and folate.
Using an egg yolk for hair care can result in some fantastic results, and the exciting part is that these results are usually immediate.
Egg yolk contains the same natural nutrients that are found in healthy, glossy hair. A lot of people apply egg yolk to their scalp and hair as a treatment for brittle hair, hair loss, or just to promote faster hair growth.
You can use an egg yolk and olive oil to make a hair mask to enjoy the full benefits of egg yolk. Alternatively, you can just use a whole raw egg mixed with nothing as a deep moisturizing treatment.
How To Use Egg Yolk For Hair Loss
Thoroughly stir the egg and oil mixture, or the egg alone. Putting on gloves, use your fingers to apply the mask to your hair and scalp.
Ensure to coat the top of your scalp and the ends of your hair. Leave the treatment on your hair for about one hour before rinsing it out with shampoo and cold water.
Conclusion
With this list of natural home remedies for thin hair and hair loss, you won't have to worry about losing your hair again.
Fortunately, growing your hair to be strong, thick, and healthy isn't as difficult as you think. With just little extra care, you'll definitely have the type of hair you've always dreamt of in no time!
Hair loss and balding might be a critical problem. But like most critical problems out there, it can be taken care of with simple home remedies. Follow the strategies above, and you will never worry about hair loss again!
Hope you liked the post. Please tweet and share it with your friends on Facebook, and also leave a comment in the box below.
Top 3 Hair Loss Products
Tired of chasing down hair growth solutions without the results you're after? Make sure you're using the 3
hair loss products known to work
before experimenting with alternative solutions – you may be surprised with how effective those 3 alone can be.