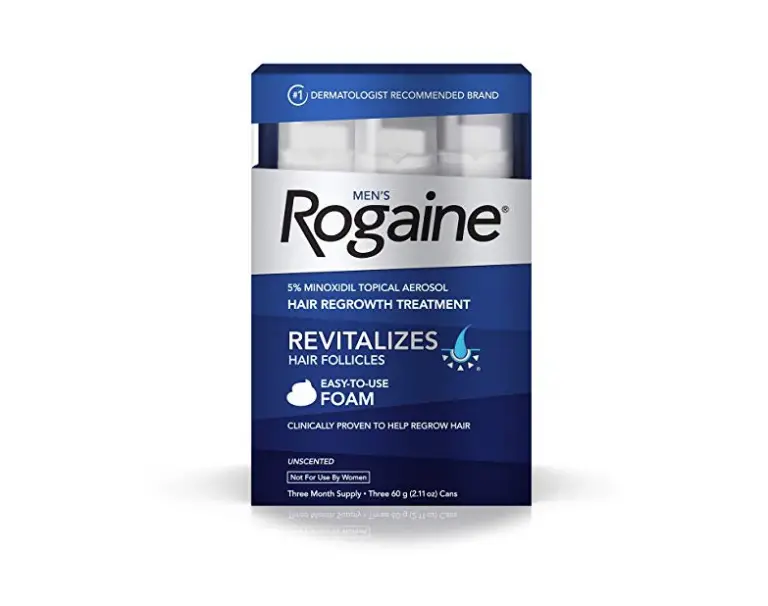 Arguably the most popular of all hair loss treatment products, Rogaine burst onto the scene about three decades ago.
Approved by the FDA, Rogaine is designed to treat both male and female pattern baldness.
As one of the few products of its type approved by the FDA, it has been extensively studied over the past 30 years.
Despite the many studies conducted, no one is really sure how minoxidil actually works.
What it does do is allow for the hair follicles to become bigger and grow longer.
As common with many other products, the active ingredient, minoxidil, was being tested for other uses when it was discovered that some test subjects were experiencing unusual hair growth.
It wasn't long before Rogaine put the ingredient in various foams, gels, and creams to help both men and women regrow their hair.
Pros
Quickly promotes fuller, thicker and younger-looking hair.

Clinically proven to regrow hair rapidly within 3 months. 

Boost hair follicle activity and hair protein production.
Cons
Ideal for only those with early stage hair loss.
Pros of Using Rogaine 5% Minoxidil Foam
Sale
Last update on 2023-09-17 / Affiliate links / Images from Amazon Product Advertising API
Inexpensive
Because Rogaine has been around for so long, the cost of the product has been reduced over time.
This means that it is often cheaper compared to newer hair regrowth products that have yet to achieve the audience or popularity of Rogaine.
The low price helps maintain Rogaine's status of being the most recognizable name in hair regrowth products. You can even get generic Kirkland Minoxidil for much Less (and we find it works just as well).
Limited Side Effects
While there are a relative few who may suffer from irritation of the scalp, the growth of unwanted hair on the forehead, or odd changes in the texture or color of the hair follicles, for the most part, Rogaine is safe to use.
Like most products, be careful not to have it come in contact with your eyes as that will cause irritation.
Related Reading

Cons of Using Rogaine 5% Minoxidil Foam
Doesn't Work for Everyone
Studies have shown that about 60% of men and women will experience some hair regrowth thanks to Rogaine.
Unfortunately, this means that 40% will not.
Plus, of the 60% who will see new hair, most will only see it in patches along the bald spot.
Limited Growth
The studies have shown for men most of the hair regrowth occurs on the back of the scalp.
This is around the bald spot that develops at the top of the head.
Regrowth along the front of the scalp where the hairline was once located for the most part does not work.
There is no known reason why, but then again scientists are not fully sure how minoxidil works in the first place.
Does Rogaine 5% Minoxidil Foam Really Work?
Yes, this product does work to regrow hair.
But, there is a catch:
In order to maintain the regrowth, you have to continue to use the product.
This is because once the minoxidil wears off, the scalp returns to its normal pattern of losing more hair.
So, you have to keep using Rogaine for the foreseeable future if you want to maintain hair growth.
Plus, the product does not work for everyone.
Although subject to a considerable number of clinical studies, there is no way to predict just who will benefit from using Rogaine.
Add to that the limited effect it has on receding hairlines and baldness at the front part of the scalp and you have a product of limited effectiveness at best.
But don't let us decide for you, read real reviews and see before and after photos to see if it could be right for you.
Tired of chasing down hair growth solutions without the results you're after? Make sure you're using the 3 hair loss products known to work before experimenting with alternative solutions – you may be surprised with how effective those 3 alone can be.