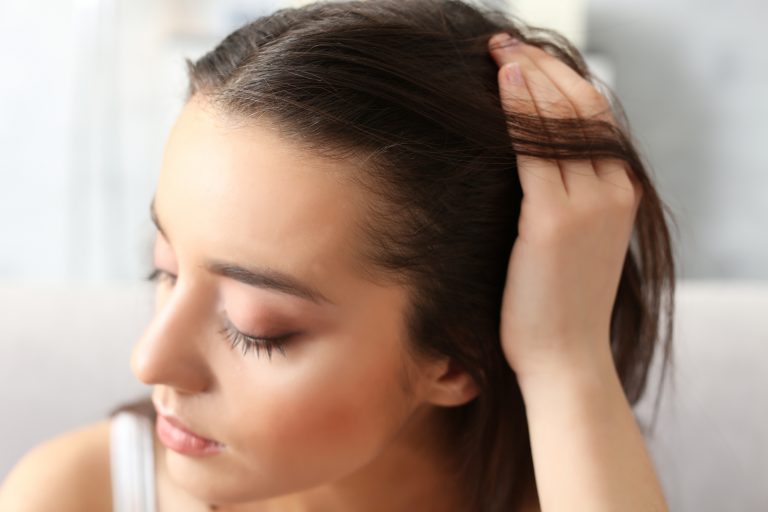 There's always hope for those who suffer from hair loss, balding and thinning hair when surgery is not an option.
Treatments such as PRF and PRP are said to perform wonders for those who suffer from hair loss and thinning hair.
But like most procedures, these come with their own set of disadvantages including high price tags, the need for multiple treatments, and some post-procedure swelling and discomfort – that's where quick-fix hair fibers come in.
Hair fibers are highly effective in disguising hair loss. These fibers are formulated with "keratin" (the same protein as real hair). And they stick to your existing hair, creating a fuller look, and thereby concealing the bald spots. Hair fibers are therefore usually called hair concealers or hair camouflage.
Interestingly, using hair fibers will instantly enhance the look of the thinning hair, however, it requires some practice to properly style the hair and to make the thinner areas look fuller using the hair fibers.
In this article, you'll learn how hair fibers work for thinning hair, as well as how to properly use hair fibers to cover your thinning hair.
What are Hair Fibers?
These hair care products contain small fibers that stick to strands of hair and help in thickening them. If you have a thinning spot on your scalp, the hair fibers will build density, volume, as well as thickness in the spot.
The solution will camouflage all affected areas effectively. This is indeed a fantastic solution for you if you're self-conscious about the condition of your hair.
How Do Hair Fibers Work For Thinning Hair?
Hair filler fibers help in changing the texture of existing hair to disguise or cover thinning hair locations. These hair fibers are microscopic and electrostatically charged, adhering to the scalp and sticking to individual hair strands in order to build thickness.
Additionally, the charged fibers stick all day but can be easily washed out with shampoo. For extra hold, apply the hair filler fibers and spray gently with hairspray to set them in place.
Now, if you're looking for a good way to conceal thinning hair with hair fibers, then this is an easy remedy for immediate hair volume and thickness.
Hair filler fibers help in concealing thinning hair and balding, improving the appearance of thinning hair, as well as creating fuller, thicker-looking hair in less time.
Hair fibers are especially ideal for men or women in search for hair loss treatments for fragile scalp and thinning hair. Unlike harsh chemicals or drugs such as minoxidil, the pure organic keratin proteins in hair filler fibers adhere to individual hairs and lightly sit on the scalp.
This will help to prevent the fibers from absorbing into the skin like topical drugs, and with a gentle shampoo, they can be easily washed out at the end of the day.
Related Reading
How to Use Hair Building Fibers for Thinning Hair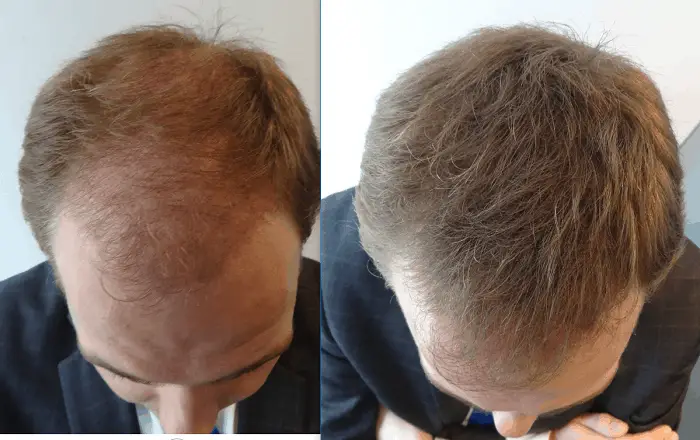 1. Choose the right color
Hair filler fibers are available in 9 different (natural) colors. You want to choose a color that's best suitable for your hair color. You can equally mix two colors in order to better approach your hair color.
For example, if you have dark blond hair, you can try the medium blond and light brown colors and mix these two.
For the best result, apply the colors one by one, starting with the dark color as a base, and then followed by the lighter color.
Remember that computer screens may twist the color tones. It is, therefore, advisable to ensure that the computer has the correct color settings so you can select the right color.
2. Apply the hair fibers to dry hair
Hair fibers stick to the existing hair via static electricity. For the best grip to the hair, we recommend that you apply the fibers when the hair is dry, this is because the fibers may become clumpy when applied to wet hair.
If you want to use hair gel, apply it before applying the hair filler fibers – then style the hair and allow the gel to properly dry up. The gel makes it difficult for the fibers to stick properly.
Additionally, gel makes the hairs cling together, thereby making less hair available for the fibers to stick to. For optimum results, we, therefore, don't recommend using a gel.
We also recommend using fiber hold spray for better adhesion and fixation of the hair. The spray helps to bind the hair fibers to the hair, without them getting wiped off when applying. The spray will also grip the hair, helping it to retain the styling.
3. Apply the right amount
It is advisable to not apply too many hair fibers in order to achieve natural-looking results. A small amount is often more than enough to give a significant effect. It may look unnatural if you apply too many of it.
The amount of fibers you should use is totally personal and depends on your hair condition, hair color, preferences, and so on.
Finding the right amount to use requires some patience, experience, and practice. However, it's easier to see a natural result by using fewer hair fibers than more.
That's why you have to start with small amounts and then go ahead to experiment with applying fibers when you want a stronger effect.
Moreover, you should preferably apply the hair fibers in layers (at different stages) instead of applying a lot at once. Apply a layer, massage with your fingers onto your hair to extend the fibers or lightly brush the hair using a coarse brush.
You also want to decide whether you will need more hair filler fibers and then perhaps apply some more. Repeat the process until you are satisfied with the result.
Possibly, the fibers can be absorbed in between by using fiber hold spray for stronger adhesion. To ensure that the spray is totally dry before you apply the next layer.
4. Use the hairline optimizer
It can indeed be challenging to create a natural-looking hairline, especially in the beginning. It is also essential to sprinkle a little amount, and do not sprinkle too much of it in the front. This is where the hairline optimizer can be very useful.
If you're losing hair at the hairline, it is vital to create a good natural looking hairline. This can be achieved by simply scattering the hair fibers across the hair and cleaning the excess hair fibers. Of course, you'll be wasting your precious hair fibers by doing this.
That is why using Hairline Optimizer is highly recommended. This helps to ensure that you'll always get a natural-looking hairline. It is also more efficient because the application saves hair fibers and takes less time.
Another option is to use the hair fiber applicator to apply the hair fibers along the hairline.
5. Use the fiber hold spray for extra security
Hair fibers stick to your hair very well. Now, to ensure that the fibers last longer, you can use Fiber Hold Spray.
The hair fiber hold spray is specifically formulated to enhance the bond between your hair and the keratin hair building fibers, encouraging longer-lasting results.
Additionally, naturally derived ingredients such as vitamin B5, helps to soften and condition both hair and fibers optimally for an entirely natural appearance.
It equally applies to the fiber hold spray that you have to determine what amount gives the perfect results. Too little gives small fixation, while the fibers may clump together, become heavy and collapse onto the scalp if you apply too much of it.
Once the spray has dried up, you may now brush your hair for a softer style while the spray holds on to its strength.
6. Use the hair fiber applicator
The Hair Fiber Applicator is a convenient accessory when making use of keratin hair fibers. It's a device that you can attach to a bottle of hair filler fibers. The applicator ensures that the fibers can be applied more precisely onto the thinning spots.
Aside from that, it equally makes it easier to diffuse the fibers evenly. The applicator, therefore, offers a more natural look as well as more economical use.
The hair fiber applicator is suitable for both the 12 and 28 grams size hair fiber bottles.
And when the applicator is used to apply the fibers, it's advisable that you regularly shake the bottle of hair fibers. This will help the fibers to retain their loose structure and be better spread by the applicator.
7. Wash your hair with a hair thickening shampoo
The basis for applying hair fibers is to achieve healthy hair of your own. That is why it's crucial to wash your hair with a good shampoo. And apart from that, it cares for your hair, nourishes your hair and can also encourage hair growth.
For the best possible outcome, it's advisable to use both a thickening shampoo and nourishing shampoo. With this, you will notice that your hair will begin to look better and fuller and you will eventually need to use fewer hair fibers to disguise the hair loss.
You can read this article in which we compare the best hair growth shampoos for both men and women.
8. Be careful with moisture and water
Just like hair styling products, water is not good for hair filler fibers. A heavy rain, dive in the pool, and a shower can easily wash the fibers away.
Are you thinking of doing arduous exercise? Rinse the fibers in advance. The adhesive spray may delay this effect, but the spray will equally be rinsed out with water.
Finally, here's a short video that also teaches you how to use hair fibers for thinning hair:
Conclusion
There are hair filler fibers available from popular brands such as Infinity, Toppik, Cuvva, and so on as you can see on this post. You just have to check each of them out and then buy the one you think will be suitable for you.
Rest assured that hair filler fibers can work efficiently on thinning hair, just follow the steps above to achieve the best optimum result.
Don't miss out on the 3 best products for thinning hair.