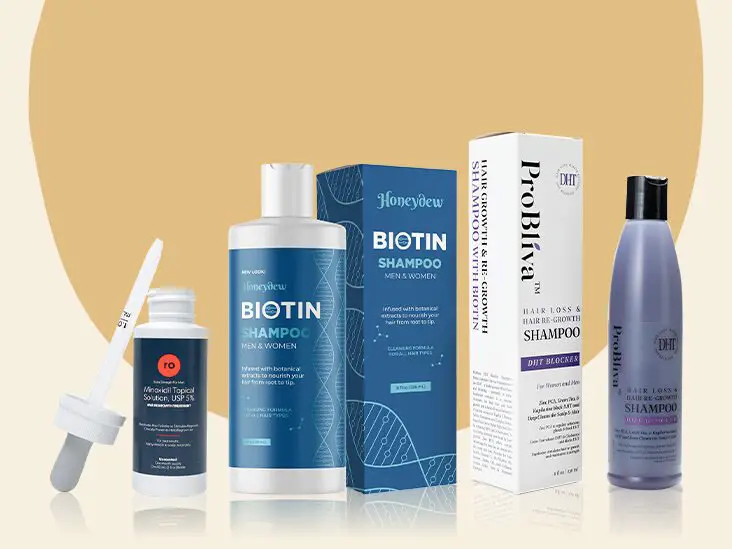 Hair means a lot of things to so many people. It is a crowning glow to women and a sign of strength and vitality to men. Apart from making you look good, your hair can make you feel confident.
Sometimes, your hair can even make you feel frustrated and lose confidence especially if you are experiencing hair loss. What about experiencing dandruff or visible flakes? It can make you feel bad about yourself.
There are lots of hair treatment shampoos on the market, sometimes it becomes confusing to choose the right one that will work for you. Hence, the reason we wrote this ketoconazole shampoo reviews.
Certainly, there are many Ketoconazole shampoos on the market that are effective hair shampoo to use to combat hair loss and dandruff. These shampoos are not just effective; they are also capable of helping you to regrow hair at a fast rate.
So, in this article, we have put together the top four Ketoconazole hair products you will ever find on the market. It will do you good to include these shampoos on your list of items to shop.
Without further ado, let's get started: but before then, let's quickly take you through what Ketoconazole entails and why you should consider using Ketoconazole shampoos.
Best Ketoconazole Shampoo Reviews
What Is Ketoconazole?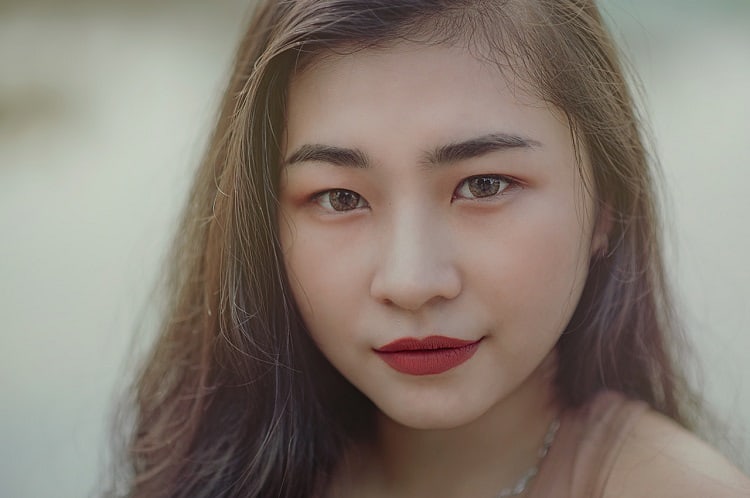 The word "ketoconazole" may sound like nuclear elements that should not come close to you, not to talk of applying it on your hair. It may even appear like the keto diet in its shampoo form.
Well, let us shock you. Ketoconazole is neither any of the two above. It is a medication with anti-fungal properties. It comes in different forms – creams, tablets, and Shampoos.
Here is how Ketoconazole works: it eliminates or damages the yeast infection or fungus' cell membrane. Hence, blocking the formation and spreading of the fungus on your scalp.
If you want to treat a yeast skin condition and fungal, Ketoconazole in its shampoo form is the appropriate solution to use.
Our Top Pick
Last update on 2022-10-01 / Affiliate links / Images from Amazon Product Advertising API
With that out of the way, let's quickly look at some of the reasons to use the shampoo.
Why Use Ketoconazole Shampoo For Hair Loss?
Fungal or yeast infections are a major cause of hair issues like eczema, psoriasis, and dandruff. If you are currently suffering from flaky or dry scalp, chances are that fungus or yeast infection might be responsible.
So, you should consider using Ketoconazole shampoo. This magic solution is not only limited to the treatment of flaky or dry scalp, but you can also use it to regrow your hair at a very fast rate. Plus, it can be used to prevent hair loss.
The result of using Ketoconazole shampoo should become visible after two or three weeks of regular usage. However, if after a month no result is visible, we advise that you consult with your doctor for prescribed Ketoconazole shampoo.
Now, you know what ketoconazole is about and how it works, let's now move straight to do a review of the best ketoconazole shampoos that made our list.
Below is a summary of the products we are about reviewing. These products were selected after carrying out rigorous research on their efficacy.
The Best Ketoconazole Shampoos on the Market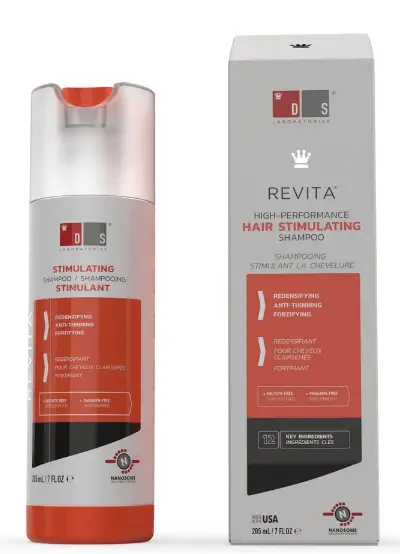 Revita Original Formula is a high performance, hair stimulating shampoo for men and women concerned with hair loss and thinning hair. This DS Laboratories formulated Revita shampoo with 14 key ingredients is clinically proven to reduce hair loss and increase the rate of hair growth.
According to DS Laboratories:
"92% of the people that have used this product experienced a decrease in hair loss, 85% experienced an improvement in overall hair and 70% noted an increase in the speed of hair growth."
Additionally, Revita is also formulated to block DHT, a leading cause of hair loss, with its active ingredients of ketoconazole, caffeine, and biotin to stimulate hair growth. It's similar to Actiiv Shampoo, check out Actiiv Shampoo for Hair Loss.
That's not all; the product is also endorsed by a world-renowned leading dermatologist in trichology, Dr. Antonella Tosti. Revita shampoo is an ideal solution to the treatment of hair loss and hair growth.

Pros
Clinically proven hair loss shampoo
Formulated with natural ingredients
Stops DHT buildup
Reduces dandruff
It's sulfate and paraben-free
Cons
Some users complained that it makes their hair dry
Sale
Last update on 2022-10-01 / Affiliate links / Images from Amazon Product Advertising API
The Nizoral anti-dandruff shampoo with Ketoconazole is one of the best shampoos on the market with effectiveness in the treatment of hair loss and dandruff.
Since it is not a prescribed shampoo, it is commonly found over the counter and it consists of 1% Ketoconazole. If you are suffering from a scaly scalp, flaking, and itching, this shampoo is the solution you need.
In addition, the Nizoral anti-dandruff shampoo with Ketoconazole is also perfect for treating dandruff.
Due to lifestyle activities such as job-related stress, hormones, and diet, naturally occurring fungus react differently to these activities, hence; causing you to experience a dry or itchy scalp. The Nizoral anti-dandruff shampoo with Ketoconazole can help you combat this challenge.
It works by preventing the growth of fungus on your scalp thus restoring your scalp's balance. It has a decent smell and you won't even feel that you are applying a medicated shampoo on your scalp.
You can use this anti-dandruff shampoo with lots of conditioners on the market. Ensure you get a conditioner that would do a good job. Apply a substantial amount of this shampoo on your hair on a regular basis, and you'd be a step closer to growing clean and fresh hair.
After applying this shampoo, ensure to wash it off thoroughly in order to guarantee an effective result. You are advised to apply it at least two times a week. You may also decide to combine other shampoos with this product if you like.
Lastly, the Nizoral anti-dandruff shampoo with Ketoconazole is highly accessible and affordable.
Pros
This product contains 1% Ketoconazole
It is effective in the treatment of flaking, itching, and scaling scalp
It has a decent smell
It leaves your hair fuller and thicker
It is very easy to use
Cons
Some Amazon users complained of dryness on their scalp after using this product
Some users assert that the container is rather too small
Last update on 2022-10-01 / Affiliate links / Images from Amazon Product Advertising API
The Wick & Strom Premium Anti Hair Loss Shampoo is another great hair loss treatment shampoo to consider.
Wick & Strom is a popular American brand notable for producing amazing products. This product is capable of preventing not just hair loss and dandruff; it can also rejuvenate your hair and thus makes it look fuller and thicker.
One good feature of the shampoo is that it doesn't contain any trace of minoxidil. Remember, the use of minoxidil to combat hair loss has been decried by health practitioners due to its side effects.
The Wick & Strom Premium Anti Hair Loss Shampoo combines natural ingredients to ensure that you get only the best. It contains biotin, caffeine, Ketoconazole (0.01%), Aloe Vera, as well as saw palmetto.
All these ingredients combine to harmoniously prevent hair fall, strengthen and thicken hair follicles, and clean the entire scalp.
The caffeine acts as a stimulant. It helps to keep the hair rejuvenated and promotes hair regrowth. On the other hand, biotin serves as a vitamin that helps to develop, maintain, and strengthen your hair follicles from the root.
Also, the saw palmetto blocks any potential dihydrotestosterone (DHT). Scientifically, DHT is known as the number one cause of male pattern baldness.
Lastly, in the ingredients, the Aloe Vera functions as a cleanser. It cleans your hair follicles and scalp. While the small amount of Ketoconazole helps to prevent the formation of yeast infection or fungal on your scalp
One advantage of buying cosmetic products from Wick & Strom is that you can request for a refund if you don't notice or observe any visible result within 60 days.
Pros
This product has a decent odor
It is cost effective
Both men and women can use this product
Encourages hair regrowth
Prevents hair loss
Money back guarantee (60 days)
Cons
It comes in a small container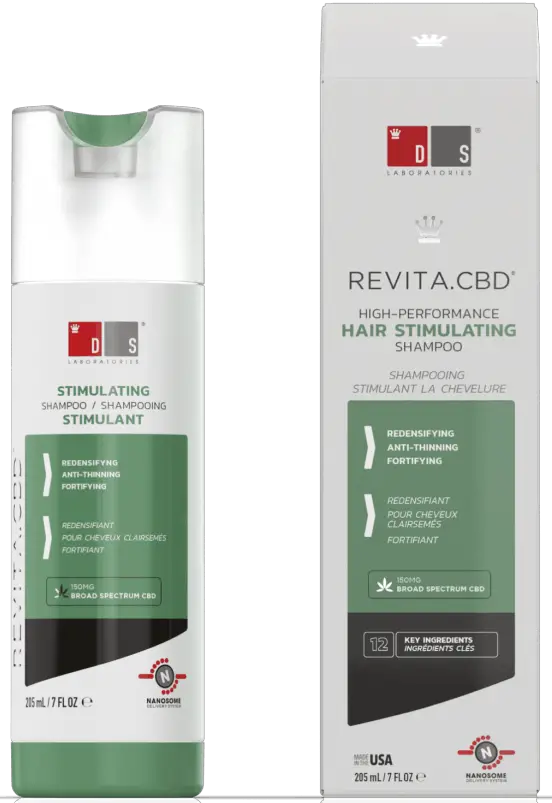 DS Laboratories Revita.CBD shampoo is one of the first shampoos in the market formulated for hair loss and thinning hair.
With 150mg of broad spectrum CBD, this product is not to be confused with regular hemp oil. It's a powerful antioxidant and helps combat hair loss and stimulate hair growth.
Revita CBD Shampoo is also formulated as a powerful antioxidant and DHT blocker with 14 key ingredients. The CBD is designed to stimulate hair growth with the addition of its broad-spectrum CBD that is rich in fatty acids, omega 3, and omega 6. The product also contains high doses of calcium, phosphorus, magnesium, potassium, and vitamin E.
When applied to the scalp, CBD helps increase blood circulation to hair follicles aiding in promoting new hair growth stimulation.

Pros
CBD is very beneficial to the hair
It has anti-inflammatory and antioxidant properties
Blocks DHT and free Testosterone
Works on all hair types
Cons
None! Although, some people are somewhat hesitant to use CBD
Ultrax Labs Hair Surge Shampoo for Thinning Hair Loss & Hair Growth, 8 oz
Science Backed Formulation: Advanced CaffinoPlex blend of Natural Caffeine, Saw Palmetto, and...
Nutrient Dense: Powerful proprietary blend of ingredients including Niacin, Peppermint Oil, and...
Stimulate the Scalp: It all begins with the scalp. Our concentrated formula energizes and detoxes...
Last update on 2022-10-01 / Affiliate links / Images from Amazon Product Advertising API
The Ultrax Labs Hair Surge Caffeine is a force to reckon with in the treatment of hair loss, hair fall, dandruff, scalp issues, and other hair-related challenges.
It consists of ingredients such as saw palmetto, caffeine, and a small amount of Ketoconazole. All these ingredients form a formidable force to knock off dandruff on users' hair. The saw palmetto helps to block DHT and thus keep your scalp neat and hydrated.
This hair loss treatment product is not a prescribed shampoo; hence you can buy it across the counter. The presence of Ketoconazole (1%) helps to stop the formation of yeast infection and fungus.
Remember, a fungus is the root cause of most hair loss problems. With this product, you are sure of growing not just fuller but thick hair. The Ultrax Labs Hair Surge Caffeine For Hair Loss comes with a conditioner, a serum, daily supplements, and a hair mask.
For this product to be effective, you are advised to apply it at least five times in a week.
Pros
It is safe and easy to use
It does not have any side effect
It is helpful in the treatment of hair loss and thinning
It prevents the formation of fungus and yeast infection
Promotes hair regrowth
Cons
It is somewhat pricey
the smell is irritating to some users
Last update on 2022-10-01 / Affiliate links / Images from Amazon Product Advertising API
The L'emarie Intensive Hair Growth and Hair Loss Shampoo occupy number 4 on our list of top 4 Ketoconazole shampoos for hair loss.
It is packed with amazing natural ingredients which when applied to the affected scalp results would become visible within 30 days. The brand L'emarie is reputed for the production of effective products for skin and hair treatments.
This shampoo contains ingredients such as herbal extracts, biotin, essential oils, caffeine, and DHT blockers. If you apply this product, you are a step away from kissing your hair woes goodbye.
This product will supply your hair follicles with the required nutrients to grow fuller and will prevent your hair from falling off. More so, it contains Ketoconazole (1%) which helps to block the further formation of yeast infection and fungus.
Both men and women can use this product.
Pros
It doesn't have any side effects
It is easy to use
It can help reduce dry and itchy scalp
It is cost effective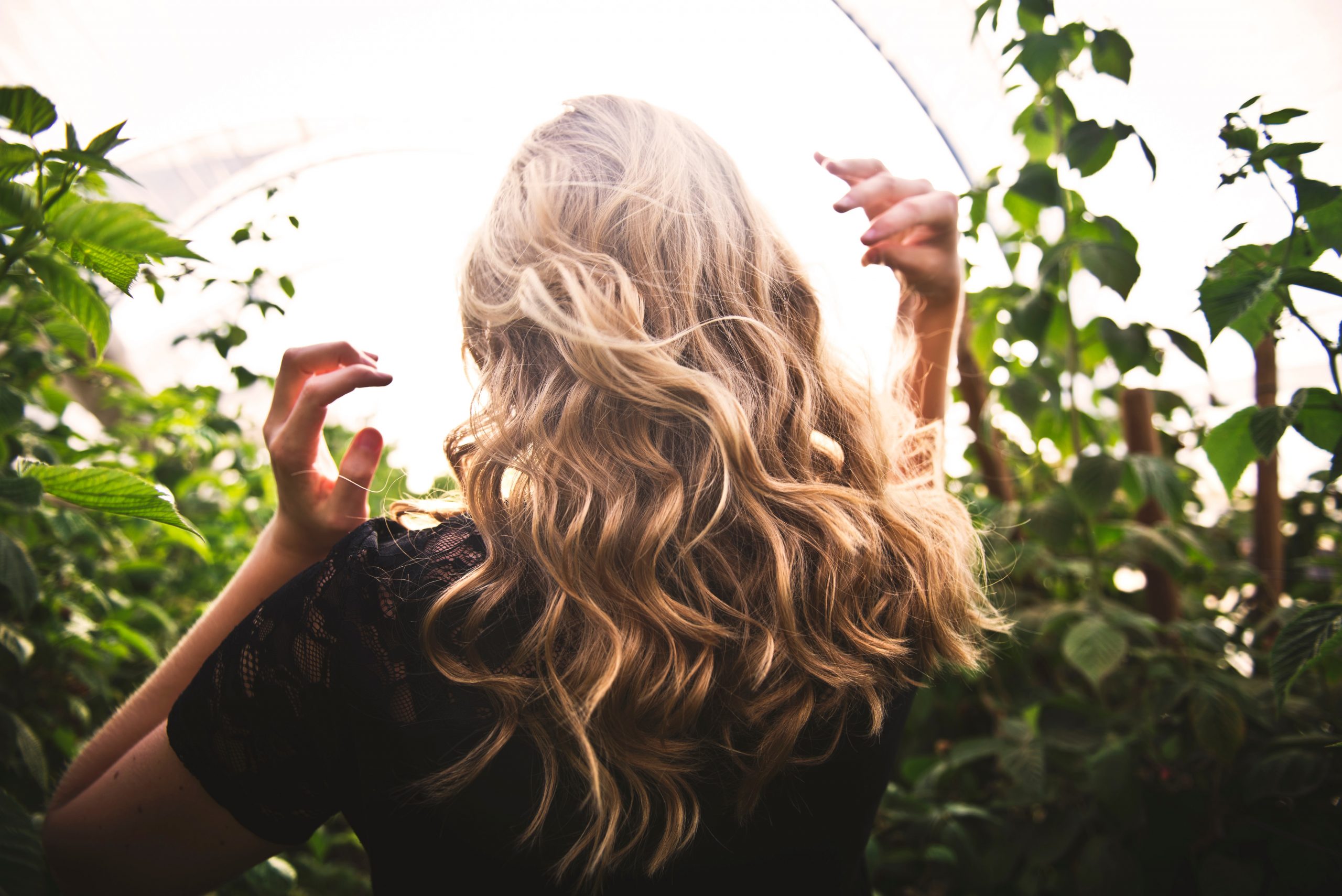 Ketoconazole Shampoo For Hair Growth | Conclusion
Dealing with hair loss, dandruff, thinning, fungus, and
yeast infection
can be really annoying and frustrating.
But before you throw in the towel, do yourself a favor by giving these Ketoconazole Shampoos a chance to make you happy once again.
Whether you are a man or a woman, the best Ketoconazole shampoos will work for you. So, give any of the shampoos a trial!