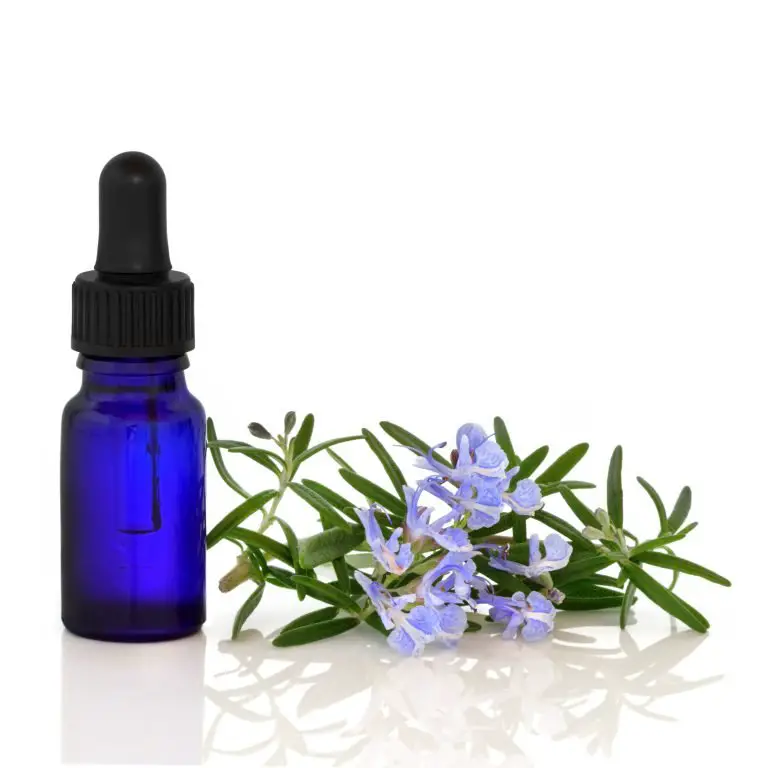 As rosemary oil is probably the best way to use rosemary for your hair growth, choosing the right oil is especially important. Just because rosemary hair oil works better than rosemary extract for alopecia areata, you still need to choose the right one for your intended scalp treatment.
There are even a few terms that oils use that you may find it useful to know about when choosing the right one. After all, why use a rosemary oil that is of poor quality when you could instead be using something better, especially if both cost about the same amount.
A poor quality oil will be far less likely to reverse your thinning, and it may even negatively affect your hair health in some way.
Why You Might Want Rosemary Oil
Rosemary, and the oil made from it, can do a lot of things for both your body in general and for your hair thinning problems. To start, rosemary essential oil is used to repel many insects, prevent funguses, and prevent the growth of bacteria. Lice is technically one of the things rosemary can repel, and a type of bug that can lead to hair loss.
Funguses and bacteria certainly can affect your hair growth as well as many other parts of your body. Some of these organisms even specifically target your scalp. Rosemary can do more than that, not all of which is hearsay. 
As for proof, rosemary oil has had a couple of clinical studies that test what it can do for androgenetic alopecia. One study done in 2015 compared it to minoxidil, during which it worked just as well as the other for male pattern baldness. In fact, scalp itching was much less of a problem for those using the rosemary oil.
Another study showed that rosemary can help a small percentage of people with hair loss caused by autoimmune problems as well. So different hair loss conditions like androgenic alopecia, autoimmune, fungal infections, and more are all benefited by rosemary oil.
Rosemary also helps with its anti-inflammatory properties and circulation problems. Assistance in these two areas are both great for your thinning hair, but also helps with many other health problems. Your scalp health is very important for the health of each hair follicle, contributing to the health of each strand of hair.
Besides what rosemary oil can do for your hair, there are plenty of other benefits. The smell of it, which you will experience when using it for your hair, is great for your lungs. Rosemary supposedly helps with asthma, among other things.
Top 5 Rosemary Essential Oils
Now that you know why rosemary oil is something you probably want, it's time to look at which rosemary oil you should get. When looking at this herbal oil, there are a few things to look for. While I'll touch that topic more in a moment, there are basically three things to consider.
First, the cost. Second, the quality of the oil. Third, the brand that makes it – after all, a good brand will tend to have a better warranty and possibly other perks like discounts. I'm not listing these rosemary oils in order of best to worst, as I feel that all of the oils are comparable to each other.
Related Reading
#1. Cliganic Organic Rosemary Essential Oil
Cliganic sells a wide variety of essential oils, all of which are organic. More than that, the Cliganic rosemary oil also has certifications for being Non-GMO Verified, Cruelty-Free, and Vegan. That they test each batch of their essential oil for purity by a 3rd Party Lab is also a good thing.
This rosemary oil comes in a small 0.33oz container with a dropper orifice lid. This makes getting just one or two drops very easy without needing to grab a separate dropper. For being organic, it is a very reasonable price, and it is small enough to fit in your purse to take with you.
#2. Nexon Botanics Organic Rosemary Oil
Like Cliganic, Nexon Botanics has a whole line of essential oils and a few other certifications besides being organic. This rosemary essential oil comes in a larger, 1oz bottle but has the same dropper orifice lid on it.
Despite being three times the size, it is only about double the cost of the Cliganic option. However, Cliganic has more of a reputation behind them, which is why some people prefer their products of Nexon Botanics.
#3. Plant Therapy Organic Rosemary Essential Oil
Plant Therapy offers their rosemary essential oil in a 1/3oz size that includes the orifice dropper lid. I like that Plant Therapy has their different essential oils as different colors. Rosemary oil, being a green, will therefore be easy to see and grab should you get multiple essential oils from them.
Even better, Plant Therapy has a GC/MS report that you can request to look at that verifies the purity of that bottle of essential oil. This is very rare for essential oil makers to do. So, while Plant Therapy may not be as well-known of an essential oil company, it is a great one to choose.
#4. UpNature Organic Rosemary Oil
UpNature proudly states their 365 day guarantee that, if you aren't happy with their rosemary oil, you can get a refund. This 2oz bottle of rosemary oil doesn't have the orifice reducer as a dropper, instead needing an actual dropper.
However, some prefer a dropper over an orifice reducer anyway, so this is not necessarily a bad thing. A 2ox container is still technically small enough to take with you fairly easily but large enough to last a while. It is the most expensive rosemary oil on this list, though.
#5. SVA Organics Organic Rosemary Essential Oil
This organic rosemary essential oil is the largest size on this list at 4oz. It has a dropper lid – again, not the orifice one – and is not as expensive as you might think for its size, which is sure to last you a while even using it regularly for your hair.
SVA Organics is another brand that isn't as well-known, and they don't have a list of other certifications. However, their essential oil is still worth getting, and it has great quality.
What To Look For In A Rosemary Oil
One thing to note about essential oils, is that the very phrase 'essential oil' is often used to apply to two different products. These two different essential oils are made in two completely different ways.
The easiest difference to note between these are the sizes that they come in. Type 1 comes in 0.33oz as its usual size, sometimes even smaller, and it is more expensive. Type 2 comes in 1oz, 4oz, and sometimes even larger sizes while being less expensive.
Type 1 is also more potent, needs more carrier oil in order to avoid burning, but will give your scalp more of its benefits. Type 2 will need less carrier oil, is cheaper than the other, and it is also easier to get.
Technically, only the first type is a 'true' essential oil, but some people feel that the second actually gives more benefits thanks to how it is made. Whether you prefer the first type or the second type is up to you.
Remember that 'therapeutic grade' and 'clinical grade' do not require a certification. So, literally any essential oil can have either or both of these phrases on it. The same goes for the phrase '100% pure' and other similar ones.
The reason organic is a certification you need to have is simple. Any pesticides that are on the rosemary before it is harvested are only going to be concentrated right along with the rosemary itself. Though rosemary doesn't often have any pesticides used on it, it is far better to simply go organic.
Of course, getting organic rosemary essential oil is not strictly necessary, especially if you use it for aromatherapy or other things not directly on your skin. Organic oils will cost you a little more, but they're worth the peace of mind.
Making Your Own Rosemary Oil
Making your own rosemary oil is actually very simple. It won't be as potent as an essential oil, but it will still smell like rosemary oil, and you will still get the benefits from the rosemary. The fresh rosemary is probably the hardest part to get.
Dried rosemary can be used, but it won't give the same effect. So, it's best to make your own rosemary oil only if you can get fresh rosemary. The other main ingredient of rosemary oil is, of course, the oil. Olive oil is the best option here, being a hair growth oil itself.
When looking at recipes for rosemary oil, it's important to know what a sprig is. For example, most recipes call for about 4 sprigs. A sprig is essentially a whole small branch of the rosemary plant.
The first step is to take the rosemary leaves off of the sprig, though some have you just put the whole thing in the oil. Pinching the top and then rubbing firmly against the direction the leaves grow is pretty easy.
Four sprigs of rosemary is enough for about two cups of oil. Putting these two ingredients in a small slow cooker is best, but you can use the stovetop. Use medium heat for either for a few hours. You can also set the rosemary and oil in a glass jar in a sunny window for a few weeks.
Straining all the rosemary out of the oil after that is probably the hardest part. But, once the rosemary oil is strained and cooled, put it in an airtight container. Homemade rosemary oil can keep for two to six months, six months to a year if kept in the refrigerator. This is compared to rosemary oil you purchase, which can be kept up to three years.
A Caution For Rosemary Oil
When you are using rosemary essential oil, there is not a lot that you need to be careful for. With any essential oil, it is necessary to be careful not to get it in, or even near your eyes. Essential oils and eyes do not get along well together. Even soothing lavender essential oil would cause your eyes to burn.
If this happens, get water and flush your eye out immediately for a few minutes. The burning sensation may persist for a while, and if it does, you may need to visit your ER. Other places like the tip of your nose and around your lips are almost equally sensitive ad may have this same problem.
Along with this, some patches of your scalp itself are going to be more sensitive. Burning and redness is probably the most common complaint by anyone using an essential oil. This is why carrier oils like jojoba oil, coconut oil, or even castor oil, are so important.
If you still get the burning sensation, you are not using enough of your carrier. Simply apply more carrier oil and rub it in well like a scalp massage, and the burning sensation should stop. On an only slightly different note, rosemary essential oil can be sun-sensitive.
This is where, even if you don't experience any burning when putting it on, if you were to go outside and put the area you applied it on in direct sunlight, it might burn a little then. If you applied the rosemary oil to your scalp, then your hair should help cover it.
Finally, if you go the route of taking your rosemary essential oil internally, you should know not to overdo it. Too much rosemary, especially in this concentrated of a form, will make you nauseous and induce vomiting.
Final Thoughts
If you've looked up rosemary oil, you probably see lots of places telling you the benefits for healthy hair growth. Some articles even tell you good products that have rosemary in them. Rosemary oil is right up there with peppermint oil, lavender oil, and tea tree oil for hair regrowth.
When shopping, there are so many rosemary oil options to choose from, and very few things to help you decide which one to get. Then again, rosemary oil and all that we are learning about it is still fairly new. The fact that rosemary oil is a great alternative for those who can't use other hair loss treatments means it is perfect for a lot of people.
True, it doesn't help with all causes of hair loss. Vitamin deficiencies, for example, will still need you to take said vitamin for your hair fall. However, as rosemary has also been proven to help with circulation, using it with other hair loss treatments can improve the effectiveness of those, making rosemary even more useful.