Every woman dreams about having healthy hair. Who doesn't want an optimized growth rate and volume? Sadly, these dreams are often deemed impossible due to environmental factors, whether through pollutants in the air or what products you're applying. However, there are some ways to combat these struggles!
Curry leaves are far more than just a spice used for cooking. This plant has been proven to improve hair growth through its richness in proteins, amino acids and antioxidants. 
If you haven't incorporated curry leaves into your hair routine yet, it is time to start! In today's article, let's take a look at the various benefits of curry leaves for hair growth.
Curry Leaves: What Are They?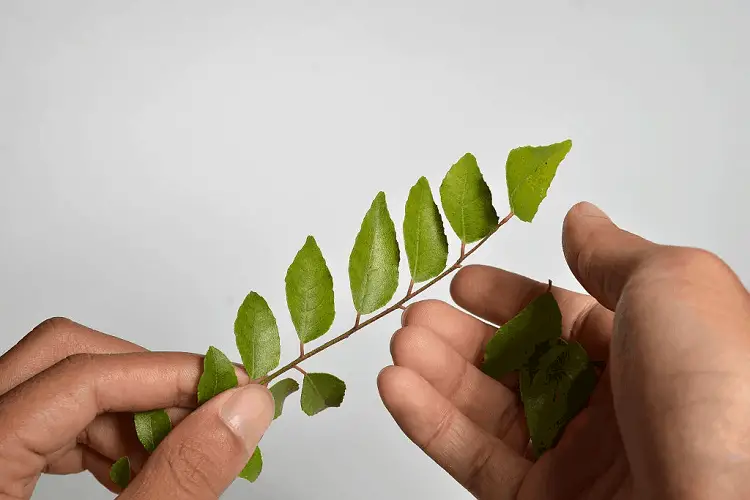 Curry leaves, also known as Kadi Patta or Meetha Neem, are native to Sri Lanka and India. They are mostly used to add flavor and aroma in India. 
Not only do they provide an abundance of culinary benefits, but curry leaves have become highly demanded in the health industry—especially for hair. 
Curry leaves are rich in nicotinic acid, vitamin c, iron, phosphorous and calcium. All of these nutrients are essential for growing and maintaining healthy hair.
How did this house-hold spice become a staple for hair care? The answer is clear. Let's look at some of the amazing benefits of curry leaves! 
Benefits of Curry Leaves for Hair Growth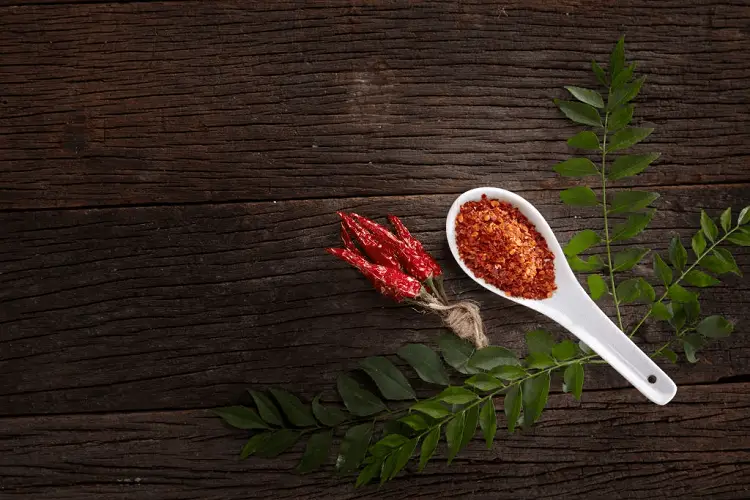 Curry Leaves Strengthens and Elongates Hair
Curry leaves are rich in vitamin B6, proteins and beta carotene. These nutrients can elongate and strengthen hair! This plant improves the hair shaft's strength, which prevents hair thinning and enhances the hair's overall health.
How to use curry leaves to get longer and healthier hair
To get longer and healthier hair, you will need:
A half-cup of fresh curry leaves and 

hibiscus

 petals each
Start by washing the leaves and petals properly and blend them using a mixer. Once the plants have formed a paste, at a little bit of water (it should not affect the paste's consistency. Finally, use the paste as a hair mask. This mask should be applied to your hair and scalp! Once it has rested on your hair for 25 minutes, rinse your hair with lukewarm water. 
You should repeat this procedure weekly. Over time, you will see noticeable results! Please note the quantity of leaves and petals use is dependent upon your hair's length.
Alternatively
If you do not have time to make and apply a hair mask weekly, we don't blame you. As an alternative, simply use curry leave oil!
Combine the oil with your regular hair oil to massage your hair and scalp regularly. Massage the mixture into your scalp regularly. You can leave the oil in or shampoo it out, depending on your hair's texture. 
Additionally, try boiling curry leaves and using the broth to wash your hair!
Curry Leaves Prevents Premature Hair Graying
Did you know that premature graying is something that a lot of individuals deal with? Despite having healthy hair, your hair can begin graying far earlier than it should. 
No matter your gender or age, curry leaves can help prevent premature graying. This plant promotes your production of melanin, which is your hair's natural color. 
How to use curry leaves to prevent premature hair graying: 
Use approximately 15 to 20 fresh curry leaves.

After washing the leaves, boil them in two cups of water.

Continue boiling the leaves until the water evaporates. You should be left with half a cup of water. 

Blend the leaves and water into a paste.

Once the paste cools down, add a few drops of coconut oil. 

Apply the mixture to your hair and scalp.

Let the mask rest for approximately 45 minutes. 

Rinse off the mask using lukewarm water.
Curry Leaves Speeds up Hair Growth
If you want to grow your hair fast, curry leaves are an excellent option to speed up hair growth! When combined with amla and methi leaves, the mixture helps stimulate your scalp and promote hair growth. 
Because curry leaves are rich in vitamin B, they can strengthen your roots, repair the scalp and unclog your hair's follicles. As a result, your hair begins to grow faster after only 6 days of use!
How to use curry leaves to speed up hair growth:
Combine a half-cup of curry leaves and 

methi leaves

 to one flesh of amla.

Blend the three ingredients. Add a few drops of water to the mixture while blending.

Once a paste, apply it to your hair (especially on your scalp).

Massage the paste in and allow it to sit for approximately 45 minutes.

Rinse the paste off using lukewarm water.
NOTE: you can use methi seed powder and amla powder for this recipe.
Alternatively
Using a mortar and pestle or food processor, crush roughly 20 fresh curry leaves into coarse particles. Mix your leaves with two full tablespoons of yogurt. Blend the mixture together. Apply the paste on your scalp and rinse off with lukewarm water after 25 minutes.
Curry Leaves Control Hair Loss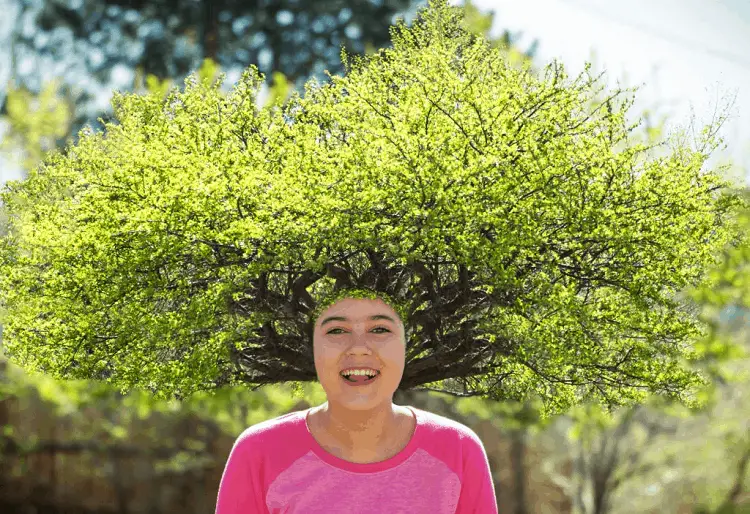 Even those with the healthiest hair shed roughly 50 to 100 strands of hair per day. However, once you start losing more than this number, it moves from being normal to abnormal. 
What happens when you beings to lose more than a hundred strands a day or chunks of hair at a time? There are solutions!
Curry leaves can help you control the rate at which your hair sheds due to their antioxidants. These antioxidants strengthen the hair follicles, moisturizes scalps and improves blood circulation. When used with coconut or virgin olive oil, curry leaves effectively control hair loss.
How to use curry leaves to control hair loss:
Warm-up some coconut oil on the stove and add 12-15 fresh curry leaves. 

Allow the leaves to settle in the mixture until the edges begin to blacken. 

Take your pot off and allow it to cool. 

Once cooled, apply the oil to your scalp, massaging it from your roots to ends. 

Cover your hair with a bonnet and leave it in overnight. 

Wash the mixture off in the morning with lukewarm water and shampoo.
You should repeat this procedure two a week for noticeable results. By the fourth week, you should notice far less hair loss! 
NOTE: virgin olive oil and replace coconut oil. 
Curry Leaves Clear Dandruff and Scalp Infection
Curry leaves can clear dandruff and fight scalp infection thanks to their antifungal, antibacterial and anti-inflammatory properties. Best of all, those with sensitive scalps can use curry leaves with no worry! Curry leaves do not irritate the scalp or react with other hair masks. 
How to use curry leaves to clear dandruff and scalp infection: 
Wash 20 fresh curry leaves.

Soak the curry leaves in water for 15 minutes.

Crush the curry leaves using a mortar and pestle or food processor. 

Mix the leave particles with 3 tablespoons of yogurt.

Blend until a thick paste has formed.

Apply the paste to your 

hair

 and scalp.

Let the paste rest for 30 minutes.

Rinse off with lukewarm water and a mild shampoo. 
Repeat this procedure once a week to notice changes every month. The yogurt helps hydrate the scalp and remove dead cells, resulting in fresh, hydrated hair cuticles.
Curry Leaves Control Hair Thinning
Curry leaves also help control hair thinning! Because this plant is rich in protein, beta-carotene and antioxidants, it helps maintain strong, healthy hair. 
How to use curry leaves to control hair thinning:
Dry 20 curry leaves until they turn brown and crunchy.

Grind the dried leaves into a fine powder.

Boil a cup of coconut oil.

Mix the coconut oil with the ground curry leaves.

Boil the mixture for a few minutes, then remove from heat. 

Strain your mixture into to form an oil. 

Apply the oil to your hair and massage it onto your scalp.

Leave the oil on overnight, covering your hair with a bonnet.

In the morning, rinse the oil off with lukewarm water and a mild shampoo.
Repeat this procedure every couple of weeks to see noticeable results. 
NOTE: neem leaves work great in addition to curry leaves!
Conclusion
Now is the time to incorporate curry leaves into your hair care routine!
You can store these leaves by drying them, mixing them with a carrier oil, such as coconut oil, or leaving them in an airtime container (keep refrigerated). The leaves store for up to ten days. If you dry the leaves, they will last longer.
Apart from tropical applications of curry leaves, you could also consume them the traditional way. Try incorporating curry leaves into your diet to experience the wonders of this spice all-around!
Have fun experimenting!
Be sure to check out the top 3 hair loss products and learn how to regrow thinning hair.