Sometimes you can get the feeling that a new shampoo is in order. This can be because you are losing your hair, or it could be for something else entirely. In the former case, you will be looking for a shampoo that can help treat your hair loss.
Revita shampoo claims to work for hair loss, and it says that it stimulates your hair growth in general. However, you are probably wondering if it actually does what it says it does. Not all shampoos do all that they claim they can, but Revita shampoo is one of the few that does.
Instead of just taking my word for this shampoo, perhaps you are more interested in seeing more of the actual evidence. First, a look at DS Laboratories, the company behind the development and making of Revita shampoo, is in order.
About DS Laboratories
DS Laboratories is a brand that is under the DS Healthcare Group, Inc. Company. They are responsible for both developing and marketing a variety of hair and skin products, most of which are targeted to help you with a specific problem.
This problem could be dandruff, acne, or thin hair. Whatever problem you face, DS Laboratory products are sure to help you in some way. They sell their products through salons, spas, stores, pharmacies, and other distributors, making their products easy to find and purchase.
Originally, DS Laboratories was called Divine Skin Inc., which is what the DS stands for. However, since this company has gotten more and more hair products in addition to their skin products, they felt that a change in name was needed.
While their headquarters are in Pompano Beach, Florida, they sell their products in over 40 different countries. Their many laboratories work to create new and innovative treatments, and their thorough testing ensures that their products do work before they go to the marketing stage.
DS Laboratories do not skimp on ingredients either, doing their best to make sure that these are not only of excellent quality but they also make sure that they are environmentally friendly. They do the same with their packaging, making this of a new type of plastic that will degrade over time so that it does not build up or pollute the environment.
Their main goal is to provide good products that work, no matter at what cost this is to them. To help with this, DS Laboratories hires some of the best doctors in dermatology as medical advisors for their projects.
Thanks to all of this, DS Laboratories is one of the leading companies in cosmetic dermatology. You can learn more about them through their company blog.

Revita 925ML Hair Growth Stimulating Shampoo
Since this hair growth shampoo comes from such a great company, you should expect that it is a great product. There are a ton of 5-star reviews on this shampoo and few ratings that are lower than that. This alone should be a clear indicator that this shampoo is a great product.
Revita shampoo has been formulated to help your scalp stay healthy and to both prevent and help heal any problems that your follicles might have. This shampoo tries to do this in as short of a time as possible so that you can see results fast.
Revita works for both men and women, no matter what hair problems you may be having. It helps with thinning hair caused by hair loss, and it even helps to fight against pattern baldness. While more common in men, this type of hair loss can be a problem for both men and women.
To start, Revita works on the follicles in your scalp. It helps revive your follicles a little every time you use it. If your follicles have a lot of damage, it may take a while before you start to see the results. However, you will start seeing the results fairly quickly, both for your follicles as well as the overall quality of your hair.  
Even better, Revita shampoo is made to be as hypoallergenic as possible. This means anyone can enjoy their shampoo without worrying about getting some form of a reaction to it. The shampoo is very easy on your hair and scalp too, so anyone should be able to use it.
The result of this is fuller hair that may even get some of its color back if it was graying. A large part of this magic is in the ingredients that are in this shampoo.
Pros
Uses amino acids, proteins and botanicals to strengthen your hair.

Treats hair loss, thinning hair and androgenic alopecia in men and women.

Fast acting hair loss treatment. 
Cons
The product's texture is challenging to apply (runny).
The Ingredients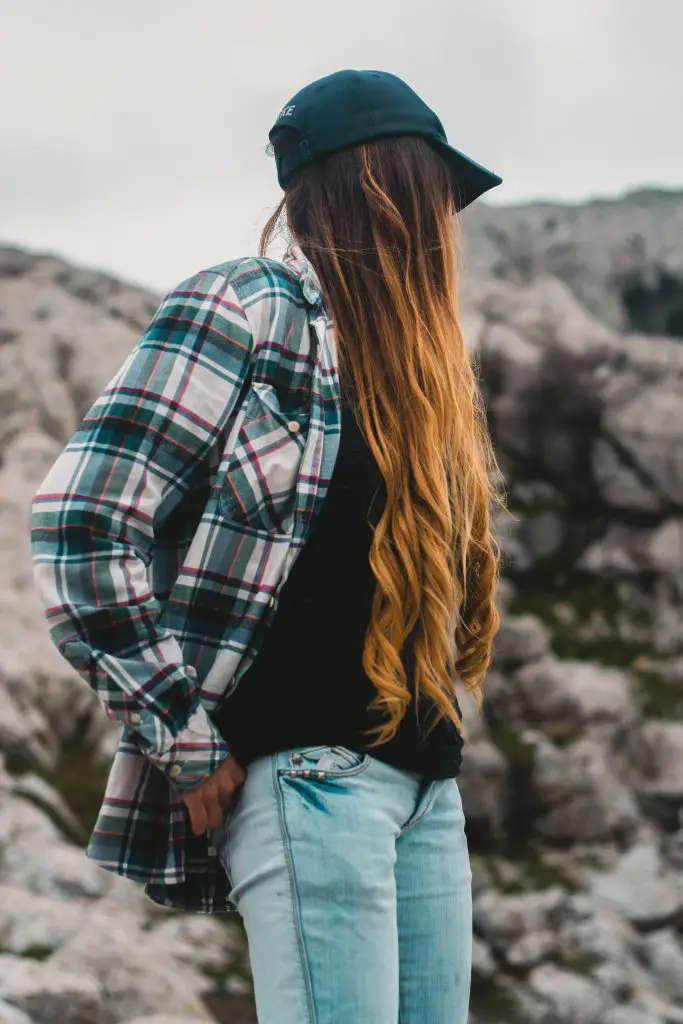 This shampoo combines many different effective compounds in order to help your scalp. Some of these are antioxidants and amino acids, and there are also anti-androgen properties along with molecules that are hydrating. Meanwhile, other ingredients are specifically included to stimulate hair growth.
As mentioned, Revita shampoo can even help with pattern baldness. This is because of the key compounds which act as dihydrotestosterone blockers (DHT blockers). Specifically, caffeine and ketoconazole take care of this job.
Biotin is an essential part of hair growth and, as such, is also included in the ingredients. In addition to strengthening your hair fibers, Revita shampoo also has ingredients that help prevent hair loss due to stress.
How Revita Shampoo Ingredients Help Your Hair Get Thicker
Revita shampoo does a number of things to help you get thicker hair. This thicker hair is caused in part due to the healing of damaged follicles. The other part that makes your hair thicker is thanks to the ingredients that strengthen your hair and cause your hair fibers to be less likely to break.
First, the DHT blockers help prevent hair loss from pattern baldness. Meanwhile, the antioxidants help to reverse some of the damage that has already been done. The fact that this Revita shampoo also helps with hair loss due to stress is yet another way it helps you get thick hair.
By promoting the flow of blood going to your scalp, your follicles get healthier. This extra flow allows nutrients and oxygen to get to your follicles, which can die if they are not getting what they need.
Thicker hair just looks better. Some hairstyles simply look scraggly if your hair is not thick enough to pull them off. The fact that this is done from the root of your hair follicles themselves means that this is not something that will just disappear if you were to stop using this shampoo.
The Advantages Of Revita Shampoo
Just as advantageous as what is included in the ingredients are the things that are deliberately left out of the ingredient list. There is no sodium lauryl sulfate or sodium laureth sulfate which, while used for cleaning, tends to irritate your scalp and can even thin your hair if you use it frequently on your scalp.
Another advantage is how easy to use this shampoo is. You can use Revita shampoo just like normal shampoo, just leave it in a couple of minutes before rinsing it out. If you are looking to maximize the benefits of this shampoo, you can do so too.
Simply massage the Revita shampoo into your hair for a couple of minutes, rinse it out, and then re-apply the shampoo and let it sit for about 5 minutes before rinsing it again. Follow with either your usual conditioner or with a Revita conditioner if you prefer.
Using the Revita conditioner with the Revita shampoo will obviously give you the best results. They also advise you to use it at least five times a week, preferably every day. If you do so, Revita shampoo can give you results in well under 90 days.
You can choose to buy one bottle of Revita shampoo at a time, or you can subscribe. Subscribing will get your Revita shampoo shipped to you automatically, and it will save a percentage of every bottle. Finally, Revita shampoo is perfectly safe to use on hair that has been colored.
The Studies
As mentioned, DS laboratories do thorough testing on all of their products. Their shampoo is no exception. In their studies, which were done on both men and women, they had their volunteers use their shampoo for 90 days.
By the end of that time, over 90% of the participants had noticeably less hair loss. Not as many noticed a definite increase in the amount of hair that they were growing. However, the exact percentages of these test results are posted clearly on the DS Laboratories website.
Also posted on their website are the results of the four different studies that DS has done for this shampoo. The first study was done on ketoconazole in 1998, this being one of the ingredients in the shampoo.
The second study was also done on ketoconazole as well, and the results of applying it topically. Nanosome is another ingredient that had its own study done in 2009. Finally, the fourth study was done in 2010 and was primarily a perception study to see how well the shampoo was perceived to work.
Each of these studies is documented, and the documentation is found clearly on the DS Laboratories website. This shows how proud this company is of their products and how they feel that they have nothing that they want to hide from you.
The Disadvantages Of Revita Shampoo
As perfect as this shampoo likely sounds by now, it does have its disadvantages. While its ingredients are hypoallergenic and good for sensitive skin, this does not mean they are natural. In fact, if you were to read the ingredient list for Revita shampoo, you are not going to have a clue what most of the ingredients are.
Only a few of the ingredients are going to be at all familiar. The rest are all synthesized in the laboratories, which is perhaps one reason why this brand is called DS Laboratories. This being the case, if you prefer natural products, then this shampoo is not what you are looking for.
There are plenty of plants that are great for your hair and which can do some of these same things. However, the synthetics can act faster, though synthetic products are more prone to giving you side effects of some kind.
Also, just because Revita shampoo does not have tow of the worst sodium, this does not mean that this shampoo has no sodium at all. In fact, there is more than one kind of sodium in this shampoo. A sodium of any kind can dry out your hair if you use too much of it.
While DS tries not to mention any side effects, there are a few that you should know about. In some cases, Revita shampoo can cause irritation and even a burning sensation on your scalp. If this happens, or if your scalp starts suddenly getting flakey, you should probably stop using this shampoo.
Final Thoughts
As you can probably see, Revita shampoo is an amazing choice if you are looking for the right shampoo for you. True, this shampoo may not give you back your full head of hair. It may not even have half of the results you are looking for.
However, the fact that it is good for you, your hair, and the environment is not something many shampoos can claim. It supports both your healthy hair, making it stronger, and your hair follicles that have already been compromised, helping them heal.
Anyone, no matter their age or hair type, can use Revita shampoo. While there are a couple of disadvantages, no shampoo is going to be perfect. In the case of Revita shampoo, you might well think that the advantages far outweigh the disadvantages.
This being the case, if you are looking for e new shampoo that is good for your hair, Revita shampoo is a good. If you do decide that Revita has the right shampoo for you, you are not likely to regret choosing it.