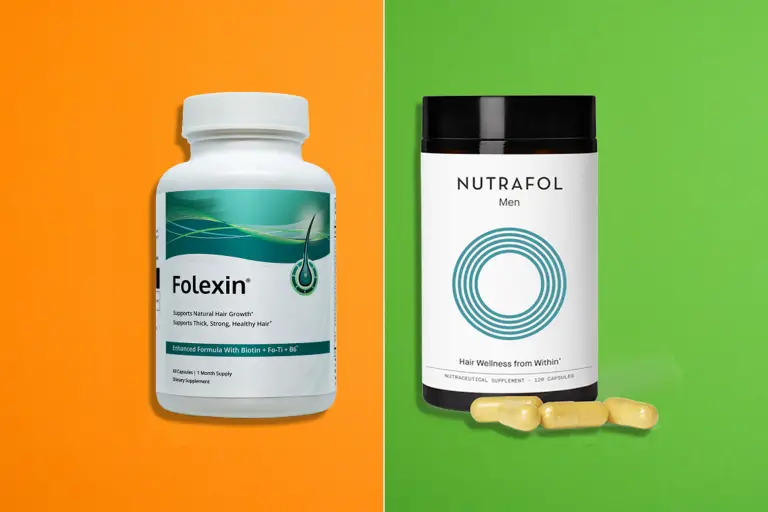 Hair loss sufferers: Folexin vs Nutrafol, which one do you choose? Both of these options are great hair growth products, and you have probably heard about them if you have looked into hair growth even a little. Between these and all of the other things out there that supposedly help with healthy hair growth, however, it can be hard to know what hair growth treatments are best.
Both products are quite popular, great for a hair supplement, and have had success in hair loss treatment. Both Folexin or Nutrafol work similarly; however, there are a few noteworthy exceptions.
First, let's take a look at the individual products: how they work and how easy they are to use.
Folexin Facts
Folexin is a natural hair growth product that was originally named Foligen. It was changed to Folexin because its original name was too similar to the name of other hair growth products. The company decided that it was best to change some of their ingredients, too.

Folexin
Support for thick, strong, healthy hair.
Support for your hair's natural growth process.
High-quality ingredients and third-party tested.
One of the most common causes of hair thinning is actually tied to a lack of some of the vitamins and minerals. Your hair needs these nutrient in order to grow strong and healthy. As a result, Folexin focusses on helping your body get these vitamins, such as vitamin e, vitamin d, or vitamin b7. See the full list of ingredients here.

It does this by having natural plants and hair vitamin as its main ingredients, with other vitamins to help you absorb these compounds effectively. This helps your body to have what it needs for hair growth as well as repairing some your scalp that might have stopped growing hair altogether.
For this reason, Folexin gets better results if you have only just started losing your hair. If you have already lost your hair for a while, then the hair follicle might be too far gone for Folexin to get hair back in them for you. You can view the full Folexin Review here.
Nutrafol Facts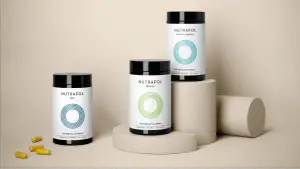 Nutrafol, like Folexin, also focusses on regrowing healthier hair as naturally as possible. It uses more premium ingredients than natural ones, but it also tries to help you hormonally too. For this reason, there are three different Nutrafol products for hair regrowth.
One of these is for men (male pattern baldness), one is for women, and one is for women who are struggling with menopause hormones. However, while these three products are slightly different, they all use almost all of the same nutrients, simply changing the amounts in an effort to suit these three groups a little better. Nutrafol's hair loss supplement is a great way to go.
Since it works in the same way, by helping your body get the nutrients it needs to repair itself, it also will have the same difficulty in re-growing hair that has been gone too long. Read the Nutrafol Review.
Related Reading
How Do Folexin And Nutrafol Compare?
Now that you know a bit about how they work, it is time to dig a little deeper into just how Folexin vs Nutrafol compares to each other. After all, this is what is most likely to affect your final decision when you are choosing a product to get for hair loss.
Ingredients
There have been scientific studies done on each of the ingredient that are in both of these hair loss developments, most of which have some sort of beneficial effects for your hair. That being said, in some cases, the way that these ingredient actually help your hair is still unclear.
Each of these hair products has a perfect example of this. In the case of Folexin, Saw Palmetto has been shown to help regrow hair follicle (by stimulating the scalp) but still needs more testing done before it can be guaranteed just how effective it is.
Saw Palmetto is also in men's Nutrafol, but so is Horsetail Herb extract which is something that has not been researched for hair even as much as Saw Palmetto has been. There are a number of natural ingredients in both of them, but Folexin has a few more than the other.
You should know that when a product says premium ingredient that this means that the ingredients have been processed in a lab to make them easier to absorb. However, some people do feel that ingredients in their natural form (e.g., fruits, vegtables, or vitamin packs) are better.
Natural ingredients may not be as easily absorbed, but they also tend to carry fewer side effects, so it is an area where there is a bit of give and take. Out of these two hair products, Folexin has the most natural ingredients whereas Nutrafol has more processed ingredients in it.
Finally, when it comes to the vitamins and minerals in them, both of these products are comparable but Folexin clearly comes out ahead here. Both of them have Biotin, Zinc Oxide, and a bunch of other vitamins in them to help support your hair growth naturally.
Side note: Another common product on the market is Viviscal. If that's something you're considering, check out the Nutrafol vs. Viviscal or Folexin vs. Viviscal post.
Effectiveness
Since Folexin has more natural ingredients in it (e.g., Biotin), this can mean that it sometimes takes a little longer for it to take effect. That being said, on average Folexin takes only 10 to 15 weeks before you start seeing results. On the other hand, it takes 12 to 25 weeks on average before you start seeing the same hair regrowth from Nutrafol.
This makes it obvious that if you are looking for fast results you are likely better off going with Folexin. Lastly, since these work by giving your body the nutrients it needs for healthy hair, if you are losing your hair density due to genetics then it is possible that neither of these will work.
However, they may still help slow down hair fall. You should also know though that when you stop taking either of these that your body will eventually use up the nutrients that these pills gave you. This means that if you stop taking them you will face hair thinning and hair loss again.
All in all, both of these work in basically the same way as each other, simply using different ingredients in different amounts to try to achieve the same results. So in this matter, they are really quite the same other than the fact that Folexin seems to promote hair development faster.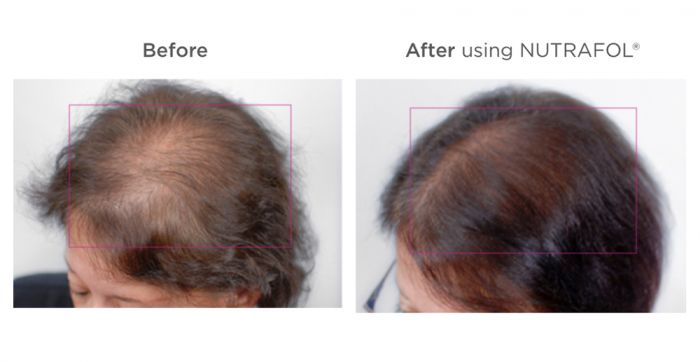 Side Effects
Because of the fact that both of these products try to take a natural approach to hair loss treatment, there are actually very few side effects, which are quite mild in most cases. The Saw Palmetto and the Biotin that are so good for your hair can upset your stomach if you take too much of them.
For this reason, you should never take more than the recommended dosage and you should also be aware that with Nutrafol you might be taking more of these and are, therefore, slightly more likely to experience these symptoms.
When it comes to smell and aftertaste, both of these are tied with no particular taste, aftertaste, or smell. Since you are taking more pills with the Nutrafol, if you are going to have an aftertaste, then it is more likely to happen with that one.
Price
If you are tight on money on a regular basis then the price difference between these two might very well be something that tips the balance in the end. Folexin is bought by the bottle, with one bottle lasting a month.
If you buy more than one bottle of Folexin at once, then you get a discount. The more you buy at a time, the greater the discount will often be. Sometimes there will also be a deal where if you buy a certain number of bottles of it then it allows you to get a bottle for free.
Nutrafol, on the other hand, is sold only in monthly amounts as well but at around double the price Folexin (no deals when it comes to buying in bulk). This thinning hair supplement does allow you to sign up to receive monthly shipments, but this only saves a few dollars.
Part of the price difference is the fact that for Folexin the dosage is two pills a day whereas Nutrafol has you taking four pills a day. If you like the idea of taking as few pills as possible, this is a notch in favor of Folexin, however there is more to the price than that.
Both have 30-day money-back guarantees, but Folexin can often be gotten with a 60-day money-back guarantee which is double that of the other. Finally, you should also know that Folexin is for both men and women (anyone facing androgenetic alopecia), whereas Nutrafol has separate pills for men and women.
This means that if you are married and both you and your spouse want to take something for hair growth that Folexin would probably be the better choice. This is because you could get one pill for both of you instead of having to pay for two separate hair treatment products.
Final Thoughts
All in all, while both of these products are comparable Folexin comes out ahead of Nutrafol in a number of ways. Folexin is cheaper, works for most people sooner, and has more natural ingredients than Nutrafol does.
At the end of the, if you're wondering what the biggest difference is between the two hair growth treatments? The marketing dollars they spend. Nutrafol is spending millions a year on platforms like Facebook, Snapchat, Google, YouTube, Instagram, etc. Where do you think those marketing dollars come from? Inflating the price of their hair wellness products.
Both Folexin and Nutrafol are made in the U.S. and are sold primarily online, meaning they can be shipped almost anywhere in the world. This means that both neither one is more trouble to get than the other, and everyone can have their shot at treating androgenic alopecia.
Nutrafol comes out to over $960.00/year whereas you can purchase Folexin for as little as $18/mo. A lot of the primary ingredients are the exact same. If you are looking for the brand name product, Nutrafol could be for you. If you are looking for effectively the same product at a lower price, save yourself some money and try out Folexin.
Price
$17/Bottle (When you buy 5)
Our Opinion
Similar Results - Way Cheaper
Price
$17/Bottle (When you buy 5)
Our Opinion
Similar Results - Way Cheaper
Last update on 2023-11-21 / Affiliate links / Images from Amazon Product Advertising API
In closing, I would like to point out that some women feel that Nutrafol is better for them since it has an option made specifically for female pattern baldness (often seen in women who are facing thinning hair due to the hormone changes of menopause). While this certainly makes sense, you should know that Folexin has been known to have great results on women too so you should not discount it. Whatever hair loss options you choose, we hope your results are just as promising as ours!
Hair Loss Products That Work
Tired of chasing down a hair loss solution without the results you're after? Make sure you're using the 3 hair loss products known to work before experimenting with alternative solutions – you may be surprised with how effective those 3 alone can be.