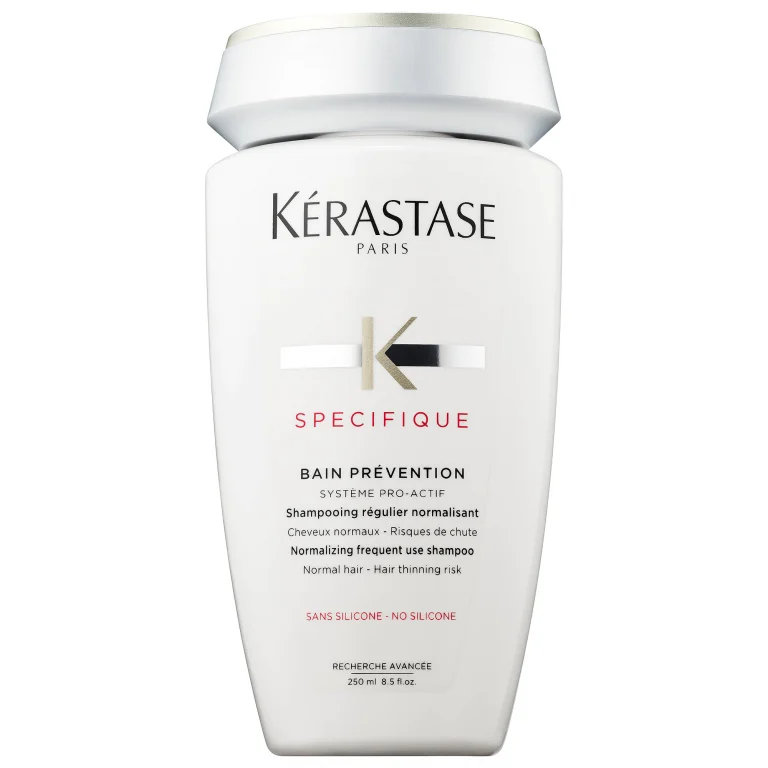 The Kerastase Specifique Bain Prevention Shampoo is probably not one that you have heard about for hair loss. However, this Kerastase Shampoo has been gaining enough good reviews that it is worth taking a moment to look at.
About Kerastase
Kerastase is not one of the well-known hair loss brands; at least, it is not popular yet in the US. Still, it is a great company that is devoted to the health of your hair.
If you have not heard about Kerastase, it is most likely because the company is actually a French one.
In fact, Kerastase is a French luxury hair care line whose sole purpose is making hair products. More than that, this hair company is a part of the L'Oréal Professional Products Division.
It was back in 1964 that Kerastase split off, being founded by some of the scientists at L'Oreal Advanced Research.
It has a fair amount of good reviews on their various products, a portion of which are also in French, making them a little hard to read. These products of Kerastase are sold internationally, allowing almost anyone to buy them.
Mostly the Kerastase products are found at luxury salons and at similar places, but there are many websites that also sell them.
On the Kerastase brand's main website, you can even search for salons in your area that sell their products, though this won't necessarily tell you which products they have in stock.
Kerastase even has a blog of sorts with information on various hair problems that you can look through.
Surprisingly, considering that the company is French, this is even in English. These posts include hair tips as well as step-by-step tutorials for both hairstyles and treatments.
One important thing to note about Kerastase is that, unlike other hair companies such as Valotin, they make no claim to be natural.
They do not claim to use natural ingredients, to have any studies done on their products, or to be healthy for you.
The Kerastase Specifique Bain Prevention Shampoo
Kerastase has over a dozen different shampoos; they even have more than one in their Specifique line of products.
Each Kerastase shampoo is slightly different than the other ones they sell in one way or another. It is this Bain Prevention Shampoo that is made to help prevent hair loss.
Besides that, the shampoo formula also helps give your hair volume. The Kerastase Shampoo does this by texturizing that thickening your hair fibers.
Meanwhile, its neutral pH allows it to clean your hair without being too harsh about it. The pH also aids your scalp by balancing its own pH.
Unlike many of the Kerastase Shampoos, this one does not have a conditioner to go with it.
Instead, if you want something to follow it up with, they recommend one of their other hair treatments.
There are three goals that this shampoo has, and one active ingredient included for each.
One agent helps relieve itchiness, the second promotes microcirculation for the roots, and the third regulates microbial flora and reduces inflammation.
To get the best of these active ingredients, Kerastase recommends a specific way of using this shampoo of theirs.
They recommend you to essentially use it twice each time. This means that, after you wet your hair, Kerastase wants you to apply it, massage it in, rinse, then apply and massage it in again, and rinse it out one last time before moving on to anything else.
Finally, the last thing about Kerastase Shampoo that you should know a bit about is the ingredients.
Out of the many ingredients in this particular formula, there are only two that you are likely to recognize. These are water at the beginning of the list and fragrance at the end of the list.
Related Reading
The Advantages
The Kerastase Specifique Bain Prevention Shampoo is one that has a handful of advantages to it.
As a shampoo from a luxury hair company, it has the right feel and smells that you would expect from a shampoo from them.
The fact that this Kerastase shampoo helps give your hair volume can be quite helpful in some cases. If you are using the Bain Prevention Shampoo, you are likely already suffering from hair loss to some degree. So, having a little extra volume to your hair can help hide this fact.
Meanwhile, the neutral pH and the help that it gives your scalp in that area is also a great advantage.
When your scalp is the pH that it is supposed to be, it is healthier and more willing to grow hair for you. Also, this does assist with inflammation, which is one of the main factors behind hair loss.
So, though the ingredients might not look appealing, they definitely have some good qualities too.
Also, the Kerastase shampoo is free of silicone. This is a fairly common ingredient that is used to give hair a protective coating, but it is not necessarily something that you want in your hair.
The Disadvantages
Though this Kerastase shampoo does have a few advantages, it has a slightly longer list of disadvantages. These may well make Kerastase Shampoo something not worth considering.
When it comes to the ingredients, these are really not what you want to put in your hair. Though made to prevent hair loss, there is nothing in it to really help your hair grow back.
In fact, it has several distinct types of sodium and alcohol, which is probably why it is so drying for your hair.
Also, though it may be free of silicone, it mentions nothing about being free from parabens or sulfates.
On that note, Kerastase also makes no mention about its animal cruelty policies, where it gets its ingredients, or anything else that you might be concerned about.
You can buy the Kerastase Shampoo from a wide variety of sites, both in the US and from other countries. However, sometimes these don't even really look the same.
What's more, with the number of shampoos on the Kerastase website, added to the fact that the names are all in French and difficult to read, and you can have a hard time even finding the Bain Prevention from them.
Wherever you buy it from, you will still face another problem.
Keep in mind that Kerastase is a luxury hair brand, emphasis on the luxury part. Therefore, it should be no surprise that their products have a price tag to match.
That is added to the currency problem, which is that many sites you might buy from use a different currency.
In short, buying the Kerastase Bain Prevention can be more trouble and expense than what it is worth. Added to the fact that Kerastase wants you to use it twice each time, and it gets even worse.
What People Say About It
Opinions on this Kerastase Shampoo tend to vary quite widely, and that is just the things that people say in English. However, there are a few things that many people seem to agree on when they use this shampoo.
For starters, many people claim that the Kerastase Shampoo really worked for their hair loss, which is a good thing.
Some even say that just a few uses got them visible results and that it is worth the price.
On the other hand, even some of the people who say that the shampoo works for them voice a common complaint.
The main complaint when using this shampoo is that it makes your hair very dry. So dry, in fact, to the point that it makes your hair tangle badly.
Final Thoughts
All in all, Kerastase might be a product that you could consider using. However, there are other hair loss shampoos out there that can do a much better job helping your hair. One really good example of a better shampoo is the Valotin Strengthening Shampoo.
This latter shampoo is natural, good for you, easy to buy, much less expensive, and it truly helps your hair at its roots instead of just temporarily fixing the problem with chemicals. What's more, Valotin has a conditioner that pairs with the shampoo and which is also equally a great product.
So, in short, while Kerastase has a pretty good shampoo here, you would be much better off going with the Valotin Shampoo for your hair. Not only is the Valotin option better for your hair, but it is also better for your pocketbook too.