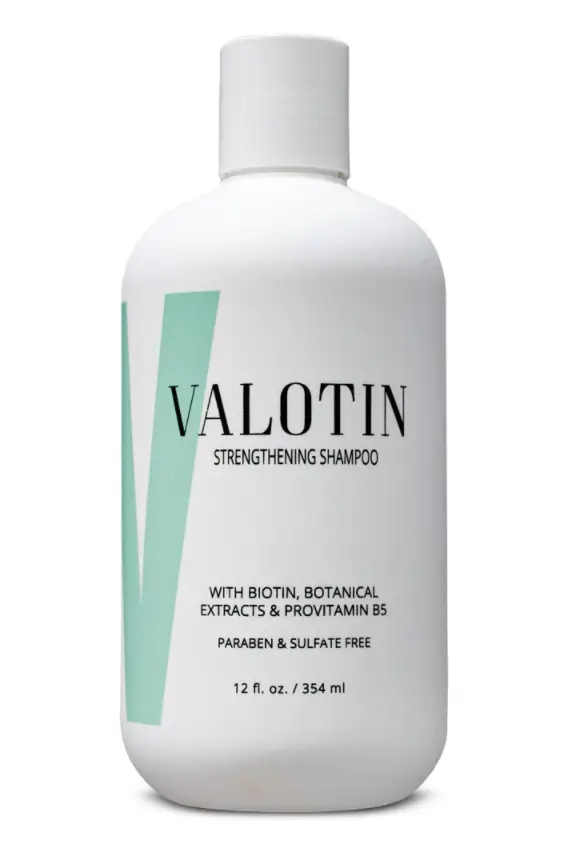 Shampoo and conditioner are unarguably great ways to treat or prevent hair loss. Practically everyone already washes their hair on a regular basis, so nothing has to change in your schedule. This is extremely convenient for a lot of reasons.
This is why hair loss shampoos and conditioners are so popular and why there are so many brands out there. Valotin Strengthening Shampoo and Valotin Strengthening Conditioner are some of the best options for this, so let's take a look at them.

Valotin Shampoo
Enriched with powerful vitamins
Infused with German chamomile, cucumber, & green tea
Suitable for everyday use
About Valotin
The Valotin brand is likely one that is unfamiliar to you, but it is one that is worth looking into. All of the Valotin products revolve around your hair and making it grow faster and thicker. These hair products are made to nourish your hair, supporting your hair growth from the inside out by assisting the roots of your hair in addition to strengthening the hair that had already grown.
More than this, Valotin is a natural company whose statement is that Mother Nature knows best. Because of this, the company sends people to find the best plants for hair loss. Valotin also does studies and stays up to date on studies done by other companies so that they can update their products when needed.
These Valotin products are made with ingredients that are both from the US and other parts of the world. The manufacturing is done in the US, however, with the facilities meeting both the FDA and GMP guidelines. Once made, Valotin products are shipped worldwide to over two dozen countries.
An interesting fact about Valotin is that it is simply an off branch of a main company. Vita Balance is a brand that is much more well-known than Valotin is yet, and is the parent brand behind it. Vita Balance focuses primarily on supplements, even have a few for your hair.
Both Valotin and Vita Balance have a lot in common, including their goals, the healthiness of their products, and the fact that you can trust their ingredients. In fact, Folexin, one of the best hair growth products on the market, is from the Vita Balance company.
You can trust that Valotin uses the same science that their parent company uses. All in all, its goals, science, and mission are all things you can get behind.=
The Valotin Strengthening Shampoo
The Valotin Shampoo is made for every hair type every day. Regular use of it will supposedly help your hair both look and feel thicker, healthier, and shinier. Made in the USA, Valotin shampoo has no animal testing done on their shampoo.
While you need to massage it into your scalp quite thoroughly, there is no need to wait and let it set in your hair before you rinse it out. This is nice for those of us who like to take quick showers and don't have a minute to waste.
The Ingredients
Before you put a product on your hair, you probably should know what is in it. Many of the Valotin shampoo ingredients are ones that you have heard about or seen in other hair loss products. The first one that you are likely to recognize is Aloe leaf juice.
This juice has many beneficial vitamins, including A, C, and E, each of which are well-known for promoting hair growth. In addition, aloe juice is very soothing, encourages your scalp to be at its optimal pH, and had other benefits.
Both Biotin and green tea are also found in this Valotin Shampoo, and both are extremely useful for hair loss. Biotin alone has had many studies done on it that show its usefulness. Meanwhile, the green tea has had almost as many studies done on it.
Chamomile flower extract offers some great support for the roots of your hair, especially with how anti-inflammatory it is. This pairs great with Cucumber, which has some great hydrating properties that are beneficial to your scalp.
Other ingredients include things like Rosemary and Calendula extracts, among a few other plant parts that are advantageous. What is more, Valotin Shampoo avoids a few things that you definitely don't want in your hair.
This shampoo has no parabens in it, nor does it have any sulfates. It also has a noticeable absence of any drugs. Since these are things that you don't want in your shampoo anyway, the absence of these is a very good thing.
While it does have a few ingredients that are a little bit more questionable, none of them are filler ingredients. Each thing in it serves a purpose and is included for a reason, and benefits your hair in some way.
The Valotin Strengthening Conditioner
The Valotin Conditioner is made to accompany the shampoo of the same name. Where the shampoo focuses on cleaning and enriching, the conditioner focuses on protecting your hair from further damage. The conditioner does this by various methods.
First, it tames your hair by trying to prevent static and frizz and by healing up some of the damage. The Valotin Conditioner then enriches your hair with a wide variety of amino acids. Finally, it safeguards your hair with a protective layer to prevent damage from happening.
This all helps with hair loss as well, by making sure you don't lose hair due to damage. You do need to leave the conditioner in for a while, but this is not anything that is too hard to do. While this conditioner is best used after the Valotin Shampoo, you can use it after other shampoos instead.
Pros
Holistic, natural and vegan hair care product, which fights against hair loss.

Nourishes your hair from the roots to the tips.

Increases blood flow to your scalp (hair regrowth).
Cons
Better for strengthening hair versus promoting new hair growth. 
The Ingredients
Just like with the Valotin Shampoo, the ingredients that are in the conditioner are equally important. A few of the ingredients are similar, but there are a few noticeable differences. However, the best of the ingredients are the ones that are the same.
By 'best,' I mean ones like the biotin and Aloe juice. These two, and the few other ingredients that are shared by both of these products, are awesome for your hair growth.
Vitamin C is added to this Valotin conditioner for your hair. Dimethicone is present to lessen your frizz and to help prevent tangling, while Cetrimonium Chloride helps prevent static and eliminates odor so that your hair both looks and smells nice.
Also in the conditioner are two types of alcohols. Alcohol in hair products is usually something you avoid because they tend to dry out your hair. However, these two are actually fatty and beneficial, smoothing your damaged cuticles so that they don't get damaged even more.
Perhaps best of all is the wide variety of different amino acids to be found in this conditioner. There are aspartic acid and alanine with are a big help with moisture, the latter even helping with color retention. In addition, there are valine isoleucine, phenylalanine, arginine, glycine, serine, threonine, and histidine as well.
The Dog Rose fruit extract is a plant-based ingredient with high levels of antioxidants. Meanwhile, the Gotu Kola extract is one that helps with stimulation and circulation to your scalp. Silk might seem like a strange ingredient, but it is a strong fiber that can help strengthen your hair.
Besides those, there are Spirulina extract, Ginseng root extract, Vitamin B5, Vitamin E, and a whole lot of other great ingredients. There is even some proline, which is a main component of keratin.

Valotin Shampoo
Enriched with powerful vitamins
Infused with German chamomile, cucumber, & green tea
Suitable for everyday use
The Advantages
Looking at the ingredients alone should tell you how great this shampoo and conditioner are for your hair loss. A large portion of the ingredients are well-known for assisting with your hair growth. Many of them also pay special attention to color-treated hair, making this an especially good option for those who like to use color.
Using shampoo and conditioner for hair loss is so convenient. Not only does it not take any extra time, but it doesn't cost you any extra money since you are already buying shampoo and conditioner anyway. However, the benefits of the Valotin Shampoo and Conditioner go beyond the products themselves.
Simply put, Valotin is a great company to buy from, especially if you like deals and saving money. Valotin offers you a few different ways to save money on their hair products. The first is by buying in bulk. You can buy one, two, or three bottles at once, but buying the three bottles will save you a worthwhile amount.
Then, in addition, Valotin also has seasonal deals for things like Labor Day and Black Friday. These can save you a percentage of your purchases made during the set period of time. Finally, Valotin also has a price match.
This price match that Valotin offers is a rare feature that very few companies, hair or otherwise, offer their customers. If you find the Valotin products elsewhere for cheaper than what Valotin offers them for, they will match the price.
Besides those three great ways to save, Valotin has a pretty good 30-day policy. And there are plenty of other advantages that are too many to list. All in all, the Valotin products are great products from an equally great company.
The Disadvantages
While I highly recommend this shampoo and conditioner and feel that they are some of the best out there, they are not perfect. In fact, there are a few things that might make you reconsider buying them for your hair.
For example, some of the ingredients in the shampoo and conditioner are less than desirable, if you can figure out what they are. Acrylates Copolymer, Sodium Lauroyl Sarcosinate, and a few others are definitely tongue-twisters and may make you pause.
Both products have fragrance and citric acid in them. Though not terrible, these two things can bother people with sensitivities. The hydrolyzed wheat protein in the conditioner may qualify as a plant, but it is definitely out of the question for wheat-sensitive people.
Fortunately, the shampoo does not have that ingredient, giving it an advantage over the conditioner. But that is just the Valotin ingredients. Their policy is a little lacking as well. Though they do have one, 30 days is hardly sufficient. 
Many hair loss companies understand the fact that it can take 2 to 3 months for you to see results and, therefore, have policies that extend their warranty to last that long. Valotin says that it will take at least a month before you can expect to see results, and by that time their policy will have expired.
Finally, the last disadvantage, though nothing serious, is something to think about. Though Valotin mentions all the various studies, it doesn't show the documentation of these anywhere. So, this can bring to question if they really did these studies and if the results are all that they claim. It is entirely possible that Valotin really has done a lot of studies, but we can't see them.
Related Reading
Final Thoughts
The Valotin Shampoo and Conditioner are both products that I highly recommend, especially the Valotin Shampoo. Though these do not work for everyone, they work for enough people to say that they will probably work for you as well.
What's more, these products are not likely to hurt your hair, give you side effects, or anything else, even if they aren't able to help your hair the way that you want them to. All in all, you should give Valotin Shampoo a try if you are looking for a shampoo to help with your hair loss.
What makes Valotin our #1 Choice for Shampoo and Conditioner?
Its holistic ingredients support natural hair growth, strengthen hair follicles, and promote thick, moisturized hair. Every Valotin product is made with herbal extracts and several vitamins, making every day a great hair day. Unlike other hair regrowth products, Valotin nourishes your hair from the inside out. If you want rapid hair growth, deep conditioned locks, and a healthy scalp, you need to add Valotin to your hair care regimen. With Valotin, you can achieve beautiful, full hair without investing a lot of time and money. You'll be blown away by the results!

Valotin Shampoo
Enriched with powerful vitamins
Infused with German chamomile, cucumber, & green tea
Suitable for everyday use