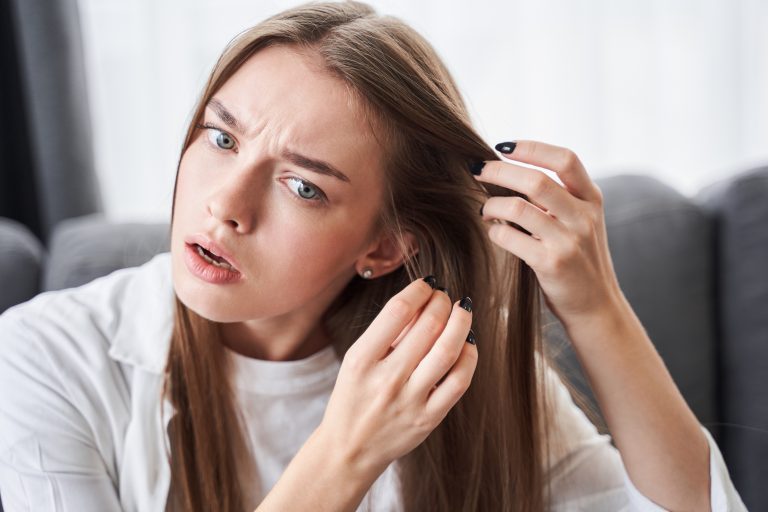 Does ketoconazole stop hair loss?
This is a question that most people are currently asking on the internet, and we're here to provide you a well-researched answer to it.
When you are faced with hair loss problems, there are a lot of products on the market to help you combat this issue and to make your hair grow thicker and fuller. One of those products is ketoconazole.
For some time now, one major question on the lips of those that care about the health of their hair is whether ketoconazole is actually effective in the treatment of hair loss.
For your information, ketoconazole has been proven to be a useful solution for the treatment of balding and hair loss. Ketoconazole is available in shampoo form, cream form, gel form, and more.
Whether you are seeking a solution to completely stop hair loss or you simply want to grow a thicker and fuller hair, this article will take you through what you should know about ketoconazole and how it can prevent the perpetual problem of hair loss among men and women.
But before we delve deeper into how ketoconazole does its magic, let's quickly take a look at the solution called ketoconazole.
What Is Ketoconazole?
Ketoconazole is a widely known antifungal medication used by both men and women to treat skin and nail conditions such as ringworm, candidiasis, as well as seborrhoeic dermatitis.
Ketoconazole is also a major ingredient in many hair loss shampoos on the market. For those that are keen on the health of their hair, ketoconazole may mean a lot of things to them.
Apart from preventing hair loss, its shampoo form is highly effective in the treatment of dandruff.
Plus, it encourages users' hair to grow fuller and thicker. In addition, ketoconazole can also be applied to treat male pattern baldness. It is easy to apply and budget-friendly as well.
Now that you know what ketoconazole is about, let's now look at its effectiveness and how to properly apply it to get maximum results in treating hair loss.
Does Ketoconazole Stop Hair Loss?
Even though there is no sufficient scientific research to back up the claim that Ketoconazole is effective in the prevention of hair loss compared to finasteride and minoxidil, some studies on Ketoconazole and baldness suggest that it can improve hair growth.
A 1998 study that compared minoxidil and Ketoconazole in terms of which one best encourages hair growth showed that anagen hair follicles were increased in size and proportion by applying 2% of Ketoconazole at a similar rate to the application of minoxidil spray.
Also, there are animal studies that showed that the regular use of Ketoconazole could significantly improve hair growth on animals, even in areas where balding has affected their hair follicles.
Currently, there are not enough data to buttress the point that Ketoconazole effectively regrows hair or treats baldness.
However, some scientific evidence suggests that when people use the shampoo form of Ketoconazole, they record measurable improvement in their hair growth journey.
How Does Ketoconazole Help Stop Hair Loss?
While the available scientific evidence shows that Ketoconazole can significantly stimulate hair growth, it is still inconclusive about how and why it does this.
The major cause of male pattern baldness is dihydrotestosterone or DHT, a chemical agent that affects men's hair follicles, especially those prone to genetic baldness. If dihydrotestosterone is not treated on time, it can make hair follicles to stop producing new hairs.
Hair treatment solution like finasteride is effective in the treatment of DHT. It prevents the formation of DHT and thus stops any damage to hair follicles. However, there is limited scientific evidence that the use of Ketoconazole can effectively function like finasteride.
A 2004 scientific paper presented a hypothesis that the use of Ketoconazole can actually disrupt the formation of DHT; thus slowing down hair loss.
The researchers even went on to assert that Ketoconazole can serve as an alternative to finasteride for the treatment of hair loss.
Ketoconazole Shampoo Can Also Prevent Dandruff
Ketoconazole has been proven to be effective in the treatment of seborrheic dermatitis. It is also widely believed that it is one of the major ingredients used in making most of the anti-dandruff shampoos on the market.
Whenever you notice dandruff forming either on your shoulders or neck, you won't go wrong adding Ketoconazole in your hair care stack.
In addition, if you want to grow a fuller and thicker hair, you may also consider giving this product serious consideration. Ketoconazole works for both men and women and does not have any noticeable side effects.
How to Use Ketoconazole Shampoo for Hair Growth
For the best result, apply Ketoconazole shampoo for at least 3 to 4 times a week. It would help you minimizes the dryness and irritation that you often experience on your scalp.
After every shower, ensure you use a quality conditioner, at least the one infused with oils such as coconut, argan or jojoba. Doing this will help to protect your scalp and hair
If you want to make Ketoconazole more effective, you may consider applying it with minoxidil. Several studies have shown that minoxidil, a vasodilator medicine not only treat high blood pressure but can also be helpful in the treatment of hair loss.
In addition, it is widely believed that combining minoxidil with other hair loss solutions like Ketoconazole works better.
When you use Ketoconazole alongside powerful DHT blocker like minoxidil, it would not only prevent hair loss, it would also make your hair fuller and thicker.
This means that using this dual solution would be a no-brainer if you're keen on achieving the best results within the shortest possible time.
Conclusion
It is essential to keep in mind that Ketoconazole is not as effective as Finasteride in the treatment of hair loss, but when combined with Minoxidil and other active hair gel, the combination will not just stop hair loss, it will also ensure that your hair becomes fuller and thicker.
So, at this point, we can confidently assert that Ketoconazole can stop hair loss both in men and women when applied with other active hair treatment shampoos.
And one more thing…
What are your experiences using Ketoconazole?
Use the comment box below to share your thoughts with us.
Be sure to check out our list of the top 3 best hair growth products.