Sometimes it is easier to deal with hair loss when you have more than one single product you can use. In these cases, finding a hair loss company that offers a range of products you like is extremely helpful. However, finding a company that sells a range of products you like can be almost as hard as choosing a single hair loss product.
Viviscal and Hims are two hair loss companies that are worth taking a look at. Both of these companies have multiple products that you can choose from. As for which company might be better for you, perhaps a closer look is needed.
About Viviscal
Viviscal is what can best be referred to as a TV commercial hair loss treatment. However, Viviscal has lasted for quite a while, which is better than most hair loss treatments that you can sometimes see in commercials.
This hair company has 25 years of experience and have done a lot of research to make their hair loss products. Viviscal products are made to work for your hair using four stages that build on each other.
Stage one of Viviscal products works to nourish your hair follicles by giving them the nutrients that they need. The stage two involves using these nutrients to thicken thin hair and to strengthen it. Stage three is that Viviscal products cut down on hair breaking and thinning by encouraging further growth.
Finally, stage four of Viviscal products is that your hair is stronger, looks healthier, and is more vibrant in the end. These four stages of Viviscal products are straight and to the point without the need for drugs or chemicals.
The Viviscal company is all about hair and hair loss, with none of their products having any other function. The 'secret ingredient' that Viviscal features is something called AminoMar complex. In fact, Viviscal is the company to develop this complex and the only hair growth treatment that uses it.
AminoMar was first developed starting in the 1980s when a professor was studying a people group who happened to all have extremely healthy hair and skin. With a bit of work, the professor eventually found that this was due primarily to their marine-based diet.
Years more of study and research enabled Viviscal to isolate the key protein molecules from their diet resulting in AminoMar. This trademarked complex is combined with other healthy ingredients to make the Viviscal products.
The Products
Viviscal has a number of different hair loss products that they offer. Some of the Viviscal products are specifically for men, while others are for women. Among these products are two core Viviscal products, one for men and one for women.
For women, the Viviscal Hair Growth Supplements come in the form of tablets. These tablets not only have the AminoMar complex, but they also have other hair-healthy vitamins and minerals. Some of these include ingredients like biotin, vitamin C, iron, and zinc.
Also for women is the Viviscal Gorgeous Growth Elixir. This elixir is designed to boost the body for your hair, and it contains another of Viviscal's trademarked compounds. The Ana:Tel complex, like the other, contains only clinically tested ingredients that are derived from natural sources.
Next, Viviscal also has a Nourishing Hair Mask that is designed to help heal up damage while the core product is doing its work. Viviscal also has a Gorgeous Growth Densifying Shampoo and a Gorgeous Growth Densifying Conditioner that they offer for women.
Finally, Viviscal also has a few random hair items such as a detangler hairbrush, tangle-free hair ties, and a travel bag to put your Viviscal hair products in.
For men, the core Viviscal product is called Viviscal Man, and it contains the same AminoMar compound that is in the women's core product. Other than that, Viviscal Man also contains Horsetail stem extract, Vitamin C, Zinc, and a few other ingredients.
Like the women's Viviscal, it comes as a tablet that you take twice a day. This is best done with water after eating a meal. Each tablet is individually sealed, lightly flavored, and easy to swallow. Finally, Viviscal also offers a shampoo for men called Viviscal Man Full Force Fortifying Shampoo to help men's hair further. You may have also heard about Nutrafol, and if you're curious feel free to see our thoughts on Nutrafol vs. Viviscal reviews.
Related Reading
The Advantages
Viviscal has a handful of advantages that it can claim. Its first advantage is that it is actually a unique hair loss product. There are many hair loss companies that do little more than re-brand the same ingredient as each other. A classic example of this being a product like Minoxidil, which many companies offer.
Having an ingredient like AminoMar, however, makes Viviscal more than just unique. The fact that this complex was specifically created to help hair growth is innovative. Since it is natural and encourages your hair to grow, these Viviscal products are also far less likely to cause side effects.
Whereas most natural products like these Viviscal ones tend to come with heft price tags, these ones aren't so expensive. In fact, the price of the Viviscal products is only slightly more than average for hair loss products. For whatever reason, the men's Viviscal core product is more expensive than the women's core product.  
However, Viviscal does have a few payment options. The men's allows you to buy either one or three months of the product at a time, with the three months having an autoship option.
The women have two options for three-month plans. One which allows you to pay for the three months all at once, and the other that allows you to pay for one month at a time while still getting your shipment of three months of products. In addition, the women's Viviscal products come in packages that give you all of the products meant for women.
Finally, Viviscal products have some pretty good reviews that prove that Viviscal products can indeed work. The years of research that Viviscal has put into making these products is also quite promising, as are the ten published clinical studies that have been done.
The Disadvantages
While Viviscal does have quite a bit going for it, there is also an equal number of disadvantages. The first disadvantage is obviously the lack of information. There is so little information on Viviscal products in every way that it can be hard to tell if it is right for you.
You can find some of the ingredients for the men's Viviscal products easier than you can for the women's products. Though this can give you an idea of what to expect in the women's products, you should not have to deal with all that trouble.
True, Viviscal claims that its products are drug-free, but this is just a claim. There is no evidence in the form of ingredient lists to back up this claim. Also missing is the evidence of the ten clinical studies that were supposedly done on the Viviscal products, though this may simply be hard to find.
What Viviscal does tell you is that you should take their products for six months. Conveniently, Viviscal offers three months' worth of products. Even then, Viviscal does say that you may start to lose some of the results that you gained if you stop taking their product.
It is also a little strange that the men's Viviscal product is more expensive than the women's, especially since men are more prone to hair loss than women are. On top of that, Viviscal offers all of its products for women as part of a package. While this is great for them, it is not exactly fair for the men.
Finally, on that subject, Viviscal does not offer its women's products individually. You can sometimes find them elsewhere, but on their site your only option is to choose between two different packages that they offer.
About Hims
The story behind the Hims company is a familiar one, but one that doesn't have a lot of detail to it. Hims was founded by a group of guys who were already experts in various fields of men's health. These men took their collected information and used it to make products that would actually work for men.
To help them with this, the Hims group of men hired advisors from places like Stanford and Harvard. These advisors lead the different departments at Hims and do research on men's health in a variety of areas.
The different areas that Hims specializes in ranges from hair loss to sexual wellness and acne. Hims offers FDA approved products for problems men face in each of these areas and more. Hims tries to make these products look and smell good and make you feel a difference.
What is slightly unique about the Hims company is the fact that it was founded by men who simply disliked having to go to the doctor. The one message that Hims considers to be the most important is that having an issue isn't weird. It is not dealing with it that is weird.
That was part of the reason why Hims offers all of its products and things without you having to leave your home. In fact, there is a variety of doctors at Hims that you can talk to. Among these are a couple of Dermatologist experts.
Dr. Justin M. Ko has an MD and MBA, while Dr. Arash Mostaghimi has an MD, MPA, and MPH, all in the field of Dermatology. Though you probably won't be speaking directly with one of these two doctors, you can easily get in touch with one of the other professional doctors on staff at Hims.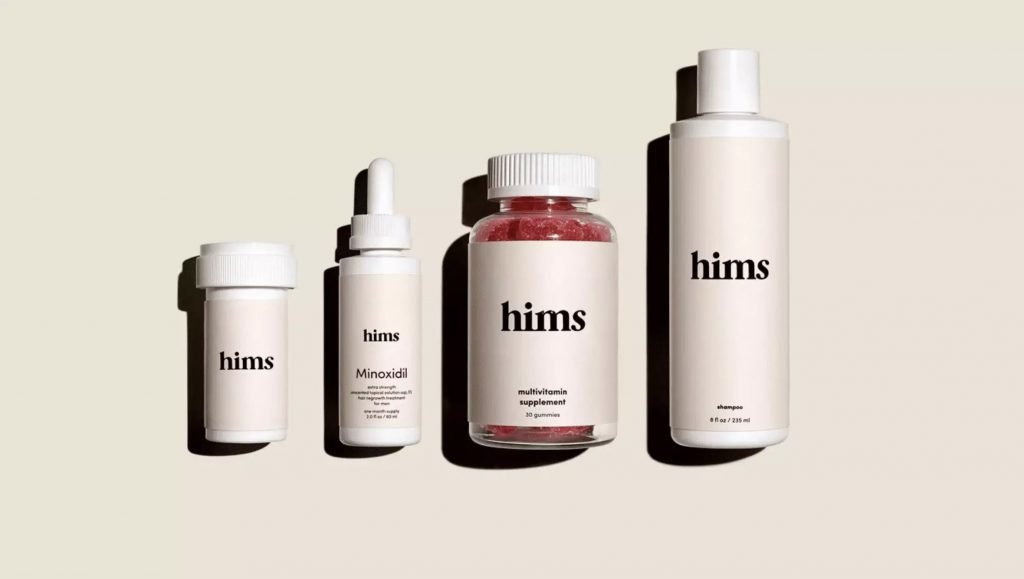 The Products
Hims offers products for sexual health and other areas of men's health. More importantly, Hims has a handful of products that are specifically for men's hair loss. Each of these is FDA-approved for hair loss and is backed by evidence from clinical trials.
First, Hims offers Finasteride. This hair loss treatment is a DHT blocker that comes in the form of a once-daily pill. It is a fairly popular hair loss treatment, but one that requires a prescription from a doctor to get it.
The prescription is necessary because of the list of potential side effects Finasteride can cause. Also, if you are taking Finasteride, this is one of the medications that makes you ineligible to donate blood.
After that, Hims offers Minoxidil in a liquid form to be applied on your scalp. Minoxidil is not a hair loss treatment that requires a prescription, though it does have some noteworthy side effects. While this liquid does help with DHT, it concentrates more on increasing your scalp's blood flow. 
Hims liquid Minoxidil is meant to be applied on the affected areas of your scalp twice daily. This is once every morning and again every evening. Minoxidil is not the only topical treatment that Hims offers.
Hims also has a Thickening Shampoo and a Thickening Conditioner that they sell. The Hims Shampoo includes Saw Palmetto, cleanses buildup, and features a eucalyptus scent. Unlike some other hair loss shampoos, this option from Hims has a nice thick lather and pairs well with its conditioner.
Finally, Hims also has developed a product they call Biotin Gummies. These gummies, as their name implies, features biotin along with other ingredients that are great for your hair. The flavor of these is actually pretty good too.
The Advantages
Hims has countless advantages and good things that it can offer. Probably the most appealing out of these is that Hims can give you everything you need without you needed to leave your home to go to an appointment with a dermatologist or doctor.
In order to take advantage of this Hims feature, you have to create a profile and enter in some of your medical history. This allows the Hims doctor to help you get the best hair loss treatment for you. All of this information is heavily encrypted on the Hims site, so you can rest easy about it.
This person will be more than just a customer service agent, but will be someone who actually knows what they are talking about. They will even be able to prescribe Finasteride for you if you chose to go with that option.
Hims also offers some package deals, letting you save some money by purchasing some of their products in a bundle. While there are only three Hims bundles, these are still nice in that they give you options to save money.
Whether you choose one single Hims product or go with a bundle, it will be delivered right to your door. The variety of products that Hims offers ensures that there will be one that will work for you. Plus, you can combine them.
Finally, you can use your Hims profile to get much more than just hair treatments. You can see one of the Hims doctors for a wide variety of other issues. These Telehealth medical visits will cost a fee but will allow you to get medicine for colds, nausea, allergies, pink eye, athlete's foot, and a wide variety of other problems. Afterward, you can pick up the Hims prescription at your local pharmacy as usual.
The Disadvantages
Each Hims product is going to cost you for not only the product itself, but Hims also charges handling fees. So, though Hims does claim free shipping, in a way, you still get an extra charge, just not the one you were expecting.
As for charges, Hims does not make it clear exactly what their 90-day money-back guarantee entails. A fair number of companies have you ship the product back to them, but Hims doesn't mention this detail anywhere. Also not mentioned by Hims is if the warranty still applies if you have opened your product.
On this same note, the ingredients in some of the Hims products are not mentioned anywhere to be found. Since Hims doesn't mention that their products are allergy-free or anything, it probably has allergens in it. Hims products also may or may not contain things such as parabens.
If you need to know the ingredients in your shampoo due to having an allergy, you will have to contact them and wait for them to respond – a time-consuming and troublesome thing to have to do. It also can make you wonder if these Hims products have filler ingredients in them.
While the Hims bundles do save you money, the two bundles that include the shampoo fail to include the conditioner. This is a pretty obvious ploy by Hims to get you to buy the conditioner since, though you can use the shampoo by itself, it will obviously work better when paired with the conditioner.
Finally, Hims is a company designed solely with men in mind. This makes it less helpful for women who may have problems. Two of the five Hims products are not even truly suitable for women to use for their hair loss.
Comparing Viviscal And Hims
In some ways, Viviscal and Hims are quite comparable to each other. They both sell hair loss products to help people grow back the hair that they may have lost. Both companies also have a few other things in common.
However, Viviscal and Hims go about treating hair loss in two very different ways. Viviscal is an innovative and natural option that uses its own special compound to treat hair loss. Meanwhile, Hims uses popular chemicals and drugs to treat hair loss.
The result of this is that the Hims products have a longer list of more severe potential side effects. The Viviscal products, however, are as close to being completely free of side effects as a hair loss treatment can be.
Another difference between these two hair companies is the intended consumers of these products. Hims is a hair company that was created by men and for men. It doesn't have any products that are designed for women.
Viviscal, on the other hand, actually has more products designed for women than it does for men. It still is sure to have a couple of men's products, though, to encourage both men and women to use their products.
Pricewise, Viviscal and Hims are not too far apart. Both have package deals, and both come with a 90-day money-back guarantee that you can take advantage of. For being a natural product, Viviscal is cheaper than many of the other natural hair loss products on the market.
Hims has hair experts that you can talk to if you have questions, along with a few other perks. Viviscal does not have any of these perks, but it does have a few 'bonus' products such as the hairbrush, hair ties, and travel bag that it offers.
Conclusion
Having a variety of products for your hair to choose from can be nice. However, sometimes you can really feel the company's push to buy their other products. This push can be very annoying, but it is a common practice with companies that have multiple products they offer.
Another common hair loss product on the market is Nutrafol. Nutrafol is more expensive than Viviscal or Hims, but might be worth looking into. Check out Nutrafol vs Viviscal or Hims vs Nutrafol.
The solution to avoiding this push is simple: find a hair loss company that sells only one product. Folexin is a perfect example of this; it being the only product offered on that company's website. Similar to Viviscal products, Folexin is natural, and without any of the harsh drugs and chemicals that cause side effects. If you think Folexin might be a good option for you, check out the entire Folexin review.
Our Opinion
Overpriced version of Folexin
Variety of Products (Men)
Our Opinion
Overpriced version of Folexin
Our Opinion
Variety of Products (Men)
Last update on 2023-06-18 / Affiliate links / Images from Amazon Product Advertising API