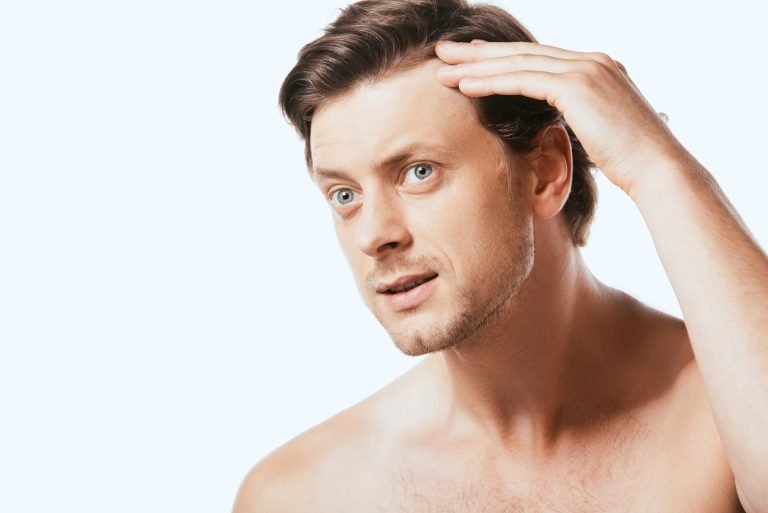 Viviscal is one of those hair loss brands that you have very likely seen at least one ad about at some point. In this ad, it may not have named a specific Viviscal product, but it most certainly spoke about its ability to give you healthy hair.
However, generally speaking, the best hair loss products for men are ones that are specifically made with men in mind. After all, male pattern baldness affects far, far more men than women, though female pattern baldness is a real thing.
Then again, not all men's hair regrowth products actually work at all. So, does Viviscal have good hair growth products for men? And do the Viviscal hair products actually work? Let's look at Viviscal first and then look at the Viviscal hair products and see.
A Word About Viviscal
Viviscal actually doesn't say much at all about themselves or their history. On their website, it actually isn't obvious where their About Us section is. However, it isn't too challenging to find under the Why Viviscal tab.
There are two parts to the Viviscal website, one for men and one for women. Both parts have an About Us section, with the one being called About Viviscal and the other being titled About Viviscal Man. Instead of both of these sections being the same, they are actually slightly different.
About Viviscal is only three paragraphs long, with About Viviscal Man being a short two paragraphs. The first says that Viviscal has been researching hair loss for over 20 years, while the second says they have been researching hair loss for over 25 years.
They also say that they have the "most researched hair growth dietary supplement," which hardly seems likely. In the About Viviscal, it mentions that there have been seven clinical trials done on it. That is both not a lot and is not mentioned on the About Viviscal Man page.
More than that, they only post some of the information on three of these, with one clinical study only having been done on 15 people. That is an extremely small group for a clinical study, and the other groups aren't much bigger.
That, and stating that the Viviscal supplement and other products will give you thicker hair, is all they say about themselves. There isn't a word about who founded it, why, or any other information like it.
They even have another tab titled Over 25 Years Of Research that basically repeats the same stuff. Only, on the women's About Viviscal page, it says there that it has had ten studies done. So, is it seven or ten?
Their Products For Men
Looking at the Viviscal website, all you are likely to see are mostly their hair products for women. Viviscal shows a few of their products for women, but only one of their products for men. At first glance, this makes it appear as though Viviscal only has one product for men.
This is their Viviscal Man hair supplement, but it is actually not their only hair loss product for men. To even see what their other products are, going to a secondary site like Amazon is necessary. Perhaps either Viviscal hasn't updated their site in a while or something…
At any rate, the Viviscal products are easy enough to find on other sites. There are even a few products that don't mention whether or not they are for men or for women. These are a couple of shampoos, a conditioner, and a tablet.
On the one hand, these few Viviscal products are not labeled as Viviscal Man. On the other, they are also not listed with the Viviscal products for women. So, I'll only mention those in passing. These are:
Viviscal Professional Thin to Thick Shampoo,
Viviscal Professional Thin to Thick Conditioner,
Viviscal Pro Thin to Thick Conditioner, and
Viviscal Pro Advanced Hair Health Tablets
These are all pretty good Viviscal products. However, since we are focusing on Viviscal's products for men's hair growth specifically, I'm not covering them today. The Viviscal Man line has its own hair growth supplement, fortifying shampoo, and even one other product.
Since this line doesn't have a conditioner, you may wish to use the Viviscal Professional Thin to Thick Conditioner. This is similar enough in the ingredient section to be considered as part of the set with the Viviscal Man shampoo.
Viviscal Man Hair Growth Supplement
This is the only Viviscal product for men that is on their official website. They even have a small tab that talks specifically about how Viviscal Man works – though I don't know why they didn't just put that information on the page with the product itself.
This small section is very brief. It mentions that hair loss has many causes, listing a few of these. Then, it says that the Viviscal Man supplement works in four different steps. First, it nourishes each hair follicle on your scalp from the inside.
Second, it strengthens your existing hairs, especially your terminal hairs that are shrinking. Third, Viviscal helps with the hairs that have stopped growing, encouraging hair regrowth. Fourth, and finally, the result is increased hair thickness and length.
That said, you'd expect this Viviscal Man supplement to have a lot of nutrients in it. Unfortunately, this doesn't seem to exactly be true. There are exactly three different vitamins, which is not much at all.
Vitamin C can help with ensuring you get enough iron, which is needed for hair growth. C's work as an antioxidant is good as well. The only other two are zinc and calcium. The latter is needed for iron absorption as well, and the former is used for making new cells, including the cells of your hair strands.
Other than those vitamins, Viviscal only has a couple of plants. Namely, these are flaxseed extract and horsetail stem extract. The latter is more common for hair growth supplements, being rich in the silica that your hair needs.
Finally, their highlighted ingredient is AminoMar®, which is the marine complex found exclusively in Viviscal products. The remaining ingredients are fillers like natural orange flavor and maltodextrin (this supplement gets swallowed, so what's the flavor for?).
Viviscal Man Full Force Fortifying Shampoo
This shampoo is slightly more expensive than the Women's Viviscal shampoo, but it has many of the same ingredients. This fortifying shampoo says that it cleanses while leaving hair looking thicker and fuller.
Besides this shampoo having a number of ingredients you probably can't pronounce and aren't familiar with, there are a few that are mildly conserving. A sulfate is listed as the second ingredient, and there is also parfum which is a chemical fragrance.
As seems usual for Viviscal products, there are a few citrus ingredients. These include: lime peel oil, sweet orange peel oil, lemon peel oil, and limonene, which is made from citrus peels. The other plant ingredients include: juniper, eucalyptus, pea, patchouli, and a few others you aren't likely to recognize. 
This shampoo also has a specific blend of biotin, zinc, and keratin. The first of those three are quite literally the only vitamins that the Viviscal shampoo has in it. This mixture is a good hair growth compound.
That is about it, which is a tolerable lineup of ingredients. Still, Viviscal's Fortifying Shampoo is hardly what I would consider to be a first-rate growth shampoo. Technically, it doesn't even claim to be one.
Viviscal Man Conceal & Densify Volumizing Fibers
This Viviscal Fiber product is literally just a powder that you can apply on the areas of thin hair to make these hairs look thicker and to hide your scalp. It is one of Viviscal's newest and least reviewed products, having less than 100 customer reviews on Amazon as of my writing this Viviscal review.
Supposedly, these fibers come in three different colors: black, dark brown, and light brown. The comb applicator that Viviscal gives you with it is nice. So is the fact that these fibers are advertised to stay in your hair even in windy and wet conditions, only coming out when you wash it.
That said, it may or may not stick to your hair a little too well. One of the negative reviews this Viviscal product already has is from someone complaining it was too difficult to get out of their hair.
These fibers contain six simple ingredients. First up, cellulose is an organic compound to prevent a buildup of calcium in your kidneys. Next is a type of sodium, followed by aluminum silicate, which is used as a building block.
Ammonium chloride, which is a compound that some argue is bad for the environment, is also an ingredient. Finally, these fibers include two different types of iron oxides as the last of its ingredients. All in all, though there are better hair fibers out there, there are also worse options.
So Does Viviscal Work For Men?
When people ask if something works, the real question is can Viviscal work for men. The answer is a bit iffy. After all, the Viviscal Man products have literally no ingredients to be seen that take care of male pattern baldness. Therefore, Viviscal Man products probably do nothing for that hair loss problem.
That said, enough men say that Viviscal worked for them that it proves it can work. Still, there aren't as many Viviscal reviews as many other hair loss products have. This might be due to that, or it might be because Viviscal doesn't have many of the vitamins that are needed for hair growth either.
Many of the Viviscal Man products also have sulfates in them, often as high on the list as the second ingredient. In short, Viviscal can and does work for some men, but it isn't really a product that I would recommend.
On their Viviscal Man Supplement, they even have a disclaimer on the front of the box. This states that it nourishes thinning hair and promotes existing hair growth. Existing hair growth is not hair regrowth for hair that has already been lost.
The same goes for the shampoo, which says it leaves hair looking thicker. Again, thicker looking hair does not necessarily mean that hair actually is thicker, just that it looks better. Finally, Viviscal's hair fibers certainly could stand to be a bit better as well.
In short, Viviscal's only redeeming feature seems to be that it has actually worked for a number of men. How it successfully manages this, I actually don't know. However, since a hair growth product that works is probably all you want, then the answer is yes, Viviscal can work for men.
Final Thoughts
The Viviscal Man product line may not be as popular as the original Viviscal line of products, but it is still popular enough to have thousands of reviews on it. Those thousands of reviews have a majority of people saying that Viviscal does work for men.
So, is Viviscal worth trying? The answer is yes. But is Viviscal one of the best hair loss products out there? The answer to that is a no. Still, if you've used Viviscal Man products, perhaps you have your own thoughts about it. Feel free to leave those thoughts in the comments below.