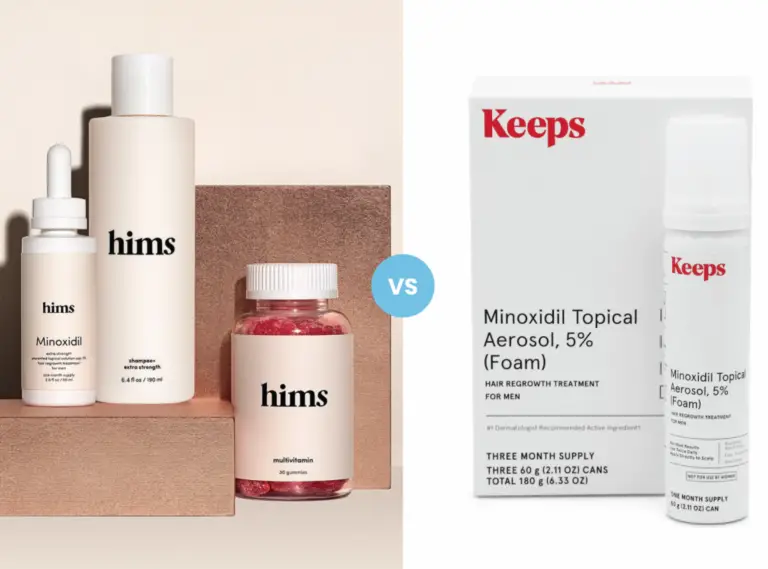 Sometimes you need more than just a hair loss product. Sometimes what you need is the availability to talk to a doctor about your hair loss. This can be a necessary part of figuring out what hair loss product might work best for you.
Hair loss products are great, but having to read up on them and do tons of research to find the one that is best for you can be tedious. More than that, it is completely unnecessary. This is what companies like Hims and Keeps strive to help you with.
Both Hims and Keeps have hair loss products, offer hair loss advice, and more. This way, you won't have to do all that research yourself or read articles that you don't always even understand. Though similar, Hims and Keeps are quite different, both are worth looking at if you are in need of more.
About Hims
Hims tries to be a one-stop site for everything you need medically. The Hims company was built by guys who specialize in men's health. These guys were not the type to ever enjoy going to doctors, and they knew that other people felt the same way.
That is why they banded together and made Keeps. They wanted Hims to be really easy and user-friendly. They also want Hims to really work for you, so they focus on products that look, smell, and make you feel great.
Hims products cover a wide array of different men's health fields. These include acne, erectile dysfunction, hair loss, and other things that guys can suffer from. While all of these products are geared more towards guys, women can use them too.
There are a variety of Hims specialists that cover the different fields that Hims tries to offer products for. Among these are two Dermatologists to help give advice on the Hims hair products. Justin M. Ko has an MD and an MBA, while Arash Mostaghimi has an MD, MPA, and an MPH.
These are just the two specialists for Hims' hair products. There are other specialists at Hims that help with other things, as well as some regular doctors. Everything about Hims is designed for you to use from the comfort of your home.
Now more than ever, Hims feels that you shouldn't have to leave your home in order to get what you need. Though they don't offer a lot of information on their products, most of these are well-known enough that you can find information on them elsewhere if you choose to look.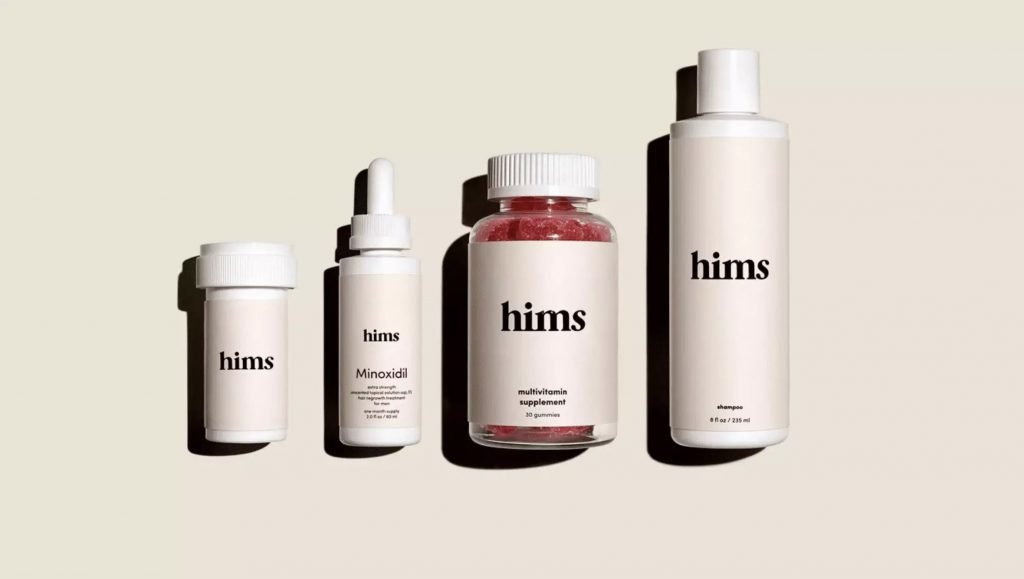 The Products
As mentioned, Hims offers a wide variety of products and a lot more than just products for your hair. All of the Hims products are FDA approved and are made with men in mind.
There are five different Hims products that are specifically for your hair, all of which you can order online. First, there is Finasteride, which is a generic form of Propecia. This hair treatment is a once-daily pill that focuses on pattern baldness.
About 80% of men have good results with this hair loss treatment. However, the list of side effects for it is a little longer than you might be comfortable with. Finasteride is also one hair loss treatment that should never be used by women.
Next, Hims offers Minoxidil in a liquid form for you to apply directly onto your scalp. Minoxidil is the generic name for Rogaine and must be applied twice a day, morning and night. It is best when applied directly on the areas that are balding.
Hims also has something called Biotin Gummies. These gummies help get your body the right nutrients for your hair. It was specifically designed by Hims to be both tasty and nutritious, having ingredients for more than just your hair.
In fact, these Biotin Gummies from Hims have ingredients that help your nerves, heart, and digestion as well. Just take one of the reddish gummy bear-shaped Biotin Gummies once per day.
Finally, Hims also offers both a Thickening Shampoo and a Thickening Conditioner for your hair. You can use either of these Hims products by itself. However, you will get the most out of them if you use them in tandem with each other. Perhaps the most noteworthy ingredient in these Hims products is the Saw Palmetto.
The Advantages
One of the noteworthy advantages of buying from Hims is the various package deals that they tend to offer. There are three main packages that Hims offers. This first contains the Finasteride, Minoxidil, Biotin Gummies, and the Thickening Shampoo.
There is another deal that is the same minus the Finasteride, and another that is just the Finasteride and the Minoxidil. Each of these packages is cheaper than buying each product individually, saving you some money.
All of the Hims products can be shipped to your home for free. While it is encouraged that you make a profile, you don't have to do so in order to get your Hims products. However, since the Finasteride is actually a medication, you have to make a profile in order to get it.
There are Hims doctors available to talk to no matter what time of day it is. These can prescribe the Finasteride for you. These doctors can answer questions regarding your Hims products as well during the free consultation that Hims offers.
However, you don't have to take the consultation if you don't wish to, and you can easily just place an order. If you change your mind, Hims offers a 90-day money-back guarantee for you to return their products.
Finally, there is yet another advantage of using Hims and giving them your information. This is the telemedicine option that they offer. This is simply a way of letting you talk to a regular healthcare doctor without having to leave your home.
The Hims doctors can then prescribe you medication, which you can pick up at your local pharmacy. This costs $39 and is done from your computer or internet-capable phone. Hims doctors can deal with any problems ranging from pink eye to colds, seasonal allergies, rashes, and stomach problems.
The Disadvantages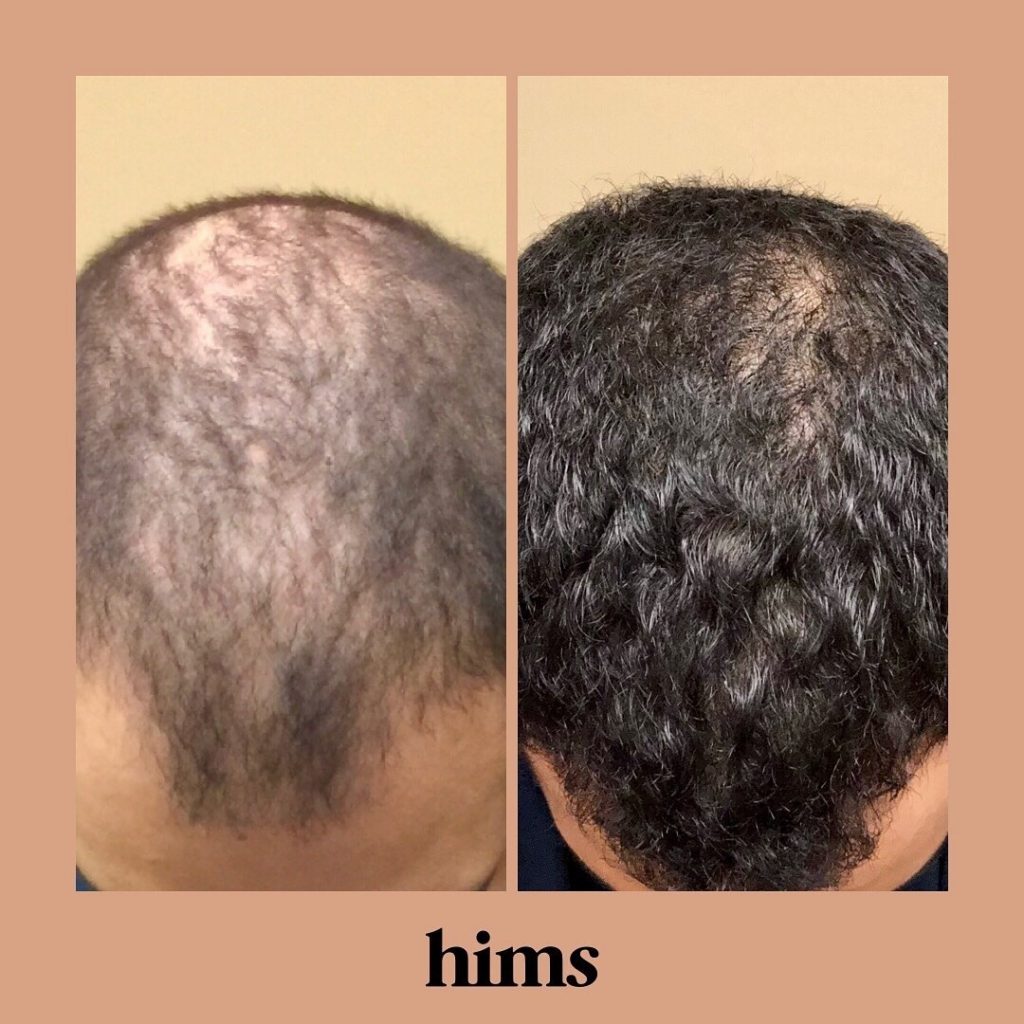 In order to do almost anything with Hims, such as getting a Finasteride or talking to one of their doctors, you have to make yourself a profile on their website. This profile requires you to enter in your medical history, symptoms, and other information that you may wish to keep private.
In addition, Hims will ask you to fill out questions about your lifestyle, and they will also need your ID and credit card information. While the Hims platform encrypts this information, it may make you uneasy to give this information out. You have to wait until this is complete before Hims will connect you to one of their healthcare providers.
Also, Hims charges you for each product you get. Their shampoo costs nearly $20 for a month's supply, while their Thickening Conditioner costs over that. The Hims Biotin Gummies are a bit cheaper but are the only other price that is clearly listed.
As for the other Hims products, the site gives nothing more than a "starting from: $xxx" instead of telling you how much it will cost. This is in part because the Finasteride will require you to get a prescription. However, it is still slightly annoying to not see a clear price as well as completely unnecessary.
Hims also doesn't offer any information anywhere as to how their 90-day money-back guarantee works. On that note, they don't mention if that guarantee extends to products that have already been opened either. Also missing is evidence of studies and other information on the products they offer.
All in all, Hims seems to skimp a bit on the information they offer on practically anything. Hims doesn't even list out the ingredients found in their shampoo, conditioner, or gummies. While not a deal-breaker, this is not ideal.
Related Reading
About Keeps
The Keeps company has not been around for very long, but it is a company that will likely stick around for a long time to come. Keeps is quite unique from almost any other hair loss company out there, being more of a program than simply a collection of products.
Two men, Steve and Demetri, are the ones who founded the Keeps company. When they first met, these two men had no intention of starting up a hair loss company. In fact, it wasn't until years after they met that they showed any interest in hair loss at all.
This was only because one of these friends started losing his hair. Steve and Demetri started testing out and researching the different hair loss products out there. Though they found several products that seemed to truly help, there was still something lacking.
What was lacking was a comprehensive program that could help people decide what product they needed. Therefore, the Keeps program was formed to help in this area. Specifically, Keeps is for men who are primarily suffering from male pattern baldness.
At first, the Keeps program was simply the products combined with the ability to talk to some hair specialists. From there, the two have added many other beneficial things to their program. Some of these additions have been tools to help you track your progress.
Keeps also has a blog with information on the products they offer. This information can often save you from having to call and ask a question or hunt up the answers yourself. The Keep program is still growing, getting both more men in need of hair help as well as more tools to help you succeed at growing new hair.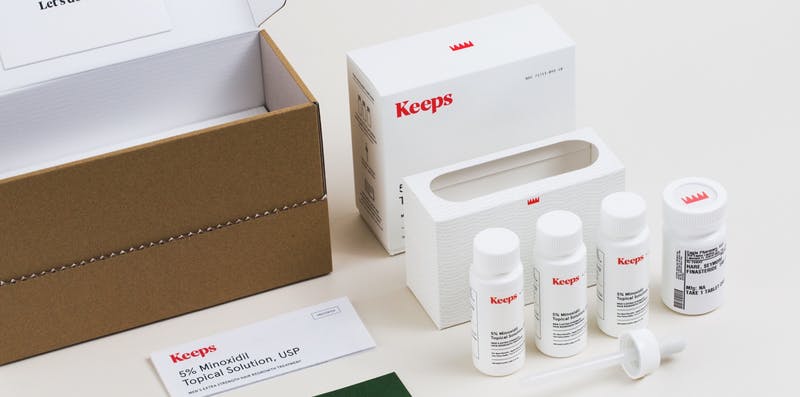 The Products
Keeps offers a select variety of hair loss products. Each of these products from Keeps is meant to target hair loss specifically in men. Keeps has decided to go with the more tried and true products that have been around for a while and are known to work.
That said, Keeps doesn't really have any hair loss products that could be considered truly original. However, these Keeps products are guaranteed to work and cover different causes of hair loss. They also come in different forms.
The first, Finasteride, is a 1mg pill that you are supposed to take on a daily basis. Unlike other hair loss pills, Finasteride is only one pill per day instead of two. Its main purpose is to block the DHT that is the primary cause of hair loss.
Finasteride can negatively affect your hormones, more so if you are a woman. This is so much so that women should not even handle Finasteride pills. Anyone on Finasteride is ineligible to donate blood and can possibly have a range of side effects related to hormones.  
Two of the other Keeps hair loss products are two different forms of Minoxidil. The Minoxidil 5% is a liquid while the Minoxidil Foam 5% is, of course, a foam. Both of these Keeps Minoxidil products are applied directly on your scalp.
To help you apply the right amount, Keeps includes a way to measure out the proper dose of Minoxidil. This Keeps product is meant to be applied twice a day, but has many similar side effects and functions as Finasteride.
Finally, the Ketoconazole shampoo that Keeps offers is one of the latest additions to their products. It serves as an antifungal to fight against a wide variety of scalp infections that might be contributing to your hair loss.
The Advantages
The variety that Keeps offers is only one of the perks of this company. However, much more helpful are the various special features that make up the full Keeps program. First, there is the fact that the program can be personalized to fit your hair needs.
More than that, the tracking tool and the information that the Keeps website offers can help you make an informed decision as to what product might be best for you, what to expect when using that product, what you can expect if you stop using the product, and other important details.
However, perhaps the best thing about the Keeps program is the people who work there. The customer service is pretty easy to get ahold of. It is the Keeps hair specialists and doctors, though, that set the Keeps program apart.
When you first sign up with Keeps, one of the first things that will happen is that you will be put in touch with one of the Keeps doctors. This doctor will go over with you the various options and help you decide what Keeps product you should use.
The Keeps doctor will also answer any questions that you have about the product, your hair, and anything else. Other hair loss companies do have people available to answer questions. However, the Keeps doctors are much more qualified to help you and are knowledgeable about hair loss and Keeps products.
Finally, Keeps is far from being an expensive program for you to join. Signing up takes a little time, and you do have to pay a small fee to talk to the Keeps doctor and for shipping. However, even with these extra costs, Keeps can be far cheaper in many cases than buying a hair loss product.
The Disadvantages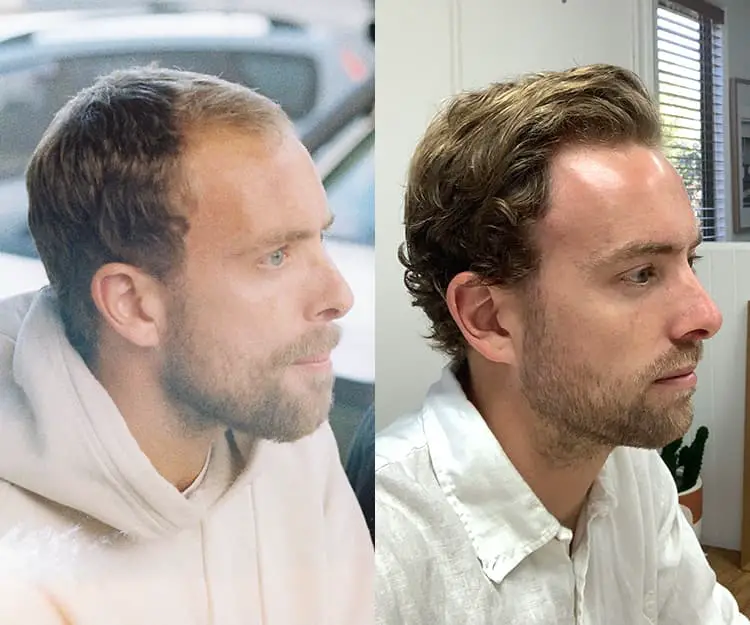 However great of a program Keeps is, there are a handful of flaws in it that you may not like. Firstly, if you don't like filling out questionnaires, you may find the Keeps one slightly invasive. Keeps promises to keep your answers confidential, but the fact that they make this promise hints at the questions asked.
Should you decide you don't want to be a part of the Keeps program, they still have your information. Then, you have to wait for Keeps to contact you for the next stage of entering into the program.
After you have talked to the Keeps person you are put into contact with, your order is finally placed. All of this is a lot more of a hassle than simply getting your hair loss product from your grocery store or from a simple website.
This is especially true since all of the different Keeps products are little more than a re-branding. Each of the four Keeps products has a similar form that you can easily purchase elsewhere. While it may be slightly more expensive to get these products elsewhere, there are no questions and no delays.
However, Keeps hair loss products are not exactly what anyone could call natural. In fact, the many different side effects that Keeps products can cause can be quite severe sometimes. Then, these products also are made with only men in mind, so women should look elsewhere for their hair loss problems.
Finally, though it doesn't happen often, there have been known to be mix-ups in the shipping. Not only does this type of mix-up usually mean that you end up with the wrong product, but Keeps also requires you to ship the wrong order back to them.
Comparing Hims And Keeps
Hims and Keeps might share many similarities, but they are quite different in many ways. Even their goals are different from each other. Where Hims tries to cover all of your basic medical needs no matter what area, Keeps focuses exclusively on hair problems.
Both Hims and Keeps are made with men in mind. However, Hims is slightly more women-friendly, where Keeps is not really a viable choice for women at all. Hims also has slightly more variety in its product than Keeps does.
In a way, Keeps only has three products: Finasteride, Minoxidil, and a shampoo. Meanwhile, Hims has Finasteride, Minoxidil, and a shampoo, as well as a conditioner and gummies. As for quality, Keeps products are simple and, apart from the shampoo, only have one ingredient in them. Hims products have more ingredients without telling you what those ingredients are.  
While Keeps charges a small fee for each delivery, Hims offers free delivery for their products. However, Keeps charges slightly less for its products, so the cost pretty much evens itself out. Plus, Keeps has some tools to help you track your hair growth, which Hims doesn't have.
Both companies offer an auto-ship option, making them even there. Hims allows you to buy their products without having to sign up and create a portfolio, as long as you are not getting Finasteride, which is not something that Keeps allows you to do. In that area, Hims is a better choice if you are just looking for the products.
Finally, Keeps offers a lot more information than Hims does. True, Hims does have a few articles on their products, but the format of their website makes these a bit harder to find. Keeps has more articles that give more info and practical advice.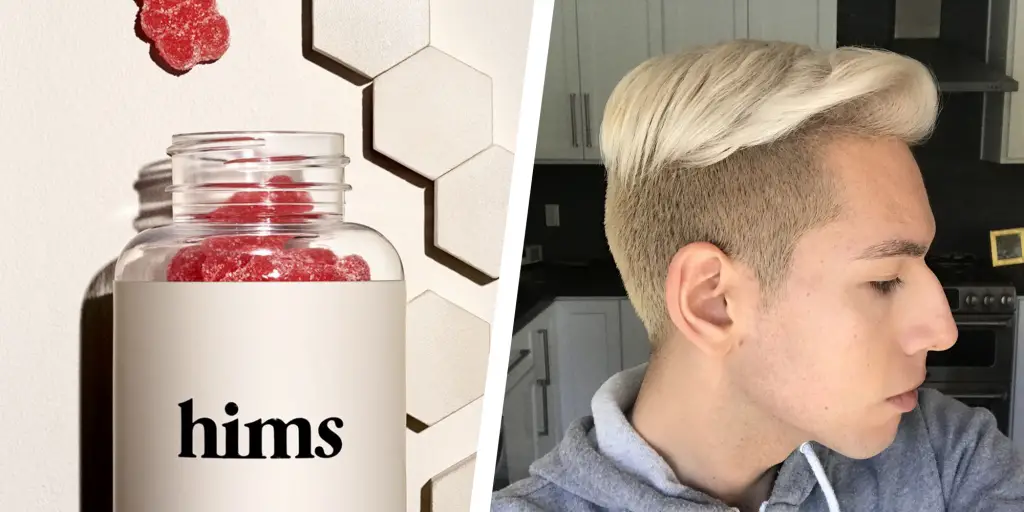 Conclusion
Both Hims and Keeps are great sites and offer some really good hair growth products for men. However, neither of these options is of much use for women suffering from hair loss. For couples where both the husband and wife are losing their hair, they will be better suited by getting something that can work for both of them.
In this situation, Folexin would probably be the best choice. You can get Folexin without signing up for anything, and there is plenty of information on it. More than that, Folexin is natural and healthy for you to use, unlike many of the products from Keeps and Hims.
Price
$16/Bottle When you buy 5 with 10% coupon GEEKS10
Price
$16/Bottle When you buy 5 with 10% coupon GEEKS10
Last update on 2023-09-16 / Affiliate links / Images from Amazon Product Advertising API