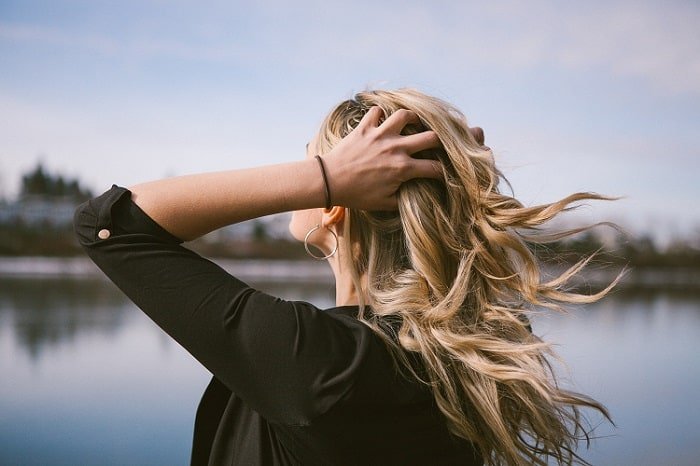 The Haircubed hair loss solution found on Haircubed.com is a newly popular hair loss treatment. According to the Haircubed.com website, their hair loss product has been recommended by household names like Ellen DeGeneres, FOX, CNN, CBS, HBO, and more than half a dozen others.
However, you probably know that overpublicized things aren't always legitimate. So, it is even more vital to know more about hair loss products like Haircubed to know if their hair loss solution is genuine.
What Is The Haircubed Hair Loss Solution?
Haircubed.com says practically nothing about themselves, even on their About Us tab. They give two numbers to get in touch with them and what days and times they are available.
From there, they go directly into talking about their main product. However, they end by saying that they guarantee three things: fast delivery, the best price, and their 30-day return policy.
Haircubed's most advertised product is their Microfiber Thickening Spray, which they say is a secret to natural-looking, fuller hair. This spray is made of microfibers that instantly cover up bald spots and thinning areas on men's and women's scalps.
These fibers are positively charged in order to magnetize them to your hair, which naturally has a negative charge. Their microfibers are also water, rain, wind, and perspiration-proof so that they stick on better. The Haircubed microfiber spray is good for all hair types and has 11 colors to choose from.
According to Haircubed.com, their spray is a non-toxic formula that is made with all-natural and organic ingredients. They also say that they have European patents on its unique formulation.
Besides their microfiber hair loss product, Haircubed also has:
Hair Follicle Stimulator + Microneedling Hair Device
Ionic Energy Hairbrush
Bio Hair Silk Shine Resealer
Sealer & Control
BioHair Capsules
These other products are all made to help with hair growth. Microneedling does work for hair loss, and is often used with some type of stimulator for best results. The hairbrush is meant to be used with the hair fibers, assisting the fibers in sticking to your hair.
Meanwhile, the resealer and sealer products are meant to be used with the microfibers and help everything stay where it is supposed to. The BioHair capsules have a nice list of vitamins and herbs to help hair grow.
Advantages Of The Haircubed Microfiber Hairspray
Some advantages of the Haircubed brand are that Haircubed's microfibers are non-toxic, all-natural, organic, cruelty-free, and have no side effects. The patented formula is a good sign, generally meaning a brand has put time and effort into their product.
A huge advantage is that these say they are safe to use with other products. Though it should be applied only to dry hair, Haircubed says you are free to use a hair styling gel, let it dry, and then apply the fibers.
The same can be done for other hair products, which is something I haven't seen other microfiber sprays claim you can do with their products. Also, these say they last fine overnight without needing touchups the next morning or leaving any residue on your pillow.
Another benefit to these microfibers is that they help your hair look healthier while your hair thickens. Oils, serums, supplements, and other treatments do help thinning hair become thicker, but your hair still looks thin in the meantime.
The fact that Haircubed has a variety of products allows you to get everything your hair needs in one place, which is another convenience.
Giving their phone number is a good thing. Some hair loss brands only provide an email address, meaning you have to wait however many days it takes them to get back to you. Even if you have to wait a while on the phone, that is still preferable to email if you have an urgent question.
Finally, each container has over 6oz of fibers. This is enough to last most people at least a few months, as most other hair fiber sprays come in less than 1oz, which is meant to last a month. This means you have to buy it less frequently.
Disadvantages Of The Haircubed Microfiber Hairspray
Though it can be nice to have a larger size, it can also be inconvenient. If you decide you don't like it or dye your hair a different color, a smaller amount is better. Also, though they guarantee the best price, Haircubed doesn't say how this guarantee works.
It's true that it isn't 6x as expensive as most microfiber sprays 6x smaller than it is. However, it is still possible to find 4oz microfiber sprays for less than half the cost of the Haircubed option. This makes Haircubed far from the best price.
A large disadvantage is that Haircubed does not share what their ingredients are, nor could I find this out by looking elsewhere. Most other microfiber products have no problem sharing their ingredients. So, why doesn't Haircubed?
Though they claim to be non-toxic and many other things, there is no way of verifying this without seeing the ingredients. There is also no way of checking for any allergens, should you be allergic to something.
They don't say what their patented ingredient is, how it works, and only barely mention it as though in passing once or twice. Considering that it is perhaps the only thing making their product unique, it is strange that they don't draw more attention to it.
Also, Haircubed.com states: "It is the only product on the market that thickens your actual hair rather than just covering up your scalp, which causes more hair loss." Amazon has several microfibers sprays that help hair growth in addition to covering thinning hair. Therefore, that statement is obviously false.
Finally, if their hair fibers are waterproof, then why does Haircubed.com recommend you apply Hair Cubed Sealer Control WaterProof spray afterward? What is the purpose of having a sealer product when the microfiber spray is supposed to be waterproof?
Related Reading
What People Say About It
Like the pros and cons, what people say about it is another mixed bad. Unfortunately, it is almost solely sold from Haircubed.com, so Amazon has less than 50 ratings for all of their microfiber products combined. Even fewer of these ratings are done by people who said how it worked in a review.
However, the fact that one of their hair microfiber products has a low rating of 3.2 stars is not a good sign. Another only has a total of two ratings, both of which are five stars. The one person who left a review was dated 2020, and apparently there hasn't been anything more recent than that.
As for Haircubed.com, they do have a tab titled 'Testimonials & Reviews' that anyone can look at. I find it highly suspicious, though, that the only reviews it shows are all 5 stars. The only testimonials they have up are, likewise, only ones that say how the Haircubed microfibers worked for them.
Also, some of the testimonials seem suspicious to me (though this could just be me). For example, one says: "I've been using this product for over 2 years now, and it's truly an amazing product. Waterproof and unnoticeable. The best out there!" – John B.
As far as I know, almost all microfiber sprays are designed to be as unnoticeable as possible in order to look like hair. Also, I've seen quite a few that are waterproof. So, both of those are hardly unique.
In short, the testimonials as a whole are generic-sounding and fail to say anything about Haircubed that can't also be said about another microfiber spray.
Final Thoughts
As you can see, Haircubed has some good features about their microfiber spray, but they are also lacking in more than one way. Their product does seem to do what it says it does, which may be all you care about.
All in all, though the hair loss solution Haircubed offers may work for hair regrowth, it isn't a brand I recommend. Transparency is something I feel is important with hair loss products, as it is important to know exactly what you are putting on your hair.
So, have you used the Haircubed microfiber or one of the other Haircubed products? Did it work for you? If so, please share with me and others what the results were.