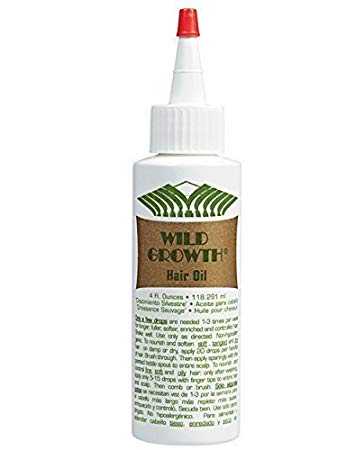 When it comes to the health and appearance of our hair, we all want the best. But with so many products flooding the market, it's hard to determine what is fact from fiction. Our review is going to focus on a product called Wild Growth Hair Oil – found online. The product claims it does the following:
Promoted long, thick hair growth
Reduces blow-drying time
Softens hair
Detangles Hair
And more!
But does it actually work? We'll break down the truth behind it to see if it's a product you should try!
Pros
Plant based formula that hydrates, conditions and softens hair. 

Affordable and easy to use. 

Treats various types of hair loss.
Cons
The smell can be unpleasant.
First A Look at Ingredients
In order to determine whether or not a product will work, we first have to take a closer look at the ingredients that are listed. The main ingredients are olive oil, jojoba oil, coconut oil, vitamin d, phosphorus, choline, magnesium, iron, and calcium. Alone, these products do different things, from helping with hydration and conditioning to promoting growth and decreasing breakage. When you combine all of them together, as Wild Growth has done with this hair oil, you have a mixture that has been proven to improve healthy hair growth!
How to Use the Product
In order to get the best results from this product, you should follow the instructions carefully. After you wash your hair like normal, apply 5-15 drops of the Wild Growth Hair Oil to your scalp and hair, massaging thoroughly to ensure even distribution.
The range of 5-15 drops is based on the current length of your hair. If you use too much of this product, it can cause your scalp and hair to become oily and greasy. Too much oil can actually cause hair loss, so in most instances, less is more! The best news is you don't have to use this product daily. Just add it in after your shower a few times a week, and you can begin to see results!
The Results of Using Wild Growth Hair Oil
You won't see immediate results with this product. Like most other products available on the market, it will take a few weeks before you start seeing some improvement, like softer or stronger hair. Within a month or two, you'll begin to see the full results of the product.
It is important to note that this product is not hypoallergenic, so some users might experience sensitivity after using it. If this happens to you, please discontinue use of the product.
Other people have noted that there is a strong smell to this hair oil. While we did not find the smell off-putting, if you are sensitive to fragrances, you might not like the product. We found that if you apply the product at night, by the morning the smell from the product is gone.
Sale
Wild Growth Hair Oil 4 Oz
Promotes thick, long hair growth.
Reduces blow-drying time (Please, Follow DIRECTIONS Exact for Proper Use).
Softens and detangles hair.
Last update on 2023-03-01 / Affiliate links / Images from Amazon Product Advertising API
Final Thoughts
For the price, Wild Growth Hair Oil is worth a try! If you use your best judgment and don't over-apply the product, you should begin to see improvement in the health and growth of your hair.
Tired of chasing down hair growth solutions without the results you're after? Make sure you're using the 3 best hair growth products before experimenting with alternative solutions – you may be surprised with how effective those 3 alone can be.