As we grow older, we begin to experience hair loss. This is actually normal as the human body has been orchestrated in such a way that it would lose strands of hair daily. It should, however, be noted that the level at which we lose hair is different.
Some people are quite hairy and have no propensity of getting bald regardless of the amount of hair that is lost. The strands of hair lost grow again, which is part of the standard growth cycle experienced by man. Well, not every man experiences total re-growth of the lost hair.
One of the most significant fears of man is getting bald. Being bald can affect one psychologically as it could reduce one's self-esteem and confidence. Most men never want to get bald as it could alter their appearance in negative ways.
Hence, it is always a thing of concern when a man loses some strand of hair and does not experience any re-growth. They quickly seek a solution when they notice hair loss and no form of re-growth of hair. The bid to find a solution to hair loss has made people stumble on the use of coconut oil.
It is believed that coconut oil can be used for the treatment of hair loss. However, the question that comes to mind is how coconut oil can be used for hair loss treatment.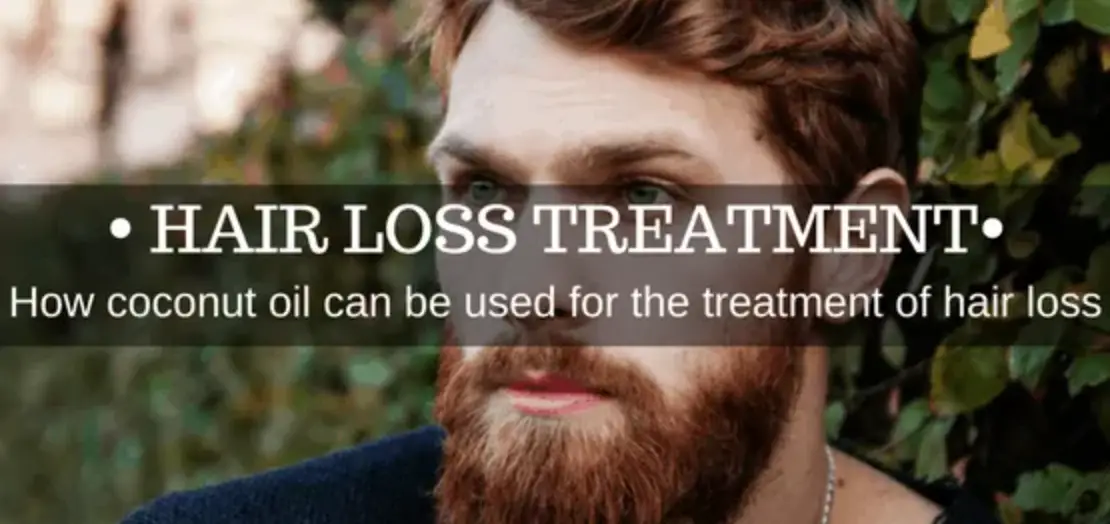 However, before getting to know how coconut oil can be utilized to treat hair loss, it would be good to know how coconut oil works in fighting and stopping hair loss.
This will enable you to understand how to efficiently make use of coconut oil for hair loss treatment if indeed it can be used for it in the first place.
How Does Coconut Oil Work To Prevent And Stop Hair Loss
It should be noted that coconut oil might not work for everyone. However, there are evidence and proofs that coconut oil has a high tendency of stopping hair loss for some people. How does coconut oil prevent hair loss?
You will find out below:
Coconut oil possesses lauric acid that binds and mixes with the protein in hair. The lauric acid also protects the roots and strands from breakage. Hence, one would not experience hair breakage using the oil.
Coconut oil mimics Sebum. Sebum is the natural oil of the body. It helps in preventing the scalp from drying out and also coats the hair roots to prevent them from getting damaged. A scalp that is adequately oiled and has healthy follicles has less tendency of experiencing hair loss.
Coconut oil goes deep down into the hair shaft. This helps to protect it from excessive heat and environmental impurities
Coconut oil possesses various nutrients, and natural oxidants such as iron, vitamin K, and vitamin E. These nutrients and natural oxidants help to boost hair growth and also the re-growth of hair
Coconut oil possesses antibacterial and antifungal properties that help to protect the hair from bacteria and fungi that could limit the growth of hair
When coconut oil is used to massage the scalp, the circulation of blood to both the scalp and hair follicles would significantly This ensures that the hair follicles can absorb valuable nutrients needed for hair re-growth.
How To Use Coconut Oil For Hair Loss Treatment
The steps on how to properly use coconut oil to prevent and stop hair loss include:
If the coconut oil is in a solid form or semi-solid form, it should be placed in hot water until it becomes liquid
Warm water and not hot water should be used to dampen the hair
Use fingertips to vigorously rub the coconut oil on the scalp. This would help to raise the pores on the scalp
The coconut oil should be poured on the hands and applied directly to the roots. It should be ensured that the oil covers the entire scalp
Massage the scalp for nothing less than 3 minutes. The massage should be nice and gentle, not rough
Put the oiled hair in a shower cap and make it set. For effectiveness, it should be done If not so, it should take nothing less than 30 minutes
After the desired length of treatment, the oil should be washed gently and nicely
The whole procedure should take nothing less than once a week to do. For a better result, it should be done
This procedure has proven to be effective over time as various people that have tried it claim that the use of coconut oil is counteracting hair loss and enhancing hair growth.
After using it for 2-3 months, they testified that they do not experience any form of hair loss anymore and receding hairlines are filing in.
In addition to the procedure stated earlier, one can also use coconut oil to do the following:
Coconut oil can be used as both deep and intense conditioner to prepare the hair from damage. This is to ensure that one does not experience hair damage while trying to change the color of the hair
The hair can be deep conditioned every night for nothing less than two
Most anti-hair fall shampoos possess virgin coconut oil because coconut oil helps to prevent and cure hair loss.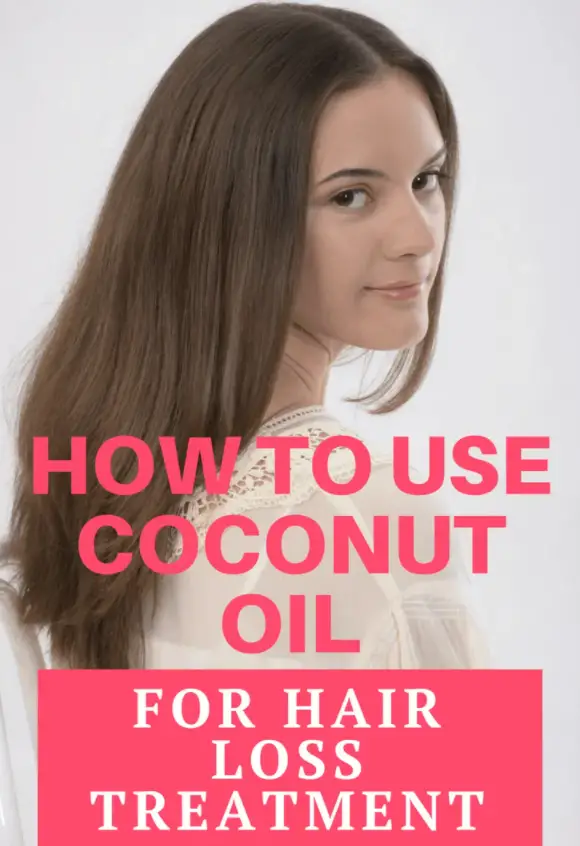 Even though shampoo possesses coconut oil, coconut oil can be mixed with conditioner to make the hair soft and shining. To do this, these steps should be followed:
Four tablespoons should be added to the conditioner and mixed with three tablespoons of coconut oil
Massage it into the hair. Afterward, the scalp should be relaxed well
Use the mixture as a standard and regular conditioner
The coconut oil conditioner should be used to massage the temple, back, and sidelines of the head to reach an optimal level of experience
Apart from using conditioner, one can make use of shampoo mixed with coconut oil for the stimulation of scalp, hair, and follicles. The mixture can also be used to fight hair loss. To use this mixture, the following steps should be followed:
Equal amount of coconut oil should be mixed with shampoo
The mixture should be used like a normal and regular shampoo. The mixture should be left for minutes to enable the hair to absorb nutrients from coconut oil
The hair should be washed carefully to avoid clogging of pores of the hair from coconut oil
For dry and dull hair, coconut oil can be mixed with shampoo to moisturize the hair
There are various kinds of coconut oil for hair treatment as they are made and created by various brands. An example is Gro-aut hair oil.
Skinny & Co Raw Virgin Skinny Coconut Oil is excellent for skin and hair because of its ability to make the hair grow faster and soft as well as for supple skin.
It is natural: Keto Vegan, Non-GMO, Paleo, Soy-Free and contains no fats. It equally does not have preservatives, sulfates, phthalates, BPA, Parabens, Latex, and Petrochemicals.
This product can penetrate deep into the hair roots and repair damaged hair, improve the growth of the hair, increase its thickness and shine. It can also keep your hair from being destroyed by sunlight.
What We Like
It gets rid of blemishes, wrinkles, stretch marks, dark spots and age spots
It gives you a youthful-looking skin
It efficiently repairs cracked heels, scaly skin and scalp, dry heels and rough elbows.
Its anti-bacterial properties help to get rid of psoriasis, itchy skin and eczema.
Repairs damaged hair faster
It is made of natural ingredient and therefore, not harmful to your health.
It has a beautiful aroma
Over 80% of users award it a 5-star rating out of 5
What we don't like
The few cons of this coconut oil include the following:
It is a bit expensive
Some buyers complain of the plastic having a horrid smell
Our verdict: This product is great for anyone experiencing falling hairs and who wishes to grow thicker, shining hair. We strongly recommend the product.
Related Reading
How to use Skinny & Co Coconut Hair oil
This hair oil is not necessarily to be applied to the hair to get a positive result. The beauty of this coconut oil is that you can spare yourself the routine of massaging your hair and giving it some special attention.
All you really need to do is take it raw and unheated. You can as well use this oil for preparing your meals and even baking.
When absorbed into the body, it provides the body with extra energy, support thyroid function, and create a healthy hormonal balance. These have a way of improving the environment needed for healthy hair growth.
Conclusion
The coconut oil is highly beneficial for hair growth and treatment. It ensures that the hair looks lovely and great.
Do you want to have that dream hair of yours? Making use of coconut oil can bring that dream to reality
Top 3 Hair Loss Products
Tired of chasing down hair growth solutions without the results you're after? Make sure you're using the
3 hair loss products known to work
before experimenting with alternative solutions – you may be surprised with how effective those 3 alone can be.