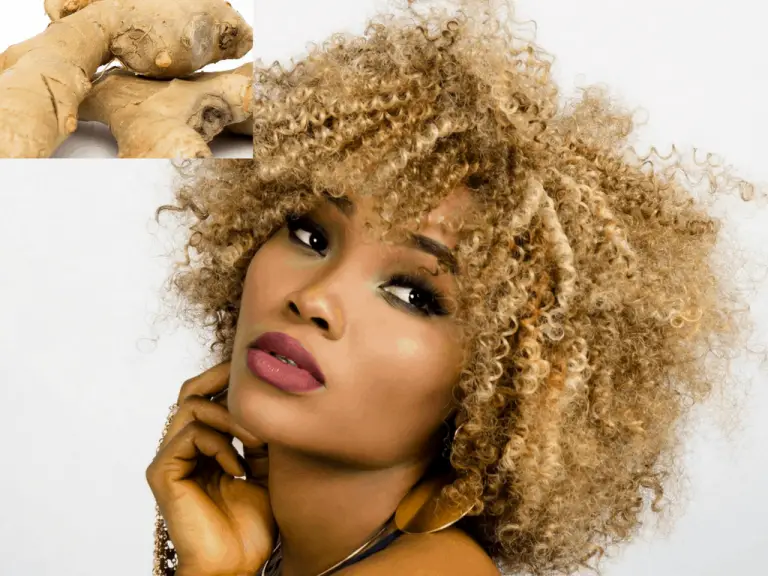 Ginger is one of those herbs one can easily consider as the magic hair treatment herb due to the numerous ways it can be used in stimulating hair growth.
Ginger hair growth stimulation recipe is easy to prepare and apply to your stunted or falling hair to keep them growing again and revitalized.
The various recipes have helped a lot of people with balding head to recover and grow new fuller hairs quickly.
It only requires that you know the few essential things to combine with this magic herb and turn it into the medicine and food that feed your hair and make them happy.
In case you have never prepared a ginger stimulation recipe for hair growth before, this post is specially written for you.
Ginger Hair Growth Stimulation Recipe
In this post, I will show you the various ways to prepare the different ginger recipes that would bring back the lost sheen, moisture, and beauty to your hair. So, here are the few recipes you can make by yourself at home:
1. Length Retention Spritz
This formula will help to take care of the split ends and bring back the growth that your hair lacks. Apart from improving hair growth, the retention spritz adds an attractive aroma to your hair and improves your self-esteem as you go about with confidence.
One crucial value it brings to your hair is to moisten your hair, and revitalize the curls and waves.
To prepare the formula, you need the following:
½ teaspoon fresh ground ginger
½ cup cucumber pulp
1 tablespoon coconut oil (in its liquid state)
2/3 cup water
1 teaspoon basil oil
Preparation
Add all the ingredients in a spray bottle and shake vigorously to mix. Apply to hair when the top is fizzy or when hair is dull. The oils boost the work of the ginger combo, thereby helping to restore the hair locks.
2. Ginger with olive oil
This is highly useful in helping to stimulate hair growth and in bringing fullness to those areas where the hairs are sparse.
[clickToTweet tweet="If you have never prepared a ginger hair growth stimulation recipe before, this post is specially written for you." quote="If you have never prepared a ginger hair growth stimulation recipe before, this post is specially written for you."]
Add a tablespoon of grated ginger together with 2-3 tablespoons of lukewarm olive oil. The grated ginger should steep in the olive oil for around 30 minutes. Massage the mixture into the scalp gently for 1 to 2 minutes.
Let it remain on your scalp for at least 30 minutes before rinsing off with lukewarm water. You can also wash the hair with mild shampoo if you love it that way.
3. Hair Growth Stimulator
If you want your hair to grow faster, you have to use this preparation to aid it. The hair stimulator fuels your hair follicles and enables for a healthier scalp as well. What do you need to prepare this? You need just two simple ingredients:
Preparation
Mix the ginger and jojoba oil and apply to the scalp. Gently massage it into your scalp and have the mixture sit for about ½ hour.
Shampoo and condition the hair accordingly. It's possible that you might feel a warming sensation, but that shouldn't bother you because it is okay if you feel so.
4. Ginger Paste For Hair Growth
To stimulate growth in the bald spots on your scalp, you can apply the ginger paste to the spots. Making the paste is quite easy.
Simply blend freshly grated ginger with a little quantity of water. Apply and massage the paste into the areas with the help of your fingertips for 1-2 minutes.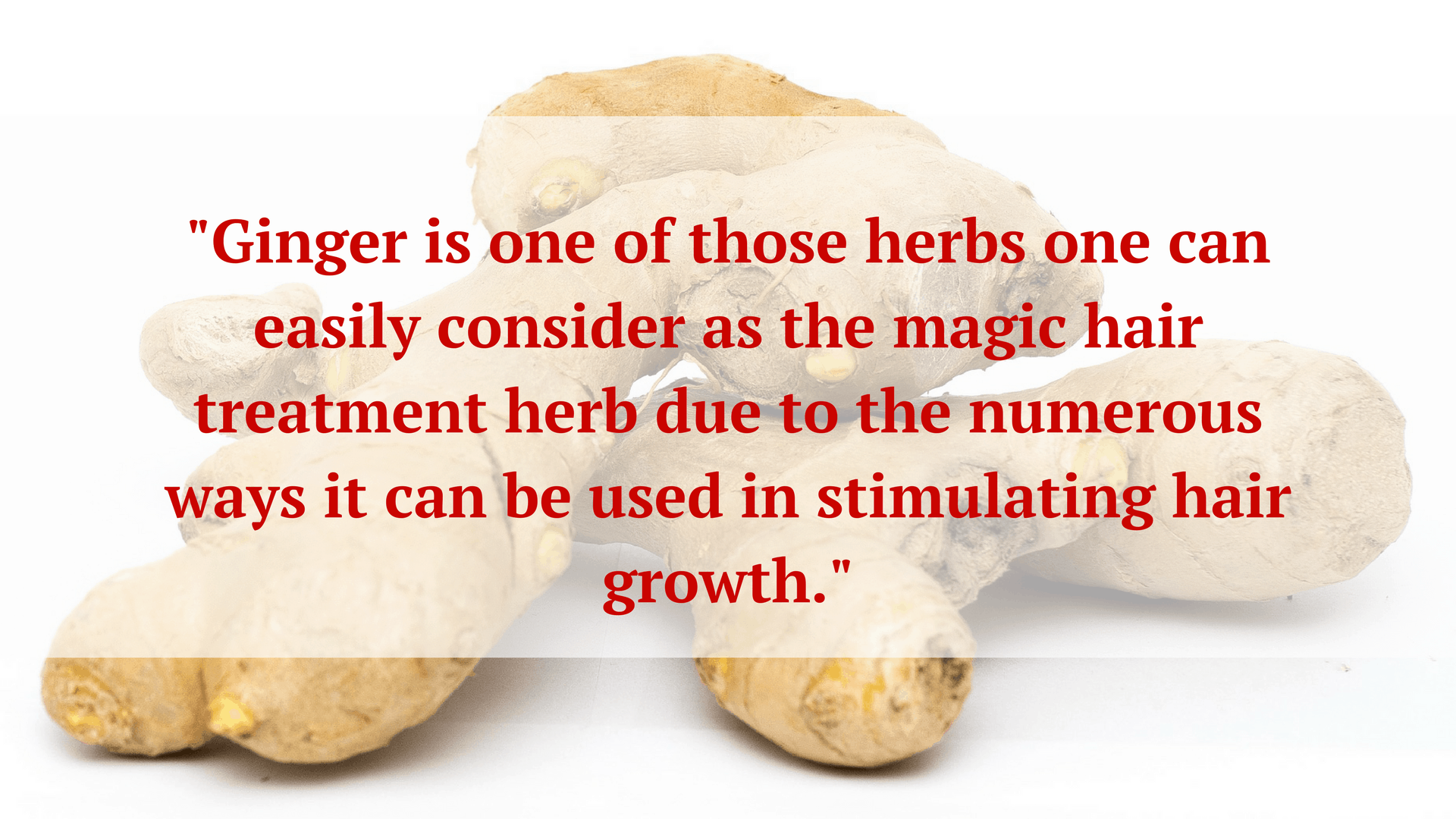 Allow the paste to stay on the scalp for 45 – 60 minutes. Rinse the hair with plain, tepid water. The bald spots recover and improve in growth if this formula is regularly applied to the areas.
5. Edge Massage Oil
If you are experiencing thinning edges, you will definitely need this special formula to strengthen the hair around those edges.
Add together equal parts of ginger oil and avocado, jojoba or olive oil (this depends on your hair type and what you love). Rub the mixture gently into your scalp and massage as you do so, paying attention to the edges.
Make sure to use small circular motions. If you use this blend of oil regularly, those thinning areas will witness an improvement in growth.
6. Ginger and Garlic Hair Mask
The growth of hair is easily triggered by the sulfur compound found in garlic. They also hinder the growth of fungi which are known to affect hair development and growth.
Ingredients
2 -3 crushed cloves of garlic
4 teaspoons of coconut oil
A teaspoon of freshly grated ginger
2 teaspoons of honey
5-6 teaspoons of coconut milk
Preparation
Blend all the ingredients together to make a hair mask. Apply the mask to your scalp and hair and leave for 30 minutes. Wash the hair with a mild shampoo.
7. Ginger and Lemon Juice
This mixture is highly efficacious for handling dandruff. It improves healthy growth of the hair by bringing back the PH of the scalp.
Ingredients
½ teaspoon of lemon juice
2 teaspoons of grated ginger
3 tablespoons of coconut, sesame or olive oil
Preparation
Add the ingredients together and make sure they blend well. Apply the mixture to your scalp and allow it to stay for 30 minutes. Wash hair with a mild shampoo.
8. Ginger With Cucumber, Basil, and Coconut Oil
Damaged hair can be difficult to repair and bring back to life sometimes. But with this formula, it is relatively easy to restore those damaged hairs.
Basil contains an antiseptic property which helps in combating dandruff. Cucumber also has silica, sulfur and vitamin A, which aid the growth of hair. Coconut oil, on the other hand, has the ability to moisturize your hair.
Add a mixture of mashed cucumber, grated ginger, coconut oil, and basil oil and apply to the scalp and hair. Allow it to stay on for 20-30 minutes before washing with a mild shampoo.
Conclusion
If your hair is going through
thinning or stunted growth
, you can easily revive it with any of the formulae I have shown here.
The recipes are quite easy to prepare. Find out what is responsible for the hair growth challenge you are facing and take care of the underlying cause. Dandruff and some forms of fungal infections are known to reduce hair growth.
Just make use of the appropriate formula and everything would be okay. But if your problem persists, see the dermatologist.
Top 3 Hair Loss Products
Tired of chasing down hair growth solutions without the results you're after? Make sure you're using the
3 hair loss products known to work
before experimenting with alternative solutions – you may be surprised with how effective those 3 alone can be.