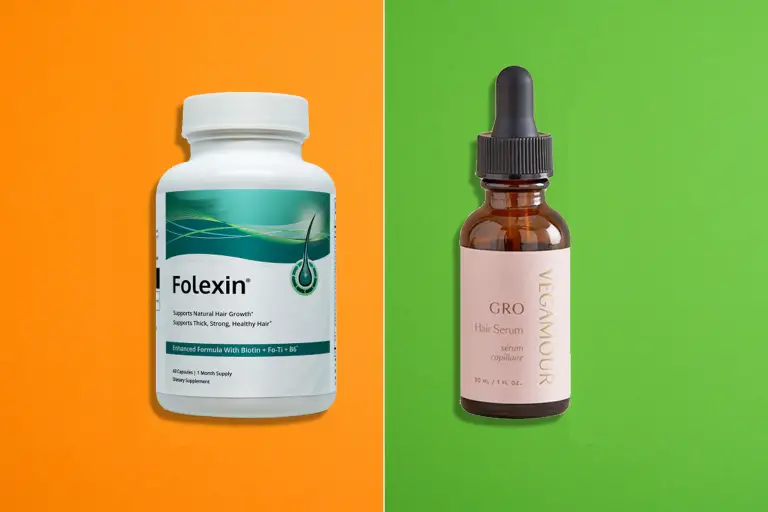 Folexin and Vegamour are more than just two products, but they are two companies that can help with your hair growth. Though these two companies have their goal in common – which is to help with hair growth – they have differences too.
Companies can often be a good reflection of what their products are like. So, you should look at both companies to help you decide which product might be best for you. Looking at the products themselves, of course, is also a good idea.
Price
$17/Bottle when you buy 5
Our Opinion
Expensive but seems to work
Price
$17/Bottle when you buy 5
Our Opinion
Expensive but seems to work
Last update on 2023-09-17 / Affiliate links / Images from Amazon Product Advertising API
About Folexin
Folexin is a hair loss treatment you have probably already heard about. However, to compare Folexin to another hair treatment, you may find that you need to know more about it. For example, the fact that Folexin was originally called Foligen before its name was changed, won't help with this comparison. Folexin Reviews.
While not particularly useful, the fact that Folexin has a good, solid company behind it is also important to note. This company has a handful of other supplement products that you can take for things besides hair loss. They even have a product called Foligrey to help postpone greying hair.
This company is called VitaBalance, and its VitaPost line of products are all worth looking at. VitaBalance has been around for a while, even if Folexin has not been on the market as long. Though this company has some products unrelated to hair growth, even these can help indirectly.
As for the Folexin product itself, the goal of it is to help your hair grow without using any chemicals. Therefore, this Vitabalance hair growth supplement works instead by supplying your body with the nutrients your hair needs to grow.

Folexin
Support for thick, strong, healthy hair.
Support for your hair's natural growth process.
High-quality ingredients and third-party tested.
These vitamins and minerals in Folexin are in pill form, and you take two of these supplements every day. Some of these nutrients are in herbs, while others are added individually. Other than these natural ingredients, Folexin has nothing else in it.
It is vegetarian, but this supplement is not completely vegan, if you have a dietary limitation. Also, though Folexin is made in the USA, not all of the ingredients come from this country. Some final things to note about Folexin are that it has some certifications that you want. Two of these are the FDA-approved and the GMPc certifications that let you know they are up to par. Folexin Reviews.
The Advantages
As mentioned, Folexin has a pretty good company behind it. Though this fact might seem minuscule, it is actually a really good sign. After all, a big company that sells a variety of products is more likely to be legitimate. It is also more likely to deal with any complaints you might have more quickly, should you have any problems.
Certifications, though not strictly necessary, do ensure that the facilities are sanitary and things like that. In addition, having a company that is so large and that is only growing in popularity is another good sign. VitaBalance must be doing something right with their product, or they would be getting too many negative reviews to stay popular.
Speaking of reviews, Folexin has a number of excellent ones that point to the fact that this treatment works. The fact that it works without chemicals or filler ingredients being added is even better. This allows this supplement to truly help you from the inside out.
Each of the vitamins and herbs Folexin has in it serves some purpose, and over half of them are highly recognizable as things that are great for encouraging your hair to grow. The things like Fo-Ti, Biotin, and B vitamins are things that some people take individually as supplements for their hair. Read more on Folexin ingredients.
All of these Folexin ingredients are in a capsule form that you simply take two of every day. This is another advantage of Folexin, as this is easy to do without interfering with anything else. What's more, it won't take over any time from your busy schedule.
Finally, Folexin offers another advantage even over many other hair growth supplements. This is the fact that the Folexin capsules are made to potentially be taken apart. You can then put the resulting powder in anything you like. 
The Disadvantages
As far as any potential disadvantages go, Folexin has very few of these. Though great overall, the few flaws are still ones that you should know about. The first is the lack of availability. Though Folexin is easy to purchase from their website, there is practically no way else that you can get it. This can be inconvenient.
Next, in the ingredients, Folexin does have a little soy in it. Also, though free of other common allergens itself, the same cannot be said for its facilities. These also process products that may have wheat, egg, peanuts, milk, tree nuts, fish, and crustacean shellfish.
So, depending on how much this concerns you, this alone may be cause enough to go with a different hair growth supplement. It may be safe, unless you cannot tolerate soy for some reason, but you may not want to risk it.
Then, like most supplements, Folexin is not going to be a quick fix by any stretch of the imagination. Though supplements benefiting your whole body may be an advantage in some ways, it is also a disadvantage.
Keep in mind that your hair is at the bottom of your body's list of priorities. So, your body will take the Folexin, and everything in it, and fix everything else before it gets to your hair. This can take, therefore, weeks or even months to get to.
In fact, for this reason, Folexin asks you to take their product for at least two to three months. VitaBalance says that it is only after this amount of time that you should see if Folexin is working for your hair. This many months is very long if Folexin does not help your hair at all, and you may be wishing that you tried something else that gave faster results.
About Vegamour
Vegamour is a big company that not only sells hair products but it also has a mission and a story. The Vegamour mission is simple: to help you get healthy, feel healthy, and for that in turn to help you get the hair you want.
Their story is just as simple. Vegamour sources its ingredients from all over, including from places like South Africa. In searching for the right plants to help your hair, Vegamour saw communities in need and decided to do what it could to help them.
So, this company set up Fair Trade contracts and other such things to help them earn more and to get better educations. The Vegamour company as a whole is one that does its best for the environment in every way it can.
Next, Vegamour is a company that has a wide variety of hair-related products. They have two hair growth serums, both of which come in bottles with droppers for ease of application. Then, Vegamour has two different hair foams that are equally easy to apply. Most of the ingredients in the hair serum are similar to the foams, but there are a few differences.
For something slightly different, Vegamour also has a detoxifying serum. This is to cleanse and detox your scalp, but it also has anti-inflammatory properties. Speaking of cleaning your scalp, Vegamour also has a dry shampoo.
Both the dry shampoo, as well as the regular Vegamour shampoo and conditioner, are also formulated to help with hair loss. As we are comparing it to Folexin here, however, the Vegamour products that make this the simplest are their biotin gummies and biotin GRO gummies.
These Vegamour gummies, obviously, feature biotin, which is known for helping your hair. Though there is little difference, there are differences between the two types.
Related Reading
The Advantages
As with the Folexin, the fact that Vegamour is a large company is a large plus. So, all of the same reasons why it is so good to have a product from a bigger company apply. In addition, Vegamour has a few more certifications under its belt as well.
The nice blog that Vegamour has gives you a lot of information on hair loss. There are also some random products Vegamour has that might be nice, such as their pillowcase. But the fact that Vegamour has all of the products that you might want to try for your hair growth allows you to get it all at once place, which is nice.
Though the Vegamour site makes you have to hunt just a little, the ingredients of their gummies are easy to find. These include a list of vitamins that will help your hair grow. There aren't any filler or fluff ingredients in the gummies for you to be concerned about.
Another advantage of Vegamour products as a whole is the number and variety of discounts they offer. They have bundles for their products, both bundles for different products, as well as bundles of several months' worth of one product.
This is in addition to the subscribe and save option from Vegamour. They also have a simple point system. You spend money on Vegamour products, and then you get points which you can spend on buying more of their products.
Finally, though this was not mentioned earlier, products that have all-natural ingredients tend to be free of any potential side effects. Considering just how many hair loss treatments do have side effects, the lack of them is great news. This is particularly true considering how many already have enough health problems without adding more.
The Disadvantages
When it comes to drawbacks, Vegamour has its fair share of these. The first is the cost of the Vegamour products. Though it is natural, the gummies and other products have a slightly higher than average price tag on them. This is even compared to other, similar products.
What might be considered another disadvantage of the Vegamour biotin gummies is the minuscule difference between them and the GRO gummies. In fact, there is actually only one main difference between them. This is the fact that the GRO ones, like all of the GRO products, have a CBD in the form of broad-spectrum hemp.
However, this slight change is apparently worth doubling the price of these biotin gummies. This is despite the fact that Vegamour removed one or two of the vitamins from the original. This price increase is, therefore, a bit ridiculous.
Also, on the topic of the Vegamour ingredients, there is the whole story they give. Considering the crux of it is that they were looking the world over for natural ingredients, the fact that most of their products are simply individual vitamins seems to be a little bit of a contradiction.
After all, Vegamour has only a handful of herbs that are in all of their products combined. Most of these beneficial plants are commonly found in other hair products. So, perhaps they should explain why they needed to search so much for them.
However, there's more. While stating that their products should be given three to four months to work, their return policy only covers 90 days. This shortage barely gives you the minimum amount of time to see if it works – and not even that much if you consider that you will need time to ship it back to them.
The Final Comparison
As far as companies go, Vegamour has more information about it, as well as a mission that they clearly state. However, this extra information comes with a very noticeable price tag. It is more expensive than Folexin is.
What's more, the Vegamour products have fewer ingredients in their gummies. They have almost none of the beneficial herbs that Folexin has. These are herbs that have so many benefits, like DHT blocking, immune boosting, etc.
So, as far as products go, Folexin is the clear choice. Sure, Vegamour might have a few extras, but these are just extras that might not be anything that you are looking for anyway.