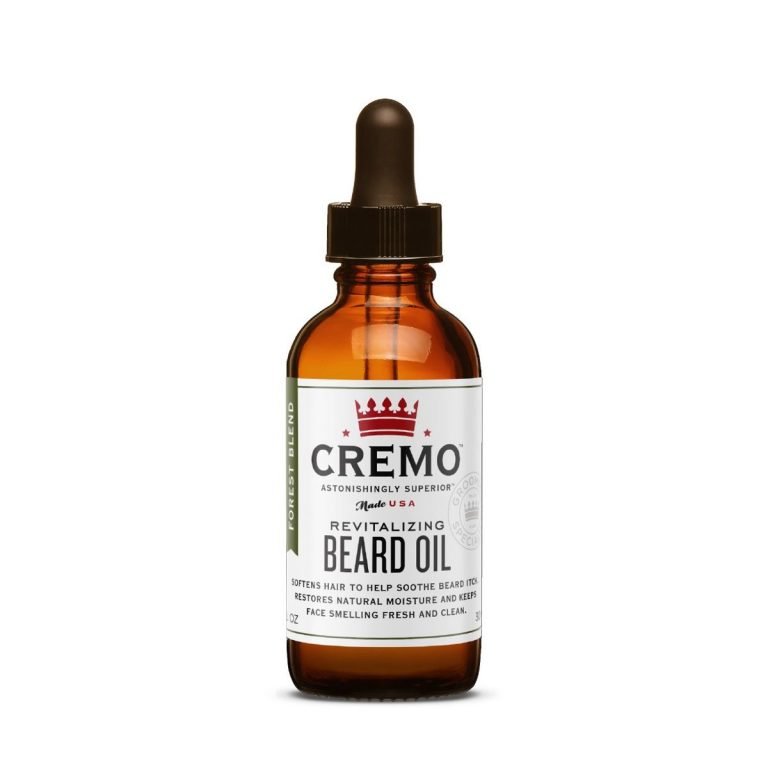 I only just recently found out that cremo has begun making beard oils. As expected cremo beard oil comes packed with goodness that boosts your beard growth rate.
Since I began growing beards, I have been a big fan of their shaving cream, and my blog readers have also been happy with them.
So, I thought if the oil is like the shaving cream product, then it shouldn't be just another beard oil.
So, Is cremo beard oil super or just the same when it comes to other beard grooming products?
Well, you'll just have to finish reading this article to find out.
Just messing with ya, it's awesome!
Though, now you do have to keep reading to find out many cool benefits and why I like it so much so you can decide if it is going to work best for you, too.
Pros
Smells fresh and manly. 

High-quality oils and ingredients. 

Light application and does not leave hair greasy. 
Cons
 Some people find the smell too strong (but we love it).
The benefit of using Cremo Beard Products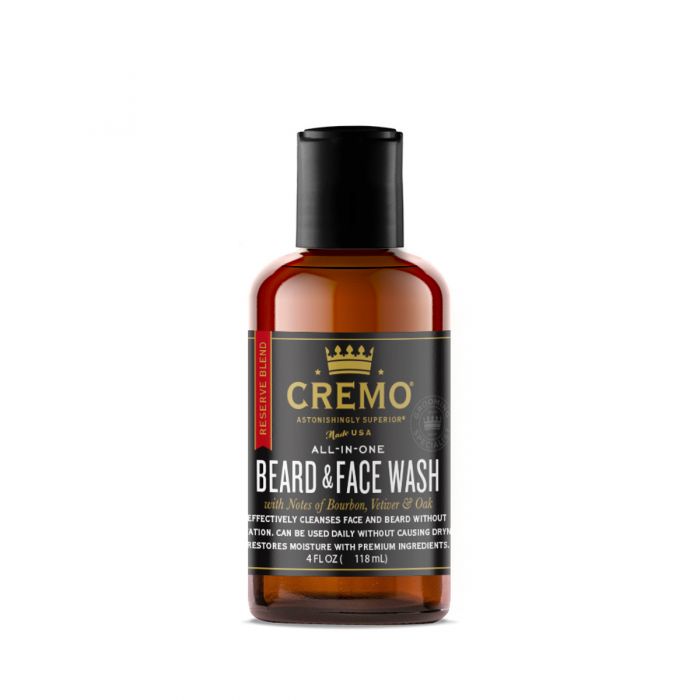 Each Cremo product work hand in hand with another to give you flawless beards, it also helps to ensure and nurture healthy beard growth.
Plus, it softens, enhances softness which aids in styling and serves as a general control for your beards. It also gives room for spoiled ends or beardruff which can later come with irritation and flakiness of the skin.
Cremo products comes with natural ingredients that do not have harsh chemicals that can pose danger to your skin.
It has a good amount of natural products including shea butter, natural mint flavor, beeswax and essential oils ready to give you a healthy and well groomed look.
Because of its makeup, the Cremo beard products can be used by anyone and everyone as there is little to no cases of allergies and skin irritations.
The Cremo beard products can be bought anywhere in the world including African nations like Nigeria. You can get them in offline stores , beauty stores, and shops.
The Cremo beard products are specially formulated to keep your beards well kept, scented, and clean too. Trust me, you would be shocked to see how quickly this products change your whole look.
They are affordable and high quality. A trial will impress you well enough to make Cremo Beard products your choice.
Cremo Beard Oil Review
Three Different Cremo Oils
The 3 types of the Cremo beard oils are very nice. Each deserves a different preference for who is suing it, but lets take a look at the Cremo beard oil reviews and see which one is beardfect for you.
Cremo Beard Oil Forest Blend Review
A woody vibe is one of the most  common scents of any beard oil. Cremo takes that scent and incorporates into their Forest Blend oil, but keeps it on a minimal level.
Unlike the scent style of the shaving cream, this one is more calming and subdued. It doesn't have a hang time, so it dissipates shortly after applying it.
There is an element of eucalyptus oil in it to give it a bit of zing to keep it interesting.
What can it do for your beard?
The blend of all natural essential oils will soften your beard and protect it from ever getting into the dreaded  "itchy phase".
At times, Cremo beard oil can handle situations that many other do cannot do, For instance, it can reduce the cases of ingrown hair, which is a prevalent problem for beard growers.
This is most beneficial when your beard is in the preliminary growth stages.
Your beard will feel less brittle and much fuller due to the oil replacing the lost moisture of the beard hairs, and keeping it hydrated long afterward.
If sun, cold, air pollution, or other environmental conditions have damaged yoyr hair, nourish it using this oil.
What is in it?
Jojoba oil and coconut oil gives your beard a one-touch punch of conditioning and hydration. They help keep your hair soft and give it volume.
Rosemary oil works with your skin to keep away dandruff or the infamous beardruff from growing,
Argan oil is packed with healing properties and strengthens facial hair. In fact, kiss britle beards goodbye when you use argan oil based beard products.
Decision
Regardless of whatever length your beard is in, it will benefit from using this Cremo beard oil. If you love subtle woodsy scents with a bit of a zesty aroma, then you will likely love using this beard oil.
Tea Tree Beard Oil with Mint Blend/ Cremo Beard Oil Mint Blend
Tea tree beard oil is perfect for you if you are battling skin problems like rough skin under your beard or acne.
It will also aid in the fight against beardruff and defend against any infections forming with its antiseptic properties.
It is antifungal and antibacterial. Plus, keeps your beard and skin healthy.
Your skin will be captivated and fall in love with the tingly tree beard oil and the addition of mint will make it even more invigorating.
The scent is refreshing and light and has a nice zestiness. Plus, it is not sinus-clearing like the sahving cream, but it does liven up the senses a bit.
What is in it?
Aside the mint and tea tree oil, there is also argan oil that helps hydrate and strengthen your hair. Coconut and jojoba oil condition and thicken your beard hair leaving it strokable and soft. And Vitamin A, also known as tocopherol will nourish your hair.
Like the Forest Blend it can be used during any phase of your beard growth as it will prevent itchiness.
All in all, there are the same essential oils that make this beard oil mint blend a great product for any length your beard is.
Unscented Beard Oil
If you're looking for all the softening and nourishing properties of the other Cremo fuzz oils, but don't want your beard scent stronger than your cologne, then try the unscented.
Aside this post being on cremo beard oil review, our personal use of this particular product has made us rate it high.
It will leave your beard with a fresh smell because of the essential oils, but it won't have a scent that can be discerned.
This contains all the essential oils the other two have minus the ones that would give it a smell.
Your beard will enjoy the strengthening benefits of argan, the softening of coconut and jojoba oils and the dandruff resistance of rosemary oil.
Is Cremo Worth it for Your Beard?
All of these Cremo Beard liquids go on very light, absorb quickly and 24 hours a day.
Your beard will be noticeably fuller, softer, and shinier and your facial manliness will be fuller.
Just a few drops and that should do it. You may think that the bottle won't last long or is tiny, but really it will last a while.
The dropper dispenses the oil perfect and you only need a couple of drops.
How much beard oil do you need? Here's a general rule of thumb:
1 to 3 weeks – 2 to 3 drops
3 weeks to 2 months – 4 to 6 drops
2 months to 6 months – 6 to 8 drops
6 months to 1 year – 8 to 10 drops
Take time out to check our more indepth article on how to apply beard oil for some more tips.
Cremo Beard Product Review
The Cremo Beard products brand has been reviewed a lot latterly, you can scroll up to read our take on cremo beard oil review.
Stats have shown that about 80% of Cremo customers are very satisfied with their products and services.
They also have representatives of the brand that would answer questions as regards whichever product you are interested in.
They have buyers all over the globe ordering their amazing products because it works for all beard types and little to no report of irritation has been raised.
To get the best results, you should use the product with other products of this brand and make sure it is used as directed.
Reviews have been positive and this is yet another reason you should give the Cremo Beard product a trial.
Have you tried the Cremo beard balm? If yes, congrats! But if no, you should hurry to get one now!
The maintenance of facial hair can look unkemot and at times unruly. The special Cremo product comes in a jar and adds style to your beard.
It also helps to shape and control your beards. With this product at hand, you can style your beards into any desired pattern.
It also improves the physical appearance and shine not to talk about other pros of the product.
Commonly, its natural blend of ingredients like coconut oil, Shea butter, cera Alba (beeswax) and other essential oil helps you kiss stray beard hair goodbye and say hello to the world where your beards retain its beautiful and magnificence shape all day long.
A small quantity will help you perform this function and daily use will show you other benefits.
Cremo Beard And Scruff Cream
Think of something better? Try out the Cremo beard and scruff cream! It is specially made for the healthy growth of your beards and it keeps it hydrated and soft.
It is uniquely made with essential ouls and plant extract. It maintains and ensures hair growth, prevents itch and restores shine leaving you looking good all day.
Note: This product can be used for all lengths, texture and surprisingly works magic.
Why not try out the Cremo beard products and see its potentials.
Are you struggling with your beard growth? Cremo beard growth product has got your back!
With the special formula embedded in this product, all you need to do is apply and watch how the beautiful beard product boosts growth.
This is a product that has been tried, tested and verified. Aside from growth, it also gives your beards fullness and ensures your beards are tangle free.
Enjoy and swim in your Cremo beard growth formula, enjoy healthy growth.
The Cremo beard kit is a collection of tools made by Cremo Company. It maximizes the proper grooming of your beards even after the products are applied.
They are made up of combs, brushes; beard Twizzle, edge control amongst others. They are designed uniquely to give you a smooth journey down the beard journey.
Every kit should be used as directed and not for any other purpose.
The Cremo beard oil comb is crafted to have 2 edges. One side with a wide tooth for beards that are longer in length and the other side which have little spaces for the small quantity of beard hair.
After the timely application of any cremo beard products, the comb is then used to ensure that it is absorbed and reach every parts of the beards.
Cremo combs come in plastic forms and can be easily maintained by regular cleaning.
Cremo whiskers Oil Before And After
One factor Cremo beard oil is known for is its ability to restore moisture, softens and reduces beard itch which is one common issue with men who keep beards.
With Cremo beard oil before and after use, you can be guaranteed to grow a beard itch free goatee. This product also aids in keeping the hair shining all day long and moisturized.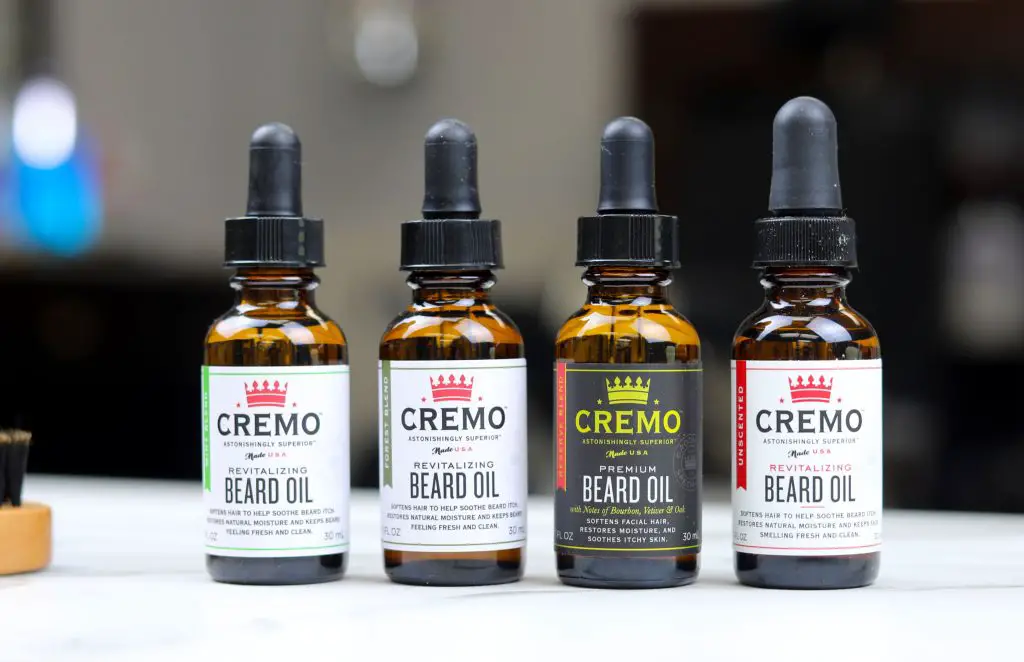 Designer Stubble Oil How To Use
The Cremo bristles oil should be used every day according to the directions on the labels. The oil should be used alongside the cremo beard cream in order to make sure it reaches all part of the beard.
This makes its potent and work really visible. It can also be used alongside other Cremo Vandyke Products.
The Cremo beard product collection is targeted at providing full attention to your beards and ensuring that results are gotten.
Try it today! Get a Cremo beard product today!
Beard Oil or Balm? What should you use?
This question has commonly caused a bit of confusion.
First, to be honest, you will have a better beard whether you use the beard balm or oil. No matter which one you choose, your beard will feel fuller and healthier.
Now –
If you like your beard smoothed out and hydrated, plus styled in a specific way, then use beard balm.
But, if you want to just condition and keep your beard hydrated and looking full, then you should use the beard oil.
Santa Claus balm comes with beeswax that sticks to the individual strands of hair and will keep them in place if you are looking to achieve something stylish.
A long goatee, handlebar mustache, or a box beard on the chin will work great using a beard balm.
If your beard doesn't need styling then the question of beard oil or balm is easy to answer. You should just use oil.
Wrapping it up
Beard balm or oil, shaving cream of shampoo, I love the idea that Cremo is offering all the bases with their new product line-up of beard grooming items.
Have you ever tried any of Cremo products? They're fairly new to the market so if you have anything to add to what I shared above in today's article, then we would love to hear your thoughts.
Leave a comment in the box below as per your experience with Crem beard oil. We hope this Cremo beard oil review help you pick the most suitable!