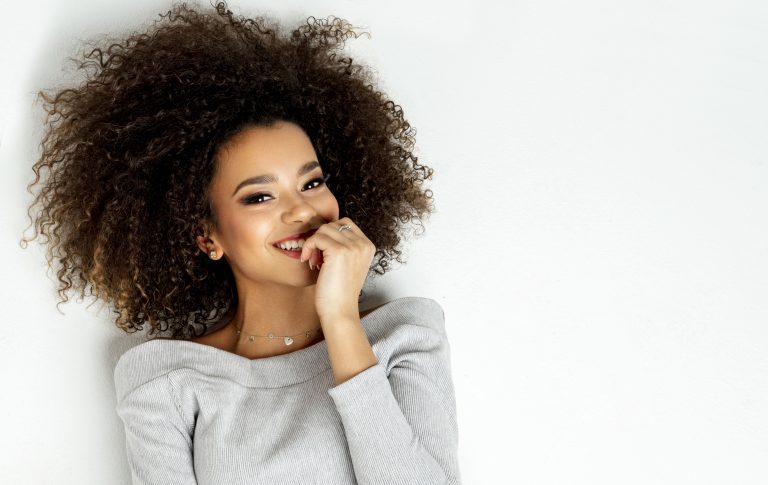 We often get requests from people wanting to know how to make natural black hair curly without chemicals.
Whether you want to further improve your texture, switch up your natural curl pattern, or simply try a new tactic, there are lots of ways to achieve gorgeous, voluminous tresses naturally.
Luckily, it's extremely easy to cut heat tools and chemicals from your regimen when styling your curly locks.
It's also worth noting that plenty of heatless and non-chemical curling methods out there make for excellent protective styles when you want to get the most out of the valuable time spent manipulating your mane.
How to Make Natural Black Hair Curly Without Chemicals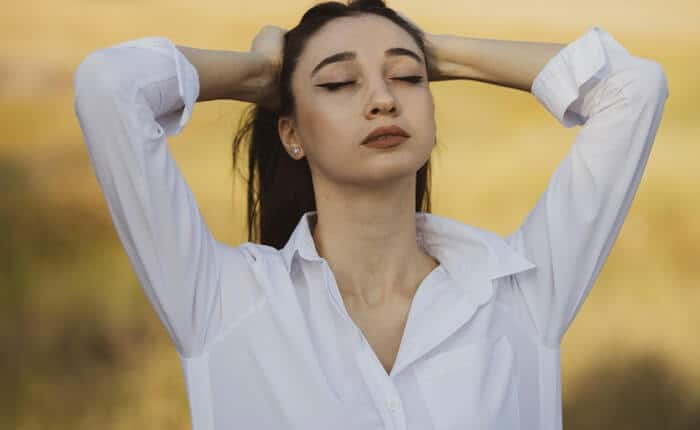 First, you need to know if you are naturally born with curly hair, and the best way to find out is when you wash your hair and it's now free of hair products.
Do you notice any coils or curls? If yes, then it's naturally in you. But if not, that is still okay as you can also improve your curls by following the tactics below.
1. Finger Coils
I'm not the most skilled naturalist though, I tried doing this on my natural hair and it went incredibly well. If I can get such a fantastic result, then I'm sure that any of my fellow curl friends can also.
The process is pretty easy and only involves your fingers and a good curl cream, preferably a hydrating one. It's certainly one of the best ways to train your curls and improve your natural texture without using chemicals.
Instructions:
Start on dry or wet hair (The formal gives more length)
Moisturize your hair and seal
Apply some curling cream or gel to your fingers (not chemicals)
Twist small sections of your hair
Leave it to air dry
Style as you want
2. Twist Out and Strand Twist
This is an easy, but fashionable hairstyle – you're actually getting two-for-one.
Wearing your hair in a bound style such as twisting your hair for a period of time or plaiting your hair will naturally stretch your hair and loosen the curl pattern. Removing the braids or twists will leave the hair extended and loosened.
Depending on the type of your hair, this could let you fingerstyle it for many days. The twist out is an excellent style to wear alternating between wearing the hair loose and wearing twists after removing the twists.
Instructions:
Part your hair into small sections to create two-strand twists
Take each of the sections and divide them into two strands
Use any curly hair pomade or other styling gel to coat the hair
Coil the tresses around one another working from the roots to the ends
Repeat the same process over the entire head
After some days, gently untwist the two strands
3. Straw Set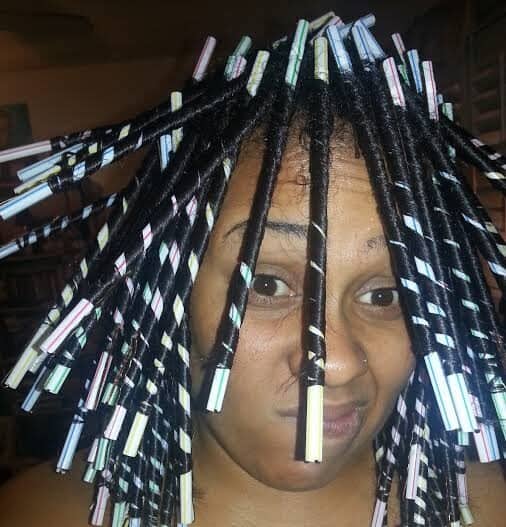 A straw set is a DIY method that's similar to using flexi rods. It'll create those "Shirley Temple" types of ringlet curls. This is equally an amazing transitional hairstyle when you're changing from permed to natural hair.
Get permed hair texture by placing it in this curly style, which will reduce the difference in appearance between the natural hair and the permed hair letting you grow out your natural hair before trying the big chop.
What you'll need:
Get a pack of plastic straws (drinking straws)
For looser and larger curls, use small perm rods (available at most beauty supply stores)
Bobby pins
End papers
A good setting lotion (you might need something with more hold, depending on your hair type, it should be alcohol-free)
Light hair oil
Application instructions:
Follow the simple instructions below to apply the "straw set" method of achieving curly hair:
Shampoo and condition the hair and dry with a towel
Divide your hair into 1/4 to 1/2″ sections
Place end papers to the ends of your hair
Roll your hair onto the perm rods or straws and use a hairpin to secure it
Repeat steps 2 to 4 above until your entire head is completed
Dry your hair very well under a hooded dryer
Remove the straws gently and separate the curls
Spray your hair with light oil and keep on spraying with oil on a daily basis
4. Bantu Knots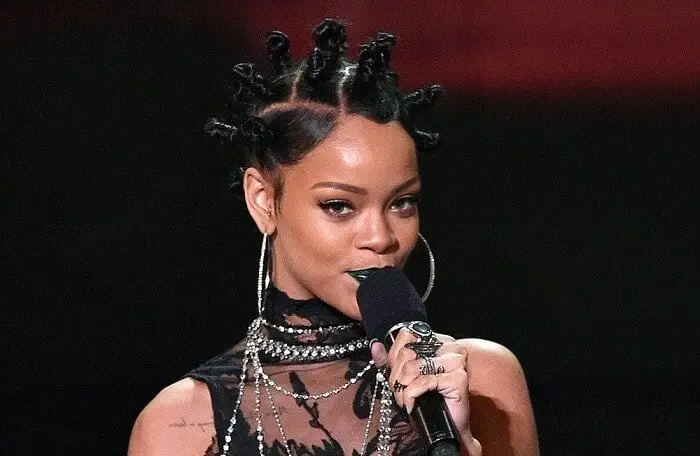 Bantu knots can give you some of the most luscious curls. Although they may take some practice if you haven't tried them before.
Bantu knot is a simple heatless way to get defined curls without chemicals. It can be done on different lengths. If you have a short hairstyle, then you will have to part your hair into smaller sections – and for longer hairs, the section sizes are flexible.
Here's how to easily get Bantu Knot-out curls for black hairs:
Twist the section of your hair and wrap it against itself like a screw
Once again, wrap it against itself at the base
Fold the ends at the base close to your scalp or use a hairpin to secure it
Leave overnight to dry and set
Unravel and fluff
5. Flexi Rods Sets
Available in different sizes, Flexi Rod Sets use Flexi rods to get curls that vary from tight curls to big, bouncy curls. The smaller the rod, the smaller the curls, and vice-versa.
Here's how to get Flexi Rod curls:
Determine your desired curls size and use the ideal flexible rods
You can start on dry or damp hair (in some cases, dry hair offers more length but less definition than damp, while damp hair takes more time to dry and could be shorter because of shrinkage)
Use a rat tail comb to section your hair
Detangle as desired
Apply a sealant and leave-in conditioner, or a setting foam/lotion
Twist your hair section around a Flexi Rod
Twist the two ends of the Flexi Rod, putting your hair in place
Repeat the entire process all over your head
Untie when dry and style
6. Curl Formers
Another easy way to get black hair curly is to use curl formers. This is done by simply clipping your locks around their inner hook and pulling through.
It might sound confusing, but you can watch the video tutorial above from IKnowLee's YouTube channel on how you can achieve this in minutes on damp hair.
She sits under a dryer; however, this step is not totally necessary. You can also sleep in the formers overnight, it may be a little uncomfortable though.
The end result is a smooth, looser curl pattern that looks as if you used a curling iron or wand.
7. Wash & Go
Wash & Go curls are usually achieved with a few products and quick natural hair styling strategies. This is one of the easiest ways to get curly black hairs that are similar to your natural curl pattern.
You're formally meant to wash and go as implied though, below is the steps to get more defined curls, volume, and length.
Rake a curling cream or gel into your hair after you're done washing and moisturizing it
Use a Denman brush, the praying hand's method or shingling method to get more definition
Twist your hair lightly or use banding method to stretch
Air dry overnight or use heat
Pull down bands/twists
Apply any of your favorite oil to remove crunchiness (if any)
Style as you want
With the steps above, you can easily achieve natural black curly hair without chemicals. Try any of them and see what result you'll get.