Growing a beard is a lot of hard work, and sometimes it can seem like it is impossible. While certain men easily grow thick beards, most men actually do not find it easy at all. Trying a growth product for your beard may help, but it also might not be enough help to give you the results that you want.
This is why beard growth kits are becoming so popular, as they can be exactly what you need. But what is in growth beard kits, and do they really work?
What Is A Beard Growth Kit?
Beard growth kits, by their very definition, have multiple different products in them for your beard to help it grow. Some of these beard growth products can be found individually, but others are sold solely as part of their kit.
As for the products that many growth kits have, any product that can be used to help with beard growth can be put in a beard growth kit. Even hair growth tools are often included as well, if they are small enough to fit.
Most commonly, these kits have some combination of products, each of which fills one of two functions. Either the product in the kit directly helps your hair growth, or it boosts one of the products that does. A good beard growth kit will have products that complement each other, such as a serum meant to be used with a microneedling tool.
Things found in growth kits include vitamins, supplements, shampoos, conditioners, beard oils, creams, serums, derma rollers, and beard grooming tools. Some kits even have essential oils, mineral oils, and other things.
Though grooming tools might not seem to belong in a beard growth kit, the wrong tool can really affect your beard growth, which is why this last item is just as important as the rest. A fair amount of kits also come in some sort of case or have a type of carrier so that you can take the whole kit with you easily.
Many beard growth kits make a lot of claims, and some have more grooming tools than products that promote growth. Sometimes these kits are called grooming kits, and they are often confused with growth kits. Grooming kits can be used as growth kits sometimes, however, as they often have one or two growth products.
The Advantages Of Beard Growth Kits
The first advantage of a beard growth kit is the fact that it helps cover every possible reason why your beard might be struggling to grow. It can be impossible to know why your beard isn't growing as thickly as you want it to be.
Instead of trying a single product at a time to deal with one potential problem, hitting them all is faster. A good beard growth kit will have supplements to help with deficiencies, something like a derma roller or boar bristle brush to encourage blood flow to your beard, and something to rub into the skin of your beard to moisturize it and help with nutrients from the outside.
Also, getting a growth kit with everything you need in it is much easier than getting individual products. Some growth products last 60 days, while others last 90, and those are just two common options. Remembering what you need to repurchase and when can be quite a hassle at times.
Then, picking individual beard growth products that will work well together can also be a hassle. So, having a beard growth kit that takes care of all of this for you is much easier and cheaper. Beard kits like this can sometimes be as cheap as buying just one or two products that last the same length of time. In addition, many kits of this type have products that actually compliment each other, which is even better. 
So, with all of this help, beard growth kits really do work even when other things can't. The fact that the effects of the products are actually multiplied instead of added sometimes means that even if you have tried the same products one at a time before without success, the beard kit might still work for you.
The Disadvantages Of Beard Growth Kits
Beard growth kits don't actually have a lot of disadvantages to them, but there are a few. First, beard growth kits, if you haven't noticed, are pretty expensive. True, the kits tend to be slightly less expensive than buying the individual products, but they are still not cheap.
Next, in order for the kit to work, you actually have to use all of the products that are in it. Each beard growth product has the potential to have side effects, some more than others. So, however many products are in the kit, that is how much more likely it is that you will react to at least one of them.
If you use all the products in your kit immediately, you may not know which one is the problem. Using process of elimination with your new beard products may not be worth the time. And that problem does not even get to the fact that some products can compound the side effects of others.
Speaking of using all the products in your growth kit, there is also the fact that this takes time. While a bigger kit will have more products in it, finding the time to use all of these can be a bit hectic, especially if you are only used to using one product for your beard.
Also, when a beard growth kit does work, how are you to know what product in it is working? There is no point to a whole kit if it is only one of the products in it is helping. However, there is no easy way to determine if just one of the products helps or the combination of them. Finally, picking the right beard growth kit with the right products you want can be a hassle as well.
Top 4 Beard Growth Kits + Honorable Mentions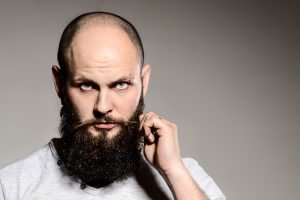 There are multiple things that make a beard growth kit work or not, starting with if it works. You also want a kit that has items in it that boost each other as much as possible and that don't get in each other's way.
ZenNutt Beard Growth Kit
Though this kit technically qualifies as a growth kit, ZenNutt calls it their Care and Grooming Kit. Either way, this kit from them is a great one for your hair. Though it has no supplement, it has almost everything else you probably want.
First, this ZenNutt kit has a boar bristle brush to stimulate your beard area. This kit also has a beard foam that acts as a shampoo, a conditioner, a growth oil, and a balm. As a grooming kit, it even has a wood comb, beard scissors, and a storage bag.
On top of the products that this kit has, there is also an E-book included on beard and mustache care. Of the few kits that actually tell you about beard care, this was one of even fewer that include anything about mustache care as well.
Though the product ingredients aren't listed, ZenNutt has a reasonable response time in telling you what they have in them. The balm, for example, is vegan and has a pretty impressive list of ingredients. None of the ingredients I saw were either filler or chemical ones that I couldn't pronounce, and almost all were some type of oil or plant.
Considering that the ZenNutt beard growth kit was one of the cheapest that I found, that is even more impressive. The price of this kit alone makes it worth putting on this list as a budget-friendly option. The high quality of the kit's products, even if it could have a supplement as well, make it nearly perfect.
This is compared to the XIKEZAN Beard Growth Kit that is slightly more expensive than this one. The XIKEZAN has the same products but ingredients like Silsesquioxane copolymer and Hippophae rhamnoides in its balm.
FULLLIGHT TECH Beard Growth Kit
The FULLLIGHT TECH Beard Growth Kit is one that shouldn't be confused with the same company's Beard Grooming Kit. However, you may want to get both kits from them to help your beard grow.
Their growth kit has several products in it. The balm is a good moisturizer for your beard, while the beard wash keeps it clean. There is a beard growth oil, which pairs nicely with the derma roller that is also in the kit.
Then, this growth kit also has some grooming tools, which are the beard scissors, boar bristle brush, a double-sided beard comb, and a small storage bag. Lastly, FULLLIGHT TECH even has an E-book that tells you how to take care of your beard properly.
Though not all the ingredients of each product here are easy to find, those that are listed are average. Considering the inexpensive cost of the kit, the ingredients are actually pretty good. The beard growth oil, for example, has jojoba oil, castor oil, argan oil, and Vitamin E.
As mentioned, FULLLIGHT TECH has a grooming kit as well. The grooming kit has the E-book, scissors, single-sided beard comb, a small storage bag, and the beard balm. It is after those products that it gets to be a little different.
The beard cleanser of this kit is also called a shampoo but looks the same. You also get two of the beard growth oils as well, though there is no derma roller. In short, the FULLLIGHT TECH Growth Kit is mostly the same as the Grooming Kit and virtually the same price.
So, if you prefer more beard oil and no derma roller, you may be interested in getting the grooming kit for your beard growth. Either of these growth kits are good options.
CG Beard Growth Kit
CG, short for Copenhagen Grooming, has a pretty great growth kit for you to try. To start, CG's presentation of the kit is a sleek black look that ties all of their products together. Their growth kit has most of what you want for your beard growth.
For starters, the CG beard growth kit comes with a derma roller. This derma roller is nice enough, having 540 titanium needles, though they could give details about needle length. The other tool in this kit is the keychain comb. This is rather handy to have on your keychain for grooming your beard.
Then, the CG cleanser is designed to clean the microneedler. However, this cleanser also seems to be formulated so that if it gets onto your beard, it won't hurt your hair growth.
My favorite part of the CG beard growth kit, though, is the activator product they have. This activator, formulated by CG, may not be the most natural, but it does have one or two plants in it as well as biotin. The activator is meant to be used with the microneedling to give you the most of both.
Also, CG allows you to add three other things to their growth kit. The 'Sidekick' is a supplement for hair growth; the 'Greenkeeper' is a moisturizer; and the 'Cruise Control' is a styling agent that is also a balm. You can add any three or all three to your order should you want a bigger growth kit.
Lastly, the cost of this kit is reasonable and slightly cheaper than some other kits. CG even gives you a type of bulk option that lets you get 250 days of their product. Buying this amount saves you from having to buy any more for a long time and is even less expensive.
The Beard Club Growth Kits
The Beard Club is a brand that clearly focuses on beards, and they actually have three different kits for you. This top beard growth kits list wouldn't be complete without mentioning them, even if they are a tad expensive.
This starter kit is the smallest, and it has some beard growth vitamins, a growth oil, and a derma roller. These three products are all great, and they hit basically everything you want in a simple growth kit. The vitamins from The Beard Club cover any deficiencies, while the oil makes the microneedling better.
The advanced kit has all of that in addition to a vitamin spray, a beard shampoo, and a beard brush. Individually, the vitamin spray has both lavender and peppermint in it, which is an interesting mix. The shampoo is a detangler, and has biotin and other growth ingredients. Meanwhile, the brush is a boar bristle one with durable birch wood.
There is very little difference between The Beard Club's advanced kit and ultimate kit. The ultimate kit has everything in the advanced one, plus only a fancy hair trimmer and a travel bag. This is likely why the advanced bread growth kit from them is their most popular option.
As hinted at, these growth kits are on the expensive side, but they give really good results. The ingredients of these kits are also really good quality, with few to no fillers. Natural products like these always tend to cost more, but for sensitive skin, they might be necessary.
The Beard Club has a pretty good warranty, and you can contact them about their kits directly on their website, which is nothing to sneeze at. All in all, I think that the starter and advanced kits are worth trying.
A Few Almost Good Beard Growth Kits
There are a few passible-looking beard growth kits I found when trying to look for the best. These don't qualify as top growth kits in my opinion, but you might like one of them.
For example, the first here is the ABUDICS Beard Kit, which is slightly below average in price. This kit has a growth oil, balm, boar brush, scissors, comb, bag, and a small pamphlet. So, it focuses more on grooming tools than growth ones, which isn't the best for beard growth.
Also, I really don't like the fact that ABUDICS only gives their main ingredients. Even when asked for the ingredients, they reply by saying they "are mainly made of" or they "include" certain things. While the ones they give are good, it makes me feel that they are hiding something.
The YOUCOPIA and Naland beard growth kits have somewhat the same problem. The first kit is one that is cheap and simple, being just a microneedling tool and a beard oil. Both state their beard oil is 100% natural but yet have ingredients like glutamate, proline, and a bunch of other things you aren't likely to recognize.
Still, at least those growth kits let you see the ingredients, albeit with a bit of digging. The RAFFIN growth kit has a few nice certifications, including GMO-free, but there are almost no ingredients to be found. If you are not concerned about the ingredients, the RAFFI Beard Growth kit is a nice one.
The same is true of the kits from Jurgen K and MALE GOD. Both of their beard growth kits consist of the same types of products. The Goldworld brand has a kit for the same price as those, with the addition of a foam cleanser and a conditioner, also no ingredients listed, though.
What To Look For In A Beard Growth Kit
There are so many beard growth kits out there, it can be hard to find just the right one. However, a few key things to note about these kits can be hugely helpful in making this decision. First, you obviously want a kit that has the products in it that you want.
If you don't want to microneedle, don't get a kit that has a derma roller in it, sweet and simple. If you want a kit that has vitamins in it, then look for a kit that has that in it. Trust your gut in this area, as you know your beard best and also have the best idea of what might work well for you.
Next, find the ingredients of the products that are in the kit. A kit can make all sorts of claims about what its products do, but that doesn't mean they actually work. They could also claim to have no filler ingredients while conveniently not listing their ingredients for you to check.
Many of the beard growth kits on Amazon don't list their ingredients at all. Some give you only the ingredients that they want you to know about, but not the full list. However, the best growth kits on Amazon will respond back to you if you ask them for their ingredients.
Besides the products and ingredients, you also may want to take a look at the company itself. Some beard kits will come from a company with a great warranty that lets you easily return things. Others simply don't.
Some companies also have a mission or something that you can get behind. Companies that have a story they share often better quality products because their focus is on their mission more so than just making money.
Final Thoughts
There are plenty of other beard growth kits out there for you to choose from. However, if you wish, putting together your own beard kit is something that you can do with a little effort.
Beard growth kits may not be able to change your genetics, but they can do more than you might think. So, whether your beard is patchy or just not growing at all, these kits are worth giving a try. Even if you have a full beard, a beard kit can help you get the best out of it.