Do you have overly dry hair and are at the point where you are accepting the situation?
You already know that dry hair easily gets tangled and breaks like crazy. Dry hair lacks the softness, which is a hallmark of healthy hair. Once your hair is dry, it becomes dull, stiff and unattractive. 
Don't give up! Nows the chance to restore moisture and youth to your hair.
To put an end to your dry hair experience, you need to form healthy hair hydration habits. Just like our body can't function properly without being hydrated, neither can your hair. You'll continue to suffer from dryness unless you learn how to hydrate your hair!
What Does It Mean To Hydrate Hair?
Hydrating the hair is the process of completely saturating the hair with water. In the process, the water molecules penetrate deep into the hair strands beyond the hair's surface.
Afterward, your hair comes out soft and healthy. Don't forget that hydrated hair reduces hair fall, resulting in full, shiny hair.
How to Hydrate Your Hair Naturally
Hydrating your hair is much simple than you think; in fact, anyone can do it!
Simply dedicate one day a week to your hair, typically referred to as wash day. On wash day, start by completely saturating your hair with warm water to open up the follicle. After shampooing, apply your favorite deep conditioner. Slightly dry your hair with a microfiber towel. Finally, let your hair relax in a scarf or microfiber towel until you dry. 
By letting your hair dry in the scarf, your hair will fully absorb the nutrients, and your hair follicles will lock in the moisture. Make sure you continue this routine once a week and never skip a wash day!
However, do you hydrate hair types differently? Let's take a look at how to hydrate curly hair.
Relaxed Hair vs. Natural Hair
In the black hair community, you often hear these two types of hair: relaxed versus curly. Relaxed hair refers to hair that has been chemically straightened every four to six weeks. When you relax your hair, you become more prone to damage. 
On the other hand, natural hair refers to a wide range of textures, from wavy to kinky! Although natural hair is cheaper and healthier, it is a lot more time-consuming (in most cases).
Typically, natural curly black hair types tend to be:
Drier than other hair textures

Extremely difficult to condition

Fragile and delicate
As a result, this hair type needs to be handled with more care. Natural hair demands more deep conditioning to avoid breakage.
How to Hydrate and Reduce Dryness in Natural & Curly Hair
1. Drink a Lot of Water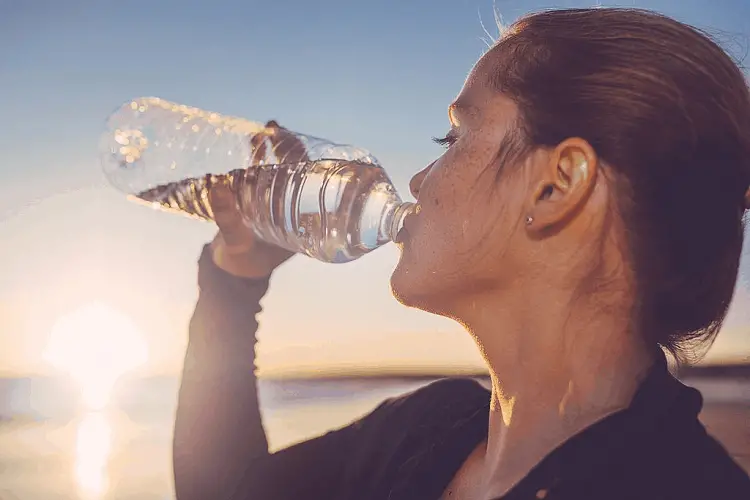 Hydrating your hair should also be an inside-out activity. Make sure you are drinking the recommended amount of water per day. Not only will this benefit your body, but it will benefit your hair. 
Aim for at least two liters of water a day; this will, in no doubt, strengthen your hair. Don't forget that dehydration immediately halts hair growth.
2. Cover Up Your Hair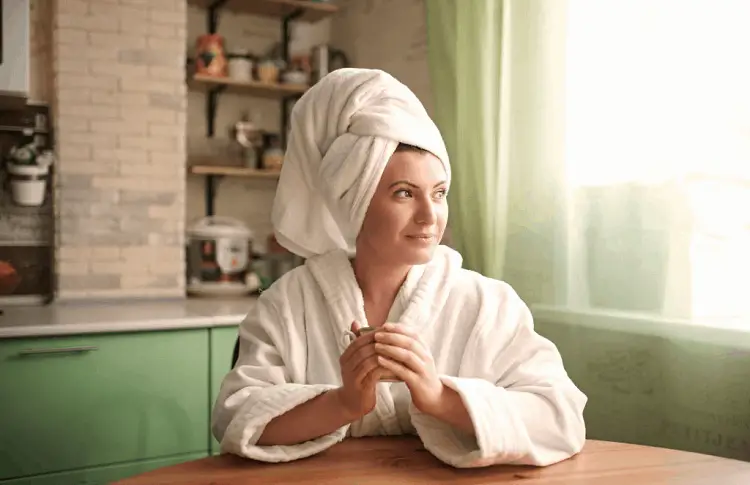 Watch the sun! Sun exposure can damage your hair, just like it can burn your skin. Cover up with a hat or bonnet before going swimming or outside to protect your hair against UV rays. Don't forget to wash the chlorine out of your hair right after swimming.
Did you know that your pillows can damage your hair? Too much friction can break your hair! Wrap your hair up with a scarf before bed, protecting it from environmental aggressors.
3. Tip to Brushing your Natural Curly Hair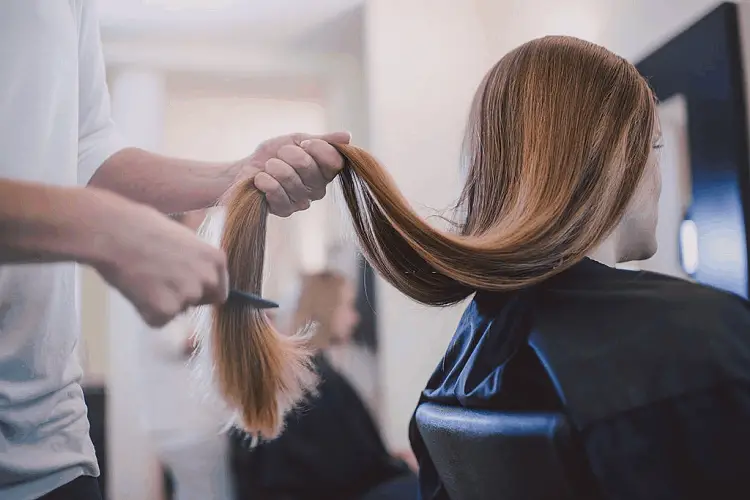 Hair is susceptible to damage when it's wet. Avoid brushing your hair immediately after a shower or a swim.
Similarly, you don't want to comb your hair when it is dry! Only brush your hair after you have applied a deep conditioner when it's soft and smooth.
4. Stay away from hot styling tools as much as possible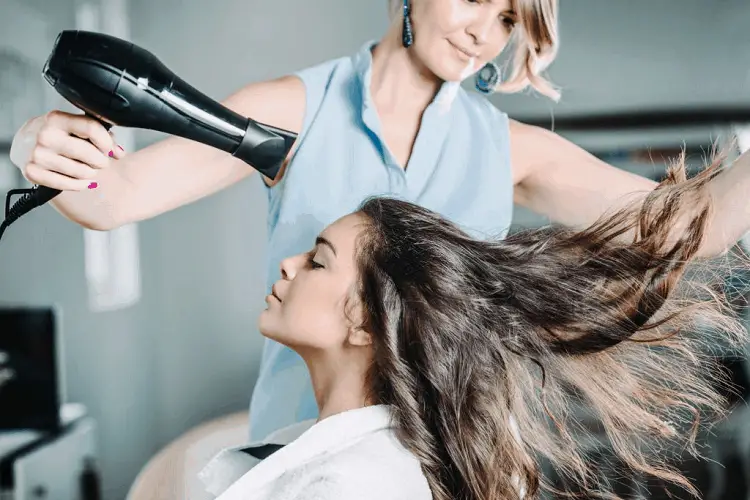 If you only take one thing out of this article, remember this: you cannot complain about dry hair if you are styling your hair with heat every day. Heat is not limited to straightening irons or curlers; blow drying your hair counts, too!
Once you know that heat styling is damaging your hair, you are more prone to remove this variable. Air drying your hair and styling it naturally is far healthier for your hair. 
If you must try your hair with a hairdryer, do so with a diffuser on cold hair. Always talk to your stylist about ways to protect your hair.
10 Home Remedies to Hydrate and Keep Your Natural Hair Curly
Home remedies are wonderful. Not only are they natural and healthy, but they cost you less, too! These items are easy to find, buy and apply. Let's take a look at some of the best ingredients for moisturized hair.
1. Avocado is good for natural curly hair.
Avocados work wonders for naturally curly hair. This fruit is filled with unsaturated fats, which helps moisturize your hair from the inside out. 
Avocados are a rich source of protein and an excellent ingredient for repairing dry, damaged hair. Try mixing avocado with coconut oil, honey and olive oil for optimized results!
If you don't have the time or patience to prepare avocado and work it through your hair, avocado oil does the trick, too.
2. Aloe vera is a great cleansing conditioner for natural curly hair.
Aloe vera is a jack of all trades! While this plant hydrates your hair, it also cleanses your hair from impurities, dirt and product buildup! Aloe vera is similar to a cleansing conditioner.
If you want to use aloe in your hair, try mixing it with honey and coconut milk to make a shampoo; this is great to use before conditioning your hair.
3. Coconut oil really is a miracle worker for natural curly hairs.
Everyone understands the beauty of coconut oil! Almost every hair product today uses coconut oil in some fashion or form. Why? It does a terrific job at hydrating, moisturizing and nourishing hair!
You can apply coconut oil as a 15 to 20 minutes treatment or as a leave-in conditioner. Try both options and see what works best for you.
4. Egg Mash is a good protein treatment for natural curly hair
Although they might seem sticky, eggs are rich in protein and strengthen your hair.
Simply scramble 1 to 2 eggs in a bowl and apply over your dry hair. Let your hair rest in a shower cap or plastic bag for approximately 20 minutes. Afterward, wash the eggs out with cold water and shampoo to strengthen and revitalize your hair.
5. Use banana Recipe on your natural curly hair
Not only are bananas yummy, but they strengthen and moisturize your hair. Your hair will be left smelling fruity and feeling soft!
Mash one ripe banana up in a bowl and apply it throughout your hair. After 30 minutes, wash the banana out of your hair to reveal your results.
If you want to optimize your efforts, mix one raw egg, one banana, three tablespoons of honey and milk and five tablespoons of olive oil. This mixture will leave your hair soft and moisturized!
6. Apple cider vinegar is beneficial treatment for curly, natural hair
Apple cider vinegar does a great job at balancing your hair's and scalp's pH levels. When you wash your hair with apple cider vinegar, it lowers your scalp's pH levels, ACV flattens and closes your hair cuticles. 
Once washed out, your hair is left smoother, shiner and less frizzy! Best of all, apple cider vinegar works as a great de-tangler.
7. Olive oil is great for especially dry hairs
We've talked about olive oil earlier, but why? Because it deeply penetrates the hair cuticles so that moisture and nutrients can easily absorb. Olive oil is best for coarse, naturally curly hair. 
Although this oil is way too heavy to use as a styling product<span data-preserver-spaces="true">, it works great as an oil treatment. After application, leave it on for approximately 30 minutes before washing off.
8. Shea butter is one of the most popular butters for natural curly hair
Many natural curly hair products use shea butter because it hydrates and nourishes hair like you wouldn't believe!
9. Honey is great for hydrating natural curl hair
Honey is an excellent sweet-treat to mix in your hair care regimen. Not only does it help replenish lost moisture, but it also helps infuse your hair with vitamins and minerals. Ultimately, honey helps keep your hair healthy and strong.
10. Strawberries is extremely beneficial for hair growth
Strawberries are high in vitamin C. They help your hair absorb iron, all while stimulating your hair follicles. Strawberries can also get rid of excess oil buildup in your scalp!
Strawberries are high in magnesium, omega three fatty acids and copper, which are essential for healthy hair.
Conclusion
Hopefully, you have learned a few tis on how to hydrate your hair naturally. Whether you wear your hair relaxed or natural, these are terrific ways to keep your hair moisturized, healthy and strong.
Try giving each tip a try and see what gives you the best results. There is no way to know what works for you unless you try!