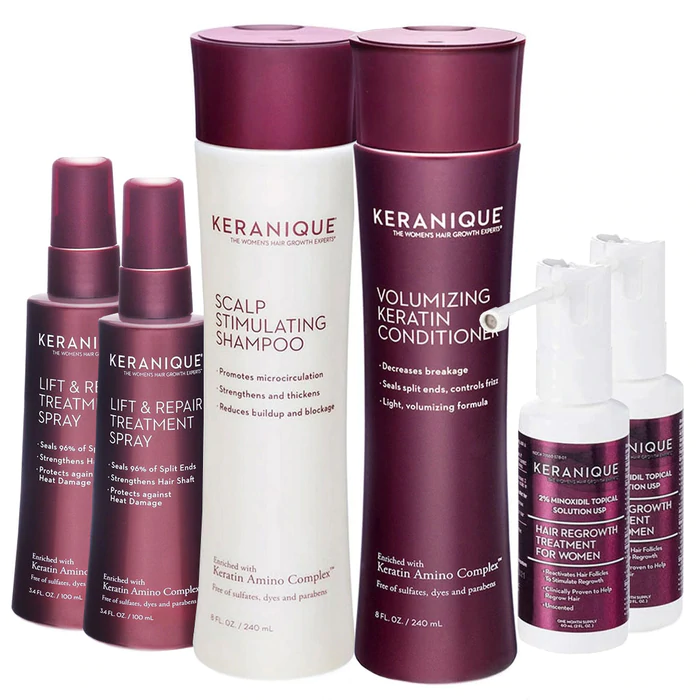 Women can have problems with thinning and balding the same as men can. However, men can hide thin hair or choose to show off a bald top. Women, especially women with longer hair, cannot hide thinning hair, not is it something that can look good on a woman.
Therefore, it is sometimes more important for a woman than it is for a man that they make sure their hair is growing. Most hair treatments are either for men or are formulated for both men and women. While these can be used by women, it is better to use a hair growth treatment that is made for your gender.
And this is exactly what Keranique has done. This brand has made its line of products specifically geared towards women who are suffering from hair loss. So, if you are a woman and are looking for a hair growth product, Keranique is a good brand that you should look closely at.
Pros
Promotes a thick, healthy hairline. 

Contains Keratin Amino Complex, which promotes hair regrowth. 

Great for women looking to treat their hair loss. 
Cons
Causes dry hair if not properly conditioned. 
About The Keranique Brand
As mentioned, Keranique is a brand that gears its products specifically for women. To help this goal, the medical advisor of the Keranique brand is Dr. Sonia Batra. This woman doctor as an M.Sc., M.P.H, and M.D. in addition to being a board-certified dermatologist.
Keranique willingly admits that when women lose their hair, it is different from when men lose their hair. For starters, women tend to lose their hair more diffusely, scattered all over their scalp instead of in certain patches.
Keratin has its own website where they sell their brand products. On their site, they also have a nice blog that gives some helpful information. Some of these articles are on topics such as how to safely dry your hair and reducing hair loss.
The Keranique brand has four different products that they offer in a package, so you have everything that you need. There is a shampoo, conditioner, hair regrowth treatment, and a lift and repair treatment. Keranique also has a few other odds and ends, such as a detangling tool and a defense brush that is safe for your hair.
The Keranique Scalp Stimulating Shampoo
The Keranique shampoo is specially designed for thinning hair. As a shampoo, it cleans your hair, but it tries to be gentle as it does so. While it is at it, the shampoo stimulates your scalp to help rejuvenate it and help it get nourishment.
In fact, the Keranique shampoo has four main goals that it tries to accomplish. The first is to help strengthen and thicken your hair. The second is to reduce any buildup of dirt or debris in your hair to get it clean. The third is to promote scalp microcirculation, and the fourth is to protect against cuticle damage.   
To help it carry out these four goals, there is Keratin, Vitamin B5, peppermint oil extract, and other great ingredients. The ginseng root extract is another great item in this shampoo, and the amino acids also benefit your hair.
However, not all of the ingredients in this Keranique shampoo are so good. While it may be sulfate-free, it does have other, less favorable ingredients in it. Among these are things like corn starch, soy ingredients, and citric acid, which can be irritating to some scalps.
Many of the other ingredients are hard to pronounce items that are difficult to identify. This makes the Keranique shampoo far from being a natural product, but at least it has a few natural ingredients.
Like other hair growth shampoos, you should leave the Keranique shampoo in your hair for a few minutes before rinsing it out. You are warned to try to keep it out of your eyes, and this shampoo is also only recommended for adult women to use.
The Keranique Volumizing Keratin Conditioner
The Keranique conditioner was made to work perfectly with the shampoo. It is a light conditioner, as opposed to a heavy conditioner, which can leave your hair limp. It is also careful not to leave any waxy feeling on your hair.
Instead, the Keranique conditioner has two main goals that it works on. These are to add volume to your hair and to protect it. Part of how it adds volume to your hair is that it helps make the individual strands of hair thicker.
It does this by giving your hair a keratin enriched coating. This coating contains a keratin amino complex, which also serves to protect your hair. This keratin complex penetrates deeply into your hair, repairing the outer layers of it.
Once repaired, your hair will have less frizz and breakage, and the split ends will be mended. This results in hair that has more shine to it, is more manageable, and is easier to detangle. The keratin coating is also capable of protecting your hair from the environment, such as humidity and heat.
As for the ingredients, the Keranique conditioner has most of the exact same ingredients as the shampoo does. This includes the beneficial ingredients like ginseng root extract, peppermint extract, and keratin.
However, this also includes the less-wanted ingredients like the corn starch, unfamiliar chemicals, and some alcohol that was not in the shampoo. While there are a couple more plant products in the conditioner, it is still far from being natural.
Using the Keranique conditioner is the exact same as the directions for any other conditioner. They do recommend that you apply their conditioner from root to tip and that you leave it in for at least 3 minutes.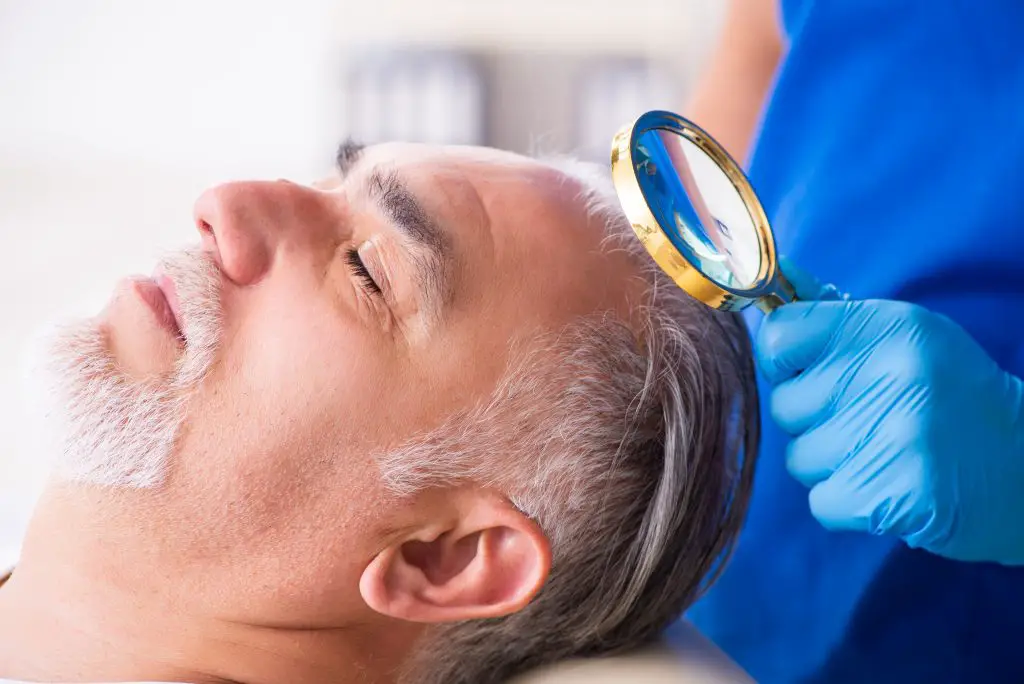 The Keranique Regrowth Treatment
The main purpose of this Keranique Regrowth Treatment is to reactive your shrunken and dormant hair follicles. Since it is geared exclusively towards women, it has the only FDA-Approved ingredient clinically proven to help women regrow their hair.
The ingredient list for this regrowth treatment is incredibly short. In fact, there are only four ingredients: Minoxidil 2%, alcohol, propylene glycol, and purified water.
All of these are pharmaceutical-grade and are produced specifically with a woman's biochemistry in mind. Minoxidil has had many studies done on it by various hair companies, and it is being found in more and more hair treatments.
The alcohol can dry out your hair a little, and the propylene glycol is actually simply a liquid alcohol too. The latter is often used as a solvent, in random things like antifreeze. It can be found in the food, plastics, and perfume industries.
All in all, this Keranique treatment is the exact opposite of being natural. The two forms of alcohol can dry out your hair, and the latter type is one that can debatably be quite bad for you. This is likely at least part of the reason why there are warnings attached to this Keranique product.
These warnings ask you to watch out for such things as scalp irritation, redness, faintness, dizziness, rapid heartbeat, or chest pains. Keranique also says that you should not use this treatment if you are pregnant or breastfeeding.
The regrowth treatment comes in a spray bottle, which is easy to use. Spray six times onto the worst areas of your scalp twice a day on dry hair. If any gets onto your hands, you should wash the treatment off of your hands immediately. Finally, in order to keep the results that you get, you have to keep using it.
The Keranique Lift And Repair Treatment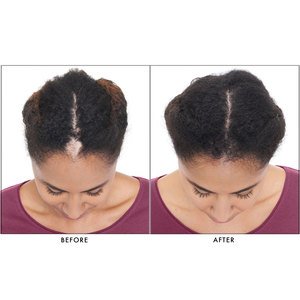 The purpose of this Keranique treatment is easy to guess at. This product has three main goals for your hair. The first is to provide extra lift and support to the roots of your hair. The second is to improve dry and weak hair by increasing your hair's strength and elasticity.
The third thing is to instantly give your hair more volume, lift, fullness, and bounce. Like the regrowth treatment, the lift and repair treatment has the Keranique's keratin amino complex in it. This complex is what plays a large part in making this hair product successful.
It is the coating that this gives that smooths down your frizz and gives your hair the support it needs to have some volume. Keranique has done some clinical studies on it, which prove that this spray can offer 24-hour frizz control.
This is on top of sealing over 90% of split ends. Some of the ingredients are heat activated to protect your hair from your blow dryer and curling iron. That being the case, this Keranique product is great for styling your hair.
It works even in high humidity. Simply use a couple of sprays onto your hair and then run your fingers through your hair to distribute it. The best time to apply it is to your damp hair right before you start styling it.
However, you can also use this spray in between using the shampoo and the conditioner if you plan on going straight to styling. Finally, as far as the ingredients go, this Keranique product is comparable to the other Keranique product ingredients.
That is to say that some of the ingredients are great, like the peppermint oil, castor oil, keratin, biotin, etc. Other ingredients are less desirable, but at least this product does not come with any warnings.
Important Facts About Keranique Products
While those are the most important facts about each individual Keranique product, there is still more that you should know. The price you can expect to pay for these products, how long you should use them, and other information is useful.
The Pricing And Returns
The Keranique products are not too expensive. Compared to other similar hair treatment product prices, the Keranique products are about the average price. As with other brands, you can save money by purchasing them in a package deal.
In fact, purchasing them together in a package and with a sale can save you half the original price. However, buying these products individually is not something that you even have the option to do on their site. Literally the only way you can buy these products from them is in a package all together.
This can be inconvenient if you only want the shampoo and conditioner or one or both of the other products. The Keranique products are meant to be used in tandem with each other, though, to get the best effects.
You can set up an auto-ship for your Keranique products so that you can get them regularly. Their auto-ship allows you to skip a shipment if you need to, and saves you some money on their products.
As for the Keranique warranty, they offer a 120-day hair regrowth guarantee. You have 120 days to see results and to contact them if the Keranique products are not working to your satisfaction. You will get your full money back, minus the cost of the return shipping.
The Results
The results of the Keranique system of products will vary from one woman to the next. Keranique guarantees that you will see some added shine and softness within a few days of using their products. Getting thicker hair and regrowing hair will take longer.
They recommend using it 3 to 4 months before seriously looking for new hair growth. This is about the same length of time as the warranty Keranique offers. Therefore, you should start using the products as soon as you get them.
Some women may experience some extra hair loss for the first month or two when starting these products. This is due to the new cycle of hair growth that is starting, but it should not last longer than a couple of months.
This is with using all of the Keranique products regularly on a daily basis. You can choose to use these products less regularly, but you will not get the same results.
Final Notes
Keranique has some great products that can help regrow hair. Though there are a few more advantages than disadvantages, these products come out at an average quality. This means they are not the best or the worst.
These Keranique products are one of the very few that are made specifically for women. This does put them ahead of the other products out there if you are a woman. Still, some products for both genders are perfectly capable of working on both men and women.
You can use Keranique products on both permed and color-treated hair. Due to the chemicals that are used for each, however, you should avoid using Keranique products within 24 hours of getting either hair treatment done.