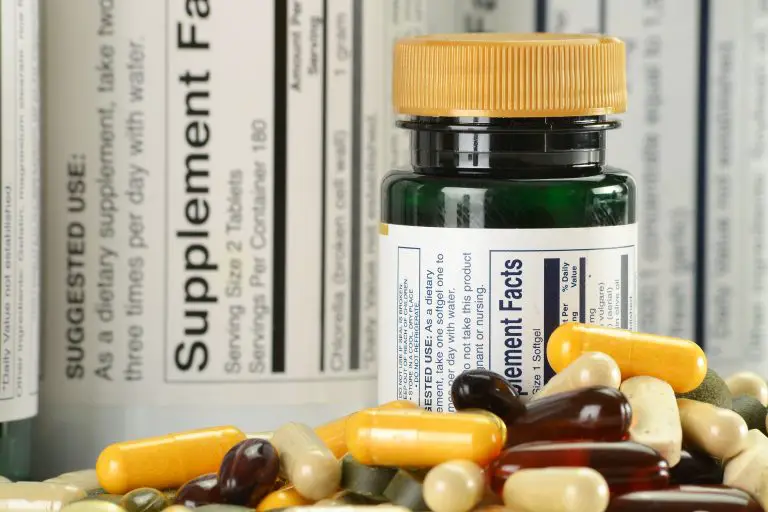 When looking at any hair loss product, one of the most important things to look at is the ingredients. The only thing more important than that is if a product truly works for hair regrowth or not.
However, it is the ingredients in a hair loss product that can make it cause hair growth. If you take time to learn what ingredient helps with what type of hair loss, reading the ingredients of a hair loss product will give you some idea of how likely that product is to work for you.
Specific ingredients are sometimes necessary for certain causes of hair loss. Hair loss caused by a Vitamin E deficiency, for example, can only be completely corrected by increasing your Vitamin E absorption. In that situation, finding a hair loss supplement with a large amount of Vitamin E is vital.
The Main Viviscal Supplement Ingredient
Viviscal has two main ingredients that they specifically formulated for their products. These are Viviscal's AminoMar® and Ana:Tel™ complexes. The AminoMar complex is the only one in the hair supplements sold by Viviscal.
AminoMar
AmioMar has a very long history that goes all the way back to the 1980s. A professor studying a specific group of people noticed that almost all of them had healthy hair and nice skin.
He traced this hair health to their diet, which was rich in marine life. AminoMar was then made by isolating key proteins from marine sources to replicate this effect without someone having to switch to the marine diet.
While Viviscal shares that history on their website, they don't say there what marine sources they use. However, on their product labels, they have shark cartilage and oyster extract powder listed under AminoMar. Both of these marine ingredients can actually be bought as supplements.
According to WebMD, shark cartilage has actually been used medicinally since the 1970s. Though that site says shark cartilage hasn't been proven to work, it also admits that this supplement is used for cancer, one or two skin conditions, and can help your vision.
There are a handful of other articles about shark cartilage and its benefits, but I didn't see it mentioned anywhere that hair growth was one of these benefits. However, cancer is linked to free radicals, and free radicals also are bad for hair growth.
Free radicals can both block new growth by building up around your hair follicles and cause your hair to age faster. Hair that ages faster turns gray early.
The oyster extract powder has some of the same benefits, though even less of this is clinically verifiable. Reportedly, this powder can boost your immune system and enhance your sexual performance, which is why men sometimes take it as a supplement. This is besides oyster extract's common use as a liver cleanser, which is beneficial for your overall health.
The Hair Supplement Ingredients
As mentioned, all the Viviscal hair supplements have their AminoMar complex in them. There are three of these hair supplements: Viviscal Woman, Viviscal Man, and Viviscal Pro. It is the Viviscal Woman you are likely to hear about if you see advertising about Viviscal, as that hair supplement is their original one.
Most of the ingredients of these three hair growth supplements are the same, but each one has different amounts of these ingredients in it and a few changes that make it better suited for the group of people it is marketed for.
Vitamin C
Vitamin C is in all three of the Viviscal hair growth supplements in different amounts, but none of them have as much as 70% of your daily needed amount. This vitamin's most common use is to boost your immune system.
Though that is verified by studies, what hasn't been verified yet is that Vitamin C can supposedly help boost your collagen production. That said, some sites say Vitamin C isn't likely to improve your hair growth at all. Even if it can help thinning hair, there is not enough of it in Viviscal supplements.
Calcium
Calcium is the only other vitamin in all three of the Viviscal supplements. Though it is better known for helping with bones and teeth health, calcium may help hair growth by helping make the hormones that trigger your hair follicle to grow its strand of hair.
Zinc
Zinc is actually only in two of the Viviscal hair supplements, the Viviscal Women and the Viviscal Man ones. Viviscal has over 70% of your daily needed amount in both supplements, though.
Zinc goes into many different bodily functions. As for what zinc does for your hair, it helps in the synthesis of proteins like collagen and elastin, both of which being vital for healthy hair growth.
Biotin
Biotin is only in Viviscal Woman and Viviscal Pro supplements, both having over 3x what you need in a day. This is nowhere near the 1,000% some biotin supplements often have of this B vitamin.
As a popular member of the Vitamin B family, it provides extra energy. However, biotin's most popular benefits are what it does for causing healthy hair, skin, and nails. It's one of the few vitamins that has been specifically put in clinical trials, successfully proving that biotin can indeed help thinning hair.
Niacin & Iron
I'm putting these two vitamins together because they are exclusively in the Viviscal Women supplement. This Viviscal supplement has over 50% of both vitamins. Niacin makes both hair and nails thicker while also improving circulation, which is something a healthy scalp needs for hair.
Anemia (a lack of iron) is a well-recorded cause of hair loss. Iron goes into making your blood cells, which are necessary for circulation in order to carry around the nutrients and oxygen the rest of your body needs, including your hair.
Horsetail Stem Extract
Horsetail plants are one of the most abundant sources of silica, one of the things your hair follicle uses to make your hair. This plant is also used in folk medicine to help with swelling, arthritis, bladder infections, improved sleep, stomach ulcers, and a host of other things.
Millet Seed Extract
This plant that is high in fiber is only in the women's supplement. Fiber of any type is both good for your bowels and for your cholesterol. This is why millet can supposedly help with weight loss, prevent colon cancer, and with heart health.  
Flax Seed Extract
This seed is only in Viviscal Man and is also high in fiber. More than that, flax may help give you that "full feeling" that helps make sure you don't overeat. According to WebMD, flax seeds are also used for constipation, diabetes, high cholesterol, and swelling of the kidneys, particularly in lupus patients.
Though unverified, more than one source claims that flax seed also may help block DHT. Because male pattern baldness is linked to DHT, flax seeds are a perfect fit for the Viviscal Man supplement.
Related Reading
Apple Fruit Extract
Apple extract powders are often taken for their anti-aging effects, because it has anti-inflammatory properties, and because it may help fight or prevent cancer.
Most importantly, apple extract has been proven in a clinical study to be able to kickstart your keratin production. This encourages hair growth, both thickening your current hair and helping velos hairs get back to normal growth.
L-Cysteine and L-Methionine
Though these technically are amino acids and not plants, they are listed with the plant ingredients in the Viviscal Pro supplement. The L-Cysteine forms certain bonds in your body that are used to hold your keratin together and keeps your hair healthy by preventing split ends.
L-Cysteine is more commonly used for detoxing your liver and kidneys and for improving both lung health and fertility levels. As for L-Methionine, WebMD lists it as possibly effective for treating acetaminophen poisoning.
It is also listed as having insufficient evidence but is often being used for things like breast and colon cancer, Parkinson's disease, hot flashes, shingles, asthma, and other things.
The Other Ingredients
One the bottom of the supplement label, Viviscal has ingredients that are labeled "other ingredients." In the Viviscal Woman supplement, these are: microcrystalline cellulose, maltodextrin, hydroxypropyl cellulose, croscarmellose sodium, magnesium stearate, natural orange flavor, methyl cellulose, silicon dioxide, and glycerin. These keep it in tablet form and help with any aftertaste.
Final Thoughts
Viviscal supplements have a good set of ingredients for hair growth. There is not as much variety when compared to other hair loss supplements like Folexin that have over a dozen different vitamins alone.
Folexin being in a simple capsule form also means it doesn't have a list of other ingredients like Viviscal does for the taste. Aside from having a better list of ingredients, Folexin is also cheaper.
So, Viviscal is a good supplement, but Folexin is better overall for most people.  If you know something that makes Viviscal the better choice, let me know what it is.