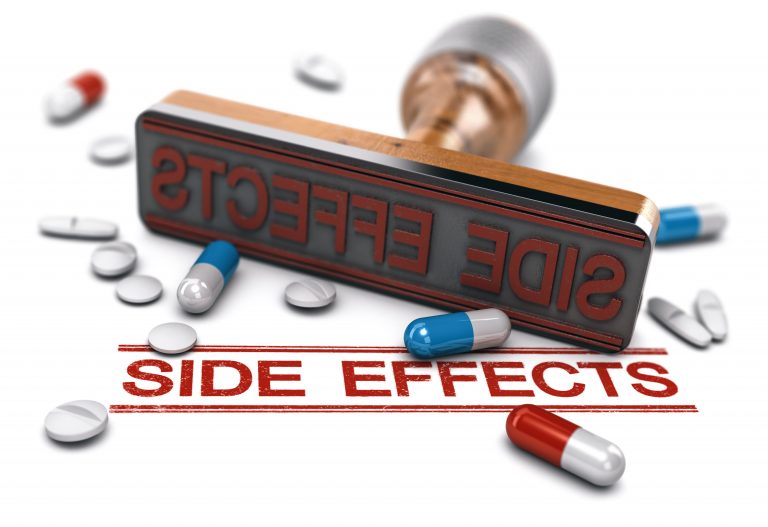 Vegamour has a variety of serums for hair growth. Two of these are their GRO Hair Serum and their GRO Scalp Detoxifying Serum, which helps with hair growth by cleansing your scalp. Vegamour also has two serums for hair growth on your eyebrows and another two for your eyelashes.
These hair serums successfully help a lot of people with hair loss in these areas, but they can come with side effects. Knowing what side effects these Vegamour products can cause you is important in determining if it is worth trying to reduce your hair fall.
What Vegamour Says
According to Vegamour, their products are natural and don't have any side effects. Their Frequently Asked Questions tab Vegamour has on their website gives a slightly different answer. For their serums, they have one question: I have sensitive skin. Is it OK for me to use Vegamour serums?
Vegamour's reply is: "Our serums are vegan and natural, and are very gentle. However, everyone is different, and some people are sensitive to some natural ingredients. If you are concerned about how your body will react to our serum, we recommend doing a spot test on your inner arm to check for sensitivity. If you don't like the serum for any reason, we'll be happy to help you with a return."
It sounds like Vegamour is warning people that they might have an allergic reaction without outright saying so. Doing a spot test like they recommend is something commonly done to test for allergic reactions.
The inner arm has delicate enough skin to quickly show a reaction while being at a perfect place for you to clearly see it and easily treat it with an antihistamine cream should you have an allergic reaction.
It is also far better to have a reaction on your arm than it is on your head, as the swelling is harmful for your hair growth. If an allergic reaction is bad enough, it can cause hair loss.
Their General Questions
Vegamour does have a couple of questions answered in their FAQ in their section about their hair products in general, which would include their Vegamour hair growth serum.
Here they have more than one question about if Vegamour is safe for pregnant women to use. To this, they vaguely reply that their products might not be suitable for pregnant women and recommend talking to an obstetrician. I look at that reply more here.  
Another question here is: Will Vegamour products work for people my age or with my medical condition? Medical conditions that require medications require extra care as some things can interfere with how their medication works.
Again, Vegamour gives a very vague reply: "We get this question a lot. Here's what we know for sure. We have customers of every age group who have used our products successfully and have had great results.
"If you read through the customer reviews, you'll find testimonials and pictures from women who had great results after losing their gorgeous pregnancy hair, and women who used our products during and after going through menopause, as well as much later in life.
"As for medical conditions like alopecia, Hashimotos, or other conditions that can cause hair loss, since we're not doctors, we can't give you any specific recommendations. But if you scroll through the reviews, you'll see feedback from customers with a variety of medical challenges who experienced great results.
"We'd love for you to try out our serums— we stand behind all of our products. So, if you try it, and don't love it, it's very easy to return."
This completely ignores mentioning other medical conditions and basically only says that people of all types can get thicker hair with Vegamour. No side effects or cautions are listed.
Related Reading
What People Say
People often experience side effects that a hair loss product doesn't even mention as a possibility. This is sometimes because the makers of it haven't tested it enough to find all the possible side effects. Other times, they know about the side effect but deem the possibility of it too low to be worth mentioning.
Unfortunately, the Vegamour products don't have as many reviews as you might think. But there are enough side effects to be found if you look multiple places.
The Scalp Hair Serums
These are the most popular of the hair growth serums Vegamour offers and also have the most reviews. Some of these are:
Gisele R. said: "My scalp became very dry and flaky. I will not repurchase. Too expensive with no results."
Natalia said: "I was so excited to try the product but ended up being very disappointed, because I already had damage, some hair loss, and a receding hair line due to always dying my hair, but after trying this product I ended up losing MORE hair in the front. It made my scalp itchy and a little tingly sometimes after applying it, but it didn't leave a rash or anything. I noticed that I had just a little bit of baby hairs clinging for life and after I used the product they just completed disappeared leaving a gap of hair missing on my hairline."
Rudina K. said: "It does not work, and it makes my hair greasy immediately." Meanwhile, there are a few other reviews that say it made their hair greasy as well. There are also reviews that saw it made their hair loss worse, with visibly receding hair lines.
Related readings
The Lash Hair Serums
On the Vegamour site, Lori F. said, "It made the tear ducts very red and swollen. I'll have to send this back!"
That matches up with a one-star review on Amazon: "Waste of money. Actually gave me conjunctivitis after using for a month." For those who haven't heard of conjunctivitis, it is sometimes called pink eye due to making the white part of your eye red.
Sometimes it causes blurred vision, watery eyes, yellowish discharge from your eyes, and light sensitivity on top of the eye irritation it always comes with. It is more often caused by a virus or bacteria, but Mayo Clinic also says it is an allergic reaction.
Brook R. said, "Unfortunately this product made my eyes itch and burn. I had to return the product."
I wasn't able to find any other side effects besides these general signs of irritation people seem to have. Other than the common reviews that say this serum didn't work for them, eye irritation is the most common complaint, with about one of every ten one-star reviews I read mentioning it.
The Brow Hair Serums
The Vegamour brow serums aren't as close to your eyes and don't seem to cause eye irritation, according to people who use it. However, it appears that it can cause an allergic reaction, as Renata S. says: "Didn't work well for me . . . had some kind of allergic reaction."
Unfortunately, no one I could find says exactly what type of allergic reaction they experienced or how severe it was. However, one review by Sandy G. says: "Looks greasy and makes my scalp break out. I can't get them to cancel my auto ship."
As this serum is meant for use on eyebrows, I'm not certain if she was applying it on her scalp, if she meant to say it was her face breaking out, or if she wrote this review for the brow serum when she meant it for the hair serum.
Final Thoughts
Though Vegamour isn't helpful in telling you what their hair growth serum's side effects are, the reviews of other people adequately fill this gap. All in all, the most common side effects are greasiness and mild allergic reactions.
However, if you've had a different side effect when using one of Vegamour's serums, I'd love to know what it was!