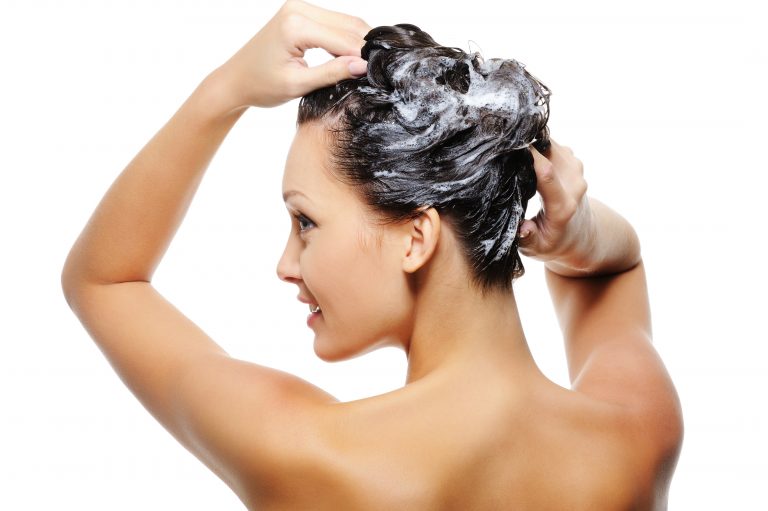 Nizoral is a brand name for the medication ketoconazole. Ketoconazole is an antifungal medication. It is effective in treating a wide range of skin and nail infections. Some examples of these infections include ringworm, candidiasis, and seborrhoeic dermatitis.
Ketoconazole is also a popular ingredient in several hair loss products. Several scientific studies have linked ketoconazole with improvements in hair growth. This makes it easy to apply since all required is a quick wash in the shower using the shampoo.
This article highlights the primary effects of ketoconazole on hair loss. It also mentions how the product can aid hair growth. You would learn the most effective way to use a ketoconazole shampoo in the article.
Does Ketoconazole Shampoo Stop Hair Loss?
There currently aren't enough studies on the effects of ketoconazole and hair loss. More so, in comparison with the typical medication used in hair loss, e.g. finasteride. Yet, some studies on ketoconazole have shown that it can be quite useful in improving hair growth.
How Does Ketoconazole Help Stop Hair Loss?
Studies have shown that ketoconazole can stimulate hair growth. But the primary basis for this action is not understood fully. A significant cause of male pattern baldness is the hormone dihydrotestosterone (DHT). DHT is an androgen that can cause hair loss in men with a genetic predisposition to baldness. With time, DHT can lead to hair follicles to miniaturize and stop producing new hairs.
Medication for hair loss like finasteride work by preventing the development of DHT. This way, any damage to the hair follicles caused by DHT is also prevented. Studies on the effects of ketoconazole on DHT are still uncertain. There are some signs that ketoconazole affects some similar hormonal pathways as finasteride. Some researchers recommend using ketoconazole as an adjunct medication with finasteride. This, however, is only a hypothesis.
Ketoconazole Shampoo Can Also Prevent Dandruff
Ketoconazole is a drug of choice in the treatment of seborrhoeic dermatitis. This is why it is used as an ingredient in anti-dandruff shampoo. So, if you notice dandruff forming on your neck or shoulder, then you should consider getting a ketoconazole shampoo.
Ketoconazole does not work against all forms of dandruff. If you try a ketoconazole shampoo for some time and it doesn't work, then you might want to try out other options.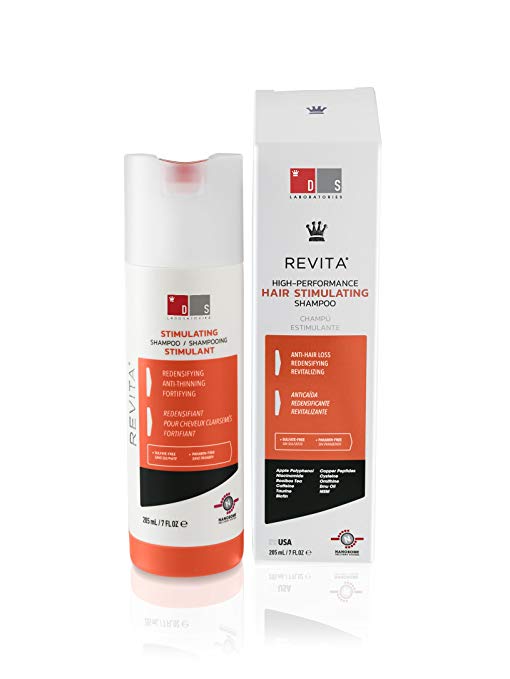 Revita High-Performance Hair Stimulating Shampoo
Supports both healthy and compromised hair follicles
Fights Follicular Dysfunction from First Application
Improves hair density, thickness, and appearance
Promotes scalp stimulation
Cuts down on stress-induced loss
Should You Use a Ketoconazole Shampoo Like Nizoral?
Several websites and blogs often advertise Nizoral Shampoos as hair loss prevention products. This is not wholly accurate.
Nizoral is not a typical hair loss prevention product like minoxidil and finasteride. It can help create a suitable environment for hair growth. This is why using a Nizoral shampoo in combination with finasteride, which is a DHT blocking shampoo, you would get amazing results.
Before using both products, you should talk to a doctor. Especially if you have any conditions that could lead to hair loss. Physicians prescribe Nizoral with other treatment options for hair loss. For instance, in the treatment of androgenetic alopecia. The medication commonly prescribed for men is finasteride. Some other medication options include:
Hormone replacement therapy or oral contraceptives for women
Topically applied minoxidil
Cimetidine, etc.
Also, if you need to consider another option in the treatment of your hair loss, your doctor would guide you appropriately.
Is Nizoral Available In Other Forms?
Apart from shampoos, ketoconazole is available in the form of creams and pills in the treatment of fungal infections. Choosing the best form of ketoconazole depends mainly on the cause of hair loss. In some instances, you might have to take more than one form of ketoconazole in the course of treatment.
Related Reading
Pros and Cons of Nizoral
The major advantages for the use of Nizoral in hair loss therapy are;
Nizoral is easy to use
Nizoral is a very easy medication to use, especially when it comes in the form of a shampoo. There are several strengths of the shampoos, so you need to be sure when getting it. You can get the shampoo over the counter without a prescription. Considering that it's not a single hair loss treatment option, then other medications are likely prescribed alongside a Nizoral shampoo.
Side Effects of Nizoral
Luckily, using Nizoral comes with minimal side effects. For people who are allergic to the ketoconazole, it is safe to avoid the medication. The drug can also cause some skin conditions as side effects. Some of these conditions include:
Blisters on the skin
Dry skin
Differences in the texture of hair
Irritations on the skin
Pros
Known to stop hair loss due to androgenetic alopecia.

Quick and easy hair loss treatment.

Contains antifungal properties for sensitive scalps and dandruff.
Cons
This product can dry your hair.
Who Should Use Nizoral?
If you have a fungal infection on the scalp, dandruff and even androgenetic alopecia, then you can go on to use Nizoral. People who are experiencing hair loss as a result of other conditions can also use ketoconazole shampoo. Hair loss caused by telogen effluvium, which is often due to trauma or major illnesses, can be slowed down using ketoconazole shampoo.
Men using ketoconazole shampoo alongside finasteride in the treating androgenetic alopecia also get better results.
There is a need for special caution taking Nizoral when pregnant or nursing. So, if in any of these conditions, you should inform your doctor before taking the medication. If there is any need to avoid the medication or switch to something else, you would get the information you need.
Unlike Nizoral, our favorite hair loss product, Revita, is safe for everyone to use! Revita holistic ingredients support natural hair growth, strengthen hair follicles, and promote thick, moisturized hair. Every Revita product is made with herbal extracts and several vitamins, making every day a great hair day. Read the Revita shampoo review.
How Often Should You Use Nizoral?
The frequency and duration of using Nizoral depend on several factors. The major factors include;
The strength of the shampoo
the condition in question, and
the severity of the condition.
There are two major product strengths of Nizoral shampoos available; 1% strength and 2% strength. The 1% strength Nizoral shampoo is available over-the-counter. While the 2% strength is a prescription medication.
In most instances, when used as a shampoo, it is recommended to be used between 3-4 times a week. In the pill form, the dosage and duration of use would depend on the condition treated. This is why it is essential to consult your doctor before starting with the medication.
How To Use Ketoconazole Shampoo
As mentioned earlier, it is vital to use ketoconazole shampoo as instructed by your doctor or the guidelines on the label.
If you're using the shampoo to treat the scalp, you should start by applying the shampoo to wet hair.
Then lather and give it time to soak before rinsing.
If you want to, you can condition the ends of your hair.
Rinse and dry as you usually do.
In case you are using the shampoo on other areas apart from your hair, all you need to do is apply it to the affected area and let it in for about five minutes. You can then wash it off with water and dry the area afterwards. You should ensure that you wash thoroughly before drying.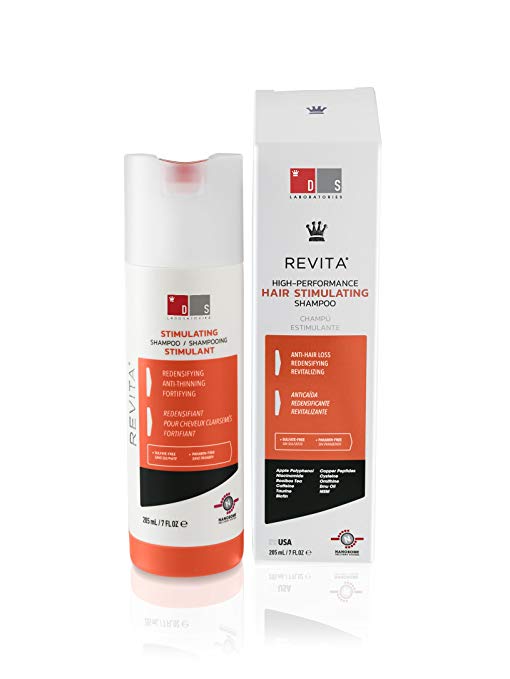 Revita High-Performance Hair Stimulating Shampoo
Supports both healthy and compromised hair follicles
Fights Follicular Dysfunction from First Application
Improves hair density, thickness, and appearance
Promotes scalp stimulation
Cuts down on stress-induced loss
In conclusion, hair loss can be a worrisome condition. But with the right treatment approach, you don't have anything to worry about. On using Nizoral shampoo for hair loss, the most important factor to note is that the medication by itself might not be enough in the treatment of hair loss. However, when used alongside some other treatments, there are higher chances that you'll get better results.
Looking for Our #1 Rated Shampoo & Conditioner?
Give Revita Shampoo a try! This hair loss product is composed of antioxidants, hair-growth stimulants, amino acids, and other ingredients with anti-androgen properties. Every Revita product is made to be hypoallergenic, making every day a great hair day. If you want rapid hair growth, deep conditioned locks and a healthy scalp, you need to add Revita to your hair care regimen.