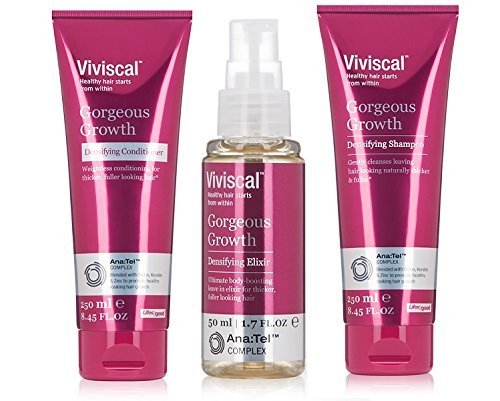 You've more than likely seen a Viviscal ad at some point or another, which means you already know that Viviscal is some sort of hair growth product. That said, not all the ads on Viviscal make it clear just what type of product Viviscal is.
You also likely want to know if Viviscal works, what is in it, and other important questions. Anyone with hair loss, no matter the cause, should carefully research any hair loss treatment before getting and using it. A badly matched hair product could very well make your thinning hair worse.
As additional hair thinning is not something anyone wants, let's start by looking at Viviscal today to see if it is worth all the fuss that the ads you might have seen make it out to be.
About The Viviscal Brand
Viviscal, like most websites, does have a couple of sections that are supposed to talk about their history. One says that Viviscal has been researching hair loss problems for over 20 years. They also claim that they have the most researched hair growth dietary supplement.
That doesn't seem likely with all the clinical studies that have been done on many other hair loss supplements. Minoxidil, as one example, has had over 60 studies done on it, which is far more than Viviscal has done.
Moreover, Viviscal provides conflicting information about the number of studies that have been done (their website mentions 7 studies in one place and 10 studies in another place), while providing results for only three of these studies… This is somewhat confusing, but maybe they just need to update their site.
Each clinical study Viviscal has done has been quite small as well. One clinical study only had fifteen participants. In comparison, studies done on Minoxidil have had over 500 participants. Even Nutrafol has had at least one study with over 300 people.
Still, many hair loss companies don't have any studies at all on their products, so some small ones are better than nothing at all. In fact, studies are one thing you should look for when determining if a brand is good or not.
Other things include how long a company had been around, how unique their products are, how they treat their customers, if they specialize in one particular area, what the history of the company is, and a few other things.
As for any other history about Viviscal, such as how or why it was founded or anything else, they say nothing. However, Viviscal does really well in the other areas, making it an overall good brand to trust.
What Are The Viviscal Products?
Finding the Viviscal products is not easy since the Viviscal website only shows about half of them. Viviscal actually has a few different product lines that can be purchased as a set.
However, their site only has one of these sets – the one for women – and their Viviscal Man hair supplement. Their third line, Viviscal Professional, is not even mentioned at all on their website.
Viviscal does have a few products that have nothing to do with hair regrowth. The satin pillowcase is meant to help prevent hair breakage at night, though healthy hair isn't usually delicate enough to break just from sleeping on it.
Viviscal also sells a hairbrush, velvet scrunchies, butterfly clips, and tangle-free hair ties. Other than those, Viviscal has two other products: a pink travel bag with the Viviscal logo on it and a pink compact with a weekly pill case and a small mirror in it.
If you're here due to thinning hair, you are much more interested in hearing about their hair loss products. As mentioned, there are three lines of these. These are:
Viviscal Women
Viviscal Men
Viviscal Pro
To find all of them, going to a site like Amazon is necessary for almost anything other than the women's line. Each line has a few different hair loss products, one of which is always a Viviscal hair growth supplement. Now on to what is in each line a little more closely.
The Viviscal Women Line
It is this line of Viviscal products that you are likely picturing when Viviscal hair growth products come to mind. This line is also the one they feature in their ads, as well as the only complete line they have on their website.
In the Viviscal Woman line, there are four products for your hair loss problems. The Viviscal Advanced Hair Health Supplement is the first and most popular of these. Each bottle contains 60 tablets, and although the serving size is one tablet per day, Viviscal recommends taking two. So, don't mistakenly think that the Viviscal supplement is going to last you two months. These tablets are orange-flavored but are meant to simply be swallowed.
The Viviscal Densifying Shampoo and the Viviscal Conditioner of the same set can both be bought together or separately. Both the Viviscal Shampoo and Conditioner have keratin and biotin, which are known for strengthening hair.
These two products also have a list of different citrus ingredients, including orange, lemon, and bitter orange peel extracts. Not only are citrus peels very high in Vitamin C, they are also antioxidants and antibacterial.
Both of those qualities can benefit your hair growth. Antioxidants help prevent free radicals from oxidizing and possibly bleaching your hair. Antibacterial properties help with preventing infections and keeping your scalp healthy.
Finally, in the Viviscal Women line, their Viviscal Gorgeous Growth Densifying Elixir is also a product that helps with thinning hair, mainly because it contains keratin, which thickens thin hair. Their Viviscal Elixir also can be used as a styling product, giving it another use besides hair growth.
Related Reading
The Viviscal Man Line
The Viviscal Man line of products actually only has three things in it, which makes it a smaller line than what they offer for women. The first of these three is the Viviscal Man Advanced Hair Health Supplement.
This hair growth supplement does have a lot in common with the Viviscal supplement for women, but it is different enough to be its own product and has some great ingredients.
Disappointingly, this hair supplement doesn't have any saw palmetto, or any other ingredients commonly used to help with DHT blocking for male pattern baldness. Though the flax can help with this, it doesn't have as much proof behind it.
Next, the Viviscal Man Full Force Fortifying Shampoo is, in this case, not paired with a conditioner. Like the women's shampoo, this Viviscal shampoo contains biotin, keratin, and citrus peel extracts.
Again, the ingredients of these two Viviscal products are pretty similar, but there are a few minor differences. Among them, the Viviscal Man Shampoo doesn't have clary sage in it, which is more for balancing women's hormones and not as useful for men.
The last of the Viviscal Man products is their Conceal and Densify Fibers. There are only six ingredients in these hair fibers, which cling to your hair strands to make your hair look thicker while you are trying to grow it out.
Two of these fiber ingredients are types of iron that can thicken and strengthen the strands of your hair. So, Viviscal's hair fibers help build your hair up from the outside. Unfortunately, the Viviscal Man line doesn't have an elixir or anything else.
The Viviscal Pro Line
The Viviscal Pro line of products has four different items. Viviscal doesn't say anywhere that I could see just who this line is intended for. The Viviscal Man line is obviously for men, and their other line is for women, but the Viviscal Pro line isn't clearly for any specific group of people.
That said, this Viviscal line is more expensive than the products from the other lines. So, my best guess is this line is more concentrated or something for those with more severe hair thinning.
Also unclear is the difference between the two hair loss shampoos in this line. One is Viviscal Pro Thin to Thick Shampoo, and the other is Viviscal Professional Thin to Thick Shampoo.
These two shampoos share a few ingredients in common, but the Viviscal Pro Shampoo actually has much fewer ingredients than the Viviscal Professional Shampoo does. In fact, the Viviscal Pro option has almost no plant-based ingredients at all, which may or may not be a good thing as plant ingredients often have benefits to hair growth.
The third product here is the Viviscal Professional Thin to Thick Conditioner. This can be bought in a set with the shampoo of the same name, but it can also sometimes be bought in a set with the other shampoo.
All three of these hair washing products have AnaTel in them, which is a Viviscal trademarked blend of biotin, keratin, and collagen. Most of the other Viviscal ingredients in these are ones you are likely less familiar with.
Finally, the Viviscal Pro line has a Viviscal Pro supplement like the other two lines of Viviscal products. This supplement is in a tablet which, again, you take two of per day.
The Advantages Of Viviscal
You may be on the fence about Viviscal products and wonder if they'll really help with your hair growth. A quick skim over their ingredients does not look all that promising, but Viviscal actually does have a bit going for it.
Most hair loss products, no matter what type they are, have a lot of the same ingredients. Viviscal makes itself stand out from the crowd here but having, not one, but two different formulas that they have patented to be used exclusively in their products.
This takes a lot of research to do, and it also requires verification that it works in order to successfully get its patented status. These two formulas are the AnaTel and the AminoMar ingredients, at least one of which is in almost all of the Viviscal products.
The former is, as mentioned, a blend of biotin, keratin, and collagen. All three of those blend ingredients are often taken as hair supplements all on their own to strengthen hair that might be shedding. Combined, they may be even better.
The AminoMar is mostly made of certain amino acids that are taken from marine sources, hence the name. More specifically, the marine is mostly from shark and oyster sources. This formula is mostly just in their supplements.
Their 90-day guarantee is pretty good for the Viviscal products. However, this only applies to the Viviscal products that are purchased from their main site. They only have half of the products they make on their site, so they seemingly don't offer warranties for the others.
The Disadvantages Of Viviscal
Though Viviscal can be great, it does have a number of flaws. For starters, the paraffins and sulfates that a lot of people try to avoid are actually found here. Also, though there are some good ingredients, the overwhelming majority of them are chemicals that I had to look up to know what they were some of which may not be good for your hair or your health in general.
The parfum fragrance and the added color are just two of these. But even all the citrus products are not necessarily good. After all, citrus can be very acidic, which is not good for sensitive scalps. Citrus allergic reactions are possible, and citrus can also negatively affect your scalp's pH.
Maltodextrin, which is a sweetener, in the supplements seems wasteful. First, it is usually manufactured from wheat, which is a very common allergen. Also, if you are swallowing it, then you are not really tasting it. The same goes for the natural flavor, though perhaps the other ingredients are excessively bitter.
Next, the price of the Viviscal Woman's line is probably the cheapest if you can find it on sale. Unfortunately, this line is actually still on the slightly more expensive side when compared to other hair loss supplements.
On one hand, the Viviscal special formulas have to first be made before they are put in the products, which are then mixed, packaged, etc. This is why basically all hair loss products that have a patented ingredient are more expensive.
On the other hand, the special ingredients don't necessarily make up for a lack of other ingredients. Folexin, as a supplement example, has many more vitamins and practically no "other" ingredients. Each other type of product Viviscal offers likely has an alternative that might be better as well.
Final Thoughts
All in all, Viviscal has had a lot of marketing, but it unfortunately doesn't really live up to the hype. True, the Viviscal products have helped a lot of people, and it has had more than one clinical trial.
However, remember that the Viviscal website shows that one of these studies had only fifteen people in it. These are very small studies and might not fully represent all the people with hair loss.
Still, from the reviews Viviscal gets, it is capable of working for thinning hair, so it may be worth a try. Other products like Folexin are probably a better choice, though. But, if you think Viviscal is the product for you, or you've tried it and it worked, let me know!