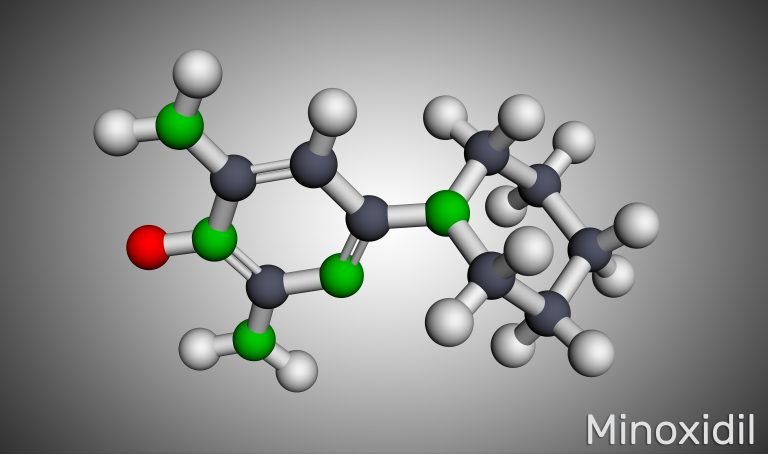 Minoxidil is a well-known and fairly common hair treatment that almost everyone with hair loss has at least heard about. Fewer people, even in the hair-loss community, have heard about Minoxidil Max.
It is fairly obvious from the name that Minoxidil Max has something to do with Minoxidil. However, Minoxidil Max is not a single product like you might think. Instead, Minoxidil Max is actually a company with a whole line of hair loss products.
Rogaine, on its part, is almost as commonly known about as Minoxidil is. Technically speaking, Rogaine is simply a brand name of Minoxidil, but there are a few slight differences that it won't hurt you to know about.
Minoxidil Max
Maximum strength of FDA approved hair growth stimulator and DHT blocker Finasteride (0.1%)
No Need to Take Finasteride Pill
The Ultimate Hair Regrowth Solution
About Minoxidil Max
As mentioned, Minoxidil Max is a company that has a line of various hair loss products. In fact, hair loss products are all that Minoxidil Max sells. This company is dedicated to providing people with professional hair regrowth products for both men and women.
Minoxidil Max does its best to make each of its products of good quality, effective, and priced affordably. This hair company sells its products in various places around the world to help people regain both their hair and their self-confidence.
Each of the Minoxidil Max products is developed by a team of scientists to have more than just Minoxidil in them. Once developed, this company uses only ingredients that are high grade. In fact, all of the ingredients are sourced from places that have cGMP certificates.
More than that, Minoxidil Max tests all of the key ingredients themselves to make sure that they meet the needed specifications. These products are unique from other Minoxidil products and are available exclusively at Minoxidil Max.
Minoxidil Max makes products that use different delivery systems, ingredients, and even makes hypoallergenic products. Their hope is to pave the way in hair loss treatments and to make Minoxidil more effective as more information is learned about dermatological science. 
Minoxidil Max products are sometimes recommended by hair loss professionals, thanks to how effective and affordable these products are. In fact, Minoxidil Max products are more likely to work, and tend to work better, than plain Minoxidil.
All in all, Minoxidil Max understands that fighting hair loss is not an easy battle. They understand that hair growth, while dependent to some degree on your consistency in taking using the hair loss product, is equally dependent on the uniformity of the hair loss product itself from bottle to bottle.
The Minoxidil Max Products
Minoxidil Max has a wide variety of Minoxidil products of all types and concentrations. These include 2%, 3%, 5%, 10%, and 15% Minoxidil solutions for both men and women. Some of these are enhanced with such things as Finasteride, azelaic acid, retinol, and caffeine to help your scalp.
Some of these ingredients work synergistically with Minoxidil. What this word means is that these ingredients, when combined with the Minoxidil, work better for your hair loss than either they or the Minoxidil alone would.
Minoxidil Max has over a dozen different products, which are all given specific names so that you can know what is in them. The products that have 'No PG' in the name are ones that contain no propylene glycol (PG).
Products with 'With PG' in their name do have PG in them and are, therefore, best avoided by those allergic to PG. Finally, products that say 'Plus' are ones that have both Minoxidil and Finasteride in them.
The Essengen-F product is the only one from Minoxidil Max that has Finasteride without Minoxidil. Unlike other Finasteride products, the Essengen-F is a topical form of Finasteride instead of a pill. It is both fast-drying and non-greasy, allowing you to put on more than the 1mg that you can take internally.
The DualGen-15 With PG Plus is the most powerful product that Minoxidil Max offers. This hair loss option is intended for men with advanced hair loss and has a 15% Minoxidil solution. However, on top of being unsuited for people with PG allergies, it is also a little greasy sometimes.
For this reason, Minoxidil Max offers a DualGen-15 NO PG Plus product. In this same way, there are two Lipogaine for Women products for women to use. Finally, a hair loss shampoo is another option from Minoxidil Max.
Related Reading
The Advantages
Minoxidil Max products are above average when it comes to how many advantages there are to using their products. For starters, the fact that the names of their products are significant helps you pick the right one.
Minoxidil Max products are made for both men and women, though more of their products do lean towards men. This company will even let you request a free sample of some of their hair products. This allows you to buy the Minoxidil Max product with some peace of mind that you won't hate the smell or something similar.
The sheer variety of different Minoxidil products that Minoxidil Max offers is a definite advantage. The fact that these come in different forms is another advantage since it lets you control your hair loss regimen.
The hypoallergenic Minoxidil Max products ensure that virtually everyone can safely use their products. The 3-month 100% satisfaction guarantee is also much more than what many other hair companies offer, just in case you do have an unwanted reaction of some kind.
All of these Minoxidil products are offered at affordable prices that won't cut too much into your budget. In spite of that, Minoxidil Max does not use cheap ingredients. The testing and the certifications ensure that these products are pure.
Minoxidil Max is one of the rare companies that even has a free product exchange program. This program lets you exchange one Minoxidil Max product for another should you decide that you want something else.
Finally, when Minoxidil Max ships you its products, it does so in discreet packaging. This means your neighbors won't know that your package is for hair loss unless you tell them. In addition, your hair products will be shipped often the same day that you order them for fast delivery.
The Disadvantages
Compared to how many advantages Minoxidil Max products have, there are not very many disadvantages. In order to purchase your Minoxidil product, you may be required to make an account with them on their site.
To make an account, you have to enter in information such as your name, email, and your physical address. This is in addition to giving them your payment information when you checkout. Your email is used by Minoxidil to send you promotional things about their products.
While the number of products offered is quite nice, it can be difficult to choose which product you need. Though there is a section on the Minoxidil Max website that can help you narrow this down, it is not as much help as it could be due to the use of terms that you may not be able to understand.
Also, where most hair loss companies offer deals of one kind or another, Minoxidil Max has no such feature. There are no package deals for buying two of their products, no bulk discounts, and nothing similar. However, there is a commission option for referring others.
Finally, Minoxidil itself is not something that qualifies as being natural. In fact, very few of the ingredients in Minoxidil Max products are even close to being natural. The Minoxidil alone is known for having a handful of possible side effects that can be caused by using it.
If these side effects are increased or decreased by pairing the Minoxidil with other ingredients is not something that is known. However, any side effect at all is something to be concerned about, especially if you already have health problems. This is a definite disadvantage of using Minoxidil products.
Pros
Great for both men and women. 

DHT blocking and hair stimulator.

Affordable and highly effective. 
About Rogaine
In order to compare the Minoxidil Max products to Rogaine, it is necessary to know exactly what Rogaine is. Simply put, Rogaine is a brand of Minoxidil, while other Minoxidil products can be considered the generic versions.
In any case, Rogaine's main active ingredient is Minoxidil, so you can simply say that Rogaine is Minoxidil. Originally, this hair loss treatment was not formulated to help with hair loss at all. Instead, it was made to help with blood pressure.
While undergoing testing, it was discovered that one of the side effects that virtually all of the trial patients had was increased hair growth. Eventually, testing was done on it to see just how efficient it was at increasing hair growth.
Years ago, Rogaine was patented as a hair growth treatment. The company behind it prohibited any other companies from using formulas like it that had Minoxidil in them. However, in more recent years, the Rogaine patent has run out, which it did 20 years after the original patent.
Since then, many companies have made slight additions and alterations to the formula so they can sell it too. Along with this greater influx of similar products, more information on how Minoxidil works has also become available.
Minoxidil has also become available in different forms. While liquid and foam are the most common, there are other options such as cream and lotions. Different forms of Minoxidil are easier for different people to apply.
It is for this reason that Rogaine has developed its one product into four products. One foam Rogaine and a liquid one is for men, with another foam and a liquid being for women. Each of these four products is quite similar with very minor differences apart from the packaging.
Compared to Rogaine
While Rogaine and Minoxidil Max products are both based on Minoxidil, there are a few differences. For starters, the Minoxidil Max products have other additional active ingredients. These active ingredients assist your scalp to get the most out of the Minoxidil.
Each active ingredient can also change up the consistency of the product ever so slightly and can affect other factors. This is why some Minoxidil products may work better for you than others, even though the main ingredient (Minoxidil) is still the same.
Your scalp itself will always be the determining factor when it comes to these slight differences. For example, one added ingredient might make your hair feel greasy. However, on another person who has a scalp that tends to dry out, the same product might be perfect for them with no trace of greasiness.
That said, the Minoxidil Max products have a variety of different added active ingredients. This ensures that, at the very least, one of the Minoxidil Max products is suited to your scalp. True, Rogaine does have a women's version and a men's and has both a foam and a liquid version of each. But this is not nearly as many options as Minoxidil Max.
To make up for this, Rogaine does have a nice 4-month long money-back guarantee. This is another month longer than Minoxidil Max's 3-month long guarantee. Rogaine is also slightly cheaper than many of the Minoxidil Max products.
Minoxidil Max
Maximum strength of FDA approved hair growth stimulator and DHT blocker Finasteride (0.1%)
No Need to Take Finasteride Pill
The Ultimate Hair Regrowth Solution
All in all, Minoxidil Max has more variety, and the added active ingredients make it more likely to work where plain Minoxidil won't. This variety and improved results do come with a slightly higher price, but this extra price is often worth it.
Not all hair growth solutions work well. Check out our list on the top 3 hair growth products and save yourself money, time, and best of all – hair!