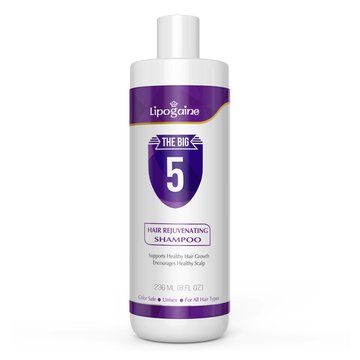 Even though there are hundreds, even thousands, of hair-loss products available in today's easily-accessible online and in-person commercial stores, few of them are effective or worth buying. Some are even loaded with harmful chemicals that may energize immediate, short-term results but damage to your hair in the long-run. In other words, it's OKAY to be skeptical when buying a hair-loss product.
Recently, we ranked our top four hair-loss shampoos based on ingredients, ease of use, price, transparency, and effectiveness. Although we always highly recommend you perform your own thorough research before choosing a product, we've done some of the research for you to make this process a little easier.
There are genuine products on the market that work well and are widely sold on Amazon and other retailers. Today's review is of one of them: Lipogaine's Big 5 All-Natural Shampoo, a more advanced version of Lipogaine's Big 3.
Below, we'll dive into its makeup, ingredients, reviews, and side effects, comparing it to Lipogaine's Big 3 and other competitive hair-loss shampoos.

Lipogaine's Big 5 All-Natural Shampoo
Trusted Brand: Hundreds of thousands people around the world have been in love with Lipogaine…
Premium natural ingredients based hair stimulating shampoo, strengthen & nourish hair and help…
Powerful proprietary blend of Biotin, Caffeine, Argan Oil, Castor oil and Saw Palmetto for the best…
What is Big 5 All-Natural Shampoo?
Lipogaine's range of shampoos is currently one of the top-rated and best-selling hair loss products on the market. According to Lipogaine's website, their products are highly effective for treating all forms of hair loss, including "alopecia and age-related hair loss." Lipogaine's Big 3 and Big 5 shampoos are notably effective for treating scalp infection as well.
Unlike other cheap products that offer quick and short-term results, the Big 5 and Big 3 shampoos are blended with all-natural ingredients to treat the root causes of hair fall, so that you can achieve the long-term results you're looking for.
Lipogaine's Big 3 products have been best-sellers for more than a decade, establishing the veteran status and reliability of this brand. Lipogaine is effective for both men and women of all age groups. The manufacturer also claims that the product is free of any harsh chemicals, color-safe, and offers a 100% satisfaction guarantee on all purchases. According to their webpage, this offer extends for 90 days and includes a money-back guarantee on all products ordered directly from Lipogaine.
Similar to other products, using Lipogaine Big 5 involves wetting your scalp thoroughly and applying a small amount of shampoo to the scalp, leaving it on for 2 to 4 minutes before washing it out. Lipogaine recommends massaging your scalp while using the product to improve blood circulation. The company also recommends using the product 2 to 3 times a week and avoiding the use of styling products and heating tools within this timeframe.
The Ingredient Makeup
There are many helpful ingredients in Lipogaine Big 5 Shampoo, including:
Biotin: Remember me? A lack of biotin can cause hair loss, skin rashes, and even neurological problems. Biotin primarily stimulates the production of keratin, the basic protein that makes up our skin, hair, and nails—so it's kind of a big deal!
Caffeine: Study after study has concluded the positive effects caffeine has in stimulating hair follicles for new growth.
Argan Oil: Rich in antioxidants and fatty oils, this oil removes free radicals from the hair and deeply nourishes hair strands.
Castor Oil: This ingredient is a natural anti-inflammatory, helping your scalp minimize hair loss.
Saw Palmetto: SP is a natural DHT blocker. In other words, it blocks patterns of baldness in males and females.
Although Lipogaine Big 5 contains 12 other ingredients, these are the main five that not only allow it to work so well but also give it its iconic "Big 5" name.
Is Lipogaine Big-5 All-Natural Shampoo Effective?
Unlike DS Laboratories, Lipogaine does not have any independent studies conducted that prove the effectiveness of their products. Instead, all of the claims made above and below are based on customer reviews and company-backed claims.
That said, the give ingredients above have each been clinically proven to improve the quality, strength, and volume of one's hair.
According to Amazon, Lipogaine Big-5 has received an overall rating of 4.3 out of 5 stars, based on the reviews of over 855 customers. Although some individuals noticed mild improvements, others noticed a negative increase in hair loss and thinning. Some even mentioned that it caused allergic reactions. Yet, all of these issues are pretty normal one-off side effects with any hair growth product for certain individuals.
On the positive side, many people loved this product. Some claims ranged from "my hair stopped falling out" to "hair appears stronger and is not breaking as easily." The 4.3 overall rating proves that this is a well-blended product. It's effective for treating hair loss, baldness, dryness, and other issues of the scalp and hair. In the reviews, people mentioned that this product does work, even for treating hair loss due to stress. Other buyers have mentioned that the smell is pleasant and the shampoo itself conditions the hair.
On Lipogaine's website, this product has received an overall rating of 5 out of 5 stars, based on the reviews of 37 customers. A quick sift through these reviews demonstrates the strong support of customers. They especially highlight the effectiveness of using this product over a given amount of time. Don't give up on it after not seeing immediate results.
Pros
Infused with biotin, caffeine, argan oil, castor oil and saw palmetto.

Promotes new hair growth for men and women. 

Quick and easy to use.
Are There Any Side Effects?
As mentioned above, the manufacturer claims that this product is 100% safe for use. There are no known side effects. A few buyers have reported excessive dryness and other issues with the shampoo. However, the dryness problem could be countered by pairing the product with Lipogaine's hair conditioner. The Big 5 Conditioner is also a positively-rated product on Amazon, earning an overall 4.4-star rating based on over 174 reviews.
Related Reading
What's the Verdict?
As with all hair products, finding the right hair-loss solution will differ for each individual. So if anything, the reviews highlight that this is a reasonably-priced and viable solution to pursue in countering hair loss. But it will take time to work. Similar to other hair-loss products, give it at least three months before deciding on its effectiveness.
The price, ease of availability, and longevity of Lipogaine's products speak to their demand. You can find this product in most stores today or buy it directly from Lipogaine's webpage or Amazon, where the reviews were originally drawn from.
There are many treatment options for thinning hair and baldness. Consistent and timely treatments are two key factors to consider. It can't hurt to try a cost-effective product like Lipogaine's Big 5 All-Natural Shampoo. Join hundreds of other satisfied customers around the world.
Be sure to check out our list of top 7 best hair loss shampoos and learn why Revita Hair-Stimulating Shampoo ranked #1.

Lipogaine's Big 5 All-Natural Shampoo
Trusted Brand: Hundreds of thousands people around the world have been in love with Lipogaine…
Premium natural ingredients based hair stimulating shampoo, strengthen & nourish hair and help…
Powerful proprietary blend of Biotin, Caffeine, Argan Oil, Castor oil and Saw Palmetto for the best…
You may end up in the small amount of people unsatisfied with its effects. But, it's a safe, usually effective, and easily manageable product. It stands behind its mission of hair regeneration and care for three months.
Have you tried any of Lipogaine's products before? Do you plan on trying them? If so, please feel free to comment below your experiences and we'll respond to you as soon as we can!
Looking for Our #1 Rated Shampoo & Conditioner?
Give Revita Shampoo a try! This hair loss product is composed of antioxidants, hair-growth stimulants, amino acids, and other ingredients with anti-androgen properties. Every Revita product is made to be hypoallergenic, making every day a great hair day. If you want rapid hair growth, deep conditioned locks and a healthy scalp, you need to add Revita to your hair care regimen.