Eating a salad every day is one of the healthiest habits you can have. It is a delicious and convenient way to eat veggies and fruits.
Let me start by asking you…
…Are you aware that certain vegetables and fruits can promote hair growth and thicken your hair? Now, in case you don't know, food for hair growth and thickness has been around for years now, but you can now nurture your hair while indulging in a delicious salad recipe for healthy hair.
That's not all, there are so some vegetarian food for healthy hair – and if you're looking for them, you are in the right place.
We have curated a list of Salad Recipes for Healthy Hair as well as some food for hair growth and thickness that you can easily follow to curb your hair roots and skin problems.
Although you don't have those problems, salads can help you maintain and improve your health. They also give you a refreshing feeling after the meal for a good chunk of the day that will help you stay active.
Salad Recipes for Healthy Hair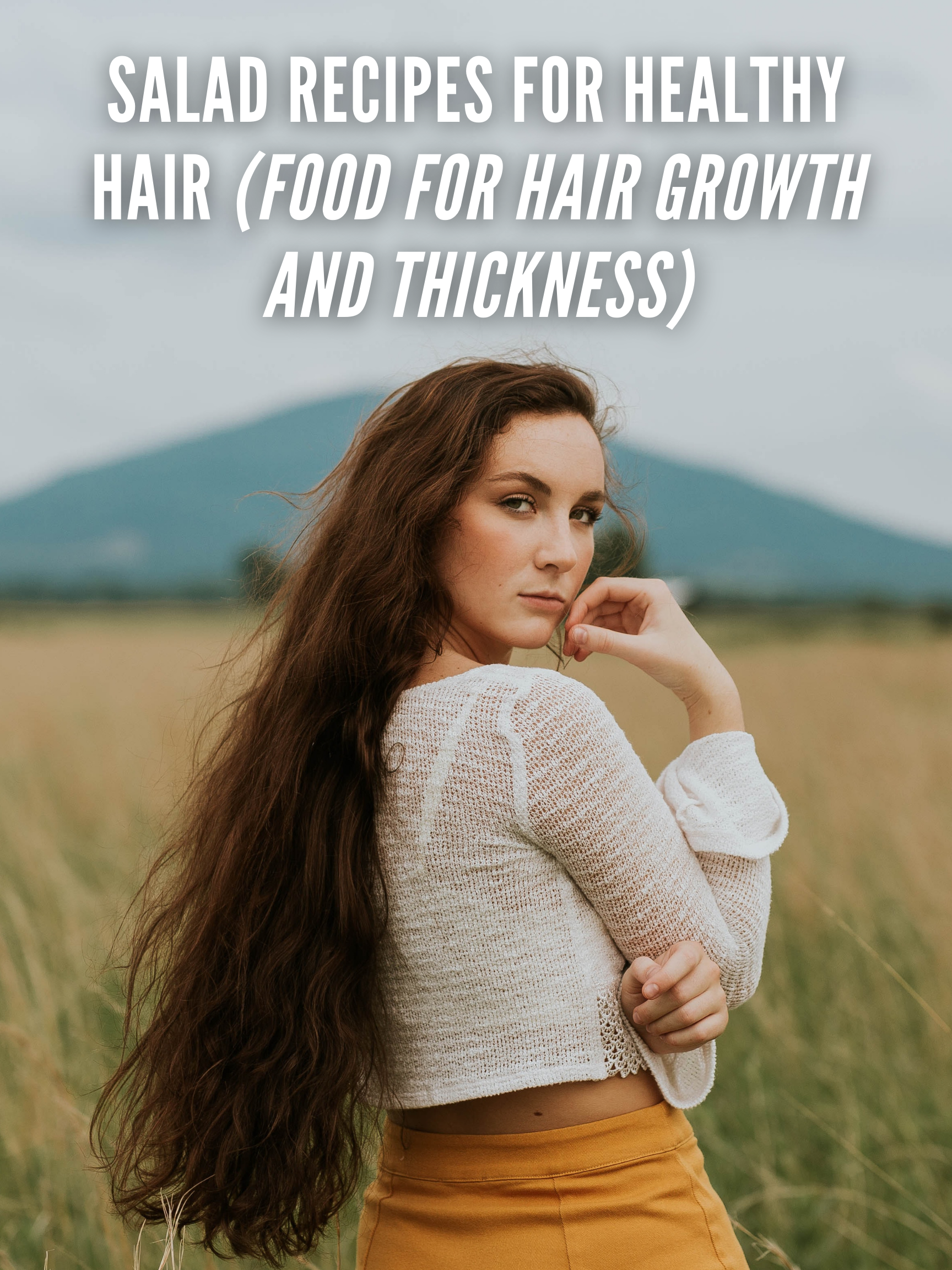 Your body can efficiently process salads, and if planned right, these delicious low-calorie foods can reduce your body weight and help fight against thin and brittle hair.
If you eat vegetarian salads regularly, it can help also lower cholesterol, overall body fat and curb hair fall and skin problems.
Vegetables are packed with essential nutrients that can improve the overall health of our bodies, but when certain vegetables are cherry-picked based on our needs and made into a recipe, which works as a perfect medicine to treat specific health conditions.
Interestingly, our health experts have curated some of the best salad recipes that will help your body against hair fall and hair damage and restore thick and healthy hair that you've always wanted.
Many salad recipes at restaurants and other places contain meat and other fatty ingredients that defeats the whole purpose of a salad, and they are often expensive and not healthy. These are not the kind of salads that are going to help with hair growth.
Salads are refreshing and nourishing for your body and will naturally fix your body from the inside out. However, always make sure you make the dressing as light as possible when you make a custom salad based on our recipes.
This is because heavy dressing can counteract the natural health benefits of the salads. Now, below are some of the salad recipes that work great for hair loss.
1. Tomato, Cucumber and Red Onion Salad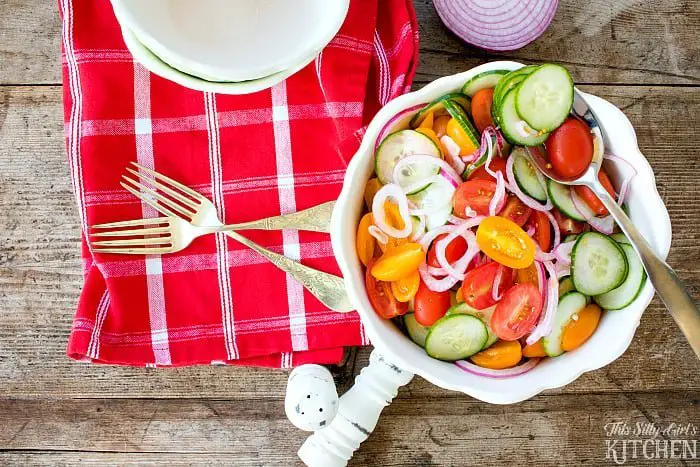 Source: thissillygirlskitchen.com
The combination of tomato, cucumber, and red onion slices gives a fancy look and a unique taste that will make you fall in love with salads.
Interestingly, tomatoes are naturally loaded with hair-nurturing nutrients such as copper, carotenoids and B complex and red onions have a lot of sulfur which is particularly essential for hair and nail growth.
Many experts refer to sulfur as "beauty mineral" because of its natural ability to tackle problems such as brittle hair and even dry skin.
Furthermore, cucumber is also high in nutrients, while having very fewer calories. It contains antioxidants and helps your body retain water, which makes tomato and cucumber a powerful combination.
Ingredients
You need:
2 large chopped cucumbers
3 large chopped tomatoes
2/3rd cup red onion
1/3rd cup of balsamic vinegar and half a spoon of white sugar
And then 3 tablespoons of virgin olive oil to top it off
You can use salt and pepper for taste and fresh basil leaves for garnish
You can prepare the dressing by whisking all the ingredients above until it's evenly distributed and smooth. Mix well. And finally, top this with the fresh basil leaves and enjoy your delicious salad!
2. Salmon Salad For Hair Loss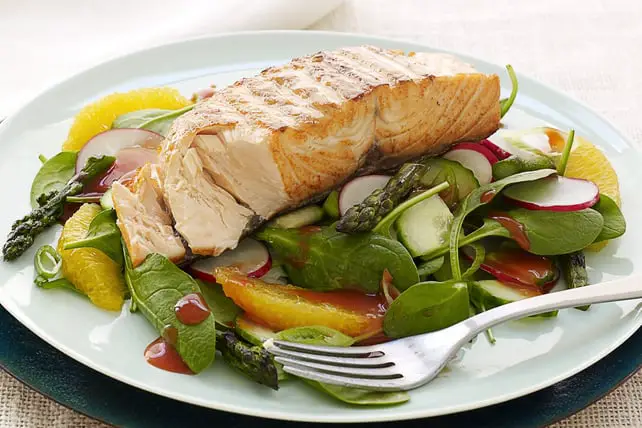 Source: kraftcanada.com
Maintaining a healthy, balanced diet is essential. And eating a delightful Salmon Salad is a good start if you already haven't.
This salad contains significant amounts of astaxanthin, which is a compound responsible for the pink color of salmon, which is a powerful antioxidant.
And tomatoes, as mentioned earlier, are loaded with hair nurturing nutrients that are essential for both skin and hair.
This salad is made with ingredients such as cherry tomatoes and white salmon, both of which are incredibly nutritious. Salmon is rich in omega-3 fatty acids, vitamin B, potassium, and selenium, all of which are essential for the metabolism of our bodies.
If you're going to make a custom dressing, make sure your salad dressings don't have too much fat or oil and entirely avoid saturated fats. Our body needs fats, but only the good ones, in moderation.
Ingredients
2 large fillets (9 oz) wild salmon
Cherry tomatoes
Onions
A tablespoon of capers
1 tablespoon of fresh dill (chopped)
1 tablespoon of olive oil and balsamic vinegar and a quarter spoon of freshly grounded pepper for aroma
And is seasoned with salt
You can also add lemon juice and more vegetables if you like.
Mix all the vegetables in a large bowl and top with some olive oil, salt, and pepper for a minute, and you're good to go!
3. Carrot and Avocado Salad for hair loss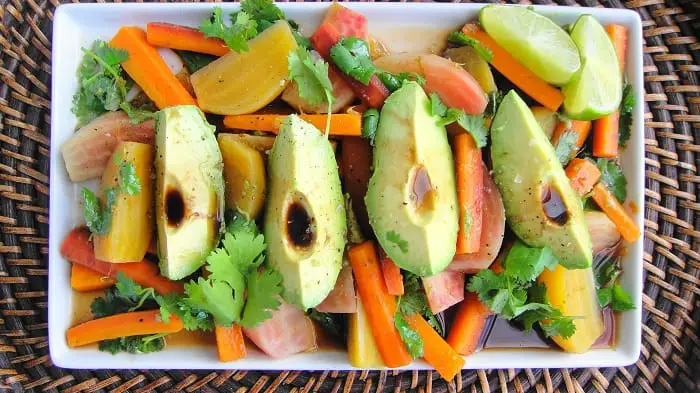 Source: freshnessgf.com
Carrot and Avocado Salad can be made in 10 minutes and is high in protein and low in carbs, precisely what you want when you need a balanced diet.
Avocado is one of the healthiest and tastiest veggies there is, it might also interest you to know that Avacado oil is highly potent for the treatment of hair loss.
Apart from that, Avocados are also scientifically proven to help improve the body's ability to absorb beta-carotene, a basic compound required for hair growth.
Ingredients
1 large peeled
Pitted and diced avocado
4 medium-sized peeled and grated carrots
A bit of balsamic vinegar
A few sunflower seeds
Salt and pepper for taste
Take a large bowl and mix avocado, grated carrots for a few minutes. Once that is done, sprinkle sunflower seeds on them for taste and garnish. Now, add a suitable amount of salt, pepper, and balsamic vinegar.
We recommend you to cover and refrigerate for a good 20 minutes before serving for the best experience.
4. Arugula, Avocado, and Tomato Salad For Hair Loss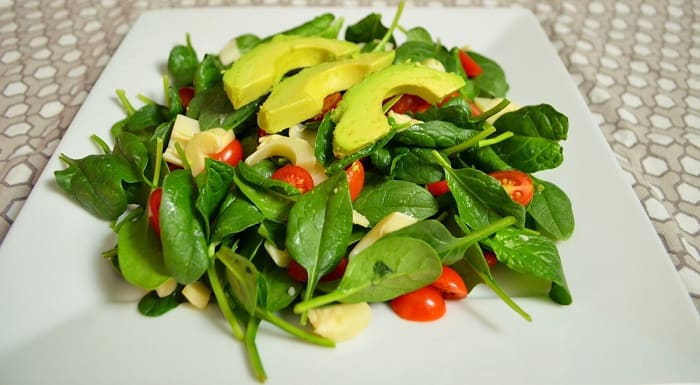 Source: theinventivevegetarian.com
Arugula, Avocado, and Tomato Salad is the perfect food for a satisfying, indulging and refreshing experience. This recipe is rich in avocado which promotes hair growth and increases the body's natural ability to absorb the carotenoids.
So, it's a quality snack. It also improves your immune system and is suitable for your skin.
Ingredients
It has 3 cups of tender arugula leaves (rinsed)
2 cups of cherry tomatoes (sliced)
1/4th cup of chopped sun-dried tomatoes
2 tablespoons of virgin olive oil
A tablespoon of balsamic vinegar and a couple peeled
Pitted and sliced fresh avocados
Take a large bowl with a lid. Combine arugula, cherry tomatoes, sun-dried tomatoes for a good two minutes. Now, add olive oil and vinegar and mix again. Divide this mixture onto plates and top the servings with sliced avocados for the best experience.
You may also directly add avocados to the mixture if you like it that way.
5. ACE Salad For Hair Growth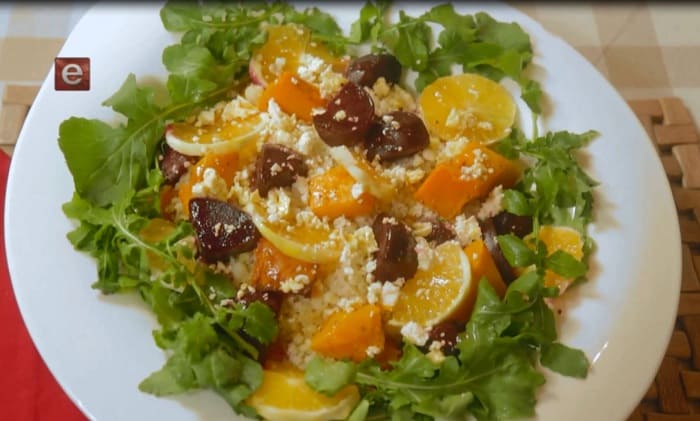 Source: etv.co.za
This stunningly looking salad contains organic carrots, fennel bulb and thinly sliced cucumbers for a satisfying crunch on a hot summer day.
It's recommended to use fresh garden veggies for the best experience. The dressing on this salad is relatively light for health reasons, but you can add more ingredients if you want.
This salad refreshes you from the inside and strengthens your hair from its roots. It is packed with the ACE vitamins (pro-vitamin A, vitamin C, and vitamin E) which are essential for healthy hair growth cycles and to fight against environmental hair damage.
Ingredients
You need 6 large thinly sliced organic carrots
One thinly sliced fennel bulb
Cucumber
Fresh parsley
Fresh lemons
2 tablespoons of extra virgin olive oil
Salt and pepper for taste
First, take a large bowl and add carrots, fennel, cucumber, and parsley into it. Mix well. Now, add lemon juice, olive oil in a separate container with a tight lid and shake well. Now, pour the dressing onto the salad and enjoy the delicious salad!
Related Reading
6. Beet and Carrot Salad with Ginger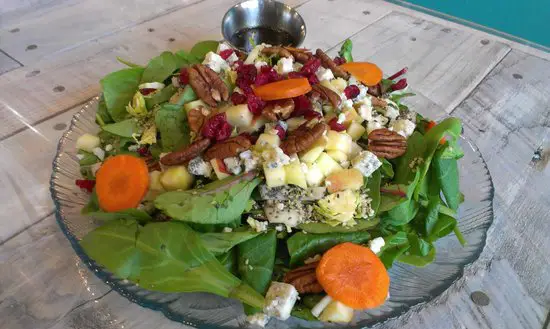 Source: tripadvisor.com
If you're a beet lover, you will entirely fall in love with this recipe. This delicious combination of beets and carrots is highly nutritious and low in calories.
Carrots have high levels of beta-carotene, which are essential for your hair and skin. It helps with improving your hair growth cycle and can fight against hair loss due to age or environmental damage.
Although the long list of ingredients makes the recipe looks like it has a lot of calories, in reality, it doesn't. This veggie-packed hair-nurturing salad only has about 189 calories with 14g of natural fats. Natural fats don't have adverse effects on our bodies unlike unnatural fats (hydrogenated / trans-fats).
Carrots are packed with nutrients that are essential for the hair, while beets can help stabilize blood pressure and improve blood circulation, which is vital for again, hair growth. So, that makes it a perfect combo!
Ingredients
This recipe requires 5 tablespoons of freshly grated gingers
2 tablespoons of vinegar
2 lemons
A red onion
2 teaspoons of cumin
3 tablespoons of chopped fresh cilantro
Some fresh mint
A bit of salt and pepper and half a cup of vegetable oil or olive oil
Finally, a pound of carrots, beets and 2 scallions
First, mix the grated beets and carrots in a suitable bowl. Take another bowl and add apple juice, olive oil, ginger, and salt in it, and mix well.
Now, drizzle it over the grated beets and carrots in the other bowl and enjoy the delicious and indulging experience.
Food for Hair Growth and Thickness
Healthy hair roots are critical for healthy hair and to fight against inflammation and environmental damage. Millions of people suffer from hair problems due to weak hair roots which will eventually result in hair loss.
For example, iron deficiency is one of the leading cause of hair loss in women. On top of that, environmental factors such as weather and pollution can have a profound impact on our bodies.
Here are some of the foods that you should include in your everyday diet for healthy and strong hair:
Eggs
Spinach and dark leafy greens
Citrus fruits
Nuts and seeds
Whole grains
Carrots
Avocado
That being said, below is a bit specific foods for hair growth and thickness you should try:
1. Whole Grains (Filled With Amino Acids)
Amino acids are mainly the types of proteins that are responsible for thick hair growth. Interestingly, having whole grains is one of the ideal ways of augmenting the supply of amino acids in the body.
This is because these grains are rich in Biotin – and plays a significant role in cell proliferation thereby leading to the production of sufficient quantities of amino acids.
2. Avocados (Helps to Maintain pH Balance & Improve Blood Circulation)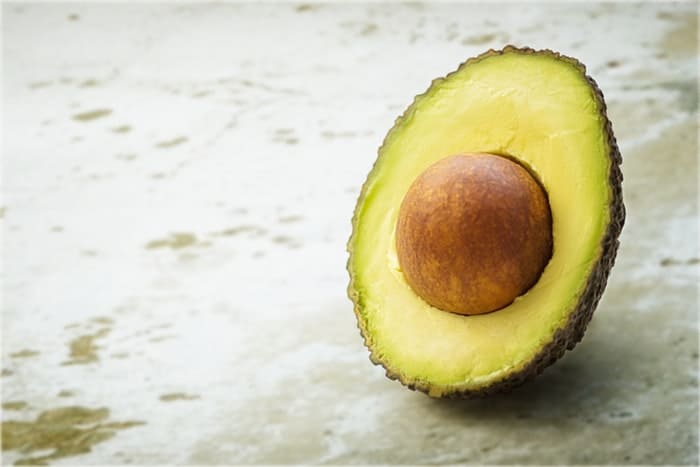 Your hair needs the adequate circulation of blood to ensure that your hair follicles work efficiently. Essentially, Vitamin E is the crucial requirement required for the improvement of blood circulation.
Additionally, balancing the pH levels is vital because a high pH level can result in clogging of the hair follicles.
Now, it might interest you to know that Avocados are one of the most potent sources of Vitamin E. You can have it as a smoothie or add it to your salad. Another benefit of having avocado in your diet is because of its rich in monounsaturated fats.
3. Yellow Pepper (Much Better Than Citrus Fruits Regarding Vitamin C)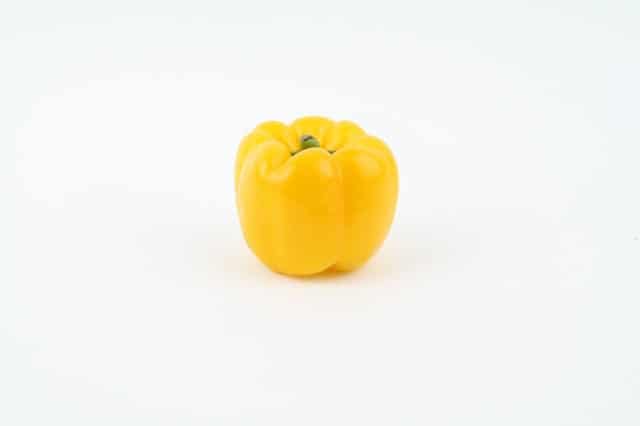 Breaking hair is one of the primary causes of hair loss, and a good supply of Vitamin C can prevent this breakage to no small extent.
Vitamin C can be gotten from several sources such as Citrus fruits contain and Yellow pepper, but yellow peppers are a much dominant source of this vital vitamin. Vitamin C typically makes the hair follicles and shaft stronger.
According to some researches:
Yellow pepper contains 5X as much Vitamin C you'll ever find in citrus fruits.
Therefore, having yellow peppers in your regular diet helps to boost the amount of vitamin C in your system without having any effect on the blood glucose levels. This is one of the best anti-oxidants for the strengthening of the hair shaft and follicles.
4. Citrus Fruits (Great Source of Vitamin C)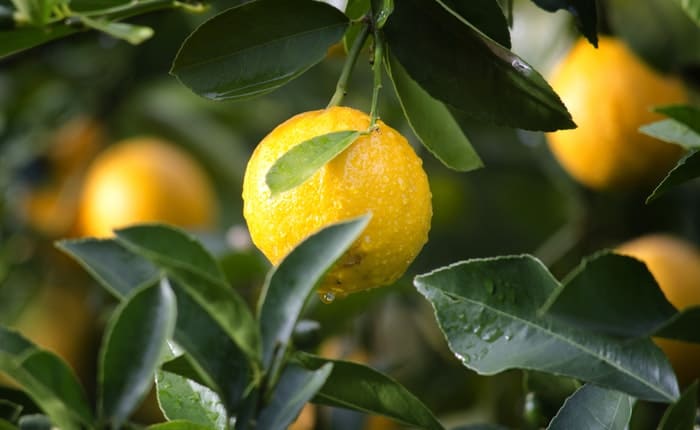 Your body needs a good supply of Vitamin C to absorb iron from the various foods you consume. Good enough, Citrus fruits such as oranges, lemon, and sweet lime are fantastic sources of this Vitamin C.
Vitamin C is critical for the production of collagen (the protein that's responsible for the strengthening of hair shafts).
Furthermore, collagen is also useful because it helps to strengthen the capillaries connecting to the hair shafts.
The consumption of one glass of lemon juice per day is even enough to ensure an ample supply of Vitamin C. However; it would be much better for you to take this lemon juice with honey instead of salt or sugar.
5. Carrots (Many Benefits, But an Excellent Source of Vitamin A)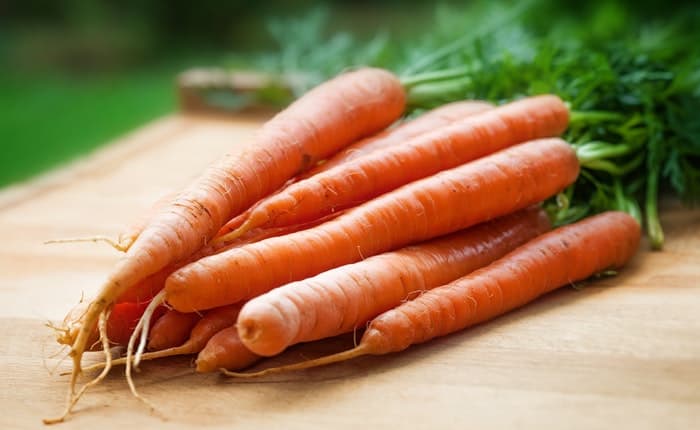 No hair growth solution will ever be complete without mentioning the enormous contribution of vitamin A. In fact, Vitamin A is needed for the healthy growth of each cell in the human body, and Carrots are a perfect source of vitamin A.
It's advisable that you have at least, one carrot juice daily. This is because it helps in the production of sebum oil, which is responsible for strengthening the hair roots. That's not all, eating whole carrots can equally be super helpful for maintaining an active and healthy hair.
Indian Food for Healthy Hair
The ancient Indian medicine recommends various vegetables and plants for healthy hair. Although we now have allopathic medication to treat hair problems, those medicines often come with many unwanted side effects.
But, vegetables, on the other hand, are right for your overall health and can also improve your situation.
Here's a list of Indian food for healthy hair:
Walnuts
Beans
Carrots
Tofu
Lentils
Indian spices
Green peas
Sweet potatoes
Wholegrains
Vegetarian Foods for Healthy Hair
A balanced vegetarian diet is one of the healthiest ways to eat because our body loses its natural ability to process complex food over time, even more so in an individual with weak metabolism.
Consuming complex food puts pressure on our digestive system. If you're suffering from a fragile and brittle hair, you should consider going vegan, because adequately planned vegetarian diet will surely help your condition and fix your health problems eventually.
Curing naturally is one of the best methods you can treat yourself, as it doesn't have any side effects and will also improve your system.
Conclusion
All of the above recipes have been written with an average individual in mind; if you don't like a specific ingredient or you're allergic to it, you can skip it.
Overall, having a balanced diet is very important and your eating habits today will have ripple effects for years into the future. Include a salad in your diet every day, and you will start to notice your health improving before too long.
Of cause, all the salad recipes for healthy hair mentioned here indeed works, so you have to give them a shot and see for yourself.
Apart from that, you must also include the foods above for hair growth and thickness in your diet if you are facing hair problems, along with medicines, if you have a hair condition. Although food isn't alone isn't a replacement for medicine, it can improve your situation significantly.
It is good to have healthy hair as it not only boosts your physical appearance but equally enhances your self-confidence.
By simply making little changes to your diet, you can have strong and healthy hair. However, you want to include a few healthy foods while also excluding the unhealthy ones.
Excitingly, all the foods mentioned above contain the essential mineral content needed to ensure healthy growth of your hair. The best part is that these foods are readily available and are natural sources of minerals and vitamins. As a result, you won't end up with unnecessary side effects.
Top 3 Hair Loss Products
Tired of chasing down hair growth solutions without the results you're after? Make sure you're using the
3 hair loss products known to work
before experimenting with alternative solutions – you may be surprised with how effective those 3 alone can be.