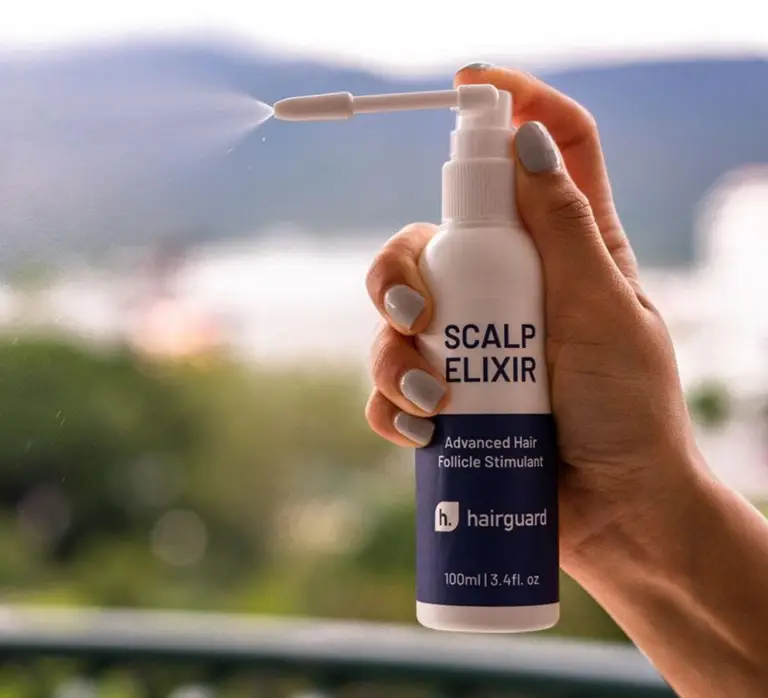 Hair loss is something that no one wants to go through, as proved by the sheer number of different hair treatments out there. With so many treatments that you can choose from, the HairGuard Scalp Elixir can sometimes get lost in the crowd.
This particular Scalp Elixir is definitely worth looking at though if you are suffering from hair loss. So maybe we should stop and take a closer look at exactly what this elixir is, how it works, and how you use it on your hair.
Pros
Simple and easy to use.

Quick way to stimulate blood flow to the hair follicles.

Supports thicker, stronger and healthier hair growth.

Stimulates anti-inflammatory properties.

Helps to treat stress-induced hair loss.
Cons
Sometimes it causes irritation.

Formula is greasy.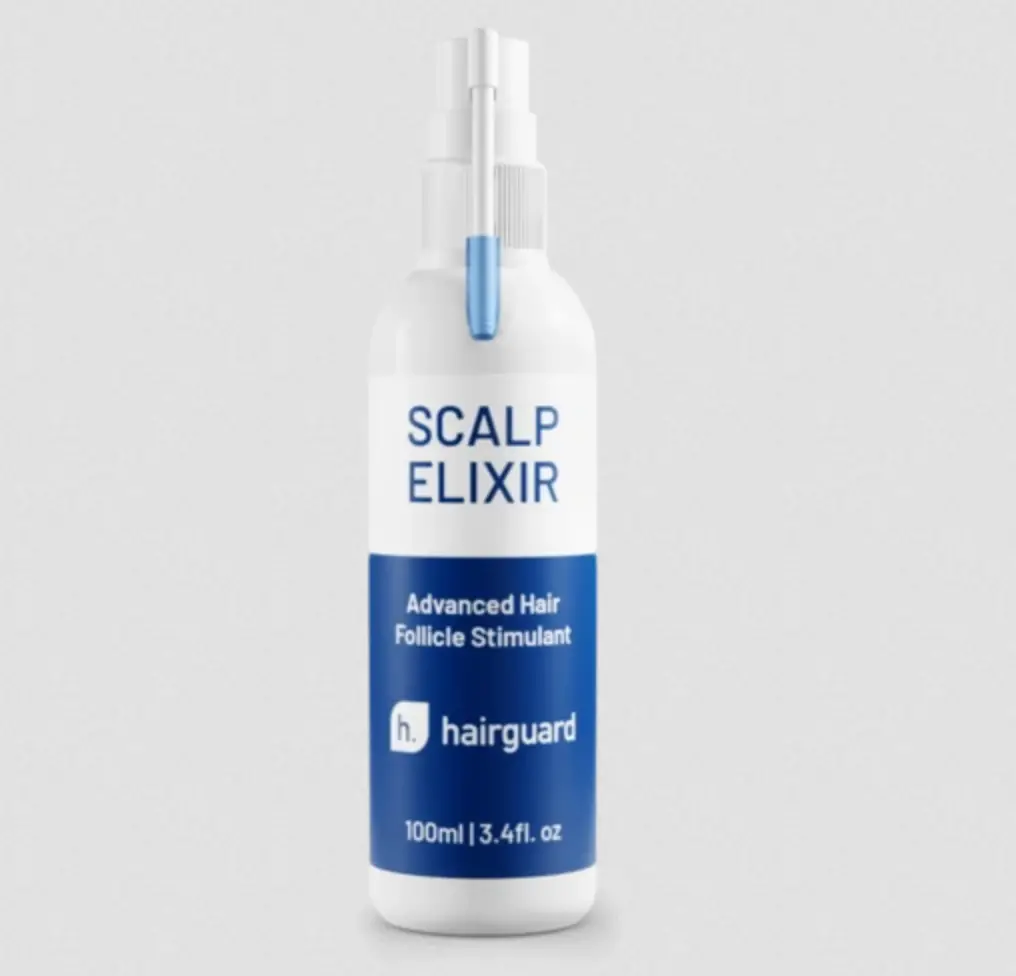 Perfect for men and women with thinning hair
Supports thicker, stronger, healthier hair growth
Can help negate the effects of DHT around the hair follicle
Helps clean and unblock the scalp pores
Easy to apply and wash out
Free from harsh chemicals
Exclusive Promo Code
Get 10% Off Your Entire Order With Promo Code: hairlossgeeks
About HairGaurd Scalp Elixir
There is more than one company that has made what they call a Scalp Elixir, but this is the one that is made by HairGuard. This elixir is made to be used on both thin or bald areas of your scalp in order to thicken and strengthen the hair you have and to regrow hair in places where you may have lost it.
It is manufactured in the UK, but you can buy it from anywhere in the UK, USA, or Canada. While it is possible to get is from other places, it will take a little longer for you to get it if you live elsewhere.
The elixir is made to be as natural as possible. It still manages to achieve even better results than some of the other options that are not nearly so natural. In fact, in one or two scientific studies it was compared to Minoxidil.
The Synfolex™ blend of organic extracts was made expressly for the HairGuard Scalp Elixir. This product from HairGuard is the only place where you will see this blend since they are the only company which is licensed to use it.
It is still fairly new out there when compared to other hair growth products such as Folexin, but it is quickly gaining a lot of ground. Part of this is thanks to the fact that this company is not shy about doing studies and publishing the results.
While studies should always be taken with a grain of salt, it is quite clear that this new HairGuard Scalp Elixir might very well soon be one of the most popular options out there for people who are serious about re-growing their hair.
What Is In HairGaurd Scalp Elixir
While there are multiple ingredients in this elixir, there are five main ones that you should know about. The first one, and one thing that is often found in hair treatments, is Saw Palmetto. This is a plant that has had numerous studies done on it.
Each of these studies showed that Saw Palmetto has great results on your hair. Not only does it help to block the DHT that makes you go bald, but it also helps enlarge your hair follicles. Both of these things result in thicker hair even in places where you may have lost your hair entirely.
The next ingredient is another plant that is called Eclipta Alba. The purpose of this plant is primarily to soothe any inflammation. Since this is something that can play a big role in your hair loss, this is a great ingredient to have especially if you have dandruff or are prone to an itchy scalp.
The fact that it is soothing also means that this elixir is far less likely to irritate your scalp when you apply it. If you know that you have a sensitive scalp that doesn't like other treatments that are applied topically to it, then this option could still work for you.
Taurine is another plant in this elixir that is also anti-inflammatory. This helps the other to soothe your scalp, but this specific plant is actually one that focusses more on protecting your cells from any negative effects due to stress.
Caffeine is also an ingredient in this elixir, its purpose being to stimulate blood flow to your scalp. The final ingredient that you should know about is actually a blend of organic extracts. The blend is trademarked Synfolex™ and, in addition to Safflower extract, was made specifically to help hair grow.
Related Reading
How HairGaurd Scalp Elixir Works
While you may have a fair idea as to how this hair treatment works based on the ingredients that I just told you about, there is still more to it than that. To start with, let's take a closer look at that caffeine ingredient.
Caffeine is one of the more common things to find in hair treatments and sometimes even shampoos and other things. However, the main problem with the caffeine is that it only really works as long as it is staying on your scalp.
This is why putting it in the form of an elixir is so beneficial since it stays on your scalp all night long and it has a chance to really make a difference. All in all, this product tries to take care of any and every reason why you might be losing your hair.
It naturally blocks DHT with the Saw Palmetto while reducing the inflammation around your hair follicles. Meanwhile, it increases the flow of blood to your hair while simultaneously giving your follicles the nutrients needed to grow strong and healthy hair.
On top of all of that, the ingredients in the extracts are all of the best quality possible. The fact that these are in extract form means that they are highly concentrated so that you get a lot from them.
The Cost Of HairGaurd Scalp Elixir
Perfect for men and women with thinning hair
Supports thicker, stronger, healthier hair growth
Can help negate the effects of DHT around the hair follicle
Helps clean and unblock the scalp pores
Easy to apply and wash out
Free from harsh chemicals
When is comes to ease of purchase, this product is very easy to get. You can order it online through HairGuard's website just as simply as you can order anything else online. You can purchase one bottle of it, or you can subscribe and save money when you buy it.
When you do the latter, you will get the next bottle shipped out automatically to you. This can be quite convenient so that you do not even have to think about it. However, even if you opt to purchase one bottle at a time there is not a lot of trouble involved.
This is thanks to the fact that each bottle lasts you for two months instead of the one month that most hair treatments come in. The 3.4-ounce bottle is small enough to put in your purse or bag and is surprisingly cheap.
It only costs around half of a dollar a day compared to other treatments which often cost closer to a dollar a day. Also a nice feature is the fact that you can pause your subscription or skip a shipment. This is useful if you miss a few days during the two months and do not need your next bottle just yet.
Finally, HairGuard is so confident in their product that they offer a 180-day guarantee. That is basically for 6 months! They will give you a full refund at any point during this time for any reason. This is way more than virtually any other company out there is willing to offer.
Advantages And Disadvantages Of HairGuard Scalp Elixir
Like with any other hair growth product, HairGaurd Scalp Elixir is not perfect. It has pros and cons that you should know about before you buy it. However, there are a lot more advantages to it than disadvantages.
Of course, the first advantage is the price, but there are more advantages than that. The fact that the ingredients are natural is not only a huge plus all on its own, but it also makes for few if any side effects.
That being said, some people have commented that this product affects their libido. It can also give you headaches and it can cause irritation in spite of its soothing properties.
While, as mentioned, this product is made in the UK, all of the ingredients are sourced from either the UK, the USA, or from Canada. This is in order to ensure that the quality of the ingredients is up to par.
There are not a lot of disadvantages, but there are a couple that you should know about before you buy this Hair Elixir. Since it is made in the UK, it can take a little longer to get it shipped to you if you live in the US than some of the other hair products that might be made in the USA.
When it comes to the smell, this is not the best in the world, though it is not terrible either. On the plus side is the fact that the nozzle folds down to be out of the way. This makes it easy to
How To Use HairGaurd Scalp Elixir
As mentioned, this Scalp Elixir comes in the form of a topical spray that is sprayed directly on the area where you are losing your hair. You only have to apply this once a day before you go to bed. First, you start by pulling up the nozzle.
Next, move your hair to the side so that you can clearly see the area on your scalp that you wish to apply the Scalp Elixir to. Use one hand to hold your hair there while you grab the bottle with the other hand and spray it onto your scalp there.
You should spray about a dozen times with the nozzle of the sprayer directly above your scalp. Then you can set the bottle down and massage that area of your scalp a little. Massage the elixir in for about 5 to 10 minutes.
Be sure to wash your hands thoroughly afterward and that you do not touch your face until you do. Then simply follow your usual bedtime routine and go to sleep. Do not wash or do anything else to your hair until the next morning.
Final Thoughts
Now that you know all about HairGuard Scalp Elixir, maybe you will give it a try. No matter why you are losing your hair or how bad your hair loss has gotten, this elixir is sure to make a difference for you.
It can even work for women too, though it is less effective due to the fact that it is harder to get directly on your scalp. This means that no matter what your age, gender, or anything else you can use the HairGuard Scalp Elixir.
HairGuard also has a variety of other products that you can use in addition to their elixir such as shampoo, conditioner, a growband, and other items. All of these are, like this elixir, made to be as natural as possible.
Perfect for men and women with thinning hair
Supports thicker, stronger, healthier hair growth
Can help negate the effects of DHT around the hair follicle
Helps clean and unblock the scalp pores
Easy to apply and wash out
Free from harsh chemicals
Exclusive Promo Code
Get 10% Off Your Entire Order With Promo Code: hairlossgeeks
So, you can safely stop using those expensive chemical treatments and get something that is just as likely to work. In closing, if you do try it be sure that you give it enough time to start working. This can take around three months to take effect which is the normal amount of time for such products.