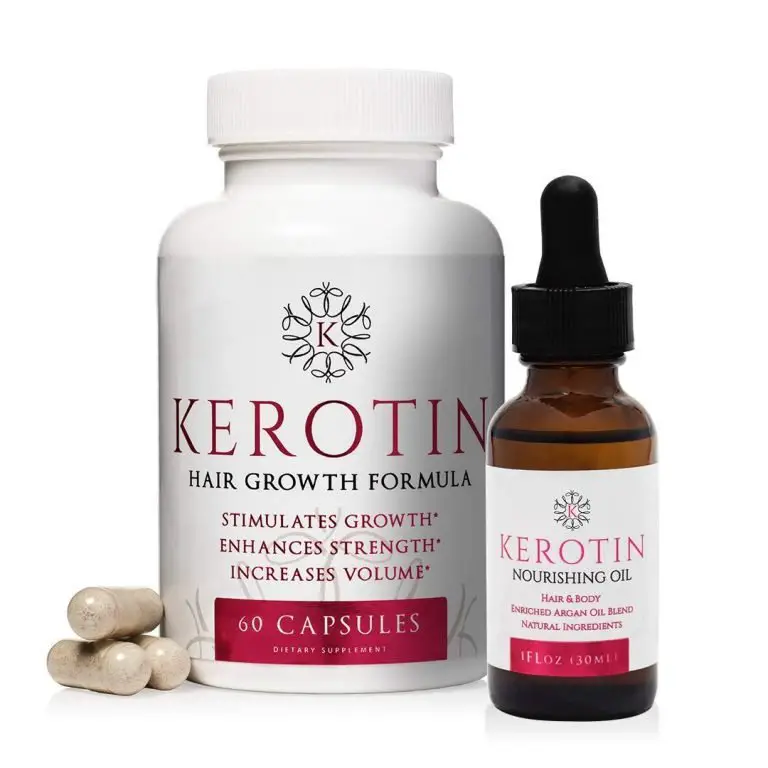 Women tend to have more transitions when it comes to the growth of their hair.
Not only is there the changes of baby hair to adult hair, but women also are more prone to dying their hair and other things. Then there are also the hormonal changes that women go through, which men don't that can affect hair growth.
Some of these include the hormones of pregnancy, menopause, and a few other things. True, men are more prone to some things, such as pattern baldness. However, on the whole, women tend to have more need hair growth help than men do.
This is where brands like Kerotin come in at. These brands focus on women, and the hormonal changes that all women go through.
So, if you are a woman who needs help with hair growth, then Kerotin is one brand that you should take the time to look at.
Pros
Kerotin is 100% natural, sugar free, vegan and non-GMO.

Stops new hair loss while promoting new hair growth.

Nourishes the hair and provides strength from the inside out. 
Cons
Kerotin can dry your hair if you do not condition correctly. 
About The Kerotin Brand
The Kerotin Hair Care Brand was founded a few years ago in 2015. Their main desire is to have a brand of hair care products primarily dedicated to women and which women can love and be proud to use.
More than that, Kerotin does its best to educate women to help them achieve their hair goals.
The Keratin team is willing to help you choose what products you need by either phone, email, or chat.
Kerotin even has a newsletter that gives you special offers, hair tips, and hair news.
On the Kerotin website, they clearly and proudly state what their values are. First and foremost, Kerotin strives to be authentic.
They aim to improve your self-confidence to help you stay true to yourself. As part of that, Kerotin does not believe in a 'one-size fits all' product.
The Kerotin R&D team devotes a large amount of its marketing money to one on one conversations with both consumers and influencers. This helps the brand to understand your needs and wants more accurately.
Kerotin then has an in-house laboratory to develop their different formulas. New formulas are made based on feedback that is given to them. This process of getting feedback and then making new formulas is one of the quickest of any brand.
The Kerotin brand tries to offer you all the hair products that you need, no matter what your hair goals are. These products from Kerotin are made as naturally as possible with drug-free ingredients so that they are safe for everyone.
Their products have various lines, including hair growth, damage repair, hair styling, and even some eyelash and eyebrow products. These hair products are all made in the USA and in FDA inspected and approved facilities.
Keratin Freshening Shampoo And Conditioner
One of the first Kerotin products that you are likely to like at is their Keratin Shampoo and the Keratin Conditioner that goes with it.
These hair products are a little more expensive than the average shampoo and conditioner but are still affordable.
The shampoo's goal is to promote hair growth by improving your scalp health and by rejuvenating your hair follicles.
Part of how this Kerotin shampoo works is that it reverses some of the damage done by chemicals and build-up.
Meanwhile, the conditioner to this shampoo is designed to promote hair growth and thickness by hydrating your hair.
In the meantime, this Kerotin conditioner also reduces your frizz and helps rebuild your hair strands.
Both of these Kerotin hair products are made without any form of silicone, parabens, sulfates, and without sodium chloride. What is included in the ingredients are a number of great things, including some that are well-known for being great for your hair.
As you might imagine, keratin is one of the main ingredients in both of these Kerotin products. It helps fight the frizz, and it protects against heat damage too. However, while some ingredients are shared, there is just the right amount of differences to make them unique.
The Shampoo Ingredients
There is argan oil, which is full of antioxidants and essential fatty acids that help your hair's elasticity.
Coconut oil also fulfills some of those same functions too, on top of its anti-fungal and antibacterial properties.
In this shampoo, Provitamin B5 is a panthenol that seals in moisture, helping your hair's shine and pliability.
Biotin and Vitamin E are both well-known for having a variety of hair benefits too.
Hops extract helps open your pores, removing any dandruff or anything else that is clogging them.
Apple stem cell stimulates dormant hair follicles on the scalp, resulting in regrowth.
Pomegranate extract, another plant, is also added for the large amount of antioxidants that it has.
Sea kelp extract is more of a new haircare ingredient.
Finally, the Eucalyptus globulus and the peppermint oils are both present to increase the blood to your scalp so that the other ingredients can work.
The Conditioner Ingredients
Like the shampoo, the conditioner also has argan oil, coconut oil, Vitamin E, sea kelp extract, hops extract, pomegranate extract, peppermint oil, and eucalyptus globulus oil. Other than that, the other ingredients are pretty diverse.
Sunflower oil is in this conditioner, which actually may help with pattern baldness. Avocado oil is another oil in this conditioner.
Then there is burdock root extract for nourishment. Meadowfoam seed oil is an uncommon one, but it has lots of fatty oils to moisturize your hair.
Silk amino acids are another rare ingredient that is added to help bind the keratin to your hair and seal in moisture while repairing the damage.
D Panthenol helps the silk to seal this moisture in too.
Mango butter and shea butter help give your hair this moisture.
Rosemary oil is a fairly common oil for hair, helping with both hair growth and thickness.
Meanwhile, the chamomile extract will help soothe your scalp should any of the other ingredients cause any irritation. Finally, the sage extract and the yarrow extract are both anti-inflammatory and astringent, among other things.
Kerotin Precision Hair Growth Serum
The Kerotin growth serum is a highly concentrated serum, much more concentrated than many other serums. This serum's main function is to help your scalp's micro-circulation and to stimulate dormant hair follicles and give them nutrients.
This stimulation is done without the use of drugs, even minoxidil, so that you do not have to be concerned with having a reaction to it.
When you do put this serum on your scalp, you also do not have to worry about it leaving a residue.
You simply use the applicator head to put the serum on your scalp. Leave the serum there for about 10 minutes.
Whatever is going to be absorbed by then will have soaked into your scalp without making your hair look wet.
The bottles of serum are neither expensive nor cheap, being almost exactly an average price. One bottle of this Kerotin serum lasts for about a month, which is also a common length of time.
The ingredients, at least the ones that are given, are great for your hair.
There is biotin, D Panthenol, Vitamin A, Vitamin B12, Vitamin C, saw palmetto, licorice extract, apple stem cells extract, and white tea extract. As for oils, there is coconut oil, argan oil, and castor oil.
These serum ingredients cover a number of different areas that might be giving your hair problems.
The saw palmetto, for example, can even help block the enzyme that helps make DHT.
Other ingredients, like the licorice, open up your pores to allow the goodness to seep in further.
All in all, though not all of the ingredients are given, this is still a great serum that you can try.
The Kerotin hair serum checks all of the boxes of things that you are likely to look for in a serum you want.
Kerotin Silk Serum
This type of serum is simple, and it is designed to make curly hair smooth and straight hair sleek. This serum, therefore, makes your hair easier to style, keeping it frizz-free and glossy no matter your hair type.
However, in actuality, this serum both protects and conditions your hair too. This promotes your growth instead of killing your hair with chemicals.
You apply the serum to your towel-dried hair and then continue your usual routine. Though, you can apply some more serum after you are through styling.
The three main ingredients are meadow foam seed oil and two different types of silicone. The meadow foam is very useful, conditioning your hair, adding shine, aiding in moisture retention, and controlling frizz.
The two silicones are Cyclopentasiloxane and Dimethiconol. The first is a lightweight silicone, but both are used in this serum to condition, add shine, and to provide some heat protection.
Kerotin Nourishing Oil
While a nourishing oil may seem like the same thing as a growth serum, there are some key differences.
Where a growth serum is more qualified for balding spots and problem areas, nourishing oil is better for using on your whole scalp.
This Kerotin nourishing oil is specially designed for women with dry and damaged hair, especially split ends. It is slightly cheaper than the hair growth serum and is inexpensive compared to other nourishing oils.
There are eight main ingredients in this oil, some of which help to block DHT while others increase blood flow.
Argan oil, jojoba oil, apricot oil, Vitamin E oil, avocado oil, sweet almond oil, pumpkin seed oil, and grapeseed oil.
This oil blend is safe for acne-prone and sensitive skin.
Many of these are popular for hair growth and have documented results that show their benefits for hair. There are plenty of fatty acids to help with hydration.
The pumpkin seed oil also has a surprising amount of vitamins in it that it can give to your hair. You can apply this nourishing oil to the ends of your hair for the split ends, or you can apply it to all of your hair and wrap your head in a hot towel to get even more out of it.
Kerotin Eyelash Growth Serum
This eyelash growth serum by Kerotin is dermatologist tested and approved to work on both eyelashes and eyebrows.
The bottle of serum has enough for one to two months of treating both your eyelashes and eyebrows. Or you can have two to three months of treatment for just one of these.
These growth serum ingredients are not only non-irritating but hypoallergenic as well. This Kerotin product supposedly makes these hairs 80% in only 4 weeks.
Simply apply a thin layer of the serum at the base of your lashes and brows once per day. Make sure your skin around your eyes is free of makeup and leave it on.
Inside this eyelash serum is biotin, which is a building block of hair of all kinds, and a variety of other great ingredients.
There is Vitamin B12, Vitamin A, and D Panthenol for vitamins.
Other ingredients include pumpkin seed extract, which is a proven anti-fungal and antibacterial agent that helps clogged cells.
Pomegranate extract is fairly common in Kerotin products, as is white tea extract. The only other two ingredients mentioned are cucumber fruit extract and hyaluronic acid. The former is chock full of vitamins, while the latter is very hydrating and adds shine.
Kerotin Hair Growth Vitamins
This growth vitamin from Kerotin uses all-natural nutrients and extracts, which both nourishes and blocking the DHT hormone.
Not only is it all-natural, but it is also drug-free, sugar-free, and vegan too, with no artificial ingredients in it.
Each bottle of these Keratin vitamins lasts for one month if you take the two pills a day like you are supposed to.
Inside the vitamins, there is Vitamin B6, folic acid, and zinc to help with your body's building blocks.
Other vitamins and minerals in these vitamins include Vitamin A, Vitamin C, Vitamin D3, calcium, iron, Vitamin E, folate, manganese, and potassium.
There is also biotin, which is a common hair vitamin. Many of these vitamins are essential for your hair.
Spirulina is an excellent source of chlorophyll, which is rich in vitamins of its own and which plays a crucial role in forming your hemoglobin and red blood cells and improving circulation.
Meanwhile, plant sterols and the nettle root both help inhibit DHT, as does the well-known saw palmetto.
Fo-Ti powder is equally popular, and it helps to detox your body too. Barley grass juice powder boosts your immune system, while the L-tyrosine is an amino acid that also helps with this. This amino acid also regulates your hormones and has a number of other functions.
Horsetail extract, bamboo extract, alfalfa, and peony are the last of the ingredients.
While these last few ingredients are not so common, they are natural and healthy.
All in all, these Kerotin hair growth vitamins are a great option.
Kerotin Vitamin Gummies
This vegetarian hair growth vitamin by Kerotin is perfect if you dislike capsules for any reason.
There are some subtle differences between these products that are important too. Though the capsules are sugar-free and vegan, they contain iron.
Since iron can be a problem for some people, the gummies are made without iron. However, since you actually taste the gummies, a little sugar is added for flavor.
Also, biotin can increase acne, but these gummies have more of it to help your hair than the capsules do.
Like the capsules, the gummies are taken two a day with each bottle having a month's worth.
The price is close to the exact same too. These are all-natural, free from iron or gelatin, cruelty-free, and have no artificial colorants.
What is in these gummies is Vitamin B6, Vitamin B12, Vitamin A, Vitamin C, Vitamin D3, Vitamin E, biotin, folic acid, zinc, iodine, and Vitamin B5. While any other ingredients are not exactly listed, these are excellent ingredients that you can ingest with confidence.
Kerotin Shape Shifter Hairspray
Kerotin's hairspray not only penetrates through the cuticle of the hair to help it stay moisturized, but this spray also makes your hair more pliable, shinier, stronger, and thicker. On top of that, this hairspray has both UV and humidity protectants in it.
These are essential if you spend time out in the sun, especially in humid environments. You can even use this spray to add volume to your hair by using it while you are blow-drying your hair.
The two main ingredients in this hairspray are panthenol and Ethylhexyl Methoxycinnamate. The first locks in moisture and helps with pliability while the other is the UV-absorber.
There are a few other ingredients, such as Acrylates, which is what offers your hair the humidity protection.
As far as hairsprays go, this option from Kerotin is a lot better for you than other options out there. And this is without being expensive or hard to get.
If you want a hairspray without all the chemicals, then this Keratin option might be for you.
Kerotin Sea Salt Spray
This sea salt spray from Kerotin is a new type of product entirely. The salt spray is meant to add flexibility and volume to your hair while protecting against daily damage and split ends.
Sea salt and kelp extract are the two main ingredients, and actually the only two ingredients that are given.
These help your hair cuticles and lock in moisture. However, the sea salt can dry out your scalp more than you would like it to.
What is doesn't have is parabens or alcohol, and another nice thing is that it has a slightly beachy smell to it.
The kelp that is used is rich in polysaccharides and amino acids. These help with frizz and the texture of your hair.
This salt spray is made cruelty-free, and it is color-safe so that anyone can use it.
Other Kerotin Products
While those are some of the most popular Kerotin products, there are quite a few others. These products cover pretty much everything that you may need for your hair product-wise.
There is a Kerotin High Gloss Mist, which is similar to their hairspray. However, its purpose is more to add shine to your hair. It does have anti-frizz, anti-humidity, and a slight amount of heat protection. These features make this mist a good everyday spray.
If you like hair masks, the Kerotin Renewal Mask is worth taking a look at. This mask is made for colored, straightened, and chemically-treated hair that needs repair.
It is, therefore, infused with keratin and other important nutrients to both nourish and rebuild elasticity and is made to be used no more than twice a week.
There is also a Kerotin Freshening Shampoo and Conditioner if you want something different from their other set. If you don't have time to shower, you can try the Kerotin Dry Shampoo and Conditioner too or use it when you are camping.
Other things that Kerotin sells include hair caps, which can be put in the microwave to make them hot. Then, there is a makeup removing microfiber pad, scrunchies, and even a scalp massager that you can get from Kerotin.
Advantages Of Kerotin Products
Kerotin products have a lot going for them. First, the Kerotin products are all made in the USA and can be shipped to other countries if you don't live in the USA.
Made for all women hair types, all products in the Kerotin line are cruelty-free and 100% drug-free.
Kerotin's 30-day guarantee may not bee as long as others, but at least it starts from the day you receive your package and not the day it is shipped as some other companies do. You can buy the Kerotin products directly from their site, or you can get them elsewhere.
The ingredients that Kerotin lists are great, healthy, and are not likely to cause you any side effects. In fact, there are virtually no cautions or warnings with any of these products.
If your scalp doesn't agree with these hair products, it is more likely going to be because you are allergic to something in it.
What's more, the Kerotin products have some great reviews that show they can really work.
Though, you should still be careful if you are pregnant or have a serious condition, you may well be able to use these products even then.
There are three different ways to save money on your Keratin products.
First, you can save by buying several bottles of a product at once to get a bulk discount.
Second, there is the common subscribe and save deal that Kerotin has.
Finally, a new way to save is thanks to Kerotin partnering with Sezzle. Sezzle is a new payment method that allows you to buy your Kerotin products and get them and to split the cost of the purchase in four payments.
Disadvantages Of Kerotin Products
While it is true that Kerotin does share some of the ingredients in their main products, other products of theirs do not have any ingredients listed for them at all. In addition, Kerotin does not show any documentation or proof that the ingredients can do what they claim.
In fact, all they do on the product page is tell you what the products are for, how to use them, and how much they cost.
The main ingredients for the products are found elsewhere, if you take the time to search for them.
If these are the only ingredients or not is something that Kerotin leaves for you to figure out. Not only is this more difficult, but it is also somewhat suspicious.
After all, if they are so proud of their ingredients and have nothing to hide, then why not clearly list them?
However, this is more of a suspicion than it is a definite disadvantage. The fact is that there really isn't a lot that can be said against these Kerotin products.
Perhaps the only other thing is that Kerotin products are made more for women than for men, but men can use them too.