Ricki Lake is one of many famous people who have openly admitted to having hair loss. Seeing a former talk show host like her opening up about their hair troubles can help make you feel less alone.
But what caused her hair loss, and were there any hair care products that were able to help her hair? More importantly, is this hair loss product something that might help your hair?
Ricki Lake's Hair Loss Struggles
There were many small news pieces with some variation of the title: "Ricki Lake Opens Up About Her Hair Loss Struggles" back in January 2020. This was because she announced her problems with the following Instagram post: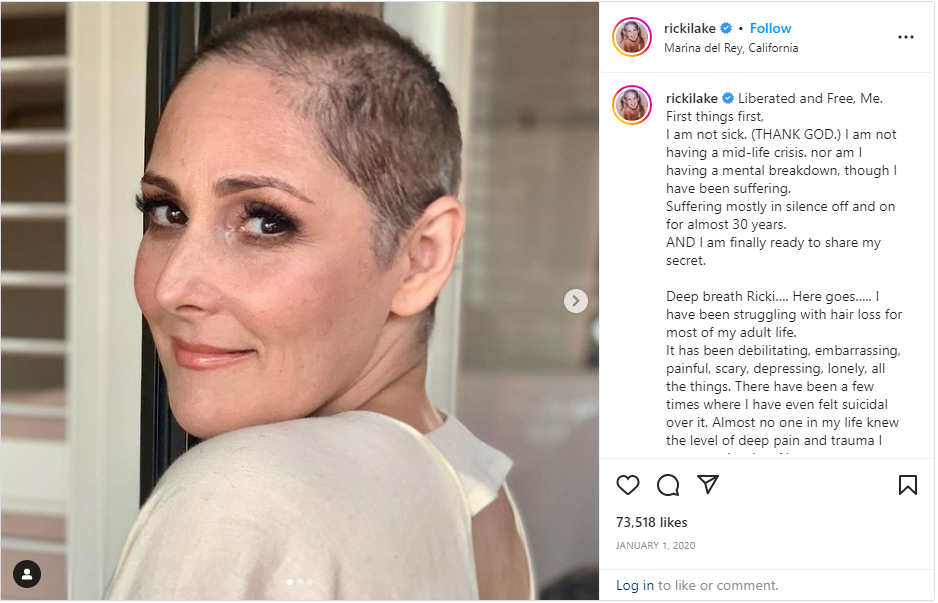 She started off by clarifying that she was not sick. Then, she admitted that she had been suffering from hair loss for three decades, which is most of her adult life.
She also admitted how her awful hair was embarrassing and scary and made her feel lonely, and she even felt suicidal at times. Ricki didn't even tell her therapist how deeply it was affecting her, and no one in her life knew.
When It Started
According to her, this all started when she played the role of Tracy Turnblad in the Hairspray movie in 1988. This was her debut in films.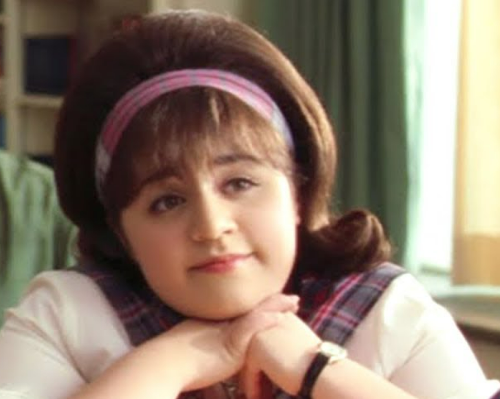 At this point, she had 'virgin hair' that was thick enough that she did not need to wear a wig. However, her hair didn't stay that way.
By the time she was 26 years old and starred in the film Mrs. Winterbourne, she was starting to notice severe hair shedding, with clumps in the drain and on her pillows. As she kept working on her talk show and filming various movies, her hair continued falling out.
What Caused Ricki Lake's Hair Loss?
Ricki feels there were many factors that caused her to lose her hair. In the Hairspray movie, her hair was put through triple processing and teasing every couple of weeks.
Other than that, she blamed yo-yo dieting, which is where your weight goes up and down again repeatedly. Radical weight fluctuations like this are known to cause hair loss and other health problems and are often caused by a crash diet, which Lake had done for some of her films.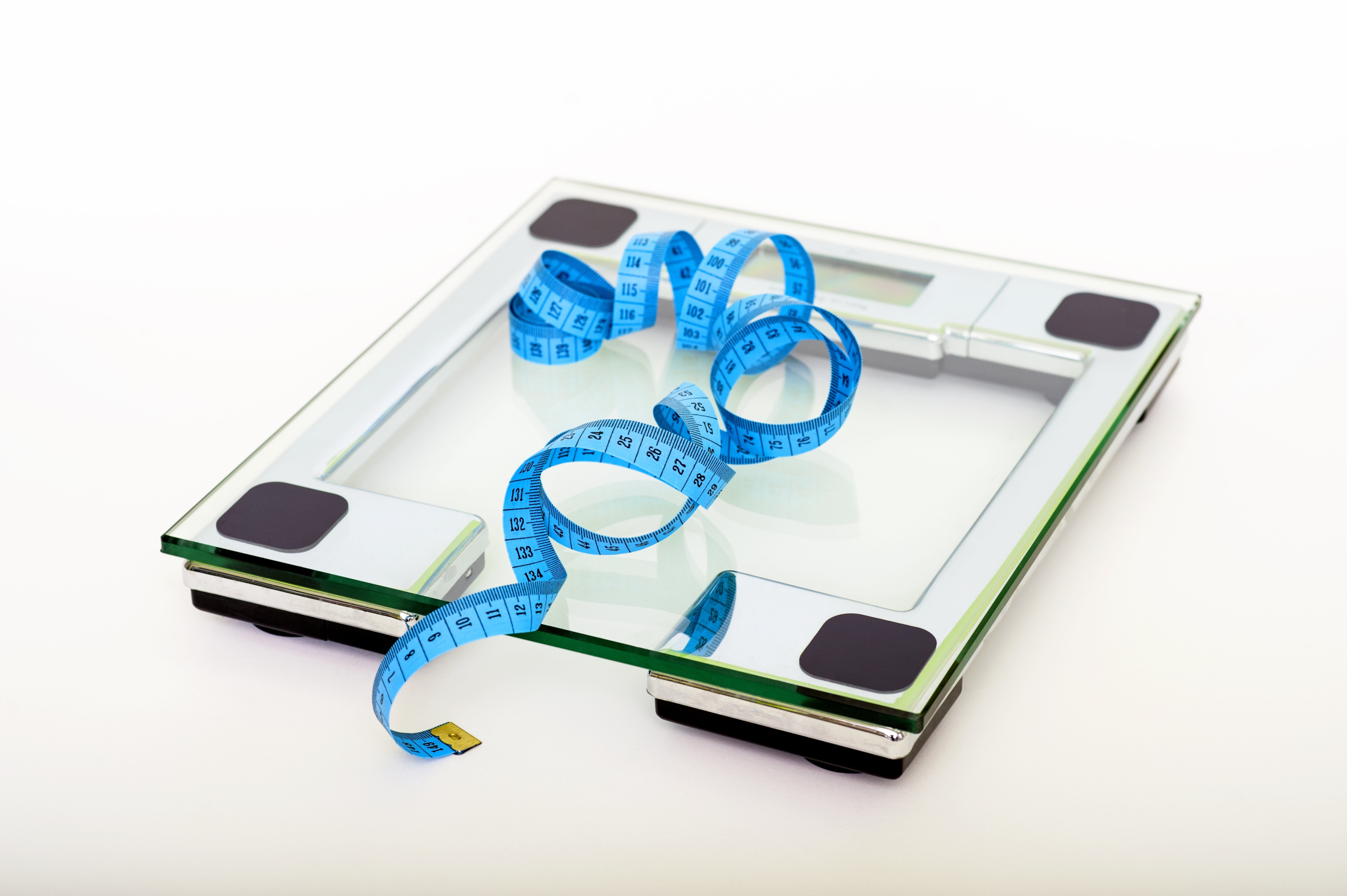 She also felt that hormonal birth control, her two pregnancies, genetics, stress, and hair dyes were all contributing factors.
What Did Ricki Do?
For a long time, she wore hair extensions, which she admitted probably made her hair loss worse. Ricki said she tried all sorts of extensions, including ones that were glued on, taped on, clipped in, and total hair systems.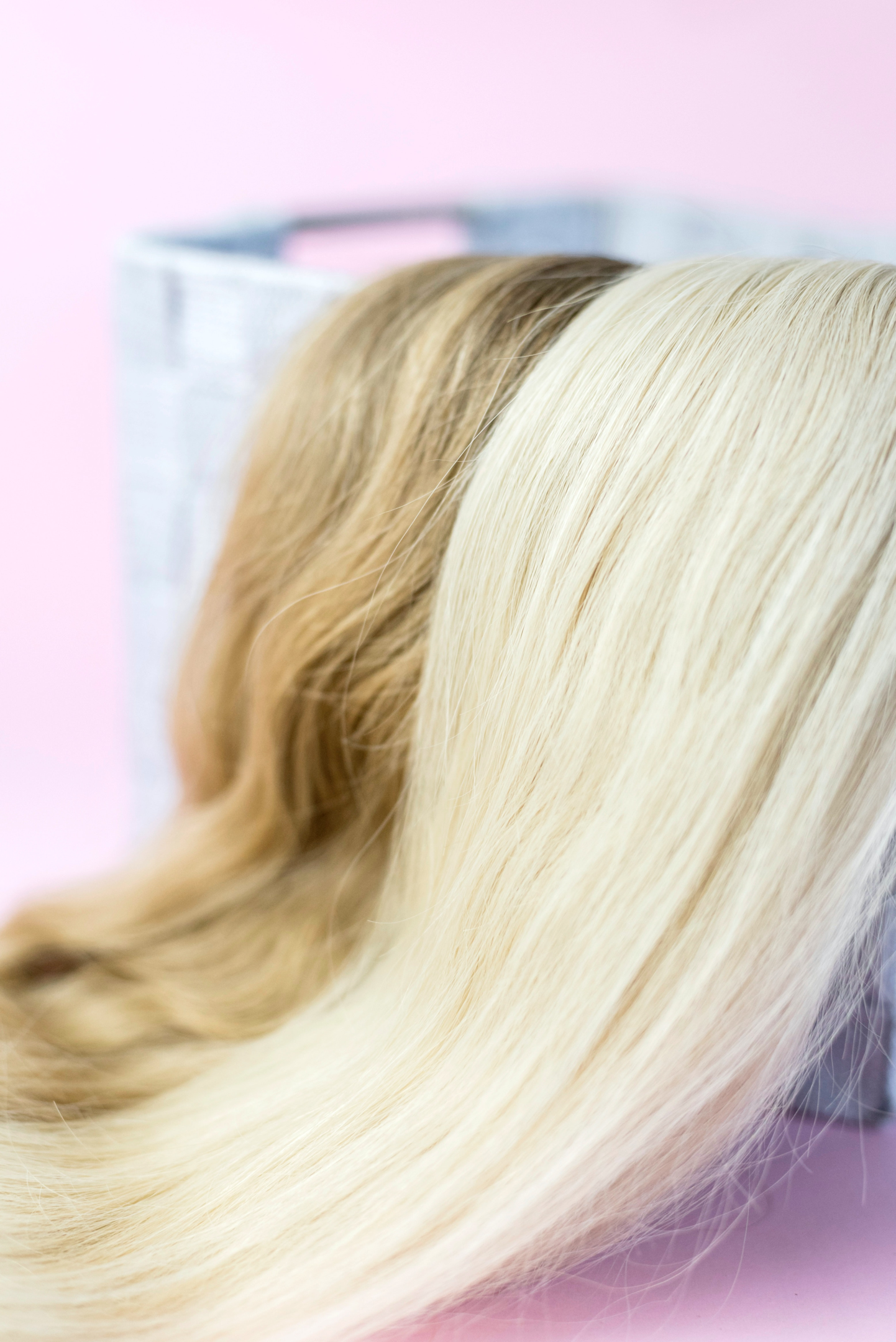 She also tried wigs, but she couldn't stand those. Still, she eventually found a type of hair-piece extension that worked well for her and that she used when in front of the camera.
Shaving Her Head
Ricki only recently released the video of when she shaved her head in 2020. She did this with friends present for support and on New Year's Day in order to start the new year fresh.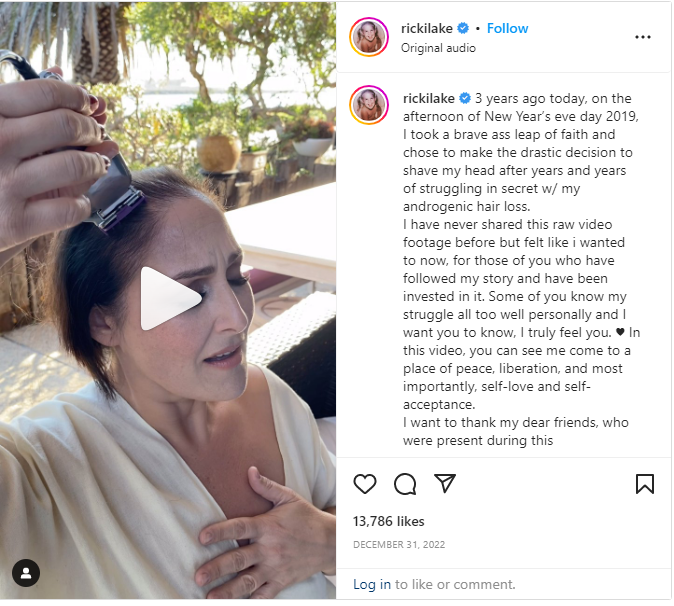 However, she felt that, though painful, this was necessary. As a talk show host, she prided herself on being genuine, open, and honest.
Because of that, Lake has since said that she was glad to finally have the world know about it and that she didn't have to keep pretending anymore to her fans.
Related Reading
What Ricki Lake Did To Get Hair Growth
As you doubtless guessed due to the fact that she suffered from hair loss for 30 years, Ricki had a hard time finding a hair care brand that actually put more hair on her head.
Things That Weren't Working
To start, Lake said she went to many doctors. These gave her a variety of treatments, some of which appeared to work at first, only for her hair shedding to happen once again a short time later.
One treatment Lake specifically mentioned was steroid injections, with the steroid shots going directly into her head. She also claimed to have taken "all the supplements and then some" to try to find one that worked.
At various points, she had even tried prescription medications, topical treatments, platelet-rich plasma therapy, and other things on her scalp.
What Worked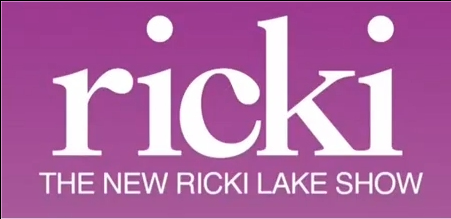 Eventually, Lake was able to find a hair growth brand that worked for her. This company was called Harklinikken, and it was founded by Lars Skjoeth.
At the recommendation of a friend, Ricki talked with Lars Skjoth directly, who told her she had androgenetic alopecia. She soon said in a post that his topical treatment was a game-changer for her hair.
In just over two months, the Harklinikken Extract product was able to start restoring her scalp. The line-up of Harklinikken products she eventually said she used includes their hair hydrating crème, balancing shampoo, daily conditioner, and restorative and calming extract.
What Ricki Lake Has To Say
The whole reason she posted on Instagram about her hair journey was to help encourage other women. She has also done what she can to raise awareness about women's health.
Ricki Lake wrote a few times that she wants women to experience self-love and self-acceptance. She's shared another Instagram post recently showing the dramatic success she's had.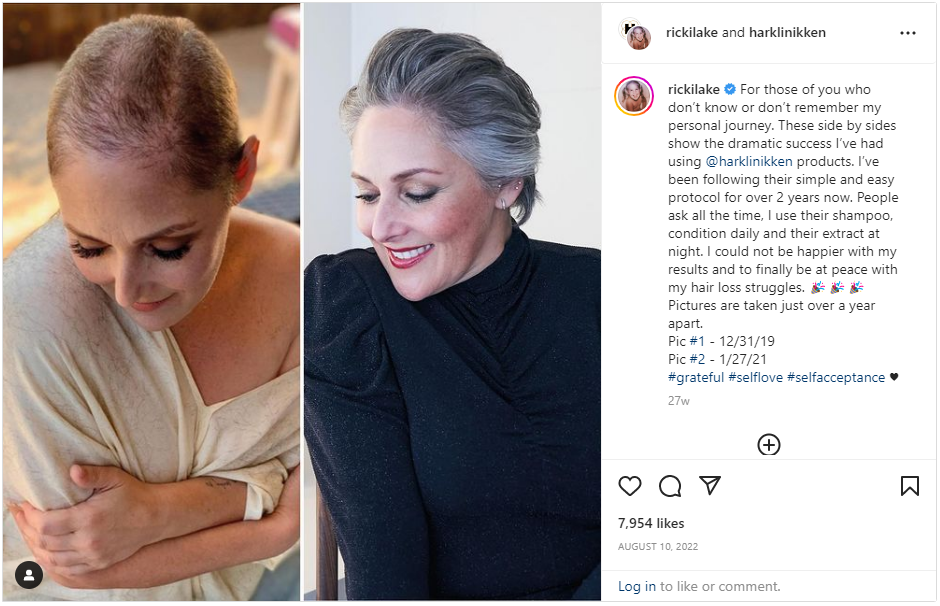 This post shows before and after pictures that show how her shaved head grew out into a lovely, full head of natural gray hair.
Final Thoughts
If your hair loss is causing you deep pain emotionally, Lake would encourage you not to keep it a secret. It is a bit extreme to shave your head, but you don't need to follow the journey of this actress that closely to still have hair regrowth.
The Harklinikken products have a pretty good list of ingredients, but they might not work for everyone. If you have a hair loss story like Lake's that you'd care to share, I'd love to hear it, as well as what you did to get your hair back!