It's often easy to choose fashion over function while searching for the perfect hair accessory. However, hair clips come in different sizes and shapes and are created for different hair types.
There are different types of hair clips on the market, and regardless of your hair type (curly hair, thin hair, thick hair, long, straight, or short hair), you'll certainly find one that's suitable for you.
If you are looking for a hair clip that is also fashionable, barrettes come in different colors and sizes. Alligator or snap hair clips may be ideal for adults as a companion to their personal style – while plastic styles are meant to keep the hair out of children's eyes.
Furthermore, if you have thicker or longer hair, then what you need is either French, condor, and jaw clips. These types of clips can keep your hair secure in sections or all at once.
After reviewing dozens of hair clips to find the best of the best. Here are the best hair clips that'll serve different purposes, especially keeping your hair in place.
That said, below are some of our recommended hairpins for every purpose:
Best Hair Clips
Why You Need a Hair Clip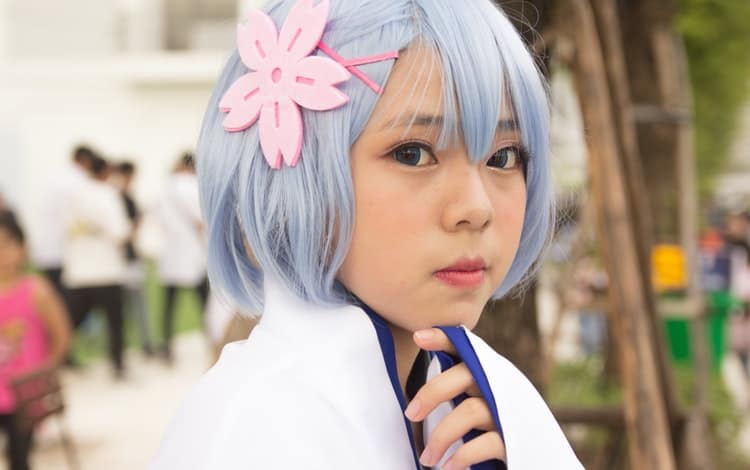 Hair clips (also known as hairpins) have proved to be a vital accessory for girls in order to aesthetically hold their hairstyle together. Apart from giving your hairstyle a unique look, hairpins equally prevent it from getting messy too soon.
There have been lots of hair clips trend in recent times, and that is for a reason. While helping to hold your hair, hair clips equally give extra support to any accessory on your hair. They come in different colors, which somewhat differs from your chosen brands.
From young children to older women, hair clips are something you cannot do away with. Below, you'll find different types of hair clips for hairstyle purposes. And after that, we'll also reveal to you some of the best hairpins in the market.
From our research, we were able to find the best hair clips barrettes that'll help your hair stay in place, had well-constructed decorations and are versatile for different occasions.
Types of Hair Clips
Like I said earlier, hairpins come in different types. They're designed to add a stylish look to your hairstyle. Below are the different types:
1. Banana hair clips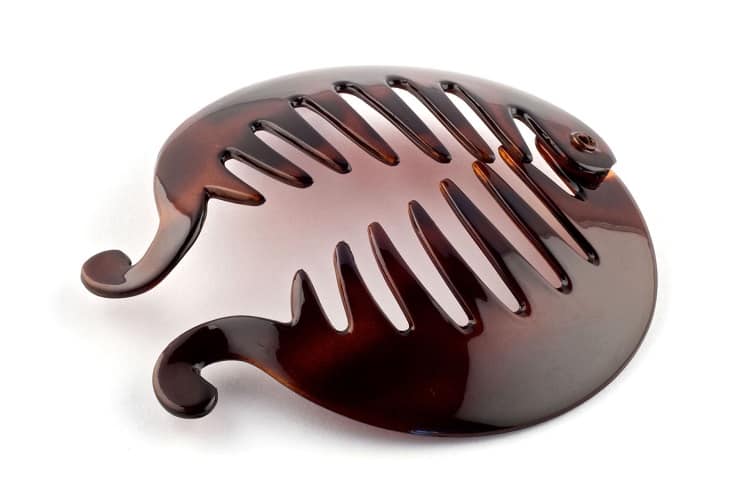 Banana hair clips are one of the most common clips in the market – and they're usually larger than most other clips. This type of clip often comes at about 6 inches in length, making them the best clip for long hairs. These 80s clips come in different patterns and styles.
Banana clips have teeth/claws on both sides. They're mostly loved due to the way they secure your hair. For one, they will make your hair appear longer than it really is, and you can use them anywhere, even in the shower.
Sadly, it's not easy to use banana hair clips on fine and thin hair.
Last update on 2023-09-17 / Affiliate links / Images from Amazon Product Advertising API
2. Floral Design Golden Hair Pins
If you're looking for cute hair clips, then this is your best choice. With these gold hairpins, you will give a bridal appearance to your hairstyle. Generally, such vintage hair clips are used to give a fantastic look to your hairstyle.
They can hold the hair for a long time to prevent them from messing up. The pins come in different designs, such as floral, butterflies, peacocks, etc. It would be difficult to choose the best one.
3. Claw clips
Also known as butterfly clips, "claw clips" are another popular set of clips, especially since it has evolved dramatically in recent time. You can easily hide them in your hair without creating so much attention.
They have been the first choice for most people since they came into the market. They are firm and are designed to hold your hairstyle firmly tight. The claw clips (butterfly clips) are made of fiber and comes in different designs and colors.
Excitingly, they are easy to use and easily available in the market. This type of clip for hair comes in a variety of sizes to suit your hair volume. Some are small, while others are big enough to hold up the entire hair, just like a bun.
4. Hair clips barrettes
Hair clips barrettes are super beautiful hair pins that are also loved by many. They are available in different attractive designs, colors, and styles. With their broad design, you can bind up as many hair layers as you want.
It features a single piece of plastic with a metal spring in the middle, which usually enables them to fold in half if you like.
5. Bumpit Hair Pins
This is another type of hair pin that falls under the trendy hair clip category. They are not easily available in the market as they are a new hair accessory.
The bumpits hair pin is primarily meant for a clumsy ponytail, lovely puff, and a half tied pony hairstyles. Good enough, they're perfect for all types of hair. Bumpits pins are not expensive and serve the purpose just right.
6. Snap clips
Also known as contour clips, snap clips are another popular type of clips in the market. The most interesting part is that they are available in different attractive colors and fancy patterns. It's usually made of a piece of metal.
These clips are meant to hold lots of hair at once just as they do with a few strands of hair. You will find it being mostly used to pull the hair away from your face. Just push the end open, and the middle part will be snapped open, which will then hold your hair in place.
7. Tiaras Hair Pins
These hairpins for ladies are widely used to hold up alluring one in marriages. The pins come in a range of patterns such as gold, silver, diamond Studded, etc. and different shapes.
They are also referred to as "crown hairpins" because they will give your hairstyle a crown look. Tiara hairpins are perhaps the common choice for lots of women.
8. Hair Stick Pins
This is probably the best choice for people who don't have time. They simply use the hair sticks to hold up their hair. Hair stick pins are primarily used to give the hair a firm bun.
To use this, simply gather your hair and twist/roll them to a bun, and then lock it by fixing the sticks from opposite sides. They also come in different decorative forms.
9. Alligator clips
This is a pinch clip with a spring that lets the clip grip your hair just like the alligator's mouth.
Alligator clips are mostly used by hairstylists to sectionalize the hair during styling. The clip is available in different unique styles and patterns.
10. Feather Hat Clip
The feather hat clip gives you a royal look when worn on different dresses. They come in different designs and several lovely feathers and net.
Simply take a little strand of your hair and pluck the clip to it, and you're set to go. This cute hairpin accessory is mainly meant for kids, and they come in different colors that you can choose to match their outfit.
11. Condor clip
This is simply the stretched-out version of the alligator clip we discussed earlier. It has a rounded bottom and a pointed end that looks like a beak. This clip can be used to hold a bun or an updo – and is good for long hairs.
12. Bobby Hair Pins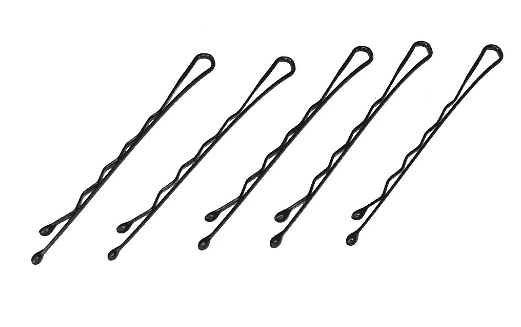 Bobby hair pins are simple hairpins mostly used by Indians, and they are one of the oldest pins for hair decoration. Bobby hairpins are widely used for hairstyles that have different layers.
That's not all, these hair pins are also useful when you have to fix an extension or a wig to your hair. They're easy to use and usually very affordable.
13. Double prong curl
They are almost similar to the alligator clips in terms of looks. While most of the hair clips you out there are used to hold the hair when you want to go, this one is different. It helps you style the hair instead.
Because of this, they don't have teeth, so they're not meant to be worn when you are out of the house. The double prong curl is only used to hold your hair whenever you're using the curlers.
14. Silver Comb Pins
This is another hairpin for ladies that are designed to give you a bridal look. It's also perfect for hairstyles on some occasions. The pretty silver comb hair pins can be used to decorate your puffs or other types of hairstyles.
They come as comb pins and therefore, give a firm hold to the hairstyles, keeping the hair in place and preventing it from disturbing you. These hairpins are available in white, pearl or pink color.
15. Decorative Pearl Pins
Your hairstyles would look pale if you do not use good decorative hair pins to design and hold them tight.
These pearl hair pins are readily available in the market and will give your designed hair a stylish look. They also come in different attractive patterns and designs.
Last update on 2023-09-17 / Affiliate links / Images from Amazon Product Advertising API
16. Tribal Bead Hair Pins
This is a new hair pin that is inspired by the tribal bead designs. They are mostly found in Africa, they're easy to wear, and will give your rolled hair attractive look.
People also use them to pack their hair while swimming. The beads add a unique look to the hair accessory and are perfect when you want to have loose hair.
17. Spin Pins
If you have curly hair that is very difficult to manage with simple bobby pins, then the spin black hairpins are all you need. They help the bun from curly hair to last longer without getting messy.
The pins are also easy to wear and are almost invisible as their color and texture are similar to the curly hair.
18. Coraline Hair Clip
This fancy hair clip is an attractive decorative hair pin that comes loaded with colorful stones and is a great piece of accessory for your hair.
It is often used on short hairs to hold bangs in place, or as a decorative piece of jewelry for hair.
19. Bow Hair Pin
Bow hairpin is a decorative hair clip that will hold your hairstyle, giving you a fashionable look. The pins come in Bow designs and are tucked underneath your bun, preventing it from slipping downwards.
They are more suited for silky hairs as they can slip easily, making your hairstyle look messy. They are created to keep your hair in place and will also prevent the bun from getting loose.
20. Crocodile Hair Clip
Crocodile hair clips are meant to put your hair in a bun form. Once your hair is tied up, just clip them with this hair product, and that's all. You can equally use it in parlors to clip a section of your hair up before the hairdo.
Women generally use them to tie up their hair before bath – and it's easily available in the market.
21. Wood Hair Pins
This is another type of hairpin style that is rather unique and come in various sizes. It is made of wood and thus, is ideal for the long run.
You can use some of them to bun up your hair while the others can be used to tie a ponytail. They equally look very attractive but can be somewhat hard to find in stores.
Best Hair Clips
Now, let's quickly look at some of the trendy hair clips on the market.
1. QingHan 40Pcs 3" Grosgrain Ribbon Pinwheel Boutique Hair Bows Clips
Last update on 2023-09-17 / Affiliate links / Images from Amazon Product Advertising API
The QingHan Grosgrain Ribbon Pinwheel Boutique Hair Bows Clips is ideal for different ages. The set is available in 40 color hair clips, which means you'll certainly have a matching color for all of your outfits from summer to winter.
It's a quality alligator clip that prevents even thin hair from getting messy. The hair clips are equally constructed properly so you won't have to worry about unappealing loose strings. These hair bows clips are designed to stay in place and comfortable on your hair.
And the best part? It goes with any kind of clothing. They can be worn with gowns, skirt and a blouse, or with a pair of jeans and a t-shirt. They're simply suitable for any outfit – the uses of QingHan Bows Clips are endless
The amazing range of colors are so bright and beautiful, and we're pretty sure you'll love this hair clip.

Pros
A very affordable hair clip
High-quality construction
40 different colored hair clips
Great for thin or thick hair
Works for a wide variety of ages
Cons
Not recommended for fine hairs
2. Art Nouveau Swirl Hair Clip
Last update on 2023-09-17 / Affiliate links / Images from Amazon Product Advertising API
This hair clip is handcrafted in the United States with a high-quality French clip to accommodate both thin and thick types of hair. Whether you need a formal up-do or you are headed to the office, this hairpin is great for both.
With a style and design that only fine, handcrafted hair accessories can achieve, this stunning French clip barrette will work for all your favorite looks.
You can wear it to secure a messy twist or in a ponytail – either way, you'll certainly get compliments. No doubt, this heirloom-worthy piece is the perfect jewelry for your hair.
You can also give it out as a gift as it appeals to many aesthetics. If it breaks mistakenly, Oberon Design will also replace it at no cost.

Pros
Can be used as a gift
Made in the USA
High-quality construction
It'll be replaced at no cost if it breaks
Aesthetically alluring for a wide variety of style
3. Revlon Rubberized Double Grip Black Hair Clips
Last update on 2023-09-17 / Affiliate links / Images from Amazon Product Advertising API
One of the best hair clips for fine hair, this clip has an all-day holding power that will keep your hair in place throughout the day.
It has comb teeth, which is meant to provide extra hold on any hairstyle, from keeping your hair away from your face to stylish updos. You'll no longer worry about slipping.
You'll find the Revlon Rubberized Double Grip Black Hair Clips handy, especially if you've had ugly experiences with hair clips slipping before. These hair clips work well with every hair type and you can easily travel with them.
It is highly dedicated to helping you achieve your perfect looks. Whether you want big enviable waves, stunning blowouts, seductively straight tresses or a gorgeous fashion hair accessory, these tools will enhance your beautiful look.
Revlon will make you feel confident as it understands beauty and how it inspires a positive impact on our lives. These styling solutions will empower you to always achieve that beautiful hair you're looking for.

Pros
Affordable
Patented double grip clips
No-slip grip dots
Works well on fine hair
Comb teeth and rubberized finish for extra hold
Cons
Some users complained that the rubber coating peels off
Best Hair Clip for Short Hair
4. Prohouse Tiny Baby Girls Hair Bows Clips
Last update on 2023-09-17 / Affiliate links / Images from Amazon Product Advertising API
When searching for a beautiful pair of bows for your hair, you want something that will perfectly match your chosen outfit. The Prohouse Tiny Baby Girls Hair Bows are partially lined to hold the glossiest of hair.
It has a classic boutique-style that is endearing for baby girls but highly sophisticated for women. The hair clip is perfect for pigtails or ponytails and to keep those bothersome flyaway hairs in place.
It's simply the ideal gift for girls that appreciates stylish accessories.

Pros
20 sets, 40 clips in all
High-quality construction, grosgrain ribbon
Gorgeous range of colors
Ideal for clipping to headbands
Versatile and chic for all ages
5. EAONE Stylish Jaw Clips
Sale
Last update on 2023-09-17 / Affiliate links / Images from Amazon Product Advertising API
Designed from high-quality acrylic, the EAONE Stylish Jaw Clips come in different muted jewel tones that look aesthetic with all hair color.
The hooks are sleek but non-slip and are able to secure grip and hold your chic hair tightly without falling off easily or damaging your hair.
The hairpin holds hair while styling or cutting and offers semi-formal updo or quick casual style to the hair. It's perfect for thick/thin/normal hair and is designed to keep hair in place when in the kitchen, bathroom (shower), barbershop, dormitories, etc.

Pros
Clips are sleek and non-slip
Will cause no damage to the hair
The set comes with both triangle and petal-style
Best Hair Clip for Long Hair
6. Cehomi Alligator Hair Clips for Women
Last update on 2023-09-17 / Affiliate links / Images from Amazon Product Advertising API
Why damage your scalp with traditional metal clips when the Cehomi Styling Hair Sectioning Clip For Thick Hair is here for you?
These amazing hair clips for extensions come in multiple attractive colors, so you can easily choose your desired color based on your mood and outfit.
Their alligator clips are designed with light-weight ABS plastic. It features smoothly curved ridges and a curved tip for painless accuracy. Interestingly, this clip for women's hair will never hurt or pull your hair.
It also has a grip on the squeeze tab, which is another unique feature. When your hands are coated in product or wet, you can still squeeze and place the clips on your hair.
These hair products will hold your hair securely in place – and you can use the various colors to style or section your hair.

Pros
Comes in multiple colors
Best hair clip for thick hair
High-quality hair clip
Unique double-hinged design
Offers strong grip
ABS plastic does not rust like metal clips
Cons
Clip grip is not strong enough
7. Minalo Plastic Alligator Hair Clips
Last update on 2023-09-17 / Affiliate links / Images from Amazon Product Advertising API
These are vibrant transparent hair clips that feature a unique double-hinged design. It has two springs that adjust automatically to hold any type of hair securely, regardless of thickness and amount.
Apart from having a firm grip on the hair, these alligator hair clips are also very chic and fashionable. People will easily notice them when used on your hair.
They have the ability to hold large amounts of hair out of the way while you're working and styling. The Minalo Plastic Hair Clips are equally great for clipping foils up and away when you're applying hair colors.
Every stylist undoubtedly needs clips to separate and section the hair of their clients for many types of processing.

Pros
Can hold any amount of hair
Salon quality
Unique hinged clips
Double-hinged design
Strong for the clips to separate the hair
Cons
Some users complain that it leaves crinkles on the hair
What to Consider When Buying a Hair Clip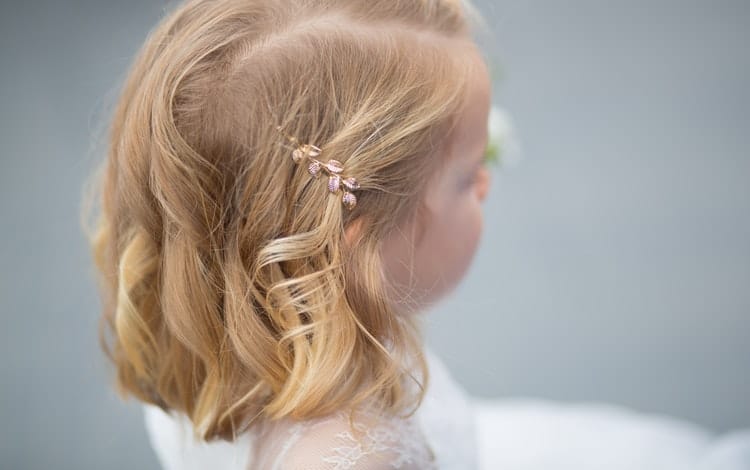 Here are some of the things you should always keep in mind when buying a hair clip:
Decorative or plain
The style of the hair clip you choose will be based on your preference. For example, do you want to just add statement decoration to your newest hairstyle?
Or do you prefer a more modest look that will easily blend in at your office and perfect for a casual night out?
It's entirely your choice to make.
While choosing a unique hair clip is fun, you will also want to add a few neutral hair clips as well.
Plastic or metal
Most hair clips are manufactured in two materials, metal or plastic. Metal clips can be more durable and hold thick, long hair more securely.
However, metal is heavier than plastic and in some cases can rust. Plastic clips tend to work better for thinner, shorter hairs and are usually more decorative in nature.
Size of hair
If you have long or thick hair, then always consider the size of the hair clip you are going for. You need an accessory that will be able to accommodate and securely hold the extra bulk.
On the contrary, if your hair is short or thin, go for smaller hair clips that have enough grip to securely hold your smooth locks, preventing them from escaping.
Hair clip sets
If you frequently wear hair clips, then buy a hair clip set. This is because sets often contain different colors, sizes, and designs. The extra hair clips will enable you to mix and blend with your wardrobe and still have a spare if one gets lost.
Construction
It's also important to choose only hair clips accessories that are constructed with high-quality materials and workmanship. They will last longer and look more polished.
How to Make Hair Clips at Home
Now, watch the short video below to learn how to make designer hair clips at home:
Frequently Asked Questions
What's the work of hair clips?
The primary aim of a hair clip is to hold the hair in place. Hair clips will help to keep hair out of your eyes, to secure a hairstyle like a bun or a ponytail.
Aside from that, they are equally used as a decorative emphasis in your hair to add a touch of texture and color to your hairstyle.
How can I get a hair clip to stay in my hair?
When buying hair clips, always try to consider what type of hair you have. Is it long? Is it thick? Long and thick hairs need hair clips that are wider than the regular size.
On the other hand, if your hair is short or thin, then you'll need one that is small and preferably has a grip material (like grosgrain ribbon or Velcro) to hold your smooth tresses.
How do you use a hair clip?
You can use smaller hair clips to secure flyaway hairs at the front. While larger hair clips are often used to secure thicker, longer hair in the back to secure a bun, hold a ponytail or create an up-do such as a French twist.
Conclusion
Hair clips and pins are often in demand and hence the manufacturers are always making new attractive designs to suit your style and taste. Every hairstyle obviously needs a hairpin. So you'll need to get one for your lovely hair.
As you can see, there are several types of hair clips. Depending on your hair type, just pick the one that works best for you.
Some of them are a must when trying out new hairstyles, while others are essential by virtue of their use. Therefore, choose your pick.