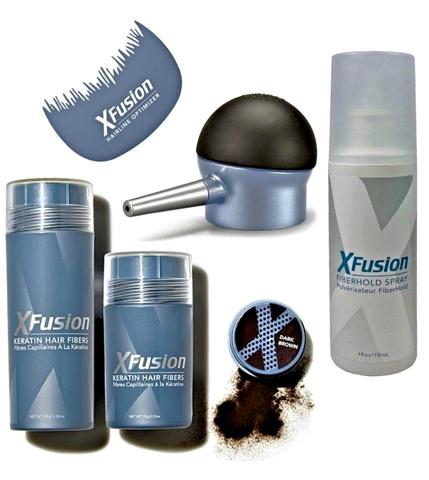 Thinning Hair Transformation.
Keratin hair fibers are all the rage and available at affordable price points. Hair fibers are easy to apply in the comfort of the consumer's home. Keratin hair fibers use simple science to fill in the spaces where noticeable hair loss has taken its toll. Hair fibers provide a quick fix and a confidence boost, without the cost of expensive salon treatments. XFusion Keratin hair fibers offer noticeable results and transform thinning hair in seconds. Forget expensive surgeries, scarring and healing times, and laser treatments. It makes sense to try hair keratin fibers, as most brands guarantee hair will appear fuller and thicker. No fuss, no mess, and usually no worrisome side effects.
Award-winning XFusion by Toppik
For about the cost of 8 of lattes, award-winning XFusion by Toppik, Keratin Hair Fibers claim instantly thick hair in seconds with noticeable results. Of note, XFusion's claim is also that the fibers go unnoticed! So how do the fibers cover and fill in the bald and thinning spots on the scalp without being noticed? 
Toppik Hair Fibers.

XFusion Toppik hair fibers are constructed of the very best keratin. The fibers match the natural keratin found in human hair. Keratin fibers create a natural static charge. This "electricity" adheres to the keratin in the hair follicle. The

technology

behind Toppik keratin fibers is easy! It allows the keratin fibers to connect to the thinning hair follicles, which fills in the thinning spaces and makes the hair appear thicker and fuller. Toppik has also scientifically formulated the fibers to stay wind, sweat and rain resistant.  XFusion Toppik Hair Fiber application and efficacy is guaranteed to be easy and long-lasting. 

Whether traveling or adding Toppik to the daily routine, XFusion Keratin

Hair Fibers

are available in 4 sizes between 3 and 55 grams. Thinning hair has found a friend.
How Toppix is Applied
Application of XFusion Toppik hair fibers is easy. Remove the cap from the keratin fiber container. Next, face the mirror and shake the keratin fibers in the thinning places on the scalp. No combing or heavy patting like competitive products. Finish with Toppik Fiber Hold Spray. This second step is literally fast and fuss free. Apply the Hold Spray to the places the fibers were applied! There is absolutely no big time commitment. Figuring a way to work this application into a morning routine is a breeze. Toppik products come in travel sizes too, making for easy on-the-go applications late in the day, or for date night. Hair stays looking thick and healthy.
For a more refined look, and for treating thinning hair needing a little more attention, Toppik offers terrific affordable options. For a complete XFusion Toppik Hair Fiber experience, or one of their other terrific fiber-enriched products, consider the Perfecting Tool Kit which includes the two add-ons reviewed next.
Hair Fiber Optimizer.

Optimizing starts with a comb. The

Hair Fiber Optimizer

is a rounded comb that fits in the palm. It's unique design uses sporadically placed, uneven teeth. This allows the hair to naturally fall into place and not create any false hairlines, or parts. With perfectly combed rows, less keratin hair fibers will fall onto the forehead and bathroom sink during application.
Toppik Spray Fiber Applicator

. This

patented applicator

fits on the regular and economy size Keratin Hair Fiber bottles. It works like a pump, using air and its unique beak-style nozzle. This special nozzle allows for precision application to ensure even coverage on the hair and scalp. Works great as a root blender and for covering up the connector points and tie-offs if wearing hair extensions.
Keratin Hair Fibers – The Basics
Arguably how effective keratin fibers deliver the best results and how they adhere to the hair follicle is key to a natural look. For these reasons, it's important to consider the cost of the regimen. How much surface area needs to be covered with the fibers? And how often? The largest bottle will last about 3 months. Also, consider fiber retention between washes. How long do the fibers adhere to the hair follicle? Although keratin fibers won't shed on pillow and clothing, daily use requires daily cleansing. Toppik recommends using keratin-rich shampoos. Keeping the scalp clean and healthy is very important. It aides in the prevention of side effects. Several shampoo options are available on the Toppik website.
Side Effects?
Consequently, side effects may occur from the use of keratin fiber hair thickeners. Most noteworthy are redness, irritation, itching and severe skin reactions. Consider the side effects when starting any topical application. The combination of rubbing and combing can cause the fibers to seep into the scalp, and embed themselves under the dermis layers. This can cause burns requiring medical treatment and steroid creams. Talk with a dermatologist or primary care physician. Remember, keratin fiber applications are a temporary fix, not a scalp treatment.
Our Review
The simplicity and science of the XFusion Toppik Keratin Hair Fiber application makes it one of the most affordable on the market. And its ease of use and shade match make choosing a color effortless. And if hair is two-tone, like salt-and-pepper, Toppik recommends using both shades for a superior blend, and flawless look! XFusion Toppik Keratin Hair Fibers mimic the natural keratin in hair follicles. Infused with green tea, cranberry, sunflower and cucumber extracts provide anti-oxidants, hydration vitamin E & vitamin C, and essential fatty acids. The magnetic properties of the keratin adherence allows for a fuller, thicker, natural look with every application. 
Please note that several of the links in this review link to the Toppik website. Toppik makes several lines of keratin-rich hair fibers. Click here, to see how Toppik products work, and to see what devotees are saying about XFusion, click here to check out these reviews from real users, including before and after photos.