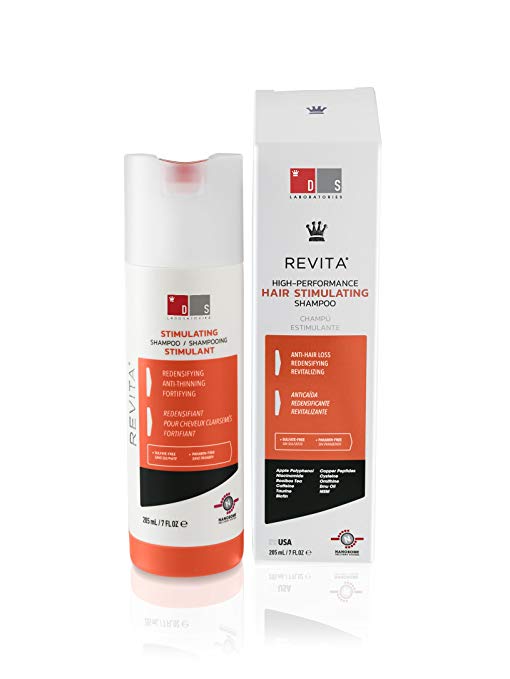 Hair loss is an important issue for millions of people around the world. It's no surprise hair loss shampoos have become an increasingly popular option. But how can you choose the best one for you? We recently ranked the top eight hair loss shampoos based on ingredients, price, transparency, and effectiveness.
On the list, Revita's High-Performance Hair-Stimulating Shampoo ranked number one. Created by DS Laboratories, Revita Stimulating Shampoo is proven to promote hair stimulation and volume, while helping you achieve the best results in the shortest amount of time.
What makes Revita standout? Let's look at its unique features and benefits.
Let's start with ingredients
Revita Hair Shampoo is full of beneficial ingredients, including:
Procyanidin B2 (Apple Extract)
Niacinamide
Copper Peptides
L-arginine
Rooibos Tea
Taurine
Caffeine 4%
Cysteine
Spin Traps
Biotin
Ornithine
Emu oil
Methylsulfonylmethane (MSM)
DS Laboratories uses procyanidins (or flavanols) to improve cell health and jumpstart anagen-phase hair growth. In fact, studies show that procyanidin B-2 treatment is highly effective in treating hair loss. There were no harmful side effects. Even better news? It also protects against free radicals.
Ketoconazole is an ingredient that contains anti-fungal properties. It has a proven track record in stimulating hair regrowth. And, it helps stop the cause of male balding in its tracks. It does this by managing the over-production of testosterone.

Revita High-Performance Hair Stimulating Shampoo
Supports both healthy and compromised hair follicles
Fights Follicular Dysfunction from First Application
Improves hair density, thickness, and appearance
Promotes scalp stimulation
Cuts down on stress-induced loss
Other powerful ingredients found in Revita are taurine, caffeine, biotin, and MSM. These work together to create a healthy scalp and energize several cellular processes.
Taurine improves keratin production. Caffeine stimulates hair follicle growth. Biotin is well-known for supporting healthy skin and nails. It also helps thicken hair by improving the metabolism of scalp oils. Biotin is also a key player in the Krebs cycle. It increases fatty acid production to avoid late-stage regrowth treatment. Finally, MSM is an extremely nutritious ingredient for the skin while Emu oil helps hydrate and condition.
DS Laboratories' details about these ingredients can be found on the product's homepage. You'll also find links to various clinical studies proving their effectiveness.
A Chemical-Free Romance
Revita Hair Stimulating Shampoo is made using a chemical-free extraction process. It preserves the molecular integrity of the ingredients. The benefits of this process include:
Free of Parabens, harsh chemicals, and phthalates
Can be used on all hair types
Suitable for both men and women
Offers a deep moisturizing benefit
Contains several active ingredients to treat hair loss
Combats follicle dysfunction
No animal testing
According to DS Laboratories, Revita is the only shampoo that uses an anti-DHT property to stimulate hair growth and fight hair loss. DS Labs also recently introduced Oxo-biodegradable packaging. This uses 90% less waste compared to its previous packaging. Stimulate your hair growth while protecting the environment? That's what we call a win-win.
What do dermatologists have to say?
DS Laboratories rigorously tests and verifies product claims through double-blind clinical studies. These studies use active pharmaceutical ingredients. They ensure "the best quality and provide high added value in the care of hair problems", according to their website. In other words, they prove that their ingredients won't harm your hair or skin.
Dr. Antonella Tosti, a world-renowned physician, dermatologist, and scientist, said, "This is the best shampoo to prevent and treat hair loss. It delivers caffeine that stimulates hair growth and also counteracts the negative effects of testosterone in hair follicles." Tosti's claim is backed by thousands of dermatologists worldwide.
What's the Final Verdict?
Overall, users give Revita shampoo a positive rating, especially when it comes to making their hair feel fuller and reducing hair loss. Revita shampoo is a cost-effective and manageable solution, especially for those who don't want to undergo expensive and lengthy surgical procedures.
Revita is a popular, high-demand shampoo. You can find it in most stores today or buy it directly from the websites listed above.
When it comes to hair regrowth, frequency and timeliness are two key factors. A daily shampoo is both a consistent and easy solution. Trying out a cost-effective product like Revita puts you in the company of more than 2 million customers worldwide.
While there may be individual exceptions, it's a safe, effective, and easy-to-use product. It delivers on its mission of hair regeneration and care.
Have you tried Revita's Shampoo from DS Laboratories before? Do you plan on trying it? Leave us a comment about your experiences and we'll get back to you!

Revita High-Performance Hair Stimulating Shampoo
Supports both healthy and compromised hair follicles
Fights Follicular Dysfunction from First Application
Improves hair density, thickness, and appearance
Promotes scalp stimulation
Cuts down on stress-induced loss
Tired of chasing down hair growth solutions without seeing results? Make sure you try these 3 hair loss products known to work before wasting time or money (Revita Hair Shampoo is #3 on that list). You may be surprised how effective they can be!