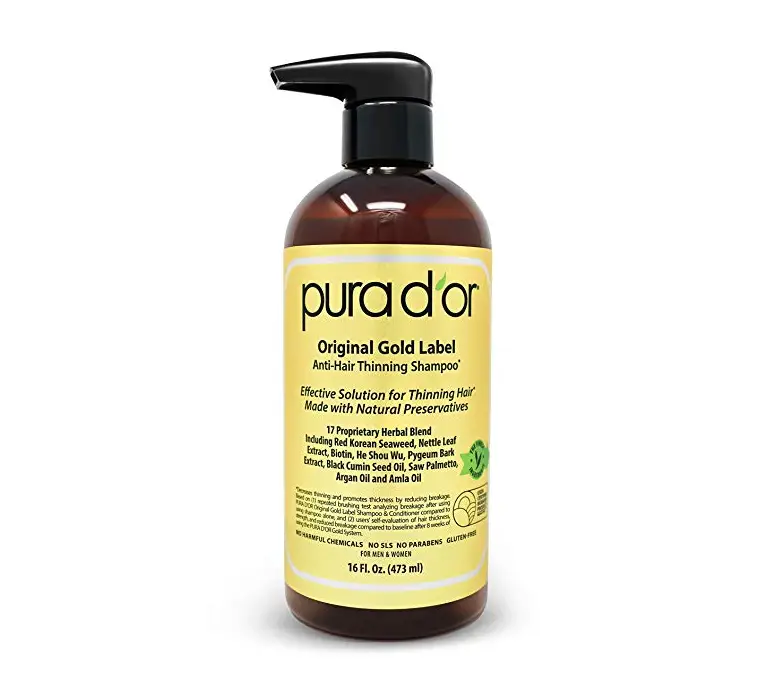 With the numerous positive customer reviews found on places such as Amazon and the like, PURA D'OR Anti-Thinning Shampoo has become a big hit with many people around the world.
Since positive reviews tend to generate even more positive press, the result is that PURA D'OR Anti-Thinning Shampoo has sold incredibly well in recent years.
PURA D'OR Anti-Thinning Shampoo is based on several ingredients proven to provide for thicker, fuller hair.
Some of the ingredients include Argan oil, aloe vera, and biotin, which are commonly used in many shampoos.
There are other natural products as well, including Red Korean Seaweed, which seems somewhat unusual but is claimed to be part of why PURA D'OR Anti-Thinning Shampoo works so well.
Pros of Using This Product
Sale
Proven Ingredients
There are many natural ingredients used in this product, including Biotin, which is one of the more effective and proven elements of growing thicker, fuller hair.
Add to this the many oils, vitamins, and minerals that make up PURA D'OR Anti-Thinning Shampoo, and you have a product that is based on proven ingredients.
No Side Effects
Part of the advantages in creating a product based on proven, natural ingredients is that the side effects are generally few and far between.
This is because most natural ingredients used in shampoos tend to work well with the skin.
However, you might be one of the relative few who suffer from mild scalp irritation or unusual hair texture as a result of using this product.
Cons of Using This Product
Here are a few downsides to this anti-thinning shampoo:
Suspect Reviews
While this shampoo is undoubtedly burning up the customer review sections of Amazon and other online retail stores, it is not generating the type of industry buzz associated with such reviews.
In other words, there does not seem to be any merit beyond questionable reviews from suspect sources.
Higher Cost
Compared to other shampoo products with similar ingredients, PURA D'OR is on the higher end of the scale.
While not outrageously expensive, it does seem that given the natural, available ingredients that are used that PURA D'OR Anti-Thinning Shampoo is priced higher than it should be.
This is especially true given how many similar products cost considerably less.
Slightly Misleading
It should be noted that this PURA D'OR product markets itself as an anti-thinning shampoo, not a hair regrowth shampoo.
This subtle difference is quite profound as the product itself does not promise to regrow any hair, only make the hair you have appear thicker and fuller.
Does PURA D'OR Anti-Thinning Shampoo Work?
Yes, but this anti-thinning shampoo does not work in the way that many people think.
If you want to regrow your hair, this is not the product for you.
If you want your hair to look fuller and thicker, then you can choose PURA D'OR, but there are many other products on the market that do the same thing with similar ingredients.
This means that you can purchase a less-expensive product and probably get the same results.
For those who want thicker, fuller hair, PURA D'OR Anti-Thinning Shampoo may be the right product thanks to its combination of proven ingredients.
Sale
However, if you want to regrow your hair, you'll need to look somewhere else.
Be sure to check out our list of top 8 best hair loss shampoos and learn why Revita Hair-Stimulating Shampoo ranked #1 on our list.
Tired of chasing down hair growth solutions without the results you're after? Make sure you're using the 3 hair loss products known to work before experimenting with alternative solutions – you may be surprised with how effective those 3 alone can be.