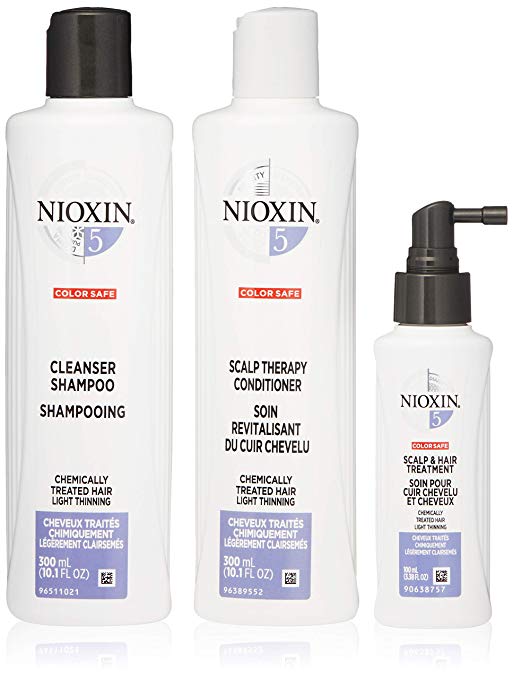 Nioxin shampoo has been a popular and well-known hair care product since it was first introduced onto the market in 1987. There are multiple different Nioxin shampoos, and this allows you to choose which version best fits your needs.
Though Noixin has avoided making the claim of truly being a hair loss product, there are a lot of positive reviews that say that it works great for regrowing hair. In fact, the Nioxin website goes so far to even state that their shampoo is not a hair loss product and that it is simply designed to improve the scalp health and to improve the appearance of thin-looking hair.
This is likely the company's way to avoid legal ramifications for those who the shampoo doesn't work for. However, for many people, the Nioxin shampoos can be used to boost hair growth, as proven by many reviews.  
The Brand Behind Nioxin Shampoos
Nioxin shampoo is an off-branch of the Wella AG brand. Wella is a hair brand that has been around for a very long time. It was started back in 1880 by a German by the name of Franz Ströher, who was a professional hairdresser.
At first, the Wella brand worked with the wigs that were popular at the time. By 1890, Franz had invented a new technique for wigs that allowed a person's scalp to breathe better. Four years later, business was doing so well for Franz that he opened up a factory and his two sons joined him.
In 1924, the Ströhers officially claimed the brand name of Wella at a patent office. Eventually, the times changed, and wigs fell out of fashion. At this point, the Wella company started making hair products, especially ones that made the newly popular wavy hair.
On this note, in 1927, Wella invented the first perming tool, which they then sold to salons. Shortly after that, Wella started building other hair appliances such as hairdryers and portable perming machines. After World War II, the newly formed German Democratic Republic took over the Wella company and claimed their patents.
Because of this, the Ströher family started their business over elsewhere in 1945, getting a new brand name of Wella AG. A few years later, Wella introduced their first hair product, a balm called Koleston.
The Wella brand soon branched off into a sub-brand called Wella Privat. Wella Privat specializes in hair products that are sold to both individuals and to professional hairdressers. In 1995, they made their first shampoo.
Two other off-branches of Wella AG are Kadus Professional and Sebastian Professional, both of which are hair brands. Now based in Darmstadt, Germany, Wella AG sells lots of hair products of all kinds.
A Look at the Reviews
When you take a glance at Amazon at the Nioxin shampoos and conditioners, you will easily find hundreds of five-star reviews by happy customers. With all the different product lines to choose, you can see hundreds of people sharing the amazing benefits that they've seen with reduction of hair fall.
You'll see quotes like "I love it!" and "It really works." You'll also see reviews stating, "Hair is coming out a lot less when I wash it."
Could all these people be wrong? We don't think so. Even though the company itself doesn't want you to believe that they are a hair loss product, reviews only state the opposite!
Which Product Will Help You
The product line is full of different options that can help you regrow your hair. Picking the correct product for your hair regrowth will be important to see results.
Nioxin Cleanser Shampoo System 1
Nioxin System 1
Professional hair and scalp cleanser shampoo for fine, non chemically treated hair with light...
Detoxifying shampoo leaves hair growing healthily with body, volume and shine
Cleansing shampoo removes product build up, minerals, pollutants and toxins
This Nioxin shampoo is made for natural hair without coloring or anything else on it. This Nioxin hair product is made for light thinning, which is when you first start noticing your hair is thinning. It is specifically formulated to strengthen your hair in order to prevent breakage.
That said, it is not made for more serious hair loss. This shampoo does do an excellent job of removing environmental residues. However, this Nioxin shampoo also does its best to add some body and shine to your hair too.
The Nioxin conditioner that goes with this shampoo has the same goal of adding more body to your hair. The conditioner also tries to hydrate your hair after the deep cleaning that the shampoo gives you.
Nioxin Cleanser Shampoo System 2
Nioxin System 2
Professional hair and scalp cleanser shampoo for fine, non chemically treated hair with light...
Detoxifying shampoo leaves hair growing healthily with body, volume and shine
Cleansing shampoo removes product build up, minerals, pollutants and toxins
This Nioxin shampoo variation is still made for natural hair. However, it has some different ingredients that make it better for more advanced hair loss. This shampoo focuses more on thickening your hair and protecting it.
As part of this, the Nioxin Cleanser Shampoo System 2 has the added benefit of giving your hair UV protection. This is a feature that the System 1 shampoo does not have and which is very beneficial to your hair if you spend a lot of time out in the sun.
Even with that, the shampoo still cleans your hair every bit as deeply as the other option. It also comes with its own conditioner which, once again, hydrates and aids in strengthening your hair strands.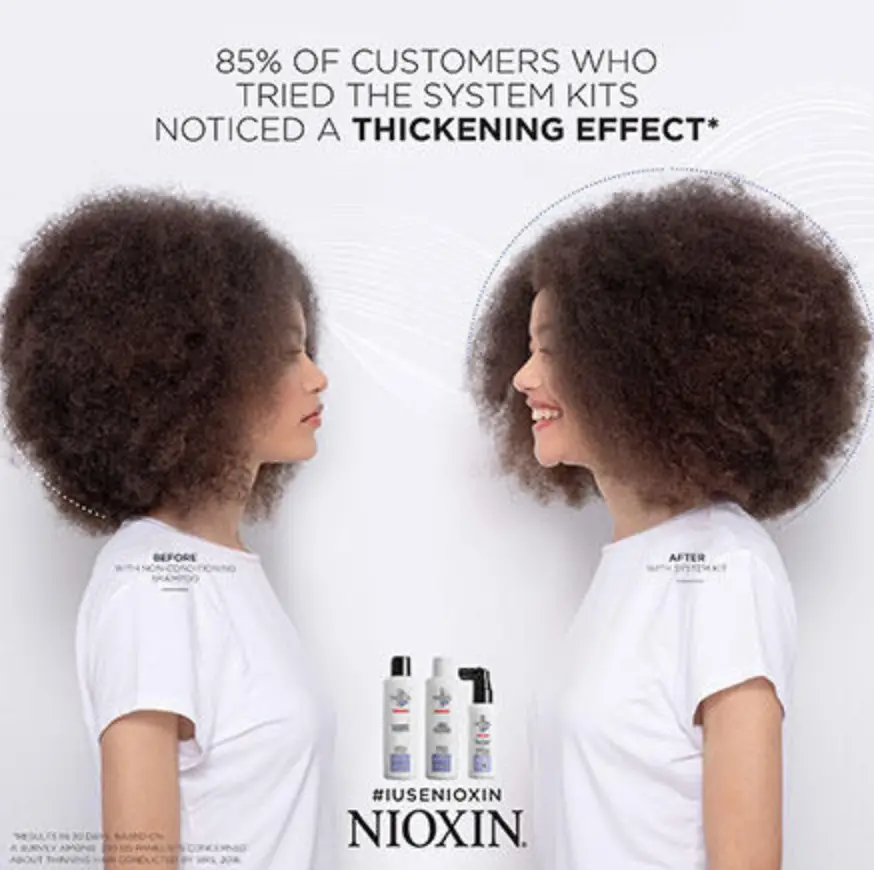 Nioxin Cleanser Shampoo System 3
Nioxin System 3
PROFESSIONAL HAIR AND SCALP CLEANSER SHAMPOO for color treated hair with light thinning Award:...
NOURISH SCALP FOR STRONGER HAIR plus relieves tightness and tension from dryness
MOISTURIZES AND CLEANSES DRY SCALP and chemically treated hair for thicker, fuller looking hair
The Nioxin Cleanser Shampoo System 3 is more similar to the System 1 shampoo than it is to the System 2 shampoo. Like the first, this shampoo is made for hair that is only lightly thinning. Unlike the other option, this one, however, is perfectly compatible with colored hair.
The main two goals of this Nioxin shampoo are to clean your scalp and to nourish it. The Nioxin conditioner that goes with it is also color-safe, moisturizing, and it is a very light conditioner that won't weigh down your hair.
Nioxin Cleanser Shampoo System 4
Nioxin System 4
PROFESSIONAL HAIR AND SCALP CLEANSER SHAMPOO for color treated hair with progressed thinning Award:...
MOISTURIZES AND CLEANSES DRY SCALP and chemically treated hair for thicker, fuller looking hair
REMOVES follicle clogging sebum, fatty acids, and environmental residues from hair and scalp with...
This shampoo system is more like the 2nd Nioxin shampoo system. Not only is it better formulated for more noticeable hair loss, but it is also a shampoo that will offer you some UV protection. This is in addition to being color-safe like System 3 is.
Therefore, if you like to color your hair and are suffering from hair loss, this shampoo is the best of the first four Nioxin shampoos for you. The System 4 conditioner is color-safe as well, being designed to balance the moisture of your hair.
Nioxin Cleanser Shampoo System 5
Sale
Nioxin System 5 (Starter Kit)
Nioxin System 5 helps you achieve thicker, fuller looking and moisturized hair Award: Behind the...
Reduces hair loss due to breakage and strengthens the hair, while refreshing the scalp and...
Complete professional hair thickening treatment for bleached/chemically treated hair with light...
There are many other chemicals besides the ones used for coloring hair. The System 5 shampoo is made for hair that has been bleached or chemically treated. This includes the chemicals used in perms and other hair treatments.
This Nioxin System 5 shampoo can be used on color-treated hair as well, and it might even be safer for your colored hair than the 3 and 4 shampoos. However, this shampoo is only for light thinning, just like systems 1 and 3 are.
This does not have the UV protection, but it does have a System 5 conditioner that goes with it. When paired together, these two products treat some of the damage that the chemical treatments do to your hair while intensely moisturizing your hair.
Nioxin Cleanser Shampoo System 6
Sale
Nioxin System 6
A lightweight conditioner that helps provide hair resilience and control moisture balance
Dual shield technology helps provide protection and moisture balance to color-treated hair, and...
With vitamins, botanicals, SPF 15 sunscreen, and purifying agents
This is the last of the system shampoos. Once again, it is designed for bleached and chemically treated hair of all kinds. This shampoo does have the UV protection that the System 5 shampoo lacks, and is just as intensely moisturizing.
This system shampoo is also one that is formulated for more severe hair loss. As with most of the other Nioxin shampoos, the conditioner pairs with it nicely, helping repair the damage from the chemical treatments that you may have had done on your hair.
Nioxin Scalp Optimizing Cleanser Shampoo
No products found.
This Nioxin shampoo is not given a system number, and it is one of the less popular Nioxin shampoo options. However, this shampoo is made for advanced thinning problems when you are losing large amounts of your hair.
It does not mention if it is safe for colored or chemically treated hair, nor does it mention if it offers UV protection. The Nioxin Scalp Optimizing Conditioner pairs with it for the worst of your hair loss problems.
Nioxin Instant Fullness Shampoo
This is the last of the Nioxin shampoos, and it is a dry shampoo. Even as a dry shampoo, it still has ingredients to help with your thinning hair. This Nioxin shampoo is also volumizing to make your hair seem fuller.
This is great for thinning hair on both fronts, making it look thicker while helping it actually become thicker. It also absorbs excess oil from your hair. Simply shake the shampoo and then spray it onto your hair before brushing and styling as usual.
The Benefits Of Using Nioxin Shampoo
If you are facing hair fall or beginning to notice bald spots, adding Nioxin is a great step. Although it is not approved by the FDA as a "hair loss treatment" the product has been around for decades and as mentioned above has rave reviews! When you use the system, you should see these amazing benefits:
Increased thickness in hair
Decrease in hair fall
Stronger, thicker hair
Reduced itching, flaking and scaling scalp
There are many benefits of Nioxin shampoos, no matter which one you decide to try. Firstly, Nioxin shampoos are easy to find and can be purchased at many online retailers. On many of these sites, you will also find a plethora of different reviews.
Most of these reviews are all 5 stars, showing that these shampoos truly can work. The fewer negative reviews can also be useful to read through if you are concerned. The average reviews for these are higher than they are for many hair loss treatments.
Also beneficial for the Nioxin shampoos is the peppermint oil that is in all of the System 1-6 shampoos. Peppermint is very popular in hair products of all kinds because of how beneficial it is for your hair. This plant oil is both natural, and it can encourage hair growth by increasing circulation to your scalp.
With such a variety of Nioxin shampoos, you can easily get one that meets your needs. The consultation tool on the Nioxin site will help you to choose which of the Nioxin shampoos might be right for you. All of them are suited for both men and women suffering from hair loss.
And that is not all that is on the Nioxin site that you might be interested in looking at. Nioxin also has a section reserved for hair care tips, and another section on the types and causes of hair loss for men, women, and teens.
All in all, Nioxin hair products have been around for a while, and this experience shows in their various shampoos. There is a Nioxin shampoo for you whether your hair is colored or natural and if you are only just starting to lose your hair or if your case is more severe already.
The Disadvantages Of Using Nioxin Shampoo
One of the most notable disadvantages of Nioxin shampoos is the lack of information regarding the ingredients. Even going to the Nioxin official site will not give you the ingredients. This can make you wonder if there is something to hide among the ingredients.
There is also no statement on the site or label about being free from parabens or sulfates. Therefore, you can almost bank on the fact that these shampoos may have one or both. What ingredients you can find are, for the most part, not natural ones that you can feel safe about.
On that same note, these Nioxin shampoo ingredients have very little documented proof that they actually work other than the good reviews that customers leave. The dry Nioxin shampoo, for instance, does say that it is proven in a lab. However, Nioxin gives no documentation of this at all.
Also not mentioned is any type of a warranty or guarantee. Many sellers will give you the option for some sort of refund for defects, but this will vary according to the seller. Verify what the seller offers in this area before you count on getting your money back.
There is also no guarantee that Nioxin shampoo will work for your hair loss. Since it does not claim to be a hair loss shampoo, not getting hair growth results is not necessarily considered cause enough to get a return.
While each of the Nioxin shampoos is certainly different, at the same time, they are quite similar too. Perhaps these different shampoos are a little too similar in some ways.
Final Thoughts
The Nioxin line of shampoos likely has the perfect shampoo to fit your needs. If you are noticing your hair thinning, Nioxin shampoo is a simple thing to get without having to change anything in your schedule.
Most hair loss shampoos that often require you to leave it in your hair or minutes, thereby making your showers take longer. However, these Nioxin shampoos only need to be lathered up for a minute and then rinsed out.
Many of the reviews on the Nioxin shampoos show people getting results with this in within six weeks. Some of the results people experience with Nioxin shampoos are: a decrease in hair fall, an increased thickness in hair, hair strands that are thicker, and reduced hair problems such as dandruff, itching, and flacking.
All in all, Nioxin shampoos are certainly worth giving a try for your hair, and it is not as expensive of a shampoo as you might imagine.  
Be sure to check out our list of top 7 best hair loss shampoos and learn why Revita Hair-Stimulating Shampoo ranked #1.
Tired of chasing down hair growth solutions without the results you're after? Make sure you're using the 3 hair loss products known to work before experimenting with alternative solutions – you may be surprised with how effective those 3 alone can be.