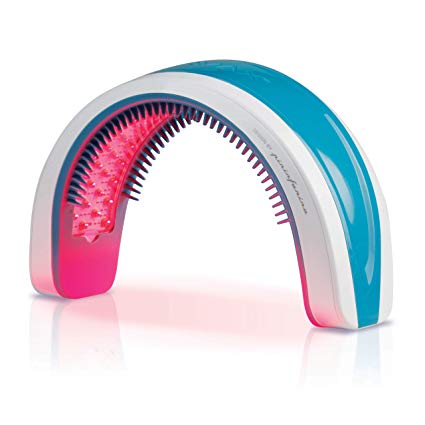 HairMax has, over time, gained a reputation for producing some of the most fantastic hair loss laser devices. All their devices have the golden seal of approval of the FDA, which is not so common with hair loss companies.
Being the original innovator of the LaserComb, the progress of the company can be tracked with the number of models that have been produced over the years. However, in tracking all these devices, there is no gainsaying that Laserband 82 is one of their most powerful devices.
The first version of the LaserComb produced only consisted of a few lasers which were strategically aligned on a simple comb device. Several reviews trailed this device and HairMax began to gain a lot of attention from several users all over the world. This was mainly because the laser approach to growing hair was novel and seemingly more effective. However, HairMax has moved on from that device producing more efficient designs over the years.
When it comes to LaserCombs, the two most important factors to consider include ease-of-use and time usage. Considering the busy schedules of most users, adding prolonged hair loss regimens might not be a practical choice. HairMax has been able to design devices that efficiently cater for users considering the two crucial factors stated above; this includes the LaserBand 82.
The LaserBand 82 has an application time of just 90 seconds, reducing the time of application from some of the other LaserBand devices. This short time of application and the contour of the LaserBand 82 makes it a highly preferred model by a lot of users. However, here are some other essential features of the LaserBand 82 that makes it one of the most preferred devices in the hair loss market
Pros:
Requires less hands-on, especially when compared to other models where you have to hold the device in place for a long time in the course of application.
The LaserBand 82 only requires you to glide in a front-to-back motion in a few positions to achieve optimal scalp treatment.
The pattern of laser distribution in the device helps to ensure a balanced emission of laser therapy to give you the best results in hair loss treatment.
This model also has a very fast application time, so you don't have to worry about an aching arm when applying.
Existing hair also becomes healthier and thicker, and you get to see new signs of growth within the first 3-4 months of treatment.
All devices from HairMax are FDA approved, and there are several proven case studies of patients that experience hair growth with HairMax devices.
Cons:
The device costs more than others, but you can be sure that it's worth it.
Benefits of Using HairMax Laser Treatment
Hair loss is treated
Devices are FDA approved
HairMax laser treatment has a 90% success rate
Apart from treating hair loss, it also stimulates the growth of new hair
HairMax laser treatment reverses thinning hair
The treatment also helps speed up hair growth and repair damaged hair
Rejuvenates, strengthens & thickens hair and also activates follicles.